RockJem.com / Index / Episode Guide
Episode Guide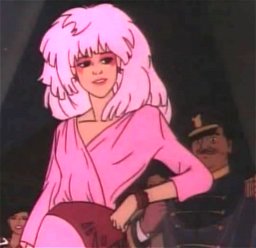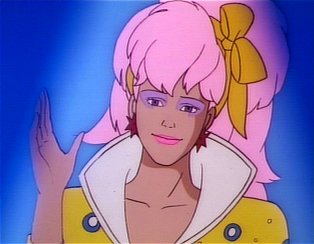 In depth info on all the 65 episodes, to guide you through all the most notable content and all the interesting details inbetween.
Each episode is approx. 21 minutes long (counting only the stories without intro, credits and commercial bumpers) originally aired from 1985 to 1988, and feature 2-3 songs with a music video.
Episodes
The episodes are listed in the original order they were aired, with production number. Although storywise some episodes would be placed in a different order according to when things are introduced.
This is what the guide contains about each episode:
Episode number:

Production number.

Title and writer:

and sometimes other info.

Pictures:

Ten pictures showing the story of each episode.

Synopsis:

Short description of the beginning of the story. Watch out for spoilers on two-, three-, or five-parter episodes.

Characters:

Main characters and even minor characters by name, job title or role. In episodes after Raya and Jetta join, they are included in the group name.

Focus on:

What characters the story is mostly about, if any in particular, or atleast where secondary characters are most featured compared to the rest of the series.

Locations & vehicles:

Countries, cities, buildings or even parks and other specific places, and vehicles, in order of appearance.

First appearance of:

Characters, locations and vehicles that are especially notable or later re-appear.

Songs:

The featured songs with music videos.

Part of songs:

Songs partly played because of the story of the episode.

Instrumentals:

When only the instrumental music of a song is played because of the story of the episode, or as background music. Not including the regular background music which is based on songs like "Outta My Way", "Makin' Mischief", "Winning Is Everthing" and the "Jem Theme".

Genres:

Action

,

Adventure

,

Drama

,

Message

,

Romance

,

Humor

,

Fantasy

,

Sport

, and

Mystery

. Listed in order according to amount, while in some episodes it's almost equal amount of some genres.

Releases:

Where in the world the episodes have been aired on TV and when, released on VHS or DVD, and what the title was in that language (and translation of that title).

[Some of the information by Daniel V. Smith, Enzo Gervasio, Marco Valli, Martijn, jemboyholland, and Cosmic Falcon]

Keywords

Sightings and mentions of all kinds of things that grab attention in any way, to in the future create a directory where you can look up all kinds of unimportant details like in what episode the characters rollerskate.

Recommended:

Episodes (Jem or even other cartoons) that have something in common and may also be of interest.

Trivia:

Behind the scenes info, interesting facts and observations.

Fashions:

The most notable fashions introduced in this episode for the main characters, like those of a specific theme of the episode, with a link to that character's fashion page.

Hasbro products:

Dolls, fashions and playsets made by Hasbro, that are seen in the episode.

Review:

Analyze of what occurs and stands out in the episodes, with observations of a huge Jem fan, how everything fits in and compares with the rest of the series and to the Jem bible and scripts, info about the writer, sometimes cut out material and behind the scenes art and information, "easter eggs", inspiration behind the episode, International trivia, and lots of pictures and links.