RockJem.com / Index / Episode Guide / The Beginning
#4041-A, B and C (original three part mini-series, also combined three by three into full episodes)

#4046 (with some edits and released on VHS as a movie)

#5205-08 (with edits, long added scenes, and extended music videos)
The Beginning
Written by

Christy Marx
Synopsis:
Jem and the Holograms is a famous rockband, and Jem thinks back on how it all began, with the unexpected death of Jerrica's and Kimber's father. He left them two inheritances, the home for foster girls, Starlight House, and half of the music company, Starlight Music. Jerrica is in need of money to run the foster home, but the other half of the music company was left to Eric Raymond, who has taken full control of the company. Eric plans to turn Starlight Music into the most powerful recording company in the country, by taking it into a completely different direction, and promoting the nasty new rockband the Misfits. But when a little box arrives to Jerrica, the most outrageous inheritance of her father is revealed, which changes everything!
Characters:
Jem/Jerrica and the Holograms (Jem, Kimber, Aja, Shana), The Misfits (Pizzazz, Roxy, Stormer), Synergy, Rio, Eric, Starlight Girls (Ashley, Ba Nee, Deirdre, Terri, Lela, Anne, Marianne, Joellen, Becky, Nancy, Delaree), Howard, Mrs. Bailey, Zipper, Security guard at Starlight Music, Eric's secretary, Limp Lizards, The Leatherettes, The Space Cadets.
Focus on:
Jerrica, Jem, Synergy, Eric, Pizzazz, Ashley.
Locations & vehicles:
Rockin' Roadster, cemetery, Starlight House, Starlight Music, The Misfits guitarshaped motorcycles, park, Starlight Express, Starlight Drive-In, Starlight Mansion, Misfits van, Rio's car, Zipper's place.
First appearance of:
Jem/Jerrica and the Holograms, The Misfits, Synergy, Rio, Eric, Starlight Girls (Ashley, Ba Nee, Deirdre, Terri, Lela, Anne, Marianne, Joellen, Becky, Nancy, Delaree), Howard, Mrs. Bailey, Zipper, Limp Lizards, Eric's secretary, The Leatherettes, The Space Cadets, Starlight House, Starlight Music, Starlight Drive-In, Rockin' Roadster, Starlight Express, Starlight Mansion, Misfits van, Rio's van.
Songs:
"Outta My Way" The Misfits
"Only The Beginning" Jem and the Holograms
"Winning Is Everything" The Misfits
Part of songs:
"Broken Glass" by the Limp Lizards.
Instrumentals:
"Outta My Way" by The Misfits, "Winning Is Everything" by The Misfits.
Genres:
Action, Drama, Romance, Humor, Message.
Releases:
USA: Aired on TV. Released on VHS. Released on DVD.
Italy: Aired on TV. Released on DVD. The episode title was "Gli Inizi" (The Beginning).
France: Aired on TV. Released on DVD. The episode title was "Souvenirs, Souvenirs" (Memories).
Holland: Aired on TV. Released on DVD.
Sweden: Released on VHS. Released on DVD.
Denmark: Released on VHS.
Finland: Released on VHS.
Venezuela: Aired on TV. Released on VHS. The episode title was "El Comienzo" (The beginning).
UK: Aired on TV. Released on VHS. Released on DVD.
USA:Originally aired on TV on 6 October 1985, 13 October 1985, 20 October 1985. Released on VHS. Released on DVD.
Australia: Released on DVD.
Trivia:
The Starlight Girl, Deirdre, was named after the middle name of Christy's stepdaughter.
Ashley who was originally named "Heather" by Christy, was renamed by someone else at the production who wanted her to be named Ashley.
This episode was available in several different versions. Originally it consisted of three segments, which were later put together to form this episode. The titles of the three segments were 1: The Beginning, 2: The Challenge, and 3: Fire!. It then had retakes made, including extended scenes. Read more about the different versions of the material in this episode on Retakes.
Kimber is playing an acoustic guitar. Although in the later episode "Old Meets New" Kimber says "What good is a guitar if you can't plug it in". Aja goes around with a drum stick drumming on things. But in the later episode "Talent Search Part 1", Aja is, according to herself, hopeless on drums.
The first Starlight Girl that we get a close look at is Lela (or Becky in retakes), and the first one who has a speaking line is Becky. Krissie is the only one who is entirely missing in this episode.
Spoiler: When Rio saves Jerrica and the Holograms from falling off the cliff with the Rockin' Roadster, he ends up in the newspaper. The newspaper is "Daily Bugle" and says "Amazing Rescue" "Local youth Rio Pacheco saves rock group the Holograms from certain death", "Pacheco credits mysterious leadsinger 'Jem' with help in rescue", another article says "Hot new act wins band contest!".
In the music video of "Winning Is Everything" by the Misfits, Pizzazz wins the contest "Miss Punk International" (well it's misspelled "puank", but I think it was meant to be "punk"). Stormer is "miss conduct" and Roxy "miss information". Then we see Pizzazz' banner changed to say "BEHA", so I'm guessing they hadn't set on what word to use and accidentally wrote another word here which was probably meant to be "behave".
This is the only episode of the entire series that featured two Misfits songs were none of them were re-used from a previous episode, aswell as none were duets with Jem and the Holograms.
The names of the bands and some of the main characters, were pronounced quite differently in other languages. Some countries choose to adjust the groupnames to their own language like in Italy where "Jem and the Holograms" became "Jem e le Holograms", or France "Jem et les Hollograms", in Denmark "Jem og the Holograms", and in Sweden sometimes "Jem och the Holograms". In the Italian dub the Holograms and Misfits both lost the final "s" even when in plural. In the Swedish dub the first "A" in "Aja" was pronounced differently, as the "A" in "apple", rather than the "A" in "all", for example. And also in Sweden, Shana was pronounced as "Shaaana" rather than "Shayna". In the Italian dub Raymond was pronounced both "Reymond" and "Riemond" and Ashley was pronounced both "Ashley" and "Eshley".
Fashions:
Recommended:
Parenthesis contains some spoilers:
"The Music Awards Part 1" (The Misfits get their own music company on the other side of the street from Starlight Music, and Eric's secretary returns),
"Glitter And Gold" (Jem and the Holograms get a new roadster)
"Scandal" (Some background about Kimber, and Synergy gives Kimber a new identity)
"The Bands Break Up" (Kimber puts half of Starlight Music at stake in a similar way),
"Father's Day" (Some background about Emmett, Kimber, Harvey and Pizzazz)
"Roxy Rumbles" (Some background on Roxy)
"Out Of The Past" (Where we see the backstory which takes place almost right before this episode)
"The Stingers Hit Town Part Two" (Return to the location of Starlight House)
"The Day The Music Died" (Eric owns Starlight Music again)
"A Change Of Heart" (The song "Outta My Way" is re-used, episode also written by Christy Marx)
"A Father Should Be..." (some background on Ba Nee)
Other cartoons:
"A Firestar Is Born" of Spider-Man and His Amazing Friends (written by Christy Marx, the backstory of the redhead female superhero with a secret identity)
"Videoman" of Spider-Man and His Amazing Friends (written by Christy Marx, is about an evil videogame character that comes alive. A counterpart for Synergy perhaps)
"Spidey Goes Hollywood" of Spider-Man and His Amazing Friends (written by Christy Marx, includes a scene about a 3-dimensional holographic projection of Firestar)
"Rescue At Midnight Castle" of My Little Pony and Friends (Similar kind of early 80's Sunbow/Toei animation)
"Escape From Catrina" of My Little Pony and Friends (Similar kind of early 80's Sunbow/Toei animation)
Keywords:
city, street, spotlights, fans, cheering, balloons, cameraman, car, photographer, shawl, microphones, interview, rain, cemetery, funeral, umbrellas, anger, jealousy, inheritances, trees, sky, music, company, house, window, guitar, ladder, drumstick, lamp, chandelier, plumbing, wrench, vacuum cleaner, cords, light switch, dust, sneeze, water leak, newspapers, electrical wiring, bedroom, bed, furniture, towel, drawer, mirror, skyscrapers, entrance, reception, security guard, fired, telephone, elevator, desk, chair, secretary, nails, nailpolish, gold record, hired, motorcycles, record, music notes, road, chase, wooden club, amusement park, bumper cars, crash, carousel, brass ring, stadium, bottles, teddybears, ball, boxing gloves, boxing ring, cape, target, bull's eye, bucket, water, soap bubbles, waves, sewing needles, surfers, castle, throne, trapdoor, sofa, lips, battle of the bands, trash, leaf, candle, gift, earrings, wind, hologram, instructions, van, drive-in theater, holographic wall, clothes, instruments, rock groups, park, egg, hatch, star, flying, castle, door, stage, fireworks, rainbow, claw crane, cheering, challenge, film producer, movie contract, mansion, stealing, running, car chase, throw, breaking, cliff, edge, rope, newspaper, rescue, publicity, lipprint, beauty pageant, beauty pageant banner, crown, royalty, cannon, cannon ball, prize, headlights, loser, football, cheerleaders, football players, giant, dancing, carpet, money, coins, dollar, bills, gold, trophy, teeth, lightning bolt, arrow, limousine, casino, roulette, dice, chips, jar, dog, refrigerator, fuse box, electricity, wiring, sunglasses, punishment, sofa, sleep, kiss, break in, burglar, awake, lantern, fire.
Hasbro products:
Dolls: Jem/Jerrica, Kimber, Aja, Shana, Pizzazz, Roxy, Stormer, Synergy, Rio, Ashley, Ba Nee. (Synergy, Ashley and Ba Nee were not yet planned as dolls)
Fashions: Jerrica's original doll outfit, Jem's original doll outfit, Kimber's original doll outfit, Aja's original doll outfit, Shana's original doll outfit, Pizzazz' original doll outfit, Roxy's original doll outfit, Stormer's original doll outfit, Flip Side: Up & Rockin' (Jem).
Vehicles/playsets: Rockin' Roadster, Star Stage (Jerrica's office).
Review:
Even before the Jem mini-series was created, Jem was a promising concept invented by Bill Sanders with Joe Hyland and Barbara Hyland. Hasbro were approached with a new and extraordinary concept, with glamorous fashions, outrageous hair, and a rockstar theme. And it was up to Sunbow Productions to create the animated world around for it, with cartoon interpretations of the characters' appearances, personalities, relations, artistic scenes that would take place in the music videos, dramatical stories packed with action and even a science fiction ingredient. And assigned to make it all come alive storywise, was Christy Marx, as the head writer, in charge of things like writing the introductory episodes and the show bible itself. You might say Christy is the difference between a promising product idea and an actual success.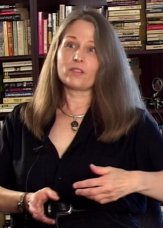 So how did Christy accomplish developing a show that people still want to watch and create a bunch of GIGANTIC fansites of over 30 years later, and that movie producers want to make live-action movies of, and toy companies want to make exclusive dolls of, and publishers want to make comics of?
Christy grew up enjoying cartoons like Mighty Mouse, Heckle and Jeckle, Tom Terrific, Popeye, and the early Disney features like Sleeping Beauty. And writing had been an interest of hers since long before she got into animation. Other than animation, she has written comics, graphic novels, non-fiction books, live-action, done game developing, and what not. She has done her own creations, like the Sisterhood of Steel, aswell as alot of developing and writing for many other wellknown brands.
As for animation, she got her start through the DePatie-Freleng studios on the Fantastic Four (1978) series for Marvel. Christy was at that point one of the first female writers in Marvel animation, and she has worked closely with Stan Lee himself.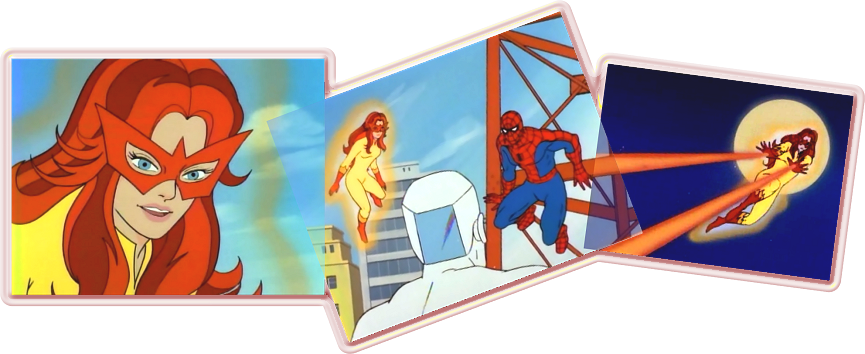 Her work continued on Marvel's Spider-Man (1981) series. Christy is infact the writer behind the story "A Firestar Is Born" of a certain redhead with a secret identity, Firestar, from Spider-Man And His Amazing Friends (1981), Christy wrote the episode about Firestar's background, which is one of the most loved episodes of that series. And Firestar who was invented for that series, successfully went on to appear in comics and even videogames. Infact, Christy wrote a bunch of stories for the mentioned series, and was also responsible for the first ever animated appearance of the character Sunfire. Christy even wrote an episode involving 3-dimensional holographic projections of people, and of Firestar herself (years before the Jem doll line was probably even in the works).
When Sunbow Productions were looking for action-adventure writers for the Hasbro line G.I. JOE, Christy was hired to write an episode, and her writing was so appreciated that she was hired to do another four, and soon Sunbow approached her to develop the Jem series!
Not only had Christy more than shown her talent for writing for male-oriented shows, but since Jem consisted of as much as seven (!!!) female main characters initially (later even eleven), Christy was not only a talented choice, but also a logical choice of Sunbow Productions, to get that genuine female ground. Although Christy herself was more comfortable at this time to write action though, and had initial worries how she would approach writing for a relatively "softer" brand like Jem.

Christy began development of the Jem series in January 1985. With very little details about whom the characters were, Christy developed the personalities, relationships, gave them last names, invented many characters and locations from scratch, and even initiated the design of some things (like Synergy's computer form). By late May when Christy had finished her scripts for the first five episodes, Hasbro still hadn't set on the final look and names for a bunch of characters and things, like Jem/Jerrica herself. Some of the final character designs were approved in early September, less than a month before October 6 the same year, when the first episode aired!
Jem was originally a 15-parter, of short segments of about 6Ĺ minutes each, and aired as part of Super Saturday / Super Sunday together with shows like Robotix, Inhumanoids and Bigfoot and the Muscle Machines. Jem was the only cartoon with mainly female main characters, and the only one among these cartoons that went on to become a full episodes animated series.
What was Christy and Jem up against in the 80's within the same genres? Well as for other shows (with corresponding toylines) aimed foremost at a female audience of the time (well other than Hasbro's own My Little Pony) were: "Barbie and the Rockers" which was a light-hearted musical-show consisting of two animated direct-to-video movies, invented by Mattel for their rockstar Barbie doll to compete with Jem. She-Ra was another show based on a doll line from Mattel, the female spin-off of He-man. Then there were a few additional notable brands with female characters in focus, like Rainbow Brite, also by Mattel, and later also Lady Lovely Locks, by... you guessed it, Mattel! While in many other cartoons, the female character was a quite invisible supporting role and/or love interest. But to get the kind of genuine quality that Jem has, you can't just copy a concept, or change the gender of a male hero, or throw in an excuse for female presence, like some of the above examples did, more or less.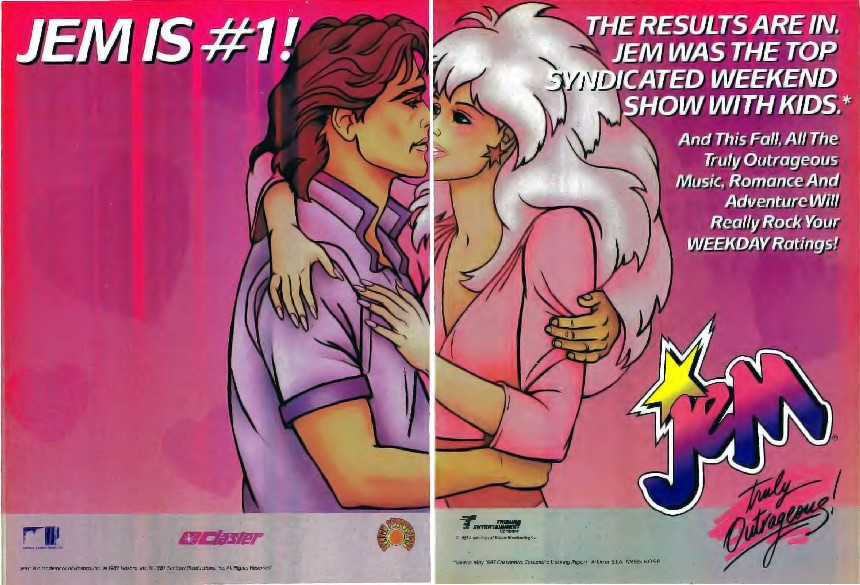 I can't say how much female involvement those other 80's shows had overall behind the scenes, and the mentioned cartoons certainly did have many qualities aswell! I like them too alot. But as for female writers, She-Ra had only 9 episodes written by females out of 93, Lady Lovely Locks 2 of 20, Rainbow Brite 1 of 13, and My Little Pony 9 of 65. As for Jem it was as much as 44 episodes out of 65 written by female writers, and as mentioned, Jem even had a female head writer! In that sense, there is no doubt Jem was the by far more authentic female star of 80's cartoons. And perhaps the most famous and memorable one.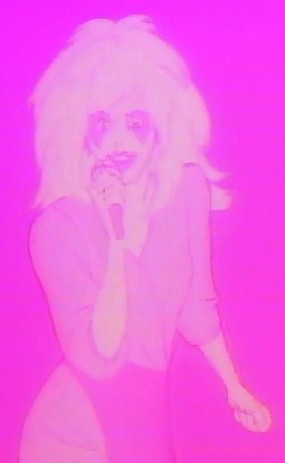 Jem was infact lightyears beyond those other shows in my opinion, with the boldness of a young female who challenged a powerful older male antagonist in a more realistic world. Jem's contemporary setting and mature tone gave it an edgier feel, without generic princesses and random magic to save the day.
Christy certainly did a whole lot more than provide the female perspective.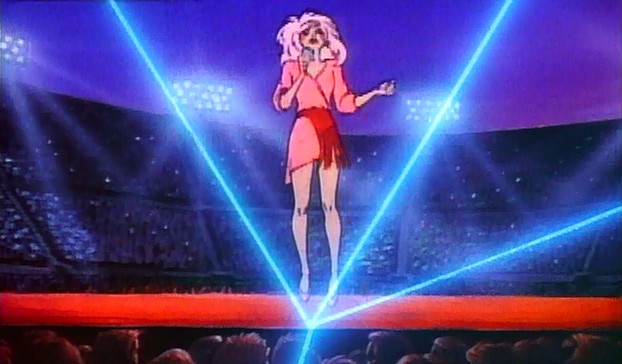 And in later episodes Christy Marx was also the story editor, which gave her power to oversee the continuity of stories, personalities and events. And she was a great help for the other writers aswell, and personally brought some great writers into the show and gave them material for their stories.
After Jem, she also continued developing shows for Sunbow Productions and Hasbro. And Christy has since written for additional animated shows like Dino-Riders, Teenage Mutant Ninja Turtles, Conan: The Adventurer, ReBoot, Beast Wars: Transformers, X-Men: Evolution, Zorro: Generation Z, Biker Mice from Mars and many more. And live-action shows like Captain Power, The Twilight Zone, Babylon 5, among others.
To me Christy Marx is an absolute gem of a talent in 80's and 90's animation, and since that time she has done alot of great work in other fields of the entertainment industry aswell, like comics, live-action, and even video games. So there was no way to describe this first episode and how it all began without including a little look at the career of Christy Marx. But other than the most ontopic connections to the Jem genres, I won't even attempt to do justice here for all branches of her career. So to read more about what amazing work Christy has done, visit her site here.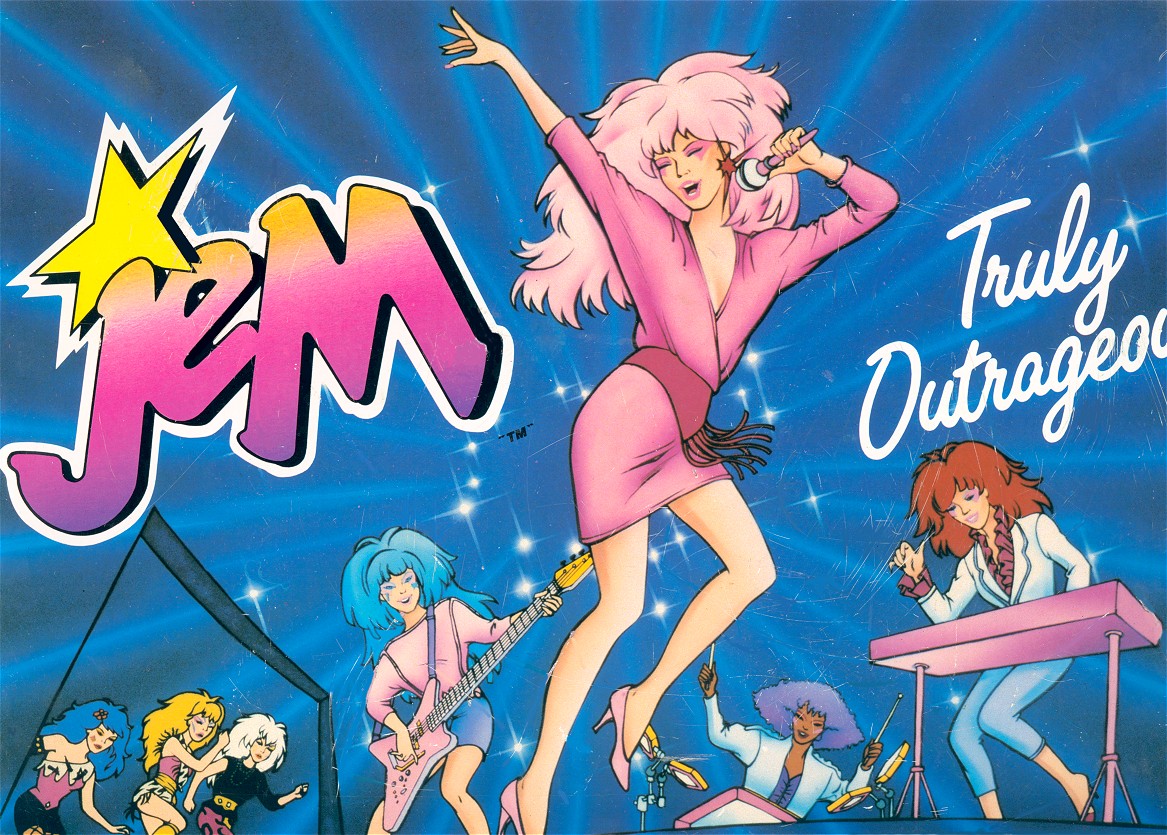 So to jump into this episode review...
This review is not to introduce you to what the series is about, if you're here, you probably already know it. And you can read some introductions on the index page, character pages and the history page. But let's dive into this episode bit by bit.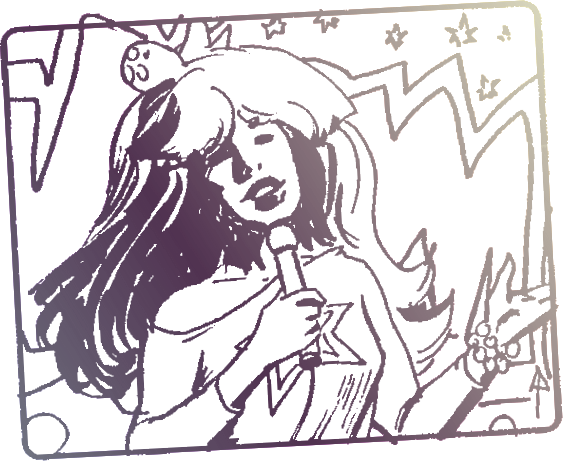 Some 80's cartoon series had a standalone first episode which we had no way of knowing was the first episode, unless we happened to see it first. This isn't just the first episode of a series. This Jem episode clearly introduces and explains many things.
The start of this episode is very uplifting with Jem and the Holograms arriving at late evening somewhere in downtown Los Angeles.
The story starts somewhere at the height of the careers of the Jem and the Holograms (but before Raya joined in), as they are stepping out of a car, which we'll later learn is their own, the Rockin' Roadster, in front of screaming fans and media eager to greet them. And reporters who ask questions!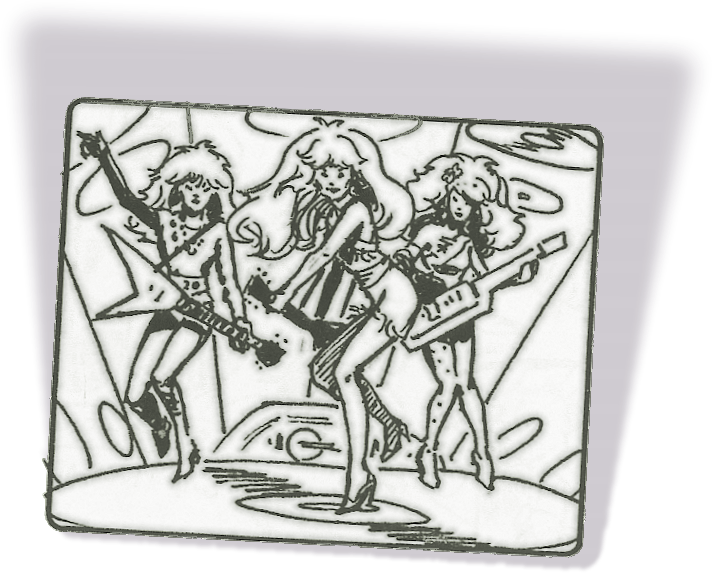 At this point, Jem was brand new, the writer and everyone else around the brand did not know whether the series would go beyond these five episodes. So we've got to assume this scene where the characters step out, takes place almost directly after the end of this five-parter. Although there's not a direct tie to it storywise. Christy has commented on this in the Truly Outrageous Jem Mailing List: "Frankly, once I got into the meat of telling the origin story, I think I simply forgot it was a flashback!". But in the "movie version" they do re-use some of these early scenes from this episode, in the fifth episode, although it was probably just to add some more scenes there, where fans cheered for Jem and the Holograms at the big contest.
In the original version (as seen on the Shout Factory DVD release, and in the recap in the beginning of "Starbright Part One: Falling Star") you could see things like an airship with the Jem logo in the sky. In the other version (Rhino release) you can see a banner that says "Jem", further down on the street. Infact this episode got so far into production that storyboards were made and were to be animated while Jem was still named "M" (and Jerrica = Morgan) and that's what it then said on the banner here.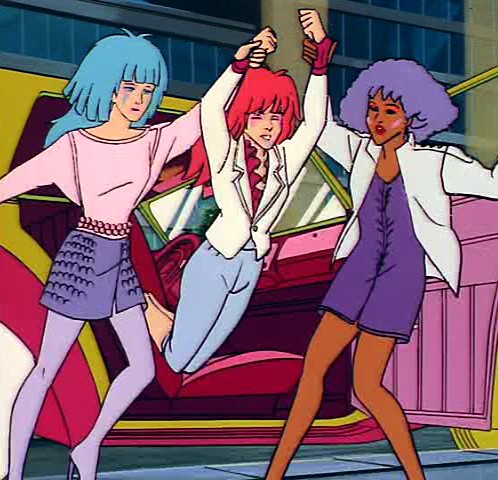 When the Rockin' Roadster arrives, Aja's legs are zoomed in and then the camera moves up to reveal the look of the bluehaired rockstar getting out of the car. Shana is shown head first and she does a spin, Kimber is lifted out and zoomed in, and lastly it's time for Jem who is actually initially seen from the inside, from behind, and then we move with her as she steps out of the car, releasing a transparent shawl covered with sequins (yes sequins, that was the detailed plan by the storyboard artist), adjusting her hair and posing. Considering this order, Jem must have been driving the car (although Aja is said to be the resident chauffeur for the band, according to Christy's bible, but which was followed up upon by only two other writers of this entire series).
Did you think about that Aja was the very first main character we saw in this cartoon? I'd say that's quite an honor to be. Christy originally wrote them to appear in a totally different order though.
As a Jem fan I often write out the names of the bandmembers, and always in my pre-decided "logical" order. Jem first, then Kimber who is the sister (which there is no clue about in this entire episode since part of the introductory scenes of the Holograms were cut before animated, so we don't find out until two episodes later), then Aja maybe because she looks enough like Kimber with the straight hair, and then Shana (who was infact created last by Hasbro of the original Holograms), and lastly Raya because she joined last (26 episodes later). Christy lists them in this same order in the Jem bible. But I guess all fans have their own order and logic, what's yours?
What a set of characters! I remember I mostly reacted to their unusual haircolors when I first saw them. And eventually I got a bunch of the Hasbro dolls (which were btw re-released as commemorative dolls by Integrity Toys in new shapes in 2012-2017, as seen above). Shana was a favorite doll of mine in the 80's. Loved that hair and also the makeup, which she never had in the cartoon! But Shana was the only one of Jem and the Holograms that had curly hair, and likely her design was one of the pictures that leaked when Mattel did their spying on Hasbro, and decided to create a rockband for Barbie. And it's probably why they gave most of their females supercurly hair, until their second edition when they had seen most Jem dolls had straight hair, and then instead gave all their females straight hair.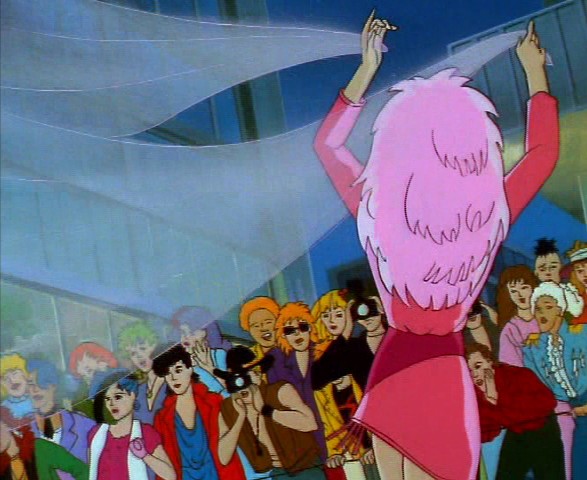 When we first see Jem come out of the roadster, we see some remains of early looks of her outfit. She is seen with a bracelet, which is never seen later in the series with this outfit, nor does it resemble the bracelet the doll was released with. Only other place it's ever seen in cartoon form is one early production art picture. And Jem has a red belt here, of which the doll company Integrity Toys 30 years later actually released a special tribute doll with.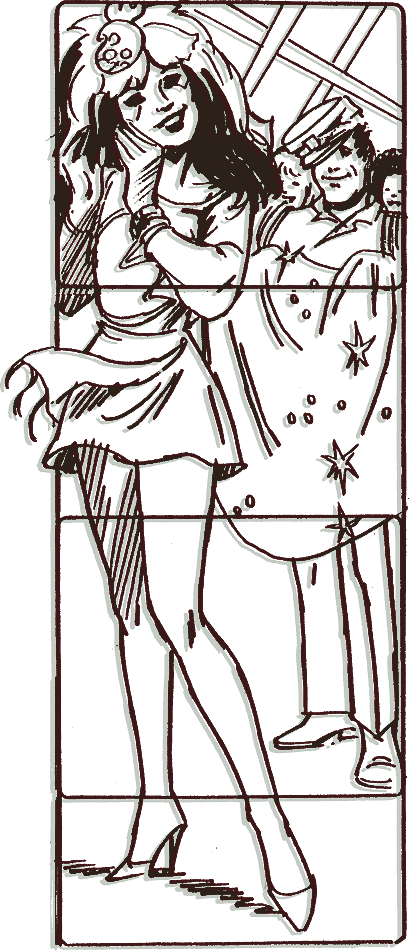 But if you look back at this episode and think "hmm interesting what Jem looked like, the first time we saw her", well chances are you might not be looking at the first view of Jem. But at a re-animation that was done quite some time after several other episodes had already been animated, when the animation had already changed style, and changed alot of animators. This particular scene with Jem is one of those. On the DVD collection by Shout Factory, it's the original version. Compare here: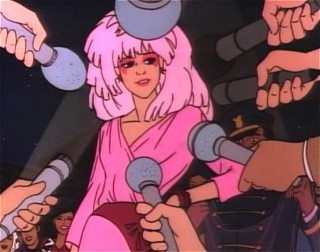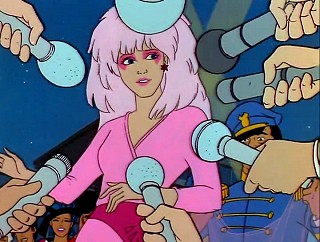 These main outfits of the band, are worn lots of more times in these first five episodes (and even after, although slightly changed). For recognition of course, since the dolls were released in these outfits.
Things like faces, expressions, bodies, movements, hairstyles, seen in these first five episodes, were a very charming way of drawing, in my opinion. Perhaps partly because of nostalgia, but also because they had their own consistent style that lasted as much as five episodes, and it was not bad at all, unlike what some Jem fans claim. All things did not simply get better with the update of animation-style in later episodes. I especially like how Rio and Kimber looked already here, and all of them actually! Well maybe Pizzazz and Shana were somewhat improved in later episodes though. This early kind of animation, sort of reminds me of 70's cartoons, but also particularly the first two "My Little Pony" episodes had a similar style. In my opinion, this early look gave the stories a rougher feel, less cute. And these first five episodes were like their own world storywise aswell, since when the Jem series continued, several things were directly changed, like Harvey Gabor adding a whole new dimension to the Misfits, somewhat new and softer personalities to several main characters (like Kimber, Eric, Ashley, Pizzazz), new friends for the Holograms...
The reporters that meet Jem here, actually ask already at this point what her real name is. This question even appeared in a UK storybook, "Annual 1987", and I'm inclined to believe the writer of that book had access to a copy of Christy's scripts (which later details of the story also speak for). Originally the reporters here had even more questions like "why are you so mysterious about your identity?". Funny note, in the Italian dub, all the voices of the audience, which consist of atleast 20+ male fans and reporters, were changed to only female voices!
So now we've been introduced to the main band, right away, the band the toyline revolved around, Jem and the Holograms.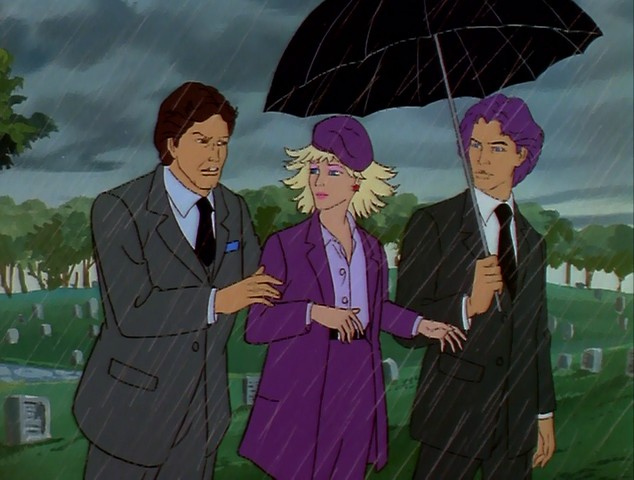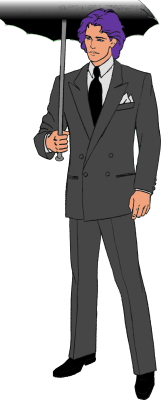 After the flashy start, Christy takes us straight to a funeral at a cemetery. A really bold move, which seems to have surprised many who saw this episode for the first time. We realize Jerrica isn't the lucky rich girl. This is a setback right here. It even rains, to set the mood.
At this point, the date is slightly later storywise than May 30th (1985), according to the later episode "Out Of The Past".
We never see the tombstone of Emmett Benton though, and this cemetery is never revisited in the entire series. We don't even see a picture of neither of Jerrica's and Kimber's parents, until many episodes later. Infact we didn't even know Jacqui existed until later.
Jacqui died years prior to this, as we see in the later episode "Out Of The Past", where they talk about Emmett and Jacqui, missing and remembering them. Jacqui had no parents, since she was a foster girl, and Christy has said that she never thought of creating grandparents on Emmett's side, nor other family. So Jerrica and the others girls are all alone here, they only have each other. And Jerrica's boyfriend of course.
And here he is, the purple haired leading man of the show, Rio Pacheco. Voiced by Michael Sheehan, who also actually voiced Ken in Barbie commercials. A very good choice of voice in my opinion, Sheehan did a fantastic job voicing my favorite character! Great pronunciation, great emphasis on the correct word in a sentence, lots of emotion, and such a charming voice.

Already here comes the main bad guy of the show, Eric Raymond, although he hasn't done anything bad yet. Voiced by wellknown voice actor Charlie Adler. Eric was named after Christy's brother's first and middle name. It was an injoke by Christy and she has mentioned her brother was both "bemused and amused" about it. In the Swedish dub, although his first name is very common in Sweden and has a very different sound, his name is surprisingly pronounced the same as in the original US dub. But in Italy on the other hand, his last name would sometimes be pronounced "Riemond".
The main character Jem certainly wasn't the only character that went through some "last minute" changes artwise, even cartoon-only characters like Eric was changed up until the last moment, before they set on the look he got in these first five episodes (which was even slightly changed for the trilogy that followed). It was to the point where the storyboard was done, but for the final looks, the animators had to refer to the latest updated model art. Although Eric was Christy's invention and not very colorful in his darkgrey suit, Hasbro did refer to him in their marketing for the line, and even in storybooks he is a very featured character. And although he was never made into a doll in the 80's line, Integrity Toys made that happen in 2015!
Eric offers Jerrica help. But Rio let's us realize right away that Eric isn't a good guy. And when Jerrica apologizes to Eric for Rio, originally she said to Eric "don't mind Rio", but I guess it was considered too easily misunderstood as a harsh comment by Jerrica, and it was changed to "Rio means well". But interestingly if you look in the UK storybook I mentioned earlier in this review, you will see that original line from Christy's script is intact.
So why doesn't Rio like Eric already here? We don't learn why Rio is so upset with Eric at this point. Rio seems a little too angry, as if he knew more about Eric being a bad guy, than we viewers and even Jerrica knows at this point. This scene is kinda referred to in a much later episode "Out Of The Past", where I guess they wanted to explain Rio's reaction, which is apparently jealousy (and that's an explanation we buy at that point).

Speaking of Rio. Christy seldom shares who her favorite characters in Jem are, but she has mentioned Rio on several occasions. She describes him in the Jem bible as "he got his start in the music business from Emmett Benton" (which we also see in flashbacks in the later episode "Out Of The Past" by another writer), "he knows everything there is to know about musical equipment, touring, lighting, sound engineering...", "cannot stand liars and deceivers", "has a short temper, especially when he sees someone he cares about being given a hard time". Visually Christy describes Rio as "he has a face women would die for" and "Rio has the strong muscular body of an ex-roadie". Well Rio must be considered good looking to others than Jerrica, because even Pizzazz hits on him several times in this five parter and also in the following trilogy, and infact Roxy and Stormer have both said they think he's good looking, Roxy called him gorgeous in the 1986 UK comic, and Stormer cute in the 1986 UK Mini Activity Storybook "Making Mischief". But when Christy wrote this episode, she had not yet seen a prototype picture of Rio, infact she never saw one. Rio was not finished yet by Hasbro and had not yet been given his final haircolor nor doll fashion. But Christy has also mentioned that when she saw her episodes animated, the only haircolor she "...found a little strange was purple for Rio. I can understand colored hair for performers.". Well infact Rio was originally going to have brown (or even black) hair in the doll line, as he infact has in the US storybooks by Golden. And a blackhaired Rio doll has actually surfaced ebay.
As for Rio's origin, Christy has said: "I didnít put a lot of thought into Rioís background when I wrote his first bio.".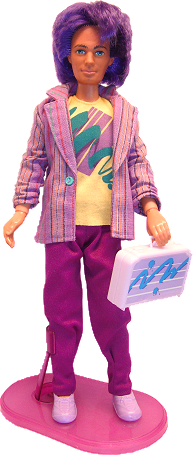 The Rio dolls had darker skintone than Jem/Jerrica though, and coincidentally Christy also describes Rio in the Jem bible as "tall, dark and handsome" (although Rio has blue eyes in the cartoon, and turquoise on the doll). Christy also gave him the last name "Pacheco" (which we for the first time hear said by Eric in this episode), and she has later commented: "I guess 'Rio' must have suggested something Latino to me, though I never wrote Rio as a Latino character.", and she has also said "I never specified an ethnicity for Rio", "I don't think of him as being Hispanic, unless it's many generations down the line.", and "If anything, he might have some Hispanic blood a couple generations back mixed with who-knows-what. This is America after all, land of ethnic mutts.". She has offered the possibility of Rio "having a Latina mother and Anglo or mixed-race father.".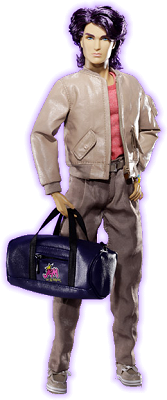 The surname "Pacheco" is common in Latin America, but actually derives all the way back to 92 BC, from a Roman general named Vivio Pacieco, a descendant of proconsul Lucio Viminio Pacieco, who served Julius Caesar during the conquest of what is now Portugal and Spain. And although it would had been nice to have an even larger mix, of the already big mix of origins in the Jem series, I don't think we should read too much into the meaning of the origins of the last names for this cartoon. Even Roxy of the Misfits, has the last name Pelligrini without any known plans of having a Italian origin. Besides, it seems to be a thing for this cartoon to let the males have slightly more tanned skin than the females, like Riot also does. Well that's common for other cartoons from the same time too, like Masters of the Universe, where He-man has alot darker skin than Teela for example.
We never see any sign of Rio's family in this episode, nor in the entire series, since Christy had not developed Rio's past. Although Christy has said "He slowly came to suggest a background to me as the series progressed and even more since then.".
Christy planned (as she mentioned in the episode commentary on the DVD by Rhino) that Rio came from some fairly unhappy homelife: "He has no brothers or sisters.", "His father was an angry, abusive man who lied constantly. It instilled in Rio his intense dislike of liars.", "His father eventually left the family, but Rio remains close to his mother", "When he was young, heíd leave the household to avoid his fatherís temper and happened to encounter Emmett, who was aware of the situation and tried to help without actively interfering. So he informally took young Rio under his wing and developed his natural abilities. Rio came to see Emmett as a surrogate father.".
Speaking about Rio's father, the live-action movie did not pick up on Christy's ideas for Rio's father, BUT they did cover the fact that Rio HAD a father, and what his name was, Michael! Which in my mind could had been a tribute to Rio's cartoon voice actor Michael Sheehan (and before you even think the movie writers didn't give that much thought into Jem, let me tell you you are wrong, they did ALOT of things like this, and put alot of thought into tributes with details like this), who did not have any cameo in the movie though, and Rio's father had already passed away in the story of the movie.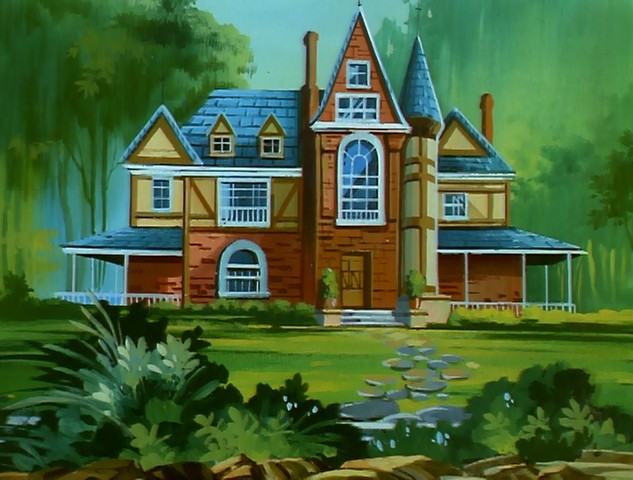 After the cemetery scene, now scenes shift to a more uplifting mood. A new day, nice sunny weather, and a first look at their home. Starlight House looks like it's located in a far off place with no neighbors. A very idyllic location surrounded by nature, grass and trees. Christy has said she liked the look of this house more than where they later lived, in Starlight Mansion. Although never mentioned in the series, Christy has specified in the Truly Outageous Jem Mailing List that this is supposed to be in the San Fernando Valley in Los Angeles.
No sight of the Starlight tree house here though, which is later introduced, in an episode "Out Of The Past" by another writer, to have been here by now. Infact nowhere is it seen in this episode. Of course, it was a later invention by another writer (or perhaps even an idea by Christy herself at that time). But it's still there many episodes later in "The Stingers Hit Town Part Two" which was written by Christy.
Here we see the Starlight girls who are introduced by Jerrica in a narrative voice that speaks to us viewers. Narrative voices are very common to introduce cartoon stories, like Disney movies, even nowadays, but not common for the Jem series otherwise. Can't think of many episodes where it happened again. Well maybe there were moments in "The Battle of the Bands", "The Talent Search Part 1", "Scandal", "Riot's Hope" and "The Day The Music Died". Can anyone think of more episodes?

All of the Starlight girls were assigned names (mostly after friends or acquaintances of Christy) and ages by Christy, who invented them, and she even specified atleast some of their looks. At this point they were not meant to have major roles, nor be released as dolls, which three of them later were. They were meant to give a noble reason for Jerrica to fight for Starlight Music and become Jem, which was to support them. Christy has said though that she wished she had created fewer of them (probably because it would be easier to create stories around fewer characters).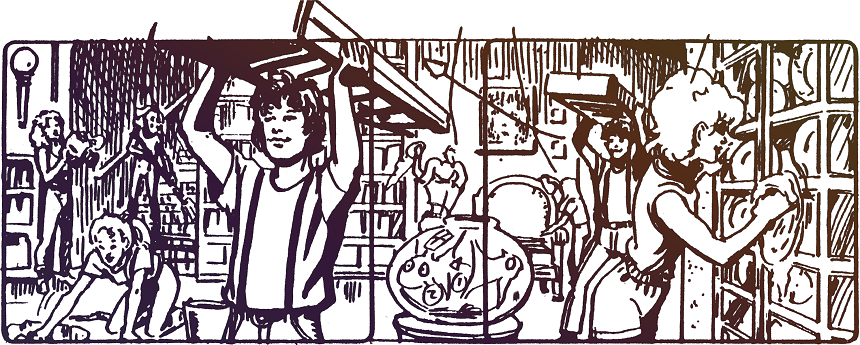 Something we don't find out yet though, is that Aja and Shana were originally foster girls themselves at Starlight house. We don't find that out until the much later episode "Out Of The Past". But it's also mentioned for Aja in the Jem bible. For Shana it is not mentioned in the Jem bible though, but Christy has said in the Truly Outrageous Jem Mailing List "I honestly can't remember whether I originally intended for Shana to be one of the first Starlight girls or whether that idea came from the writer of that script.".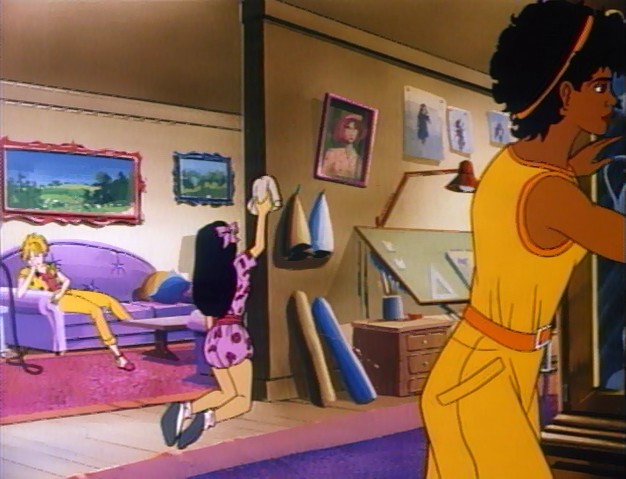 Here we kinda get to know the main characters, even if some of them play their once planned (by Hasbro), instruments, Kimber guitar, Aja drums (in early art you can even see Jem play guitar, and Aja play drums and Shana guitar, well Shana was almost named Aja for a while according to Christy). Infact the guitar playing we hear from Kimber, was meant to be more of an actual jamming session between all of the four girls. But instead, unrelated background music ended up being played here.
Although someone at Sunbow cut this out from the cartoon, the new comics by IDW Publishing realized there was a need for a scene with Jerrica, Kimber, Aja and Shana jamming together, in their re-telling of Jem. Infact also the 2015 movie included a scene like that.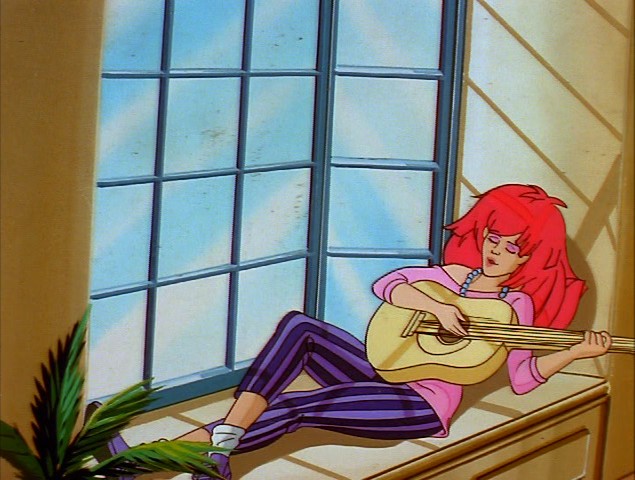 But there are still signs left of this in the cartoon aswell. And did you wonder why Kimber is playing a guitar instead of cleaning like the others? This was originally written for a reason, and was a longer scene. And where is Shana? Well she was originally included aswell, in a scene that would establish her fashion design interest, including Terri who tried on one of her designs. You can even see a remainder of this scene if you look closely (depending on what version of this episode you have) when Lela and Ba Nee are cleaning, behind them is a desk with fashion drawings and what appears to be rolls of fabrics. So Christy did not leave out an introduction of any of the main characters here! Here is a off-site link to an instagram account where a mysterious Jem fan has uploaded a picture that seems to depict original art from the planning of the unused scene with Shana and Terri, where Shana was still called "Chandra".
Kinda problematic when Sunbow cut in Christy's scripts and left out essential stuff, some of which Christy has been asked by fans why she didn't include, although she did infact! My advice to future people who are lucky enough to work with Christy: if you are going to cut in the timeframe, double check with Christy before cutting something out, because her scripts are more thought out than most other writers'. As far as I'm concerned, her words are pure gold!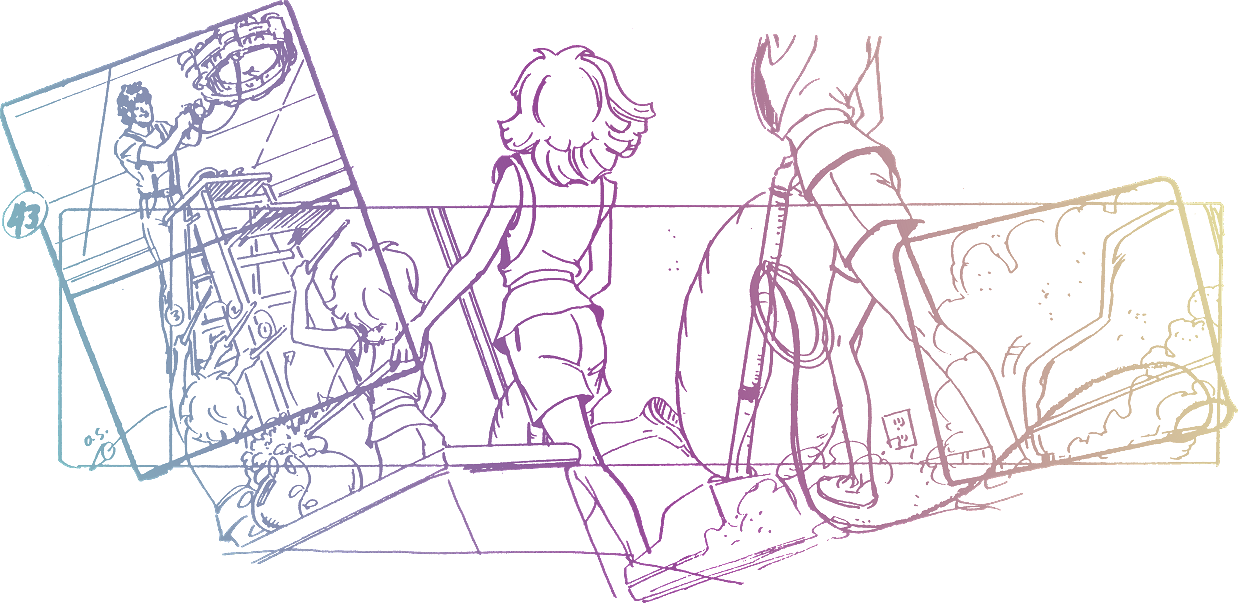 Notice how simple some of the characters' outfits are, I guess they were made to look casual and almost poor at this point, as opposed to later on when they get all kinds of flashy fashions. Still, by now we've already seen Jerrica, Kimber, Aja and Shana wear three different outfits each in the stories alone, Rio two. One more each coming up for Jerrica, Kimber, Aja and Rio in this episode. Jem and the Misfits also wear several outfits in this episode, if you count the upcoming music videos. Jem two, Pizzazz seven, Roxy five, and Stormer five. As much as 36 fashions for the main bands and Rio are introduced here, which is one of the biggest amounts in any episode. You may think fashion was a big deal for this cartoon, but here it was mostly in a subtle way, because only a single one of those outfits was even available to purchase in the Hasbro Jem doll fashion lines, well except for one main outfit for each character which the dolls came wearing. We don't see a larger amount of new fashions introduced in a single episode until the episode "Glitter and Gold", also written by Christy.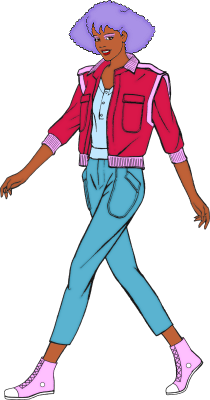 Several Holograms and Misfits outfits were marked to appear already in this episode aswell, as far as their model art say, although they didn't appear until the next two episodes. Perhaps they were never really planned to appear here, but rather just made as model cels early on, because they were priority Hasbro fashions.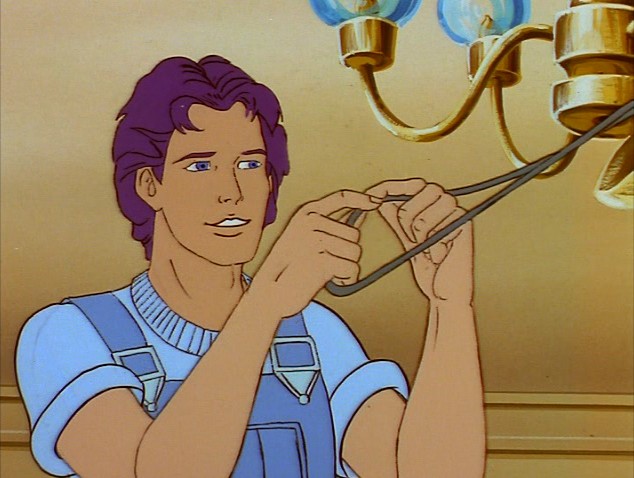 Rio is right there at Starlight House, helping cleaning aswell. Nothing seemed left to chance here, even Rio's walk with the ladder was to be timed with the music. Parts of Rio's appearance was cut out though, in later versions of this episode, and as mentioned, also the Starlight girls were cut out until Becky talks to Jerrica. Removed was thereby also a good overview of the inside of the house (for those curious where they lived at this point, which was only ever seen in this episode).
Rio doesn't live here though. We don't actually learn where Rio lives in this episode. In the later episode "The Music Awards Part 1" by Christy, we see Rio lives in an apartment, but that was music video logic, an idea invented completely by the storyboard artist (although probably logical at that point that he had his own place, and doesn't live in a house by himself). It's mentioned in the later episode "Out Of The Past" though, that Rio lives "next door" from Starlight House (at that point which was when he was younger). And Christy has later confirmed that he atleast lives somewhere close by in the same neighborhood as the Bentons.
The most noticable remainder from the music part of this scene was how Jerrica's foot was tapping. Kinda funny when it's kept out of it's original context. You might even ask yourself why they bothered to draw that detail, unless they actually animated the other stuff originally and then cut it out. But that is probably wishful thinking. Atleast I can confirm there were certainly nothing more shown in the original Super Saturday/Sunday airing.
Notice behind Aja, as she presses the lightswitch for Rio, is a painting that appears to have a big "M" on it. Maybe a leftover from when Jem was still called "M".
You feel really bad for Jerrica in this episode, taking on the responsibility of getting everything to work. And the others aswell, they all do their part, even the Starlight girls. Well, not Ashley (nor Kimber for that matter). Ashley is feeling left out. Although we aren't really told Ashley is new here. It was originally written to be mentioned that Ashley was new.
According to Christy, Ashley was a last minute creation. She even had a different name at this point, Heather (and she was even given another last name, Thomas, than the one chosen for her by another writer in a later episode, Larsen in "Alone Again", makes her sound Scandinavian btw). Sunbow and Hasbro liked the character, but Christy was asked to change her name to Ashley, and eventually she even became a doll and Christy was asked to feature her more in stories along with Ba Nee and Krissie (who actually does not appear at all in this first episode) who also became dolls.
It's not mentioned how old the main characters are at this point. Christy did not set the exact ages even in the Jem bible, other than Kimber being 3 years younger than Jerrica. But, ages for all of the Starlight girls: Terri 8, Ba Nee 8, Marianne 9, Joellen 9, Nancy 10, Anne 11, Krissie 11, Deirdre 12, Ashley 12, Delaree 13, Becky 13, and Lela 14. In the later episode "Out of the Past" by another writer, we learn that Aja is the same age as Jerrica. Christy has said in the Truly Outrageous Mailing List that she sees Kimber as being "maybe 17, with the rest in their early 20's and Eric in his early 30's.
And there is a Jem fansite, The Starlight Jem Page, that has done a big job trying to figure out the ages, with every clue we get in the episodes, which says Jerrica should be about 18 at the start of the series. But it uses the episode "Out Of The Past" as reference, which was not written by Christy.
Christy has later also commented and said "It would seem reasonable to me that Kimber has just graduated from highschool at the time the series *started* (she's certainly not in high school at any time during the show), so she's maybe 17-18, which means Jerrica has to be about 20-21, which feels about right.".
Speaking of education, we find out in the Jem bible that Aja went to high school, and in the episode "Out Of The Past" that Jerrica went to highschool (and college according to cut lines of this episode), and Rio to Engineering school. Jerrica is trusted with half of a company, so I guess she was good in school (well only good enough to be trusted with HALF the company anyway, of course in combination with Eric tricking Emmett while Emmett was sick). We do get some scenes and mentions about the Starlight girls going to school aswell in the series.
But as I've mentioned on the page Jem Pros, I consider it a positive thing that that the main characters in Jem were beyond their highschool years, and even the Starlight girls were barely shown in school. Because school and highschool are so extremely overused in many other cartoon and live-action shows.
So now you know a little about their ages, their education, and... here's how tall the characters are btw. Or you can just measure your Jem dolls (most of them should be the same height). The heights was btw something that the publisher IDW Comics tampered alot with for their Jem comic series that was first released in 2015, among other more individual body features.
Kinda cool that we hear the voice of secondary character, the Starlight girl Becky, so soon, especially since she barely ever speaks again in the series after this five-parter.
During the scene in Jerrica's bedroom, a speaking line of Kimber was cut out (for no obvious reason at all), depending on what version you have of this episode. Infact, for some reason they cut out both scenes that referred to needing new furnitures: an earlier scene with Ashley, and now this line of Kimber. In the Shout Factory release they're both there, aswell as the VHS movie version, but not on the retakes version on the Rhino release. The animation is still there for Kimber's scene though, just the sound missing.
Here we hear the voice of Shana for the first time. Cindy McGee was the voice of Shana, and according to Michael Sheehan (voice of Rio), the first woman who had been cast in the part was replaced after the first session. But I assume that was fixed before airing, so there's probably no version out there with another voice for Shana. But I guess they made the best choice of voice, although Shana doesn't get enough lines to shine until some later episodes where she was more featured.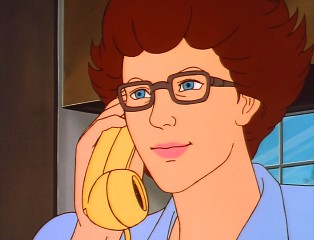 I think this must be the only episode where Mrs. Bailey has an opinion of her own, when she suggests Emmett always used to get money from Starlight Music.
I guess Mrs. Bailey was invented to give Jerrica and the Holograms a noble way to leave home for performances without leaving the Starlight girls alone. Because we don't learn about her as a person. Infact what we find out in this episode, her name, what she looks like, and kinda what her job is, is all we ever learn about her in the entire series. And she never ever wears another outfit. There wasn't even anything else planned for her in the Jem bible, but it does specify that she is older and serves as a housekeeper and has been the "den mother" since Jerrica and Kimber were little. I'd like to know also where she lives, if she's related to Emmett, how old she is (bible says "older", atleast 40+ I would guess, or what is your guess?), if she has her own family, what her actual duties are for the Starlight Foundation, when exactly she arrived, whether she was hired after Jacqui died? Her importance in storybooks was quite overlooked, and she was changed around in appearance and role and even replaced by similar characters. Until it came time for the live-action action movie in 2015, where she has an important and very visible role, played by top 80's moviestar Molly Ringwald!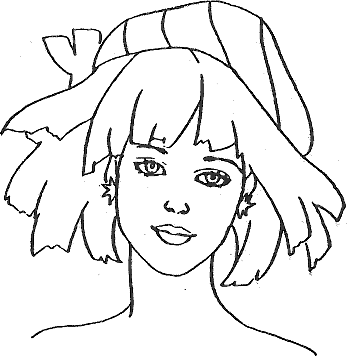 Here comes a Christy invention, Starlight Music. What a contrast from romatic old house in the nature, to a big city company. This is the most distant overview we ever get of this building in the entire series. No Misfits Music built across the street from it here yet (until the episode "The Music Awards Part 1"). And never again in the series is there so much space between surrounding buildings, although in the episode "The Music Awards Part 2" we see a very closeby park, which could possibly correspond with some of the green areas seen in this overview.
When Jerrica is standing outside Starlight Music, until she is seen in the elevator from outside, this scene was written and added afterwards in retakes when this story became a 21 minute episode. These added scenes expanded the length of the episodes, but also added more explanation to some scenes. But already originally the script included some scenes that were never animated, of Jerrica passing by alot of people moving things in and out, and that wasn't even picked up in retakes.

Jerrica is here the "nobody" young woman, who approaches the huge company. This is her first big step to becoming the strong successful businesswoman she will be later in the series. And this Jem episode aired years and years before the oscar winning movie "Working Girl" with Melanie Griffith! Yes Christy was actually able to write this kind of theme into a cartoon.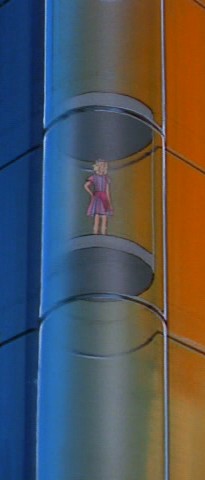 Jerrica's and Kimber's father Emmett Benton, started Starlight Music together with his wife, Jacqui Benton, the mother of Jerrica and Kimber, to support Jacqui's career and thereby also support their children and the Starlight girls. When he died he left half of his company to Jerrica, and the other half to his assistant Eric Raymond (and the 1986 hardcover storybook "Battle of the Bands" by Golden, which was based on the scripts if this five-parter, uses the word "partner" rather than "assistant").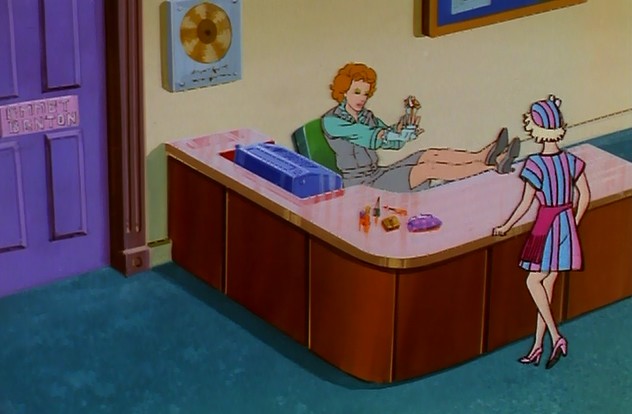 So here Eric actually owns half of Starlight Music (and acts as if he owns the whole thing). Here we see what the company would be like with him in charge (well he also owns it in a much later episode "The Day The Music Died"), with firing people, with a vain airhead secretary, and troublemaking bands like the Misfits. Jerrica may have thought well of Eric at the funeral, but now she is realizing bit by bit something is wrong.
Apparently Emmett had a secretary named Gloria (Gloria was named after a secretary Christy had worked with at a TV production company), which I guess Eric fired, because we never hear nor see her in the series. Infact the UK storybook, mentioned earlier in this review, interprets the script as if Gloria was fired. And the guard Jerrica passed by in the entrance of Starlight Music, infacts says someone named Harry was fired as a guard. Eric must love having the power to fire people, he does it alot also in the Starbright three parter that followed this five-parter.
This new secretary of Eric's actually re-appears in a later episode by Christy, "The Music Awards part 1", where Jerrica goes up to Misfits Music in a similar scene and finds her. But Sunbow gave her a similar makeover as Lindsey got, with little curls. In a UK storybook, Annual 1987, she even had all long purple hair instead, kinda looked like Clash.
Why did Eric hire her to begin with? She wasn't paying attention to her job, rather her nails. He liked her? Relative to Eric? If you wonder what happened with her once Jerrica regained control of Starlight Music, that was a scene Christy wrote but which was never animated in retakes.
Nice detail that Eric's door still has the name of Jerrica's father (which is the first mention we ever see of his name). Almost hard to believe they were this attentive to details already in the first episode. Well it was requested by Christy. And in the second and fifth episode of this five-parter, in added scenes, you will notice the sign on the door is infact replaced with Eric's name.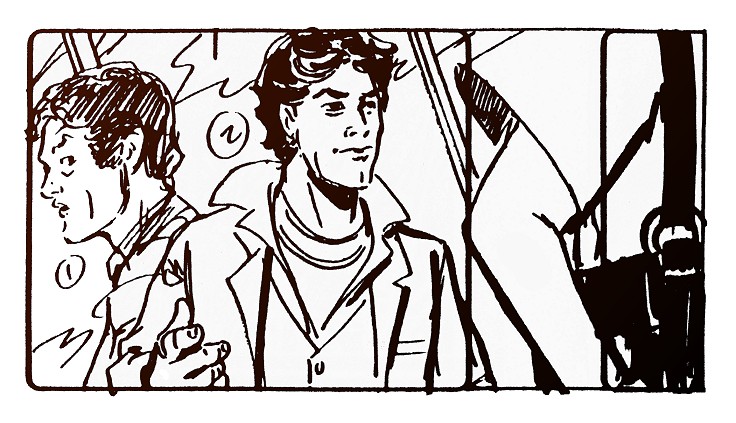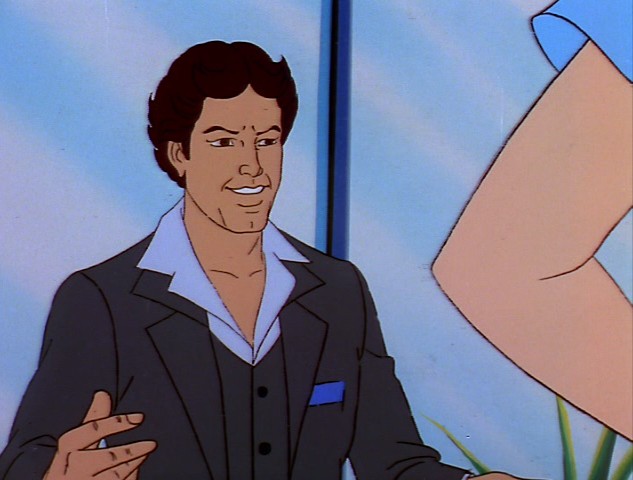 Jerrica finds Eric has taken over Emmett's office. I used to wonder why she was so surprised to find him here and putting guilt on him for taking over the office, I mean so soon after she entered the office and before he even told her all of his plans. One thing, is that it's apparently very soon after her father's death. Another, must be that Jerrica oughta had been given that office herself or been consulted about it, especially about her father's furnitures being taken out. Thirdly, Eric wasn't just taking over an office, this was a sign of how Eric was turning everything Emmett had created around.
Something interesting at this point, is whether Emmett's office still looks anything at all like he furnished it. Since Eric had time to replace the secretary, you might think he changed alot (he sure did in one the 1986 hardcover storybook "Battle Of The Bands"). And it's confirmed by the script that Eric had already made changes of furniture. So I guess that desk and those big lips on the wall wasn't Emmett's. And we infact never see Eric's furnitures again after Eric left. But the furnitures we see in his office in Misfits Music in later episodes, kinda confirm Eric's style.
The way Eric's shirt sticks out of his suit and is a bit open, gives us a little hint of the sleezy side of Eric. Or was this an 80's thing? Christy sure didn't seem to describe him as such, rather the opposite, and in a UK storybook they even go as far as to describe Eric as "handsome"! Purely a visible thing I guess, but storywise it wasn't followed up upon, except for Minx playing around a little with Eric in a later episode by Christy, "The Stingers Hit Town Part One".
As for Eric's personality... He seems to like money, have low morals and is bad enough to find the Misfits and their behaviour appealing (unless he has to pay for it of course). I like the fact that these first five episodes really portrayed Eric as nearly a hundred percent evil (yet in a believable way), and not as goofy as he became in most later episodes that weren't written by Christy. Christy has infact alot of bad things to say about him in the Jem bible: that he doesn't care for music, likes prestige, authority, wealth, is self-centered and manipulative, loves games and deceit, and has no scruples! That's how I like Eric to be portrayed! But Christy has also mentioned that she doesn't see Eric, nor any of the other main characters, as entirely bad though, and that's a nice quality of the Jem series in my opinion, with adds realism and depth.
Infact, put yourself in Eric's position for a moment. He's spent probably years doing alot of hard work for Emmett, and as Emmett got sicker, Eric probably ran the company by himself as the boss (while Jerrica was in school). But when Emmett died, Eric was going to be degraded to only being able to control half the company. And imagine his situation when he finds talents (which you must indeed agree they are) like the Misfits, and realizes that Jerrica would probably never let him sign a band like that. So... with no Jem and the Holograms having appeared yet, would you just forget the Misfits and hope Jerrica can make the company work? On the other hand, Eric turns out to be a real bad guy regardless, in many upcoming scenes.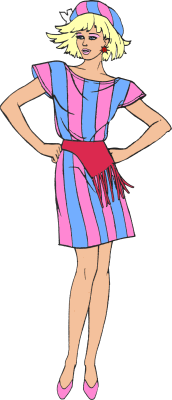 So why did Jerrica's father Emmett leave half the company to Jerrica in particular, and why not to his foster daughters Aja and Shana or his other biological daughter Kimber? Well Jerrica was one of the oldest among them, and had a businessmind. ...and she is simply the main character. But on top of that, this decision must have been an active one by Christy to make the script work, because Jerrica had to be the only one who was in a conflict of interest later in the episode for the battle of the bands in the park, which is why she has to create a second identity, Jem. If also the Holograms were in a conflict of interest, they would need secret identities (or something) aswell, and a pair of earrings each and so on.
And why would Emmett give half of his company to his assistant Eric? We don't find out why he trusted Eric until the later episode "Out Of The Past", where Emmett gets tired because he is dying. Infact read Christy's comments on this.
And Christy has also commented: "Eric would have worked for Emmett long enough to rise to a position of authority. He was cunning enough to get Emmet to trust him. Furthermore, as Emmet's health declined and he concentrated more on the legacy he wanted to leave behind, he left more and more of the everyday work of running the company to Eric.".
You might think Jerrica was a bit cocky coming around just to ask for money, and we find out nothing about her interest in the work at the company, nor her experience. Christy covered this though, but it did not make it into the cartoon.
Infact the very first cut of this episode and scene, made Jerrica go on even harsher on Eric, asking for money. Because in later retakes, they added another mean comment by Eric to explain Jerrica's anger and demands. This line by Eric was originally in Christy's scripts though.

The Misfits are introduced by Eric to Jerrica, as they arrive one by one... "Pizzazz, Roxy, and Stormer" (well actually in Italy Pizzazz was called "Pizza")!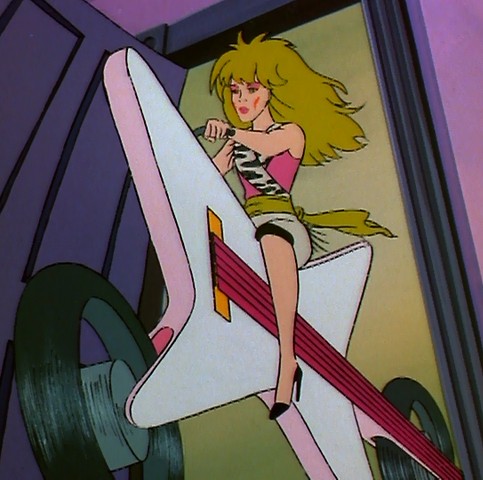 The "Misfits"??? Yes there was a real life band already at this time which wasn't very known to the general public, and had even disbanded a couple of years earlier. The toycompany Hasbro had come up with the same name for their dolls, and Christy wasn't aware of this real life band pre-dating the cartoon, and has later commented on this saying "Most likely what happened is that the band may have trademarked the name only for their area of business, being music, and not for toys (assuming it was trademarked at all)." and "My guess is that Hasbro had trademarked fair and square for the toys category and legally the band couldn't contest that.". Two bands with the same name is quite interesting though. Although, the real life Misfits were a band of all men with a very different style of music, and who in their turn had taken the name from Marilyn Monroe's last finished movie "The Misfits". And "misfits" is a word with a meaning, so it's no surprise it was chosen. If Hasbro was inspired by something though, it might have been Marilyn Monroe, but on the other hand that movie doesn't resemble this cartoon band either. Well, now back to the cartoon Misfits...
The Misfits driving in on the guitarshaped motorcycles was a nice move for attention of viewers. And they of course needed to get their own entrance into this cartoon like stars, like Jem and the Holograms. Although in storybooks like the 1986 hardcover "Battle of the Bands" and first issue of the 1988 Mexican comic the Misfits instead had regular motorcycles in their introduction scene, which is probably because Christy never wrote anything about them driving in on motorcycles (although she did mention for them to drive other vehicles later in the music video), so whoever added the motorcycles (assumingly the storyboard artist and producer, Will Meugniot) did not communicate the look of the motorcycles to the book writers. Interesting that this scene also shows a very different makeup for Pizzazz, which appears to be an early look for her since there is early cartoon art that shows some red color in her makeup. Originally here, they just drove in very quickly and drove by, without stopping one by one directly inside the room, but this was changed in early retakes for the VHS movie version, to make them each stop a moment when they entered while Eric said their names.
Already time for another added retakes scene. I guess the Misfits arriving on those guitarshaped motorcycles was a little over the top and needed to be explained. Interesting, since the motorcycles were not written by Christy, originally anyway, that she was the person who got to explain them in the added scenes. So we get to see them enter the room and comment on the motorcycles to Eric, "Hey Eric, like our new toys?", which I bet some viewers assumed was some kind of advertisement for doll motorcycles, but as we Jem fans know, nothing that resembles these motorcycles was ever released for the doll line! I would have loved that! We also get a little more detailed explanation that this is now Eric's office, that Jerrica owns half the company, and a more formal introduction between Jerrica and the Misfits.
Not sure this episode would had been the place to go into the backstory of the Misfits, but I'd love to learn more about where Eric met them. Christy sure created a lot of background for them in the Jem bible, like how Pizzazz grew up in a wealthy family, and Roxy running away from home at 13 years old taking jobs waitressing, Stormer being the youngest in the band and was overawed by Pizzazz' image and promises. Although Christy has said she didn't plan in detail of how they all met and formed a band and met Eric.
Although Christy has once shared what the origin of the Misfits could possibly be: "Pizzazz decides to get the attention she wants by becoming a rock star. She goes to Eric. Eric observes that she's filthy rich and that's enough for him to declare her a major new talent. Eric and Pizzazz put the band together, and Eric can't believe his incredible luck because they're actually very good and Pizzazz has far more talent than he expected.".
Originally without any of the Misfits having said a word, here comes the very first music video in the series, and it's a Misfits one, "Outta My Way". Very daring approach of Christy and the others at Sunbow to let the bad guys Misfits introduce the show.
Ellen Bernfeld has the ability to make the perfect badgirl voice, because if you've heard her sing other things, you'll know she has a great control of her voice, and the ability to go into a role and act, to really put emphasize on words to give them that extra level of weight. Or in other words, she's an amazing singer! This becomes more obvious in later episodes like the Starbright trilogy, where the Misfits songs take a slightly different direction and Bernfeld really takes the chance to shine!
Christy described the music of the Misfits in the Jem bible as "rough, tough, and full of self-centered lyrics which promote their own selfish, materialistic creed" (and the 1986 Find Your Fate storybook "The Secret Of Rainbow Island" even refers to the genres of the Misfits' music, as rock/pop/punk), and I think we can definitely see their attitude already in the first music video. Perhaps giving parents the wrong idea that this kind of message would be the tone of the show.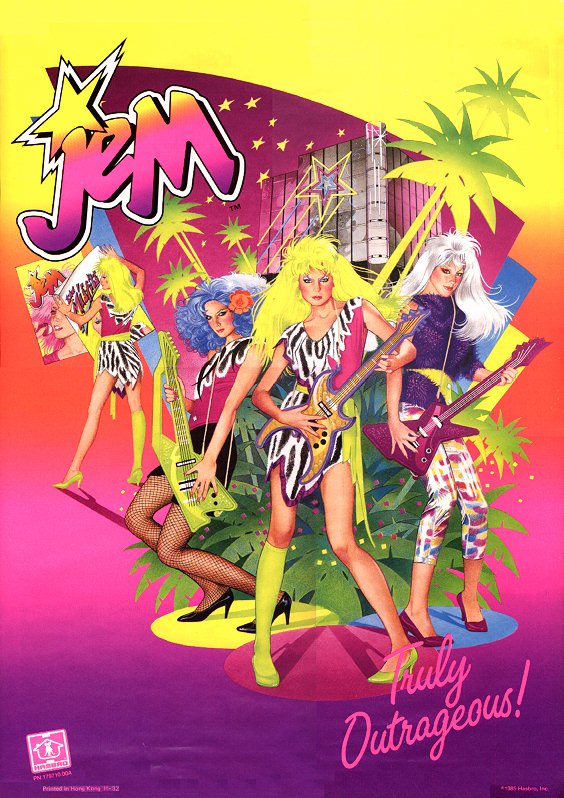 Infact I bet parents were calling like crazy, complaining on whether the rest of the show would include mean music video scenes like that. Well infact I've heard rumors they protested outside a Hasbro office on Rhode Island at some point. Understandable since the Misfits sing hit songs and look so cool! Were the badguys really meant to be this appealing? I get that they weren't to be bad in the Limp Lizards way (a band seen in the next mini-episode), since the Misfits were available as dolls. The Misfits being likeable as far as their songs, and Stormer's personality, sure made them very untypical as badguys. It seems Christy had a premonition how good the result would be, and actually included a note to in the Jem bible "the Misfits should NOT actively urge listeners to do as they do" (or was that perhaps requested by Hasbro/Sunbow?). Perhaps this premonition of Christy is also why she wrote that scene with Jem and the Holograms arriving as stars at the start of the episode, to promise us viewers some goodguys first, before the Misfits temporarily stole the focus.
Already in this music video, aswell as pretty much all of the Misfits ones in this series, Pizzazz is in charge in the band, in front, and gets most screentime. Of course she was the lead singer and also "undisputed leader" according to the Jem bible. But the Jem bible also says Roxy "...wants to do more lead singing, but isn't allowed." but also "half the time it turns into a contest between Pizzazz and Roxy to see who can dominate the song". But we didn't really see much of that rivalry in the series, which could had been entertaining.
To really get what this cartoon was aiming for with the music videos, you need to know how music videos was THE thing back then, in the 80's when this cartoon first aired. At this time MTV, was a big deal! Music videos gave singers a chance to create a world of it's own, and tell a story. And in cartoon form, the possibilities were of course endless!
Though the animators were very experienced artistically and probably had to fill quite a few gaps and do alot of interpreting at times, it's nice to know that the music videos were not left to chance to just be some random visuals during the songs. Firstly the episode writer made their notes in their scripts of what was to happen in the video, which would be metaphors of the story, or even telling it further, and then the storyboard designers had to do alot of hard creative work of thinking up every angle, every move, transitions, and ways to tell stories visually. So their work as storyboard designers, suddenly became music video directors aswell. Of course, they already did this for the stories themselves, but as soon as a music video starts, you can tell it's another level of creativity, aswell as often more expensive animation. This was after all the characters' chance to shine, the best opportunity, in my opinion, to market these characters. Because if taglines and quotes from silly action shows can get stuck in your head, then imagine how a song can, if presented the best way!

Being a writer, Christy mostly called for scenes that followed the story, sometimes in very symbolic and poetic ways, which turned out great when animated. But for most part it was up to the storyboard artists. And luckily for this show, the main storyboard artist, aswell as one of the producers, Will Meugniot was ready to take it to the max! Will Meugniot has said: "When I first started designing titles and music videos for the Sunbow shows, there was a fair amount of resistance at Marvel to employing such radically new camera and story-telling techniques.".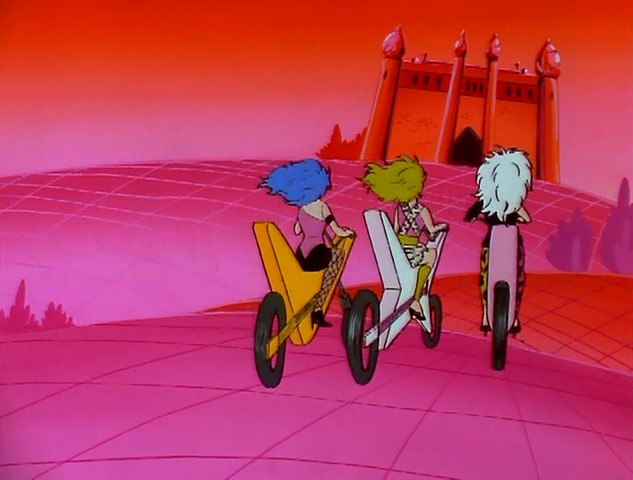 Already in this first music video of this show, imagination ruled. It jumped from all kinds of over the top scenaries like an amusement park, to a stadium, to giant bucket of water, to a pink ocean where the Misfits are surfing on sewing needles to hunt Jerrica in her soapbubble, and lastly a castle! If you love music, fashion and color to the max, chances are you were hooked on Jem right here!
I really like all of the pink backgrounds we see in this first music video. It creates a very special world, and it continues for several other music videos in these first five episodes. Atleast the Misfits ones have this style. I guess it's meant to give us viewers a clue that this is a music video and only imaginary scenes even in the Jem canon, that don't fit directly into the storyline.
But, since these first five episodes underwent some heavy retakes when this mini-series became an actual TV-series, even the music videos were extended and got new scenes. Very sad to see new scenes added even to the music videos! Because right in the middle of the otherwise well-animated scenes, came a different kind of animation, obviously from a new animation team. Christy had nothing to do with these added music video scenes, and perhaps neither did Will Meugniot. And half of these added scenes turned out so badly animation-wise, it's embarrassing. Why so cheap, immature, goofy and forced? These added scenes bring Jem down to the Archies level (no offense, but that cartoon was from two decades earlier). I hope people can tell what is an added scene, if not, then please look at the pages of retakes.
New scenes meant all of the songs became longer, with repeated lyrics. Well some of the songs were extended already in the movie version of these episodes, which at that point included repeated scenes from various places in the episodes.
This particular song is one of Christy's favorite Misfits songs, and she even re-used it in a later episode, "A Change Of Heart".
So, why was the first music video in the entire series not a Jem and the Holograms one? Probably because they needed to include a music video in the first third of the episode, since it was originally aired as three mini-episodes, and Jerrica couldn't find the earrings too early before we even found out she needed them to support the Starlight Foundation. This episode is quick as it is to go from Jem and the Holograms arriving like stars, to a funeral, to cleaning at home, to going to a music company, to introducing the bad guys.
So now we've been introduced to the big rivals of Jem and the Holograms, the Misfits. Singer and guitarplayer Pizzazz, guitarplayer Roxy, keytarplayer (well she plays guitar in this episode) Stormer. They've got something of a tougher look with their makeup, animalprint clothes, and even the choice of haircolors seem a notch tougher (than Jem and the Holograms). Whether you see Pizzazz hair as neon yellow, neon green, mustard yellow, or blonde, does not only depend on your eyesight though, it also depends on what DVD release you have, or whether you are reading some of the storybooks. I'd like to delcare it as neon yellow once and for all though, it's clearly what the Hasbro doll has, and what it looked like in most cartoon episodes according to the mastertapes, before any were remastered for DVDs. I've even tried to describe the haircolors on this particular page for the hair of the main bands on this page.
After the video you can finally hear Pizzazz' speaking voice for the first time, and compare whether you think it sounds like in the song, because Patricia Alice Albrecht has said in an interview that she was cast because she sounded like the singing voice of Pizzazz, Ellen Bernfeld. I think they did a good match, and most viewers never even knew that any of the singing voices were different from the speaking ones, until probably a decade later via the internet.
The voice actor of Rio, Michael Sheehan, has said that one of his favorite characters was Pizzazz, "Patricia Alice Albrecht was so into the character that when she did her part in the studio , she really got into it.. She was wicked!".
The voice actor of Roxy was Samantha Paris (formerly known as Bobbie Block or, also spelt Bobbi Block), and Stormer was Susan Blu (is it only me who finds it amusing that she played a character whose haircolor matched her last name?).
First promotion Eric has in plan for the Misfits is a fake victory in a small music contest in a park. Not super bright of Roxy to reveal Eric's plans to Jerrica. But hey, what can Jerrica do, she is part-owner of the company, it's Jerrica's loss anyway if the Misfits do badly. It's not like Jerrica is going to show up and reveal their plans and compete with a holographic identity with pink hair... or will she?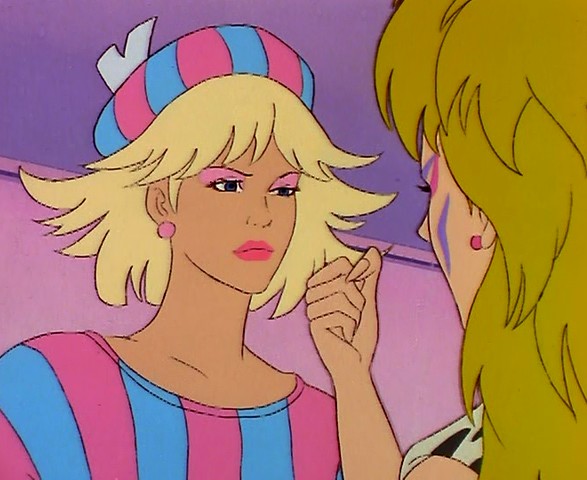 Already here in Eric's office, sparks fly between Jerrica and Pizzazz. Jerrica seems to have alot of disbelief in the Misfits by now. Pizzazz seems really upset when Jerrica calls the Misfits trash. Well I do think even Jerrica realizes the Misfits has some kind of talent in later episodes, even if Christy did not know what the Misfits would sound like when she wrote Jerrica's lines here (and in the 1986 UK Mini World storybook "A Cat Called Lucky" Kimber even goes as far as to say the Misfits sing out of tune and play their instruments badly). Pizzazz may have just insulted and chased around Jerrica on a motorcycle (if that actually happened and wasn't just part of the music video), but people like Pizzazz (and Roxy for that matter) probably don't realize how offensive they are, but are probably very easily offended themselves.
And as for Pizzazz, this musical group is probably the first thing Pizzazz ever does on her own without her father's help. On the other hand, this is not known for the viewers at the time, since Harvey doesn't appear until the Starbright episodes. Which means these original five episodes offer a very interesting view on what the Misfits were like, with only Eric to back them. This was the Misfits' chance of a lifetime to make it.
I'm not sure how Pizzazz views Jerrica in particular, in the rest of the series. Seems like many of the other writers took for granted that Jem and Jerrica are the same person, and Pizzazz dislikes both in the same way. Just the same way as Rio likes both of them.
It takes until next episode before we learn that Stormer is the "nice" Misfit. But already here she is kinda in the background of Pizzazz and Roxy. She is introduced last, and is the last of the three to speak, usually just to support something the others said, which she often did especially in Christy's episodes.
So... what we've seen up until now has introduced us to the main characters, and also made us feel with them. Those things are important to connect with a series, and it was handled within the very first of the mini-episodes. We've seen all the main characters, what they look like, learned their names, their relations to each other, and some of their personalities even. Aswell as learned about all the setbacks, like the funeral, the Starlight foundation and Starlight girls, the poor rundown house, lack of money, and problems at Starlight Music.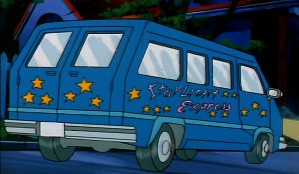 When Jerrica drives home, it's already dark, probably to make the upcoming scene with the earrings more mysterious. She drives by a house with the Starlight Express van (never released as a toy). The house Jerrica drives by catches my attention each time I see this episode (well of course it does, because the view stops on it while the Starlight Express drives on). Maybe we could pretend it bares some meaning to be there, like being Rio's home.
And yes, they had a car before the roadster. I guess this car was invented just for the few scenes it appears in until the Roadster arrives, but even so, it appears later in the series aswell, probably because it's needed to transport all the Starlight girls, when they aren't going in Rio's van. I guess Christy was a little extra clever with "Starlight" names, when naming this car, as a reference to the real life rock musical "Starlight Express"? This car also appears in several US storybooks (alongside the Rockin' Roadster), but there we can only see the word "Starlight" on it.
As Jerrica arrives to Starlight House, lights are out in all of the windows because of the electricity problems. Except for one window on the second floor right above the entrance. Then we find out's it's Jerrica's room, which is lit up by candles.
Here came originally a line that made it as far as into the storyboard, where Jerrica said: "It was so... ...infuriating!", talking about her visit at Starlight Music. I hereby encourage all Jem fans reading this to start using the word "infuriating" on a daily basis.

By now, we've seen quite a few scenes with Jerrica in different outfits, but not wearing her star earrings (well except for in the show intro, and a blooper in the Misfits music video), which is an unusual sight to see her without. She wears them all the time in the rest of the series (except when she loses them in "Adventure In China"). Here she has worn pearls with all outfits so far.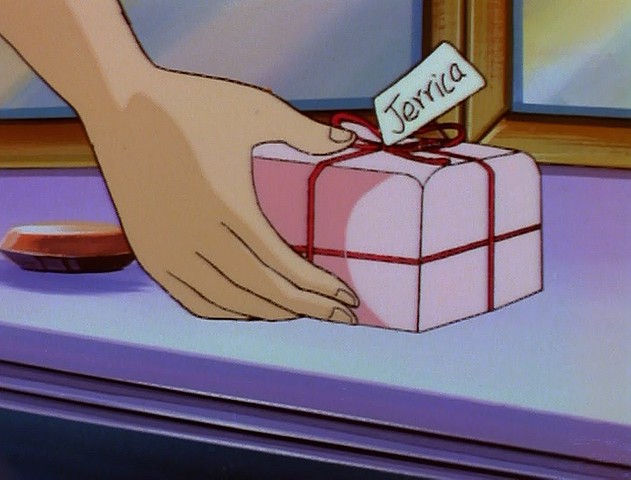 Kimber points out a small pink giftbox that arrived, in the mail I guess (although it's never mentioned how), while Jerrica was out. How attentive to details the animators were, to let the package string fall off as she opens the box, look closely and you'll see they did infact draw it. It was actually written into the script. Christy had written the box to be another color though.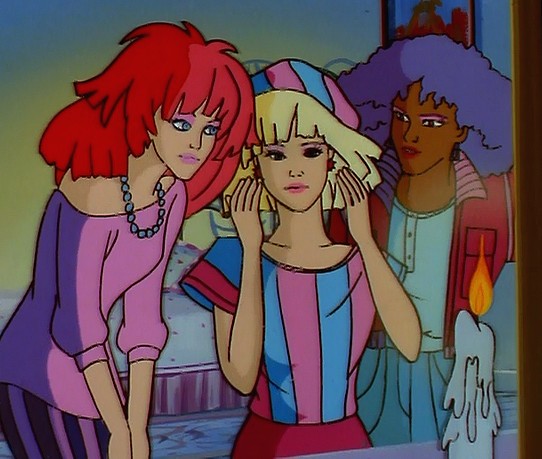 As Jerrica opens the box, the first amazing sight of the earrings, an iconic scene to Jem fans! Red starshaped (and often referred to as Jemstar earrings). The earrings have eight spikes here though, which should be seven, or atleast it is in most of the rest of the series, and already some times in these first five episodes. The doll company Integrity Toys actually made these earrings for their Jem and Jerrica dolls, and even this box as an accessory for their Synergy doll released in 2012.
But did you know that the original design of the earrings looked very different? They were regular stars with five spikes (and this is what they looked like even in the storyboard of this episode). And before that, they were shaped as the letter "M" (same shape as the top of Kimber's doll keyboard).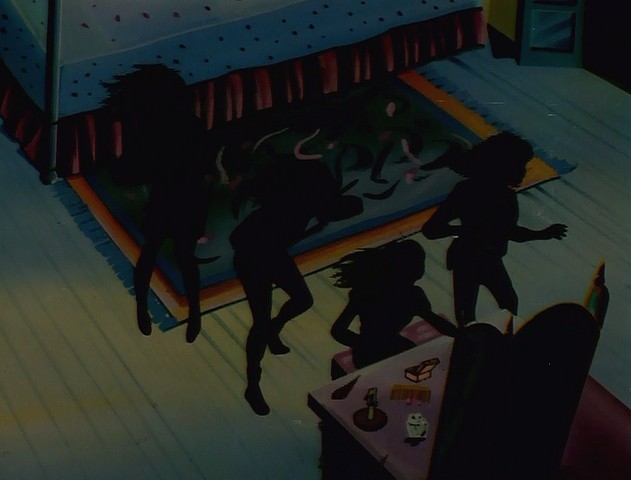 After Jerrica has put on her earrings, comes the climax of this scene, with the whole introduction scene of Synergy. A window blows open. And I always connected this with Synergy entering the room, like a spirit or something. As if she needed to enter the room physically somehow. Perhaps Christy just kept this occurrence from an early draft of the script when it bared more direct meaning to the scene. Or is it a distraction, and a way of making Synergy seem more mystical before we find out she is just a hologram? Originally Shana was meant to make a comment on the weather to prepare for this scene.
Synergy originally was only meant to be seen as a mask in the desk mirror here. Kinda like in Snow White (Disney's classic which even the Jem cartoon characters were inspired by designwise) but I guess they wanted to move away from doing something so similar. Infact the plan with Synergy appearing in the mirror got as far as to appearing in one of the US hardcover storybooks, that re-told a short version of the introduction of the cartoon (and same thing was done in the first issue of the Mexican Jem comic). In the mentioned storybook, Synergy is more than a mask though, she looks alot like in the cartoon, but still first appeared in the mirror. So this is why Jerrica was sitting in this room and in front of a mirror at this point, even after the mirror idea was changed.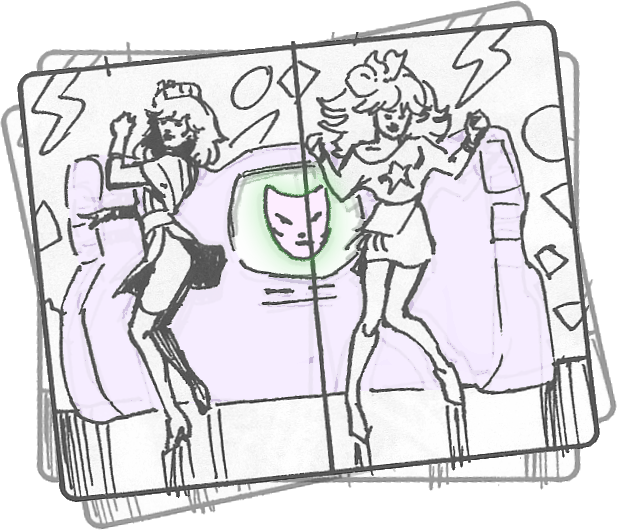 Infact a mask was all Synergy was originally going to be in the cartoon, with no body shape, outside the computer (yes she would still have the computer, but would appear also there as a mask on the screen). Kinda reminds me of the plastic miniature mask that comes with one of the Video Madness playsets in the doll line (which were second year, so they weren't planned at this time). By May 20, 1985, Synergy was still going to be just a mask without body. Apparently the idea to give Synergy a body was a late idea, where the finished design apparently wasn't approved until July 1985.
Then when Synergy was actually given a full body here, the first we see of her from her front, was re-animated several times. No major differences, just re-animated in different poses. An important scene that needed to be exactly right I guess.

I'd like to throw in a little detail that not everyone seems to be aware of... Synergy's face in the cartoon is bright lavender-colored! It always was, much like the Hasbro doll. Some people probably think it has a turquoise/lightblue/greyish kind of color, according to the new comic (at times), the commemorative Integrity Toys doll, and many other interpretations. So why do they think this? Because this is what it sometimes looks like in the cartoon episodes. I only recently was able to compare with the master tapes and confirm that the correct original color is bright lavender. But looking at many secondary copies (including DVD-releases) this color does not hold up well, and even turns to that turquoise/lightblue/greyish kind of color which is hard to put a finger on. But looking at the Hasbro doll should be another hint, because they made Synergy's skin very lavender.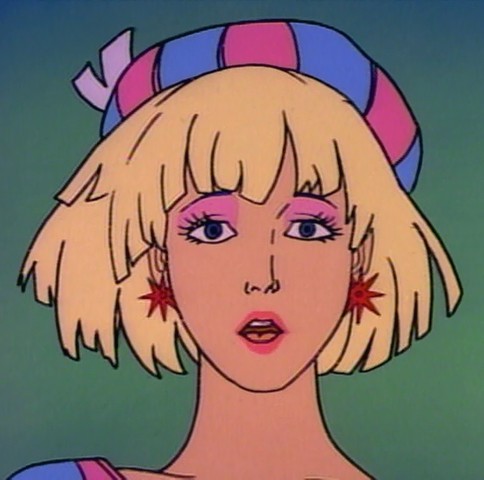 The background seen behind Jerrica as we see Synergy for the first time, is all green except for the earrings box and candle. And a glow surrounds Synergy when we first see her. This is possibly a remainder from the glow that would introduce Synergy, but which was dropped, or just a way to put focus on Synergy.
Originally Synergy was not a priority of Hasbro though. Not planned as a doll. Perhaps it was just lucky they ended up making a body shape for her in the cartoon, or a conscious move to make her more doll friendly in the future. She did look very different once she became a doll in 1987 though in many ways, like the outfit most obviously.
Originally the episode ended here, because what happens after the commercial break, was part 2 of the mini-episodes. We're quite spoiled getting to see the continuation right away on DVD collections or Netflix, because in the original airing the viewers had to wait an entire week for the next segment. Imagine having an entire week to wonder what that mystical purple woman was all about. It was sure to cause some goosebumps and let your imagination run wild. Who knew if she was even good or evil when saying that iconic line "Jerrica Benton, I have come for you", and that scary music playing in the background (which was even exaggerated in retakes). I don't know what to compare this with, but famous scenes where the female hero is approached kinda similarly comes to mind, like Sarah Connor in Terminator. Well, Synergy's voice wasn't scary in itself, it was infact perfect for this role, voiced by Marlene Aragon, and of course also perfect for the role of Jacqui Benton in many episodes later (but also as Countess Danielle Du Voisin who appears in the next episode). In the Finnish dub Synergy's voice was actually a male voice actor (let's forget that ever happened).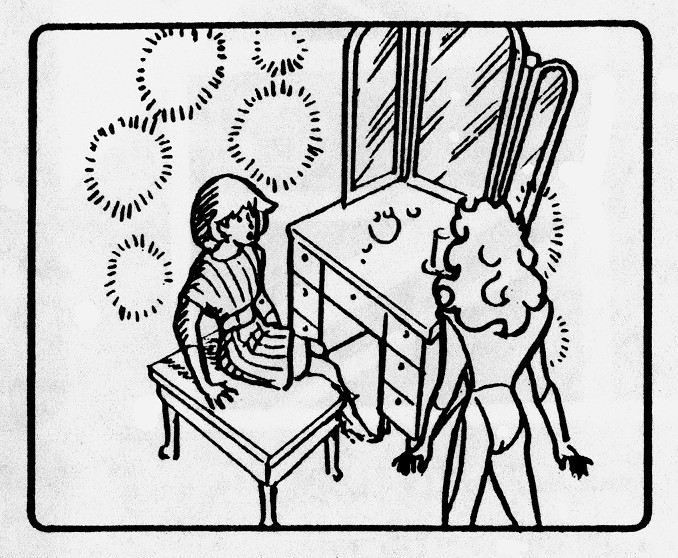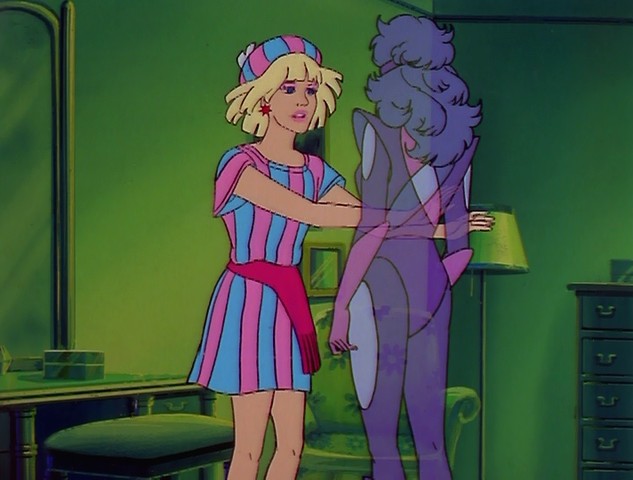 Next, Jerrica tries to touch the hologram of Synergy. I wonder if she realized Synergy was not a solid creature. Originally since Synergy was a mask floating in air, Jerrica must have realized it was not something that was actually in the room as a solid material (unless she thought it flew in through the window). But the touching is most likely just to show to us viewers it's a hologram. Synergy actually made herself slightly transparent here (but only in retakes), when Jerrica touches her. This thing that holograms cannot be touched, Christy tried to explain the importance of in the Jem bible, but it wasn't fully followed up upon in some writers' later episodes.
Still everything in the room is green. As soon as Synergy disappears, the background behind her turns blue, and so does the rest of the room behind Jerrica and the others.
At this point we see a very interesting remainder from the original plan with Synergy appearing in the mirror. Because we now see Jerrica suddenly sitting down again, BUT... she is facing the opposite direction from what we just saw when her hands moved through Synergy's hologram. Jerrica is looking into the mirror as if that's where she just saw Synergy, and so are the others! Hey Sunbow, did you forget to tell the animators that the mirror thing was dropped? Infact in the original mini-series version, Jerrica was looking slightly longer into the mirror in this scene, before she turned to Kimber, Aja and Shana and said "well, let's go!".
We now see the Starlight Express drive through a neighborhood of houses, so if what we previously saw was not Rio's house, then maybe one of these are. Aja is the chauffeur already here (before they get the roadster).
The Starlight Drive-In has a really large sign of a woman in bikini, that rides a rocket. Depending on what version you have of this episode, you will see a different drawing of the same motif, but the biggest difference is whether it says only "STAR" in capital straight letters, or "Starlight" in cursive letters (compare the two on the retakes page for this episode). I understand they wanted to correct it to be "Starlight Drive-in" in retakes, but since it was such a funny picture of that woman, it was so funny that they decided to re-draw her the same, since this picture bares no meaning in the story. Maybe a tribute to an original sign? The motif was infact requested by Christy, but she also originally did write for it to say "Star Drive-In".
I'd like to think this is the same drive-in cinema that was still actually in use as a cinema in the later episode "Out Of The Past", where it seems a younger Jerrica and Rio have their first kiss while watching a movie. But perhaps there's a slight contradiction to that possibility in this first episode, because Synergy tells Jerrica there are instructions in the earring box to locate her, which - if they knew where the drive-in was - wouldn't need to be mentioned. Of course at this point this is probably only to make it sound mysterious, and because we viewers haven't heard of the drive-in in yet. But according to Christy, Emmett did bring Jerrica to the Starlight Drive-in when she was younger, assumingly long before Synergy was planned, but while it was still an open drive-in theater.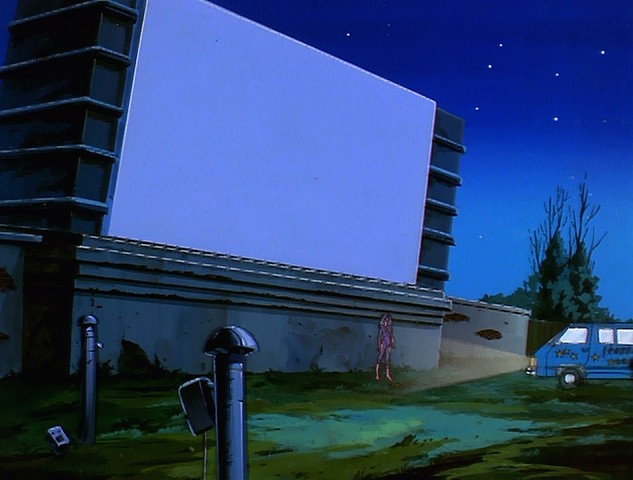 Originally in Christy's script, there was a reason why they were going to a drive-in theater in particular, because Synergy's mask would appear on the screen above them. And her face still does appear there in the second episode, "Disaster", probably it was a blooper that they kept it there though, with the risk of other people seeing it even from a distance. In the hardcover storybook "Battle of the Bands", Synergy does appear on the big screen already at this point though. But the reason why Emmett choose to place Synergy here, is told in the later episode "Out Of The Past", and it's simply because he wanted privacy while finishing his work on her. And he sure needed privacy since he had apparently come as far, before moving Synergy to the drive-in, that he had built her computer design and finished her ability to make holograms. Jerrica and the Starlight girls could probably had just walked right into his workshop at Starlight House, even Rio might actually have seen Synergy or most definitely parts of Synergy according to the episode "Out Of The Past".
Here comes one of the best scenes of the entire series. Synergy tells Aja to continue to drive forward, right into a cement wall! Sure Synergy shows she can walk right through it, but we already know she is not solid material. Well originally she did not walk through it since she was a mask, but she did pass through it. And in the 1986 hardcover storybook "Battle of the Bands" Synergy just removes the entire holographic wall and reveals the inside.
Do you think the walls, roof and all of the interior of this place looks quite futuristic and high tech? It's all fake. Because as soon as Jerrica and the others move Synergy in the fifth episode "The Battle Of The Bands", there's nothing but cement walls left. It was only holographic projections, Synergy was projecting the entire interior.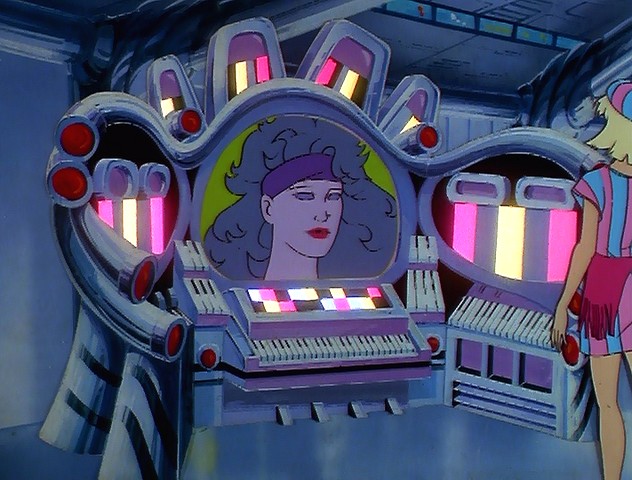 It takes until now before we learn the name of Synergy and see her computer form (except for appearing already in the intro theme song). If I remember correctly, her name is put together by the words "Synthetic" and "Energy" (not sure where I read that so I would love it if someone could confirm that). Well in Italy her name was simply "Energy". And you might have heard the name "Synergy" in other places in recent years, with various meanings, but at this time in the 80's the name was quite unique. And as far as I can tell, Christy is to thank for describing the look of even the computer form of Synergy. Sunbow sure left some heavy work for Christy to develop this series, even for such major things ad the look of Synergy.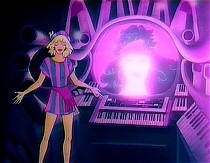 The first sight we see of Synergy in her computer form here is beautiful background art. This five-parter might be the only time in the series when we see the computer drawn as a background art, with alot of details, later we see it drawn as an animation cel.
I think we viewers have had a hunch Synergy was good already from the start of this second mini-episode, but it's not until now that we can relax, as we officially learn it was Jerrica's and Kimber's father who created Synergy.
Synergy introduces herself as "a holographic computer, designed to be the ultimate audio visual entertainment synthesizer". Further in the Jem bible, Christy describes her as a holographic-memory computer imbued with a feminine personality. We don't learn much more about the artificial intelligence of Synergy (if that's what she is) in this episode. But as we see later in the series, she can act on her own, and we do also find out more about what specific roles she was created for by Emmett in the later episode "Out Of The Past". What we find out mostly in this first episode, is about her holographic capabilities, sound (like voice imitations), and in the rest of this five parter even some limitations. Here we learn she "can generate holograms that are light-years ahead of anything seen before, so solid and realistic they can fool people at a reasonable distance", in Christy's own words from the Jem bible.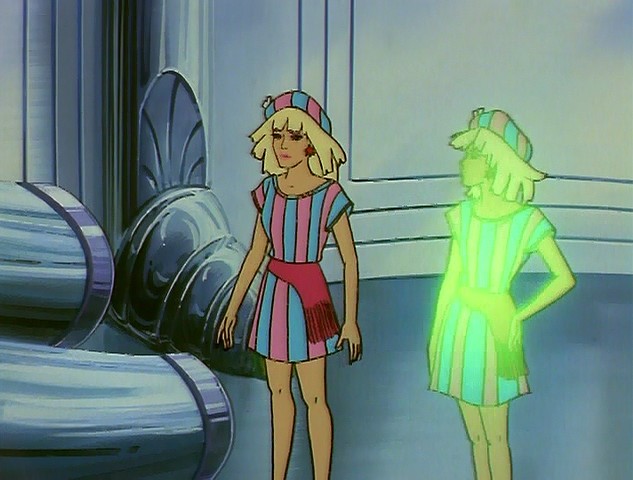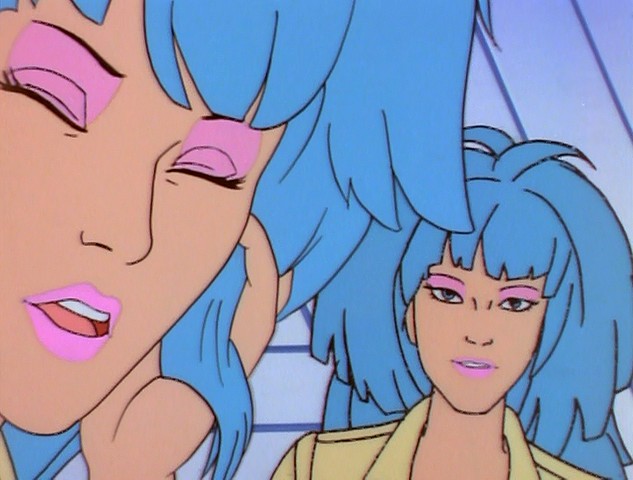 Synergy shows some very impressive examples of what she can do, and her projections look completely realistic as far as the characters in this cartoon world can tell. Synergy is an important science-fiction ingredient to this series, which opens up alot of possibilities for stories. So if you weren't already hooked by the colors, glamour, drama, music, or action, maybe Synergy caught your attention? But then, Synergy is not exactly taking over the show from here on. She is kept as that extra ingredient and used quite sparsely, well other than turning Jerrica into Jem. And all of those other ingredients will still compete equally for your attention in the following episodes.

Emmett must of course have been a genius to create a computer so far before it's time, or even impossible to create probably. I like to refer to Jem as a realistic show, except for this one science fiction ingredient that is so futuristic that it comes down to the same level as, well... magic. Christy once commented (on the Rhino DVD commentary for this episode) on this and quoted the famous Arthur C. Clark: "Any technology sufficiently advanced will seem like magic.". But Christy sure did what she could to create realistic technological limitations for Synergy, already in the Jem Bible. Synergy can't project holograms without the computer or earrings being present, she can't project around a corner, holograms aren't solid material and can't be touched (smoke/water will pass through), Synergy can't project too many unrelated holograms in different locations, nor too large, she can act on her own but she can't read Jerrica's mind what she wants to project, Synergy can project sounds but not too loud or too many nor too far away.
Interestingly Christy named Jerrica's father, Emmett, the same first name as the inventor in the Back To The Future movies. Christy's Emmett was likely invented early 1985, likely already in January, while the first Back To The Future movie premiered on July 3 the same year. So Christy didn't get the name from there (unless she travelled in time!). Speaking about Back To The Future, there were references to that movie in two later Jem episodes though, neither written by Christy, time travelling in "Journey Through Time" where Pizzazz even says the line "back to the future", and a futuristic movie theme in the "Hollywood Jem" two-parter where "Michael J. Badger" appears as a character at a party.
Check out some off-site links here to some beautiful Synergy fanart by: nightwing1975, NSSanchez, lilmiss-sailorenigma, and ReignbowFright. And be sure to check out their other Jem fanart aswell. More links to fanart and other things about this episode at the bottom of this review.
Here was originally a cut clip included when the Holograms reverted back from looking like each other. It's only available in a few releases of this episode, like on the Shout Factory release. Removed in retakes.
Something that strikes me looking back at this episode, is how admirable it was for the voice actor Cathianne Blore to handle playing two characters that talk so closely to each other's lines, Kimber and Aja, and most of the time she made them sound so different, in both voice and personality. She also voiced Ashley btw. I wished she was around, to see what big fandom Jem has, and how many fans appreciate her work on Jem.
After Synergy's holographic show, the earrings are explained as remote micro-projectors that allow Synergy to project holographic images in other locations, like when Synergy appeared in Jerrica's bedroom.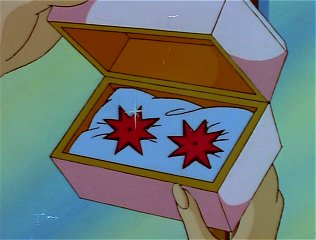 I'd like to know how Emmett was able to have the earrings sent to Jerrica after his death though. According to Christy it was left for Synergy to reveal herself to Jerrica. How did Synergy know he had passed away? Because of his absence? He could have been at the hospital. I guess she was able to connect to databases with information about his condition. And did she have to make sure the earrings were sent herself by using holograms to make people find and post the package? How would she do that outside the drive-in theater without any more projectors? Of course Emmett could had hidden the box with the earrings somewhere and made Synergy connect to a fax (yes this was the 80's), to send someone a message of where to find them and to mail them. Or Emmett might have made a friend or assistant help him deliver them once he had passed. Perhaps his mentioned secretary, Gloria, or comptroller of Starlight Music, Joanie (later seen in the Starbright trilogy)? We don't know alot about Emmett's other acquaintances, but atleast four men helped him move stuff to the drive-in as seen in "Out Of The Past". Or did he post them himself just in time, in a very slow way so that they wouldn't arrive until after his funeral?
In the episode "Out Of The Past" it's said that Emmett programmed Synergy to reveal her existence to Jerrica and Kimber, so I guess there was some plan for Synergy to handle it by herself more or less. But Emmett also says in that episode, that he had hoped to give the earrings to Jerrica himself. The 2015 live-action movie avoided this kind of thing, by letting Jerrica get the earrings earlier on, without knowing their function yet.
Storywise Emmett died on May 30th or May 31th, and Jerrica's birthday was June 1st, and I assume Emmett planned to give the earrings to Jerrica, for one: because she was the oldest and most responsible of the two sisters, but also: because it was her birthday. And according to Christy "Emmett had planned to reveal Synergy and all the other gifts for Jerrica's birthday, but died suddenly.".
Jerrica and the others are given alot of clothes, smart move by Christy because what else would they wear after what happens to their house at the end of this episode? Stage clothes though, and nothing for the Starlight girls. But then even with the huge amount of fashions in the series, the Starlight girls still wear their original clothes in many more episodes (despite the clothes assumingly being lost in the fire at the end of this episode). Infact all of them are wearing their original outfits even in the last episode of the series. But they are seen wearing some other clothes inbetween and Christy even let's them shop new clothes in a music video in "The Music Awards Part 1", which they never again wear after that though. I guess there were too many of them to keep track of fashions for.
Notice something interesting about the animation here? Why, in the first sight of the clothes, are the clothes animated instead of part of the background art? As you might be well aware of, the common thing to do in animation is to only animate things that are going to be in motion. Yet the scene cuts to a close-up before Shana touches any of the fashions. Perhaps they hadn't decided what kind of clothes would be seen here, or perhaps Shana was originally planned to grab some of the fashions in the first clip, or most likely they just wanted to keep the background separate from the fashions, so they could use the background here again for later scenes without the fashions (which they infact did in the fifth episode of this five-parter, in a blooperish way, which I will go into in that later review).
Did you notice there's a layer of clothes placed over the cel of Shana in this scene? Unusually enough this is not simply an animated rack with clothes, but it's painted in detail like a background, and yet placed above a cel to create another layer. Nice to see they put extra effort into details like this, and I can't at the top of my mind even think of a time they did this after this five-parter. Anyone?
But to be nitpicky, the clothes we see here at Starlight Drive-in in this first episode, were never worn! Well the band does redress here later in this five parter, in "Frame Up", but those clothes they take on then, did not appear among the first sight we see of clothes here. But as seen in "Frame Up", there is a bunch of more clothes at the drive-in aswell, that were even worn alot, even later in the series.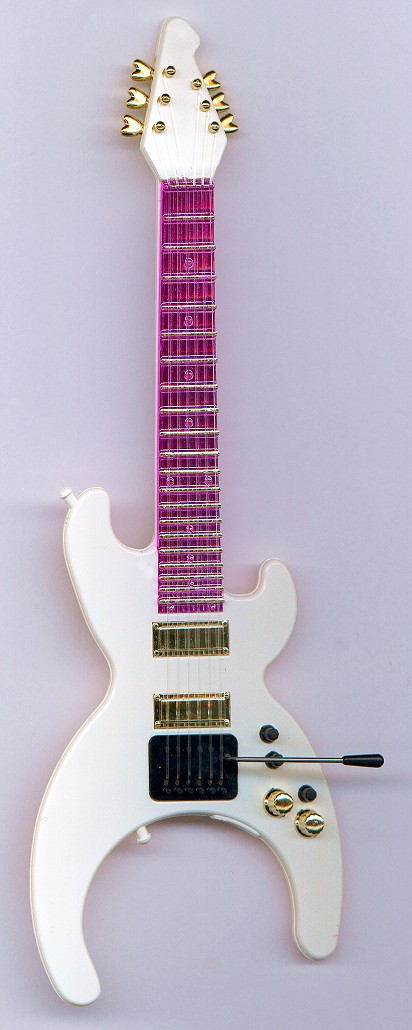 The instruments we see at Starlight Drive-in, actually resemble the ones seen in the rest of the series. Well not the guitar. However, instruments somehow was not a high priority of the show, atleast not this early in the series, as it went a little back and forth what they looked like.
Kimber actually says "outrageous" already in this first episode (well second mini-segment), when she sees the instruments. And this became a lasting line for her in particular for many episodes. Based on the doll line slogan of course. And since it's Jem who is "truly outrageous", I guess it couldn't be a line said by herself.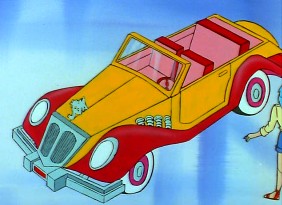 The Rockin' Roadster already appeared in the opening scene (well already in the show intro where Aja correctly was driving it). But here this Hasbro product gets it's first appearance continuitywise, so far. A proper introduction and some "wow"s. Aja looks inside the roadster and calls it an incredible car. I guess Emmett bought something very expensive, or most likely had it custom made, since the interior looks all pink. Imagine seeing this kind of car in real life, it would definitely catch your attention.
As many Jem fans have noticed, the roadster says "Jem" on the hood, like the toy car does, already before Jem first appears as a character in the story. One could argue that the car was named "Jem", and that Jerrica got the idea of the name from there (even Christy herself has suggested this possibility (on the episode commentary on the DVD by Rhino), although she officially refers to it as a blooper). Or... that Jem was Emmett's nickname (like it was in the 2015 live-action movie) for Jerrica, and that Emmett put that name on the car therefore. But then again, a blooper, since none of that is mentioned.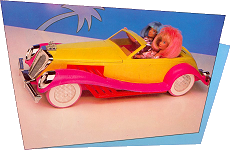 They actually re-animated the first view of it in retakes, fixing a detail, so I guess it was a wish from Hasbro that this product would look it's best at this first sight. This series certainly didn't overexpose Hasbro products though, especially not pushing anything in our faces. Christy has been asked questions about writing around the Hasbro products a few times, and has commented: "They didn't exert any particular control over the content of the series, other than asking us to include new characters or feature a particular toy item.". Further she has said "...Hasbro pretty much left us alone with scripts and didn't try to micro-manage everything.", and "I was given a tremendous amount of creative freedom.". And also said "...when I develop and write a show, I am creating the best characters and stories I can. That's what *I'm* doing. I can't deny that I have to write it around the toys, and I can't deny I have certain requirements to fulfill (like having to use the Roadster or some other toy element). But it's not my job to write commercials. I say let the shows be judged by their own merit.".
Christy has said (on the episode commentary on the DVD by Rhino) though that she didn't like the look of the car. And neither did the writer of the new IDW Publishing comic that premiered in 2015, Kelly Thompson, so it never made an appearance there. I don't see why though, I agree with Kimber, it looks outrageous!
This roadster is replaced in a later episode, also written by Christy, "Glitter and Gold", since Hasbro then re-released the same design in new colors for their Glitter 'n Gold Jem doll, which also already had the Jem logo on the hood. Interestingly we never find out what happened to this "old" car when it was replaced.
Did you ever realize it's no coincidence that Shana is the one who comments on the clothes, Aja on the car, and Kimber on the instruments? Each gift suits their personality perfectly. Very clever detail by Christy. Almost like Emmett compensated them each for not getting their own set of earrings.
Kimber is actually the one who comes up with the rockgroup thing, well she says "there's enough gear here to start a dozen rockgroups". All we've seen of Jerrica, Kimber, Aja and Shana wanting to be musicians so far is how some of them kinda jammed a bit and played some instruments in those first scenes at Starlight House.
The way Jerrica comes up with Jem, is very sudden. It goes from one scene of insinuating an idea, to another scene where we are surprised someone suddenly appears with pink long hair singing with the Holograms. This was an exciting way to see what she came up with, and then in reverse we find out that the pink haired singer is Jerrica, when she transforms back. Interesting that the first Jem/Jerrica transformation seen is infact Jem changing back to Jerrica. An unusual way to reveal a secret identity for a cartoon character.
But wait, let's move a few steps back here... this also avoided the very curious question of: why create a pinkhaired singer in particular? Why that look? It seems the reason for the Jem identity and look was avoided in all story interpretations, even storybooks. The 1987 UK Annual kinda gives credit to Synergy, depending on how you interpret it. In the 1986 hardcover storybook "Battle Of The Bands" Jerrica tells us specifically that Kimber will write the songs, Rio will be the roadmanager, and that Jem herself will assume a secret identity as Jem. I guess no one wanted to put words on Hasbro's mystery of Jem. Maybe they thought an explanation would take some of the mystery away?
I guess it would be something like: "Let's give the Misfits a challenge, but I can't participate myself in the contest, because it's my company. Synergy can you create a new look for me?". They could had played around with different weird looks before setting on pink hair. Kinda like they play around with wigs in the 2015 live-action movie.
Logically, it would seem it's Jerrica who tells Synergy what she wants, because we hear Jerrica say "Wait, I have it, I know how to stop Eric Raymond". But then in the later episode "Scandal" (by another writer though) Synergy is only told some basics by Kimber, and Synergy creates the look and the different haircolor herself. Of course the pink hair idea came from the toy company Hasbro, but if we are to put ourselves in the world of this cartoon, I'd have to say it was just lucky that Synergy didn't give Jerrica the same haircolor as one of the Misfits. Synergy most likely did not know about the Misfits yet. Jerrica would probably have had to tell Synergy what color she wanted atleast. Pink is a color the Misfits are known to later make fun of, and personally I wouldn't had mind if the main character had another less girly haircolor that still stood out, like blue instead, or a haircolor that was unused on a main character in the entire series, like orange or green. But even though I understand Hasbro's association for picking pink, I still think it was a bold move because how common was it for dolls to have that haircolor, especially the main character herself, I mean unless they were space-characters or something. Barbie dolls had certainly never had pink hair before Jem came around, but since Jem came around the percentage of Mattel releases of Barbie dolls with pink hair seems to have increased every year!
In the Jem world however, I guess their haircolors aren't so unusual, because already in this episode there are so many characters in the background with all kinds of haircolors, even pink. I'm surprised the animators didn't leave these colors only for the main band, so that viewers could tell them apart from the crowd more easily.
I wonder if Emmett ever really intended Jerrica to use Synergy for a secret identity though, or anything like that. He only says in the later episode "Out Of The Past" that "I know they will use her wisely". And I guess the part where they invent Jem to save his company and support the Starlight girls, was a wise thing, and they do alot of other charity later on.
And I'd also like to point out some of the things I've discussed. I've mentioned that Emmett says in the later episode "Out Of The Past" that he programmed Synergy to reveal herself to Jerrica AND Kimber, and that he said "I know THEY will use her wisely". And he even talks about his "FAMILY" and says Synergy is a gift to "THEM", that she will be a "friend, mother, teacher, guide, all rolled into one". Well the only thing about Synergy he says was only to Jerrica was the earrings, and it was soon her birthday. And of course half of Starlight Music was only for Jerrica. So maybe we could speculate that Jerrica is making a little too much use for Synergy for herself. Synergy was probably meant to be equally Kimber's and probably Aja's and Shana's aswell. Infact probably even for the Starlight girls, since Emmett used the word "teacher". Of course, some of the Starlight girls are far too immature to handle Synergy as a secret, and Kimber would probably not always be good with the earrings in her hands, as seen in "Scandal". And just see what Kimber did with her share of Starlight Music in "The Bands Break Up" (to be fair to Kimber, Jerrica put it on stake the same way in this very episode, but then again with Synergy in her corner how could she fail?).
Before I move on to the next scene, let me just mention how this mysterious location, Starlight Drive-in, (which is a quite notable location to us fans despite only really appearing in these first five episodes, well only in four of them) was handled in the new interpretations. Like the comic and the live-action movie. It was ditched. But the idea of a mystery location was kept. Spoiler: In the comic it was revealed as a secret room in their home behind a jukebox, and in the live-action movie it was outdoors location at the Santa Monica pier.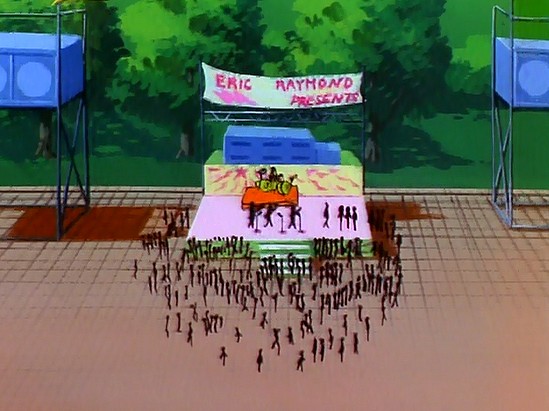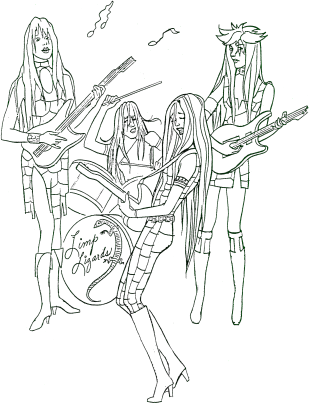 At the contest in the park, I think the Limp Lizards sound like males, although I guess they are all supposed to be female according to their appearance. Christy never specified their gender, although she did intend for them all to have black hair. They were originally the only band in this contest other than the Misfits, before retakes.
The Limp Lizards were probably written only for this episode, but re-appear several times (unlike the bands added in retakes) later in the series, mostly very briefly, and always the same song and no speaking lines. And since they appeared in such an early episode of Jem, they got the honor of appearing in storybooks, and sometimes their appearance is more lizard-like than in the cartoon, and sometimes the band appears to include males. They even got the honor of appearing in the new comic by IDW Publishing.
The Limp Lizards are quite popular among Jem fans. Check out some off-site links here to some cool fanart of the Limp Lizards by: death-g-reaper, sunnyday2000, sschof32, liliy, and StriderSyd. And be sure to check out their other Jem fanart aswell. More links to fanart and other things about this episode at the bottom of this review.
The two bands added in the new retakes scenes, don't look very promising in style in my opinion, atleast not the Leatherettes, they've got too much going on, and nothing that really matches. The Space Cadets I think look a little more worked on their style. According to a comic story interpretation of this episode, in the 1987 UK Annual, this contest in the park was the first of an annual contest held by Starlight Music.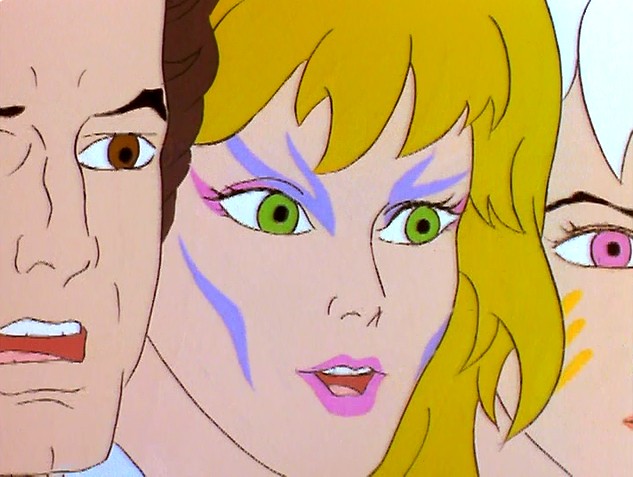 After the intro of this episode where Jem appeared, this is the first time she appears in now-time in this episode. Great moment when they surprise Eric and the Misifts with their brand new band. A very fitting and cocky title of a song "Only the Beginning" by Jem and the Holograms. The Misfits and Eric actually get the honor of appearing slightly in the Jem and the Holograms first music video. What a fun sight to see Eric so shocked!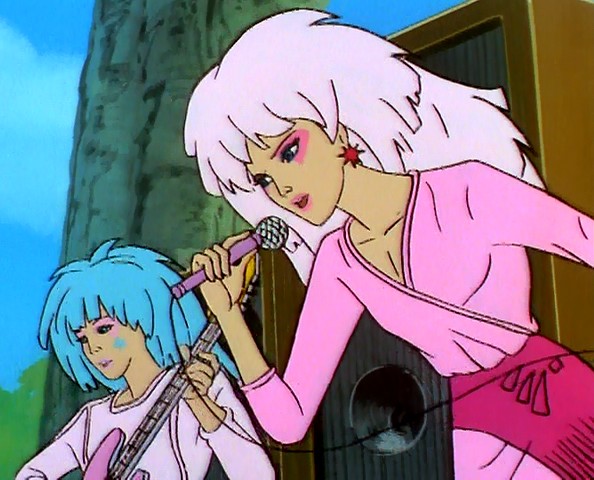 I'm as stunned as the Misfits and Eric look, what an amazing singing talent they found in Britta Phillips!!! Her voice is magical, definitely by far the best singing voice I've ever heard anywhere, and for me it's Britta's voice more than anything else that made me love this series. Of course combined with Christy's amazing writing skills, the beautiful songs by Anne Bryant, Ford Kinder and Barry Harman, and the appealing character style and music videos by people like Will Meugniot among others, and of course the amazing voice actors (including the international voice teams!) and infact every single person in the Jem crew. It adds up to an outrageous package, which I feel lucky I got to experience.
The song "Only The Beginning" has a very fitting beginning that starts and builds up before the big "wooow look around...". Seems almost like the intro of this song was written to fit with the Misfits seeing Jem and the Holograms, and the audience having time to run over. So often in this series, you would find moments like this, where you can't tell where one person's job ended and where the other's began, it just seemed like they had great communication between them, writer, storyboard artist, lyrics writers and music writers, and directors of course who kept track of it all.
Already in Christy's Jem bible, the episode writers were informed not to ask for specific song titles in their episodes, obviously to allow song writers some creativity to reach the best result. But the episode writers were asked to "give a brief description of the theme of the song", and to "make the song idea as concrete as possible and to give as much visual guidance as you can in the form of suggestions for how the theme of the song might be visually carried through". A writer of a later episode actually misinterpreted these guidelines and turned in a song complete with notes and lyrics, which was never used though.
As for this particular first ever Jem music video, Christy left alot of the creativity to the storyboard artist. She didn't request more than Jem and the Holograms being there on stage playing their instruments (and by the time this scene was storyboarded, Jem still had an earlier outfit and was called "M", Kimber still played guitar, Aja drums, and Shana who was still called "Beverly" was playing the keyboard!), and reactions from Eric, the Misfits, and the crowd. So all the different situations we see them in, was the work of the storyboard artist, and whoever was later hired to "ruin" the music videos with some really horrible (or horribly animated) retakes scenes.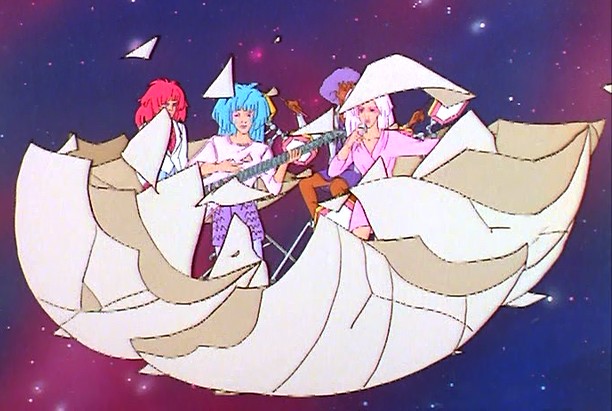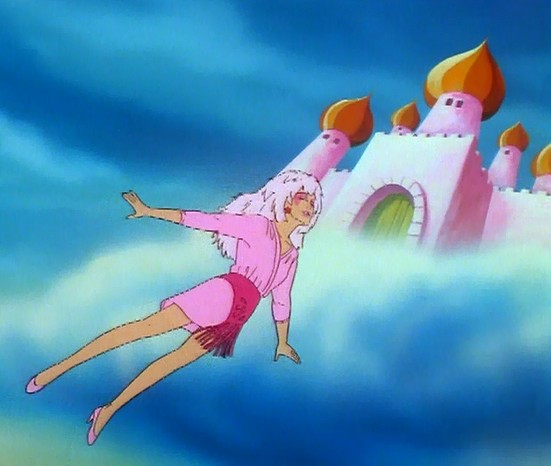 How about Jem and the Holograms hatching from an egg? And Jem flying away to a palace in the sky, and then suddenly the entire band is there and walks through the front door? And lastly some silly scenes of the band dancing on stage. All of the original scenes may not have been perfectly logical, but they certainly look a whole lot better animated as far as their flow and movement. Also the song itself was extended in retakes, so lyrics are repeated.
A scene in this music video of Jem and the Holograms riding rockets was instead removed in retakes. Due to a blooper, that caused some glitches between the cels, since suddenly Jem and the Holograms would disappear from the rockets, then re-appear, and the rockets would disappear instead.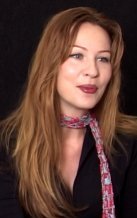 After the song, we hear Jerrica talk as "Jem" for the first time, which is the same voice actress as when she is Jerrica, the then 18 year old (youngest of the cast) British actress and singer Samantha Newark, whom by the way has a big fanbase still today, that she is great at keeping touch with. And while Kimber and Aja were also done by one voice atress (as mentioned earlier, Cathianne Blore), they were completely different characters, so they were meant to sound different. Jem on the other hand sounds just like Jerrica, which is probably partly why Rio also finds Jem attractive. And it's actually quite funny in the third episode in this five parter, "Kimber's Rebellion", when Lindsey calls and Jerrica answers and then gives the phone to Jem.

Jem introduces herself as "Jem" here, and her band as "the Holograms". So why is the band called "the Holograms" when Jem is the only actual hologram? How about reading the band name this way: "Jem and her holographic projections" as in not talking about the bandmembers. Kinda cool and cocky to stand right there and talk about holograms, almost revealing that she is actually a hologram. So they practically give out a huge clue in their band name. So with all the times in this series when characters like Eric wonder about Jem's name and real identity, why did no one wonder about the band name "the Holograms"? Well fact is Lindsey asked that question already in the third episode of this five parter.

I wonder if at some point Hasbro thought about giving all bandmembers casual looks with natural haircolors, and all become holograms with the help of Synergy. But I guess one doll who could switch looks and have flashing earrings was enough in the 80's. As I said earlier in this review, probably too complicated to have four pairs of earrings in the cartoon. But hey, I bet Synergy could instruct Aja how to create several of them, like in the later episode "Intrigue At The Indy 500" where Synergy helps Jerrica and the Holograms fix a racecar. And in "Out Of The Past" Aja shows her skills of tampering with Synergy successfully.

They never formally announce the winner of this first Battle of the Bands in the park, but according to the cheering of the crowd, there's no doubt who won (and the newspaper the day after tells us who won). But whether there was a prize or just publicity, we don't find out. This is the first of only four times in the entire series that Jem and the Holograms win a contest against the Misfits that is directly connected to their music. Other times they're competing in fashion, racecars, fashion books, ski race, music videos in particular, athletics, and movies.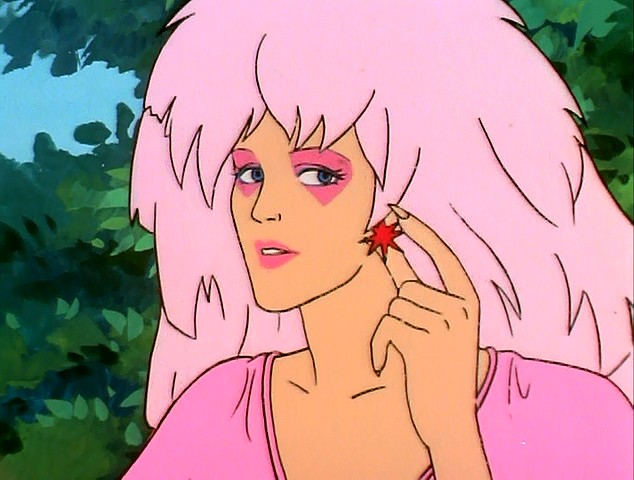 Can't say it's all too logical how Jem points out Jerrica to Eric, since she only after that asks Synergy to project a hologram of Jerrica. But this is btw the first time we see her use her earrings, and the first time she says the famous phrase "Showtime, Synergy" and soon "Show's over, Synergy" (which are not the phrases Christy originally wrote for calling on Synergy to create or turn off the holograms, and not necessarily a line invented by Christy, unless she added it herself later). This scene was re-written in the 1987 Annual storybook released in the UK, where Jem still points to a Jerrica, but instead of a hologram of Jerrica appearing, Synergy made a hologram of Jem stay on the stage where Jem and the Holograms performed while the actual Jem snuck away and changed into Jerrica. Not a perfect solution either, but I guess this way everyone was looking away from the hologram suddenly appearing.
When Eric challenges Jerrica, to a battle for Starlight Music, the closeup of him makes him look totally different in his face and even hairstyle. He looks older. I guess they either referred to an earlier model cel here or there was another animator.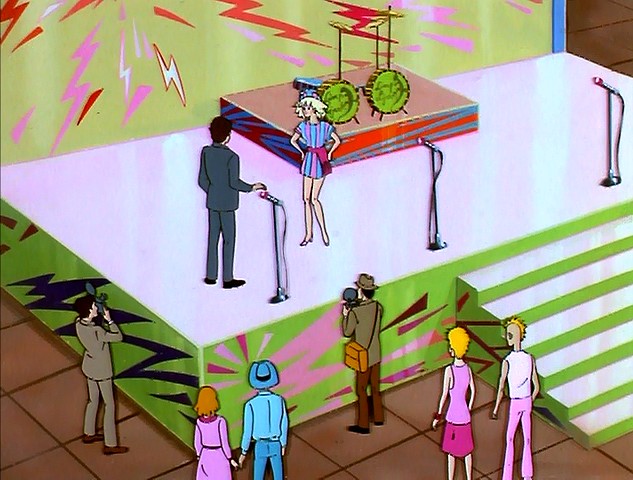 If you think Eric goes all in a little too easily with the challenge, I'd say he obviously thought this was a safe bet, and also he must have realized just how troublesome Jerrica would be if he didn't get her out of his hair as soon as possible, since she owned half the company. He has heard now though that the Holograms have a good sound, but he has a headstart with the Misfits and being backed by Starlight Music, and the Holograms could just aswell had been one hit wonders in his mind.
Hereby Jem and the Holograms had one of their biggest reasons ever to win a contest. They needed to save Emmett's company to get money to support the Starlight girls. Jerrica actually accepted the offer from Eric of gambling the entire record company. She must really had believed in herself and her band. They had grown up with music though, and knew all about instruments, musical equipment and everything revolving around concerts, and maybe felt destined to get into this business anyway.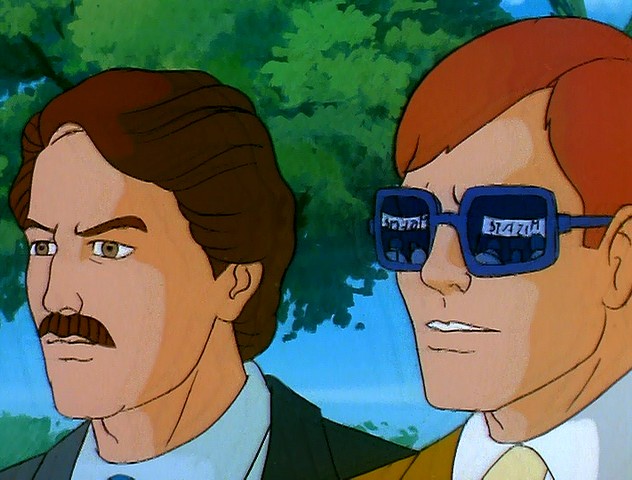 Here comes the scene with the amazing person Howard Sands! According to the Jem bible he is 42 years old. Seems about right here with his look/sound/style. But another version of the Jem bible says he's only 31, but I'm guessing he was made younger in the Starbright episodes when he was kinda re-designed for the series. He has attended USC film school, he makes movies, loves sports like sailing, scubadiving and cycling, and is a businessman who invests in real estate, antiques and art. We don't learn specifically why he is in the park and whether he just came up with the idea of the prizes right there! But luckily he is willing to give away a movie contract, and even an entire huge mansion to the winner of the big Battle of the Bands between the Misfits and Jem and the Holograms. He must have been planning to sell his mansion, find some new stars for a movie, and must have heard both bands here and figured their talent could make an epic battle that would be remembered in the music industry. I guess I never really realized he was too good to be true when I watched this when I was younger (and besides, we do get to see another guy like this later in the series, who is also very generous, Xanthos).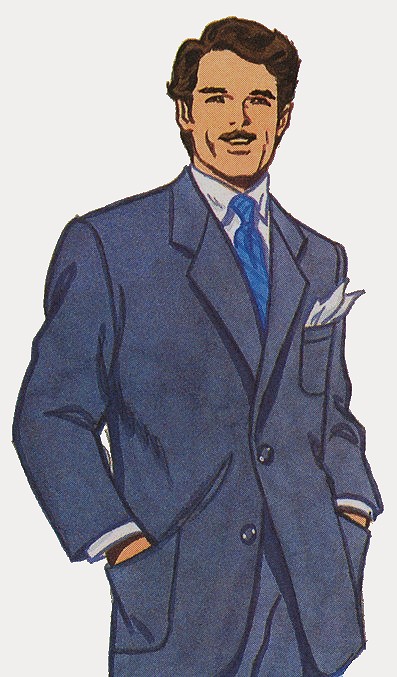 Is Howard really too good to be true though? Actually he exists in real life!!! Atleast I'd like to think he does. There was a man named Frank A. Garbutt. Does that name remind you of Howard E. Sands? Well if not, then maybe if we change Howard's last name to Garbutt. That was the original last name Christy choose for this character. Garbutt does have similarities to the cartoon character, he was a wealthy man known for his mansion in Los Angeles called "Garbutt House", located in Silver Lake. The mansion, built 1926-1928, later even got listed in the National Register of Historic Places in 1987. He was also a movie pioneer, and played a role in the founding of Famous Players-Lasky, later Paramount Studios (later known for Titanic and the live-action Transformers movies among many others). The Garbutt House is not as large as the Starlight Mansion though, it doesn't resemble it, and Garbutt never gave away his mansion, and his son and daughter continued to live there after his death in 1947. Christy might have been inspired by Frank A. Garbutt somewhat. Just a guess since she did give Jem and the Holograms last names based on famous scientists who were developing holographic technology at the time, aswell family members and friends, but maybe in this case it's just a fun coincidence. But Christy's Howard for a while also had the last name "Barton". So where did the first name come from? "Howard" came from the same place as the last name Christy finally decided upon. Christy has actually said that the name Howard Sands is based on the name of a famous producer/director/writer, Sandy Howard (1927-2008), whom Christy wrote a screenplay for, for the movie "What Waits Below". Although I haven't found alot of similarities otherwise between Sandy Howard and Howard Sands, nor a picture of what the real life producer looked like at the same age as the cartoon character, anyone can tell Sandy Howard had an extremely impressive career! Howard worked with famous names like Christopher Lee, Sean Connery, Henry Fonda, Ava Gardner, Shelley Winters, David Carradine, Burt Lancaster, Estelle Getty, Leslie Nielsen, William Shatner, Carrie Fisher, Alan Oppenheimer, Jodie Foster, among many other big names.

This is the first episode we see Starlight Mansion, but only in a drawing. Christy had described the mansion to have even more things located around it than we ever see in the series.
Christy practically set up already here in the first episode, for the Starbright three parter that followed this five-parter, by mentioning the movie contract. Is this a clue that she expected to later write a continuation? Or maybe just planning ahead incase. It took nine months between the first airing of the first segment of this episode, until the Starbright episodes started airing.
Spoiler: Apparently Christy intended to include Howard again after this five parter, according to her detailed description in the Jem bible, and he returned to introduce Jem and the Holograms to the movie studios in the following Starbright three-parter (but apparently she had even more planned for him). As mentioned, Howard was slightly re-designed after this five parter though, and looks older and stiffer in these first five episodes than he does in the following three parter and the rest of the series. Well he barely appeared in the rest of the series after the initial 8 episodes, not even in Christy-episodes. Only one writer, Rick Merwin cared to use him after the Starbright trilogy, until Roger Slifer used him at almost the end of the series in the "Hollywood Jem" two-parter.
Storywise in this episode Howard did alot for Jem's success by raising the stakes of the contest which brought alot of media interest. To put ourselves in the mind of Jerrica, the Jem identity was perhaps a temporary solution, and Jerrica didn't know where it would lead beyond the battle in the park. But then again maybe we shouldn't give all that much credit to Howard, because if it wasn't for cut scenes, we would know Jerrica and the others had musical potential already in some of the first scenes of this episode.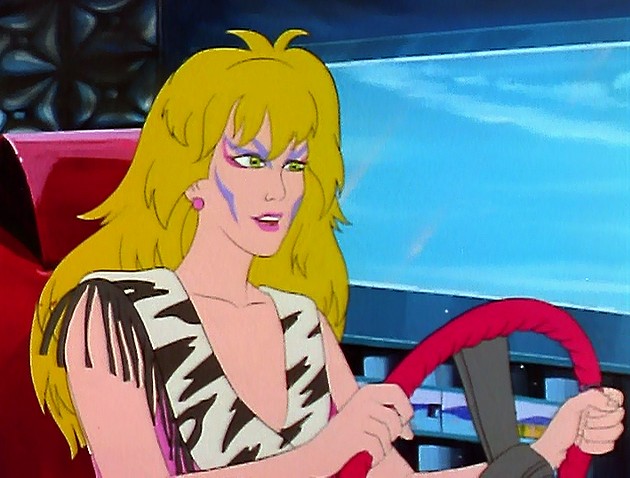 Here comes another added scene in retakes, when the Misfits climb up on the Holograms' stage and grab their instruments. Originally we just saw Aja point out as they were driving away with the instruments in their Misfits van (which no, was not ever released as a toy).
Aja is hereby the first one we see drive the Rockin' Roadster in the story. In a car chase even. What a bold move of Christy to introduce the car more properly in an action scene like that. And as we see the roadster drive down some steps of stairs, at an entrance of the park, the storyboard originally had a sign hanging above it that said "Sea-side Park, No bicycles, skates, or skateboards.". Quite extreme of the Misfits to throw out instruments on the road. I wonder why Jerrica and the others kept chasing them after their instruments had been trashed though.
Although the Holograms instruments are ruined here, atleast the keyboard and guitar, they re-appear in the same look in the next episode, without mention where those came from. But Christy already covered that with the line Kimber said already when they discovered the instruments, about how many there were of them. And Christy did cover this in the script, that they had to pick up more instruments.
Here we are really treated to a cliffhanger, literally, they are hanging on a cliff! Not how Christy originally wrote it, maybe someone at Sunbow changed this scene. Christy had something completely different planned here, and this scene was revised very late before production when just about everything else had been settled. I like how Jerrica shows some clever thinking on the cliff with telling everyone to sit still.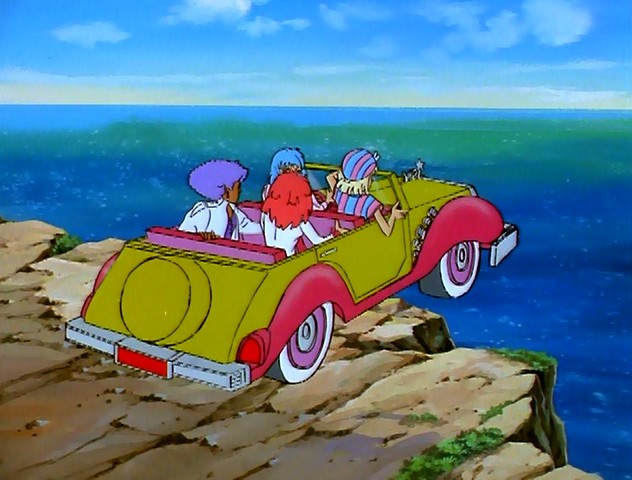 At this point you might ask yourself why there are so many exciting moments with cliffhangers in general in these first episodes. Well that's because these episodes were, as mentioned, originally shorter segments, and needed to really grab the attention for the viewer to tune in a whole week later. An entire upcoming toyline depended on it.
They really did alot to make this cliffhanger exciting:
1. First we get an overview of the cliff and the roadster approaching it.
2. Then a closeup where the roadster seems to be leaning downwards as if it's going over the cliff.
3. Then the passengers' viewpoint of getting closer to the edge and we see there's water beneath.
4. Then an up close shot of the front of the roadster.
5. Then a view straight down to the water, then a break.
6. Then we see the roadster go over the cliff with it's front.
7. Then a closeup of Jerrica looking over the edge looking scared.
8. Soon Aja even stands up and the roadster almost tips over.
9. And when Rio arrives, it looks painfully close to tipping over.
Here comes an added retakes scene with Kimber and the others. We are told Synergy's holograms also can talk by projecting sound through the earrings, and Jerrica doesn't take this for granted since it's the first time she attempts it. But to overanalyze this, this could be a message to the viewers that Jem did not get help by Synergy to improve her singing. But as for talking holograms, Jerrica should know by now that Synergy can do that, because Synergy herself appeared in Jerrica's bedroom by the help of the earrings, and she talked to Jerrica there. But on the other hand, here Jerrica still didn't know about actual voice imitations yet.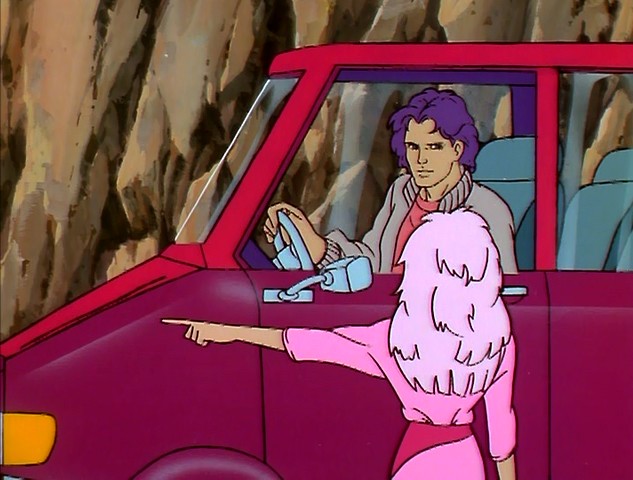 As the hologram of Jem waves for Rio and he stops, this is the first time Jem and Rio ever meet, as far as we know. Rio could had met Jem off screen prior to their concert to help them set up fast without being noticed. Because if this cliffhanger scene was the first time they met, how would Rio know they formed a band and played today? Or how would Jerrica know he would drive by? His usual way home from his work? And oh yeah, I wonder what he worked with before he became the roadmanager for the Holograms, maybe already hired by Emmett at Starlight Music (that would explain more why he didn't like Eric, before everyone else)?
He sure does work for Starlight Music after this five parter is done, with his girlfriend as his boss. Seems very up to date somehow in the 80's. Christy has infact commented on this "Rio does respect Jerrica and I see no problem with him working for the woman he respects and loves.".
This is also the first time Rio sees Jem and Jerrica being in different spots where they can't logically be the same person. Jerrica couldn't had climbed out of the roadster, dress out as Jem, and then climb back in. This is interesting because few other fictional heroes with dual personalities could save themselves by showing both identities at once, like Jem could, so Jem/Jerrica had a good advantage this way, with holographic projections, over heroes like Superman/Clark or Spider-Man/Peter.
Rio was probably suspiscious where Jem went though, since she asked him for help and then disappeared. The new comic by IDW Publishing actually had a story with a similar situation, where Rio even asked where Jem went, in issue #5, and even criticized her about abandoning the others. Christy seemed to cover this too, by having the newspaper Eric reads the next day say "Pacheco credits mysterious lead singer Jem with help in rescue", although that may only refer to Jem being unknown as far as her background, but I read into it that she appeared there and disappeared mysteriously. That's infact how it was translated in the Swedish dub.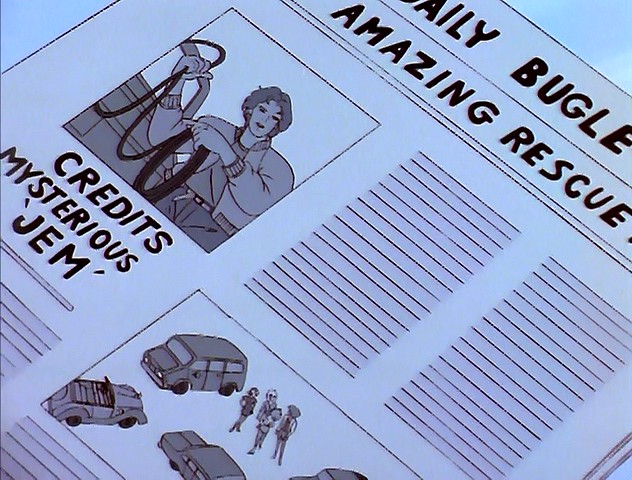 To be picky, how could that picture of Rio end up in the newspaper? No photographer was there. Christy herself has wondered that in retrospect. I guess they staged it afterwards to get a good picture! If you look closely at the newspaper, there's also a small picture that shows that the roadster made it, and next to Rio's car is Jerrica, Jem, Shana, and Kimber, but not Aja, I think. So I guess Jem returned there (but only blooper-wise of course). The newspaper btw is the "Daily Bugle", the same newspaper that the amazing Spider-Man freelances for (and the article even says "amazing rescue"), so I guess we can say the Jem stories takes place in the same universe as Spider-Man. Marvel did co-produce this series after all. And as mentioned earlier, Christy has worked on two Spider-Man cartoon series, "Spider-Man" and "Spider-Man and His Amazing Friends".
Nice to see Rio be a hero. He's not an overstyled blonde photomodel Ken-character to a Barbie, he's a brave guy! And he continues to be heroic in later episodes aswell, even though Jem and the Holograms do alot of things to help themselves aswell.
Eric tells the Misfits they're lucky Jerrica and the others didn't call the police. The unrealistic thing in getting away with putting them through this danger, gets more realistic when atleast being commented on. And whoever claims the Misfits and Eric always get away with things in later episodes aswell, is very wrong, as I mentioned more about in point #9 on this page.
And considering Aja is the resident chauffeur for the band, it's kinda cool how Roxy comments particularly on Aja being the driver, "Hey lighten up, it's not our fault that Aja chick can't drive" (which is btw not at all how Christy originally wrote her line, since the scene was changed a bit). Might be a blooper here though, because how does Roxy know Aja's name already without hearing more than the band being called "the Holograms" prior to this, and she couldn't had read it in the newspaper since she can't read (which we don't know yet though, as we find it out in a later episode, though it's briefly mentioned in the Jem bible).
Eric says he'll see to it that the Misfits win the battle of the bands, and Pizzazz replies "you'd better, 'cause..." and the the music video "Winning Is Everything" starts. Another favorite song of Christy. This one has very clear lyrics for the Misfits being the bad guys. It's about taking a known positive concept and turning it around. But I think this is one of the strongest songs the Misfits have as for introducing what they're all about. This is also an example where the storyboard artist had to really use his imagination since there wasn't alot to work with in the scene, being that they were in Eric's office, only Christy's description calling for Pizzazz winning in all kinds of situations. I guess "Winning is Everything" could almost had been fitted in anywhere in the five parter or in the entire series, yet they never re-used it in a later episode.
The Misfits are so cool going from scene to scene in a selfassured way and doing all kinds of bad stuff. There's some very typical American culture stuff like beauty pageant, car show, football game, cheerleaders, and casino. Also here alot of pink in the backgrounds like in their previous video.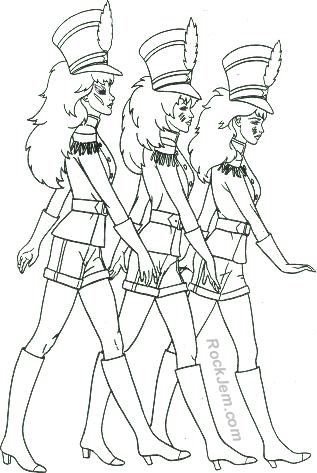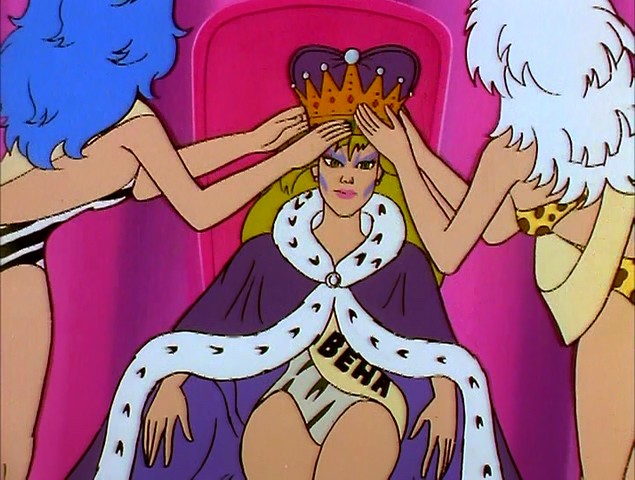 This music video is the first time we ever see Pizzazz as royalty, which happens several times later in the series aswell, atleast three times that come to mind ("Starbright Part 2: Colliding Stars", "The Princess and the Singer", "One Jem Too Many"). This is also the first time we see Pizzazz as a giant in a music video, which happens again several times in later episodes like "The Music Awards Part 1" and "The Princess And The Singer", both episodes by Christy, and oh "Scandal", or Roxy in "Culture Clash". Can you remember more occasions?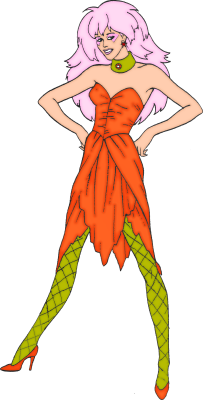 A Jem fashion is introduced in this music video, the Hasbro Flipside fashion "Up & Rockin'". I'm very surprised to see Jem in a new outfit presented in a Misfits video.
As for the extended retakes scenes added in this particular music video, I don't really mind them here for once. Some I don't get, but they fit in quite good for most part.
This marks the first and last time the Misfits have two songs of their own (where one isn't a duet) in the same episode. Though Ellen Bernfeld also sings the lead of two songs in the episode "Roxy Rumbles", one as Roxy though. But they certainly never have three songs in an episode like Jem and even the Stingers later do, which I've made a point of on this page Jem Wishes.
Now we get a good overview of Starlight House, and see how the "idyllic" surroundings are not quite so distant on it's own after all. We can see it's just surrounded by trees, but then just outside there are roads in front and behind it. In the next episode we will see neighbor houses quite close even.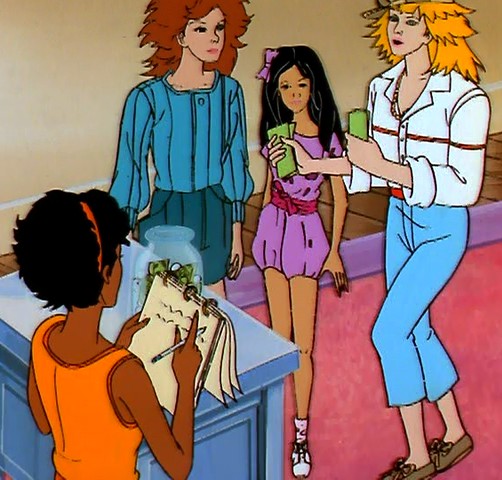 The Starlight girls are seen interacting with each other here, and in the other episodes of this five-parter, alot more than they did in most later episodes, unless a story concentrated specifically on them. And they act alot more responsible here, taking matters into their own hands. Christy has said (on the Rhino DVD commentary for this episode) that she probably should had created less Starlight girls rather than a "horde" of them. She has suggested a number of about 5 of them. In a quick logical count I guess that would include Ashley, Ba Nee, Krissie, Deirdre and Terri according to who were most featured in stories. But then again Lela was the first Starlight girl after Aja and Kimber to arrive at Starlight House, and is featured in Christy's episode "The Jem Jam Part 1" as being part of the group Ashley and the Starlights, and also Becky was part of that group.
Oh and here they actually choose to draw an entirely new background for retakes, showing the front of Starlight House. It doesn't look quite as romantic here though. And they added a basement in retakes, which has windows that can't be seen on the front of the house so I guess they're located on the back or the sides of the house. This scene adds to the poor situation of the girls, since the house is so old Rio is having problems fixing the electricity. But it's mostly meant to build for the scenes with Zipper (which is why it's later dark indoors and why Kimber needs a lantern).
When Ba Nee says "I walked Mrs. Ledger's dog" it is an injoke by Christy on the fact that Christy's husband was named Peter Ledger (1945-1994). Read about him here, and although Christy did not go by that last name, Mrs. Ledger is a reference to herself. So I guess you could say in this canon Christy has the last name Ledger and lives close to Starlight House. Spoiler: If you want to take it even further, she would probably be one of the female neighbors who helps the girls with blankets in the beginning of next episode (cut out in retakes though). But then again Christy does appear with her own name as a character with a speaking lines (not spoken by Christy herself) in the episode "Father's Day" by Roger Slifer. One of the storyboard artists (I assume), even added Christy's last name to a schoolbus in Christy's episode "The Music Awards Part 2".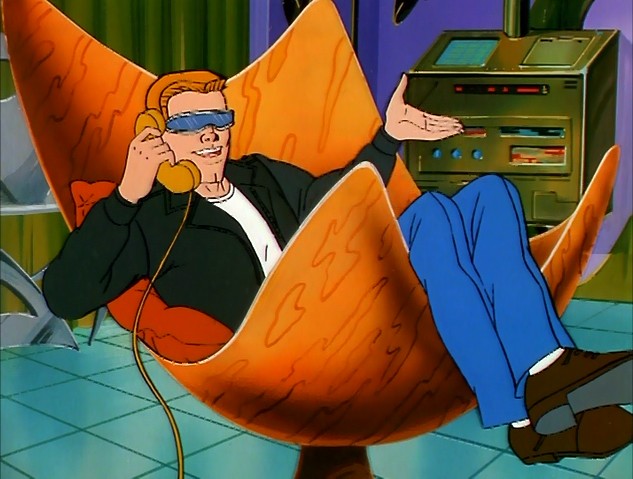 Zipper is a Christy-creation, who was originally to be called "Perve". Obviously not as in the way people use the word nowadays anyway, but rather as a dictionary would define it, something like "turned from what is right". I seem to remember Christy saying someone at Sunbow or Hasbro wanted to use Zipper as a name. Anyone find a source for that, let me know. Voiced by the same actor as Eric Raymond, Charlie Adler, who later also did Techrat, in other words all three of the most famous male badguys of the show. Zipper was never given a real name nor last name though. But we do get to see a little from where Zipper lives here. Zipper is sitting in a chair that resembles a design perhaps most known as a "butterfly chair".

Christy only meant Zipper to be a one-time thug though, of no consequence to the series. And she never wrote about him again after these first five episodes. But she included him in the Jem bible where she compared him to "a punk musician gone bad", "an evil Billy Idol", even called for his outfit to have lots of zippers.
Although not very likable as a character, and perhaps not very handsome, Zipper had quite a visible role in these first five episodes, and there's something appealing about him. He wasn't clever in his sabotage against Jem and the Holograms like Eric was, nor did he have a personal agenda, nor tried to glamorously outdo them like the Misfits. Zipper just did some really crazy stuff and took it to the max without any consideration of the consequences, which in my mind was great ingredient for exciting stories. Although I would classify him as a C-list character, I was very happy when Integrity Toys raised his status by releasing him as two dolls in 2017, one with his later haircolor.
And as much as four other writers later picked him up for their Jem episodes (that's more than for Howard Sands). Christy has commented that "he was someone the other writers knew existed and I think he simply became handy to use when a thug was needed.". However, the next time it was time for Christy to write another story with a thug, the producer Jay Bacal asked Christy to ditch Zipper (which as I mentioned earlier it seems Christy was planning to do anyway).
Spoiler: As Eric talks to Zipper on the phone, we get a glimpse of a photo or whatever it is on his desk. Maybe the background designers were a little ahead (before "The Battle of the Bands") and drew the picture of Synergy already here. Another nice detail here is a notebook that says "Eric's Memo".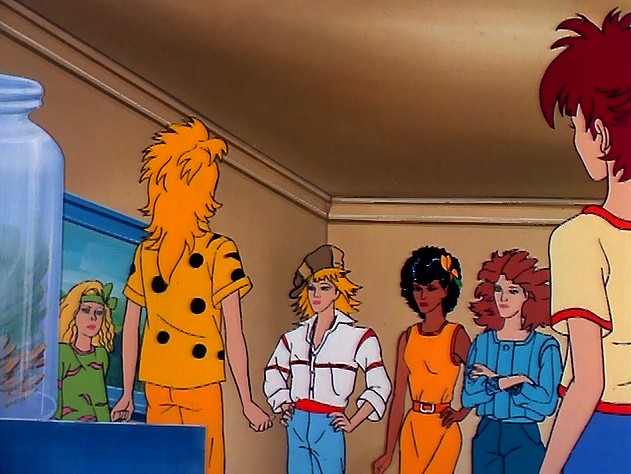 I wonder what Ashley was going to do with that money. Although it added some good morals for the young audience, I always felt Jerrica was a bit hard on Ashley for taking it. Jerrica didn't know Ashley's intentions (well I guess Christy meant it to be obvious though). And Jerrica didn't have to threaten to throw Ashley out of Starlight House. Come on, she is a kid, and had no known relatives as far as we know. Jerrica does atleast "throw" her to the other Starlight girls, and originally in the script they were even slightly worse towards Ashley.
Here comes the first scene with Jerrica and Rio alone (before that earlier retakes scene of course), well the Starlight girls show up. But this is the first time Jerrica and Rio kiss in the entire series, and it's in the very first episode. It only takes Rio two more episodes to kiss Jem though! Then Rio continues to kiss Jem for five episodes in a row.
Christy even covered the possibility of Rio staying over, as a suggestion by Rio, who said "on the sofa" of course (I guess they couldn't have a male sleep over in a cartoon show). But the point of this scene is of course to justify getting Rio out of the way, so that the scene with Zipper can take place without interaction from Rio being downstairs.
Here we see Rio's van again. Considering Rio seems to always take his car and stop outside of Starlight House, he most likely does not live directly next door, but not necessarily too far away either.
Jerrica is awakened by Marianne and says a line that is removed (because Jerrica's head moves before we hear her talk). That line is in the original script though.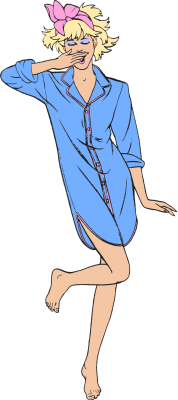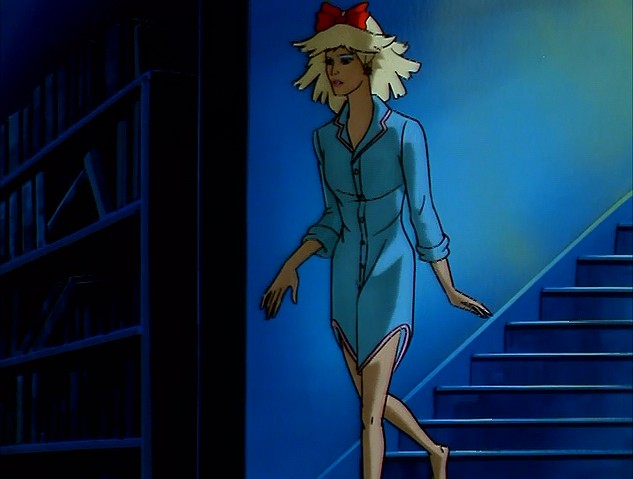 Jerrica and the Holograms come down some stairs, other stairs than where Rio exited the building a moment before. Perhaps to show there were several ways to escape the upcoming scene.
Originally Kimber had a line here, which leads up to why Jerrica says "listen". And originally Zipper had two friends with him even, and their scene was longer, and had another resolution involving the fire.
Spoiler: This is a very scary cliffhanger where we don't see what happens to Jerrica and the Holograms. They even made it worse in retakes by adding more scenes of how it spread. It's one of those cliffhangers that implies things go as bad as they could, and then in the next episode they skip straight to when most of them are completely safe without any harm, except the house was completely destroyed.
Spoiler: This was the last we ever saw of this house, well except for the remains in "The Stingers Hit Town Part 2". I wish we got to see even more of Starlight House in this episode since it's the only episode in the entire series that shows it, atleast in this current design rather than the different look in the flashbacks in "Out of the Past". Well some of the UK storybooks, Jerrica and the Holograms, including Raya, still live in Starlight House. And btw in the US hardcover storybook "Battle of the Bands" Zipper is actually pictured smiling as he leaves as if he meant to destroy Starlight House.
This episode is also the last we ever see of Jerrica and the others living normal lives before their career (except for flashbacks to earlier unseen events in their lives). Well they do down to earth things in later episodes too, but then they are superstars.
Originally we got to see alot of what would happen in the next episode, in the first version of when these mini-segments got connected three by three, but that was removed once these episodes got extra scenes.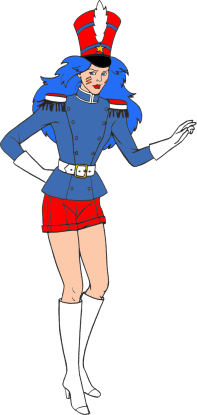 Conclusion:
On top of being a great episode in itself, this is the introduction of the whole plot of this series, Jem/Jerrica and the Holograms Vs. Eric and the Misfits, introduction of how Synergy works, Jem and the Holograms as a band, Rio, Starlight girls, Roadster and more. Most of the introduction stuff is handled right here in the first episode. The rest of the four episodes either go deeper into the characters, develop the stories, or are kinda their own sidestories.
Well some important characters like Anthony, Lindsey and Danielle are still to be introduced after this initial episode, within this five-parter. And the upcoming four episodes do tell a very ontopic story, with the mansion, developing the personalities of Kimber, Ashley and Stormer especially, developing the Jem/Rio/Jerrica love triangle, and Synergy.
I like how Christy doesn't make this a typical introduction episode, with doing everything in a predictable order. Instead, she tells us things through exciting events. But we still understand who are who, and what their roles are. There's no way of improving this episode, other than throwing in scenes Christy had actually written, which never made it beyond the script (well atleast not beyond storyboards, or... some might have even been voiced before cut).
This first episode takes place during four days. First day: funeral (which takes place atleast a few days after Emmett passed, since Eric's new secretary says Eric hired her last week). Second day at Starlight House (unless several days have passes at this point, which it probably hasn't since Jerrica is shocked to see Eric take her father's office) and going to Starlight Music and finding Synergy that same evening. Third day battle of the bands in the park (according to Eric) and cliffhanger. Fourth day they read about last day in the newspaper and Eric hires Zipper to bother Jerrica. Or five days including the timewise distant initial scene before Jem looks back on how it all began.
Eric acts nice and offers Jerrica help in this episode, which is a side of Eric we don't see much of again in the series. It's almost shocking what a bad guy he is. He spent several years with Emmett, and suddenly he leaves his daughter Jerrica out of the company and is impossible when she only wants money for the Starlight Foundation. This early on in the series, it's still Eric who is in control and kinda has power over the good guys, which is part of what makes him scary. And the things he puts these girls through in this episode aswell as the upcoming episodes are horrific.
Jerrica is a strong female rolemodel already from the start, as she fixes the plumbing, and goes straight to Starlight Music. Even before she gets Synergy's help, Jerrica is determined to not let Eric ruin her father's record company. She's not afraid to check out what the mysterious Synergy is leading them to. Then she comes up with Jem, and decides to invite herself to a contest. She then accepts Eric's challenge gambling an entire company that was her father's. She takes control of the situation on the cliff. She isn't afraid to go downstairs in the dark in the middle of the night to approach Zipper. A great rolemodel created by Christy! Well the Holograms and many of the other characters too, are also good examples of taking matters into their own hands in this series.
I love the charm of this animation style of these early episodes. Perhaps particularly in this first episode, and even the background art seems to have a certain style both in stories and music videos, of showing a alot of views from a long distance. We see deep meadows, the city and often very zoomed out views in general. And throughout this five parter, even many panoramic views like full body scrolls or scrolls through rooms.
This episode made a lasting impression on the rest of the series. Even before it was animated the scripts were seen by companies who created other products like books with stories. Many of which referred to this first episode alone, and often barely to the following four episodes (well except for confirming what group won the big Battle of the Bands from the fifth episode).
As for TV viewers, this episode was probably the first thing most Jem fans saw of Jem. Or atleast I hope it was, because it's great, and there are episodes I would prefer if it was not the first (or atleast not the only) they saw of Jem.
But while this episode (and the whole five-parter) is great and preferred as an introduction, it doesn't do Jem justice as far as being ALL that Jem was, and as a guide of what new interpretations should include and not. Christy explored alot of more things in the world of these characters in her later episodes, turned some things upsidedown, and then some!!! And so did many of the other great writers who added their own touch and excitement to this show. This episode was, as Jem herself would put it, only the beginning. You can certainly not say you have watched Jem after seeing this first episode.
But anyone who doesn't go nuts for this series after watching this episode, either has extremely different taste for genres or whatever, or is simply... well... nuts.
And as for those of us who watched the entire series countless times (no I'm not nuts). This episode still bares a special place, and also gets a lot of focus. Alot of projects of website creators start from the beginning, so while all don't reach the 65th episode, this one first episode is sure to be over-analyzed. One example: is why I found so many bloopers for the bloopers page from this particular episode. This episode was certainly not of lower quality. And regardless of what you may think of my analyzing skills of episodes, I hope you enjoyed reading some of this, and will look for upcoming reviews of Jem episodes (perhaps a little shorter).
And oh, the five episodes in this five parter, were released as a movie on VHS in the US and in several other countries, which has caused some to think of it as an animated movie. But there was never such a thing as an animated Jem "movie". This just happened to be a bunch on continuous episodes that added up to become the length of a movie. But several other episodes were released on VHS aswell. The only thing that justifies to double-list them as a movie at sites like imdb.com is that the video release was slightly different, mostly because it included less scenes than the 21 minute episodes, so it's not a version you need to see if you've seen these first five episodes one by one.
For fun stuff:
Beginning: The beginning is not an introduction. Christy jumps past the inevitable introduction stuff, to show us what we are getting right away, with Jem and the Holograms in the middle of their careers. Unexpected, and it makes us curious who is coming out of that car, that the whole crowd is cheering for. And then it goes straight to a funeral.
Question:
- Why did Jerrica come up with a pink hair singer?
- How alike are Jem and Jerrica in looks except for the haircolors?
- How did Jerrica know Rio would pass by there?
- How was Eric planning to keep Jerrica out of the company permanently?
- How did the Misfits meet?
- Did the Starlight girls have to be so tough on the new girl Ashley? It's almost like Lord of the flies, and it gets even worse in the rest of this five-parter (well not as bad as Lord of the flies).
Best thing in the entire episode: Seeing all those cool colorful characters to begin with. When Synergy appears, and when she asks them to walk through the wall. Hearing the great songs for the first time, shockingly great! Here's a cartoon with music that would beat the crap out of most songs released by "real life musicians".
Worst thing in the entire episode: I guess the added electricity scene was the least exciting. But atleast we got a good view of the basement (since I mentioned I would had wanted to see more of Starlight House).
New style: Everything is new here of course, from Jerrica and the Holograms' casual outfits, which we see alot of, to the main onstage outfits of both bands.
Surprises: How evil Eric turns out to be, after the initial support for Jerrica at the funeral. Synergy! The Starlight girls being so tough on Ashley, especially since we don't find out why she is an outsider to begin with, since Sunbow cut in Christy's script. The badgirl band introducing the show's music. The ending.
Most exciting moment: Synergy! When Jem and the Holograms first perform. When Misfits throw out instruments and Jem and the Holograms end up on the cliff. When Zipper breaks in.
What should be cut out: The added scenes in music videos, or most of them. They simply didn't have the same feeling to them as the rest of the animation, and made the characters look... silly.
What else could it had done: If the first scene with Jem and the Holograms wasn't going to be re-connected to later, this episode could aswell had used that screentime to instead tell us more about the main characters. I did like it, and it caught more attention this way, but instead we could had seen more of the cut out scenes from Christy's original script. Or how about adding a scene where Jerrica finds her look as Jem with Synergy, ...well that could had been kinda cheesy on second thought.
Biggest argument: Jerrica Vs. Eric/Pizzazz at Starlight Music, Eric Vs. Jerrica in the park, or Ashley Vs. everyone else in that house.
Best look: Although we Jem fans are so used to them after seeing them on the dolls and in so many episodes and other interpretations, you've got to give some credits to the original stage outfits. I also really like the early look of Jerrica's pink and blue outfit, which changed after this five parter.
Worst look: Rio's colorless outfit really isn't that great. Perhaps logical for a non-musician guy, but it doesn't resemble his doll outfit. I guess Sunbow just had to go with something when Hasbro wouldn't give them a doll outfit in time. Eric's outfit isn't much fun, and he keeps it throughout the series, well he gets a tie later. I guess male fashion was not a priority at this point.
Where could the Rama Llama fit in: It could had been a gift at the drive-in, or an opponent musician at the park. Both very good ideas.
Is Rio a "hero" or "Ken doll": He dismisses Eric already at the funeral, before anyone else gets Eric is a bad guy. He fixes things at Starlight House, as far as he can anyway. Saves Jerrica and the Holograms on the cliff.
Whom does Rio love most, Jerrica or Jem: Definitely Jerrica. He meets Jem for the first time here, and probably thought she looked great though, especially with her big pink fluffy hair.
What character practically does nothing: Krissie is the only Starlight girl not seen yet. Just about everyone else gets their screentime or even voicetime.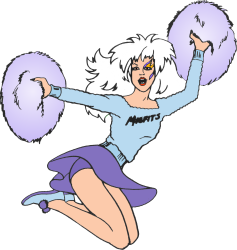 This episode has alot of...: Introductions I guess. Electricity and plumbing problems. Misfits music videos. Synergy. Bands. New fashions. Bitterness from Ashley.
Someone should make a toy out of this: Jerrica's original outfit looked better than the re-styled version we see on the doll and in the Starbright trilogy. Starlight Music would look great as a doll house. Synergy in her computer form, what a missed opportunity by Hasbro and Integrity Toys. Queen of rock 'n roll outfit for Pizzazz, atleast one of the doll versions of her should had come with a crown accessory.
What character from another cartoon should be brought into a scene: I'd love to see the female computer Dynak X from Defenders of the Earth (a 80's cartoon series that shares alot with Jem in the crew department) interact with Synergy, just because.
What would Barbie had done: She would had asked the Misfits if they can't all be friends and sing country songs together, and Pizzazz would had slapped her in the face. Barbie would only use Synergy to create new long pink gowns to impress Ken.
Best mischief-award in this episode goes to: Jerrica sneaking into Starlight Music (although she owned half of it) and Jem and the Holograms crashing the contest in the park. So infact Jem and the Holograms crash a Misfits contest here before the Misfits ever did so! But the most imaginative mischief-making in this episode has to be the Misfits throwing out instruments from a moving car.
Challenge for you while you watch this: Wouldn't it be interesting to see all flashback scenes from other episodes before this episode, so they are in the correct order? Would be nice if someone cut together all flashbacks as a separate episode, and pasted them together with a presentation that made sense. "Out Of The Past", but also "Father's Day", and "Scandal". Oh and can someone find a good real life match for the chair Zipper is seen sitting in, and tell me the exact name of the design please! I'm just curious because it resembles a bunch of famous real chairs, but none of them looks exactly like Zipper's.
How could Jem's identity had been revealed by mistake: Lots of people in the park of their first performance. She is only disguised by a tree when she changes, and she makes holograms appear right in front of everyone on a scene.
Animals: 12 Starlight girls and not a single one of them has any kind of pet. Well I guess it costs alot of money to support a pet, and with the little money they had at this point it would be impossible. The only mention of an animal in this episode is that Ba Nee walked a dog for money. And well, some stuffed animals in the "Outta My Way" music video. With this lack of animals, it's all the more reason to include a pink llama.
Where could another song fit in: Definitely when Jerrica and the others were meant to be jammin', when we first see them at Starlight House.
Room for a yeti or timetravel somewhere in here: How about if they threw in a yeti that came out of the car in the beginning of the episode, right after Jem, and the crowd would go "yeti yeti yeti!!!". Or Emmett could had invented a time travel device aswell and left at the Starlight drive-in, so Jerrica could travel back and make Emmett fire Eric, but then of course without Eric there would be no reason to create Jem.
Would it make any difference if the Holograms switched roles: Yeah since they were introduced here and we even already see some of their personalities here.
What made the series take a step forward or back: The biggest step this series took was of course it's first, to get out there. And what a statement this first episode was! Much of the stuff here with the wild storylines, the attitude, the colors, fashion styles, character design, and music had never been done before. Jem was so glamorous, but yet felt so real and rough somehow. This show set a new standard, that had not been seen at the time, and that had such an impact it caught attention of an entire generation, and has since inspired other products and even real life singers for decades. This cartoon was even more popular than the dolls it seems. And even today companies like Mattel are completely terrified every time anyone even mentions "Jem", or releases a Jem t-shirt or whatever, and Mattel always replies by releasing a pinkhaired Barbie doll called "Jam" or something. Don't get me wrong, I like Mattel and Barbie too, just wish they could do their own thing, and give some room for other dolls on the market too.
Animation quality: Nothing wrong with this style. It had it's ups and downs, like the rest of the series, depending on what animation team did what scenes. But the whole feeling, especially in outdoors overviews and music videos, is a very charming yet edgy style. The few problems in animation has to do with completely unrelated things like Hasbro not setting on final looks for the characters yet. Interestingly Sunbow actually told the Japanese studio particularly how to draw the characters looks in an American style, and not too anime.
Ending: If you look at the two inbetween endings of the mini-episodes so far, the first was with Synergy appearing, and the second with the cliff, then in a way this third cliffhanger seemed most extreme, with 16 characters involved. Other than that, the loose ends to make us watch beyond the first episode, was who would win the big Battle of the Bands, what did Eric and the Misfits have more in store to challenge them, what would happen with Ashley, how would all Starlight girls be supported, and how would Synergy be used. I think that was more than enough.
[Thanks Davide for information about Jem in Italy, vintage-animation for the picture of Jem from Super Saturday/Sunday, and TheMitigating for the magazine ad, and if I missed mentioning someone please let me know]
Some offsite-links to some things I found online by other people, about this episode in different ways: