Jem is in good company being an 80's cartoon, and even after the 80's the themes of Jem have proven successful in more or less similar shapes. The following cartoons are either from the same time period, created by the same companies, or have the same themes like music/haircolors/fashion.

Some of these were Jem's direct competition in the 80's, other's will just give you an idea of the context Jem was among at the time, or how Jem might have inspired later cartoons. Perhaps you'll even find another series of your taste on this page.

Made by Sunbow/Marvel:

Several of these cartoons shared many voice actors. Three of the following series, even share a character with Jem called Hector Ramirez, a reporter who was written into Inhumanoids, G.I. Joe, Transformers by writer Buzz Dixon making a connection of the universes.

G.I. Joe: A Real American Hero, 1983-86 by Sunbow/Marvel, and 1989-92 by DiC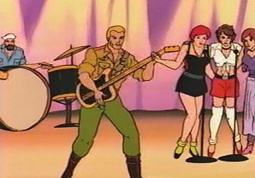 A show also based on a Hasbro toy, which in it's original form debuted in 1964 as 12-inch action figures and actually coined the expression action figures. The 80's animated series, which consisted of as much as 95 episodes in it's original run by Sunbow, was about a government issued military team known as the G.I. Joe Team who battle against the evil Cobra Command, using martial arts and different kinds of vehicles and weapons.
The line has also appeared in other shapes and been known also as Action Force, Action Man, and I can't really tell all the differences that separates all the lines. G.I. Joe made a comeback as a cartoon series in 1989, and 44 episodes animated by DiC.
I believe a G.I. Joe character called Shipwreck actually makes an appearance in the Jem episode Starbright Part 2 in a music video where Jem is running through different movie studios where movies are being filmed.
Transformers, 1984-87
Is about robots that take the shape of all kinds of different vehicles, weapons and animals and other things, and the ongoing battle between the good autobots and the evil decepticons on the planet Cybertron. After a search mission for new sources of energy in the universe, the Autobots end up on earth.
In the original series there was 98 episodes, and it has since been followed by several series and even some quite amazing real life movies.
You can actually see a Transformer robot in the Jem episode "Out Of The Past" where Jerrica's father Emmett Benton invents the computer Synergy and one of the first holograms it projects is in the shape of a robot. Also in a Transformers episode, you can see Jerrica and Kimber, sitting in a classroom but colored differently, and in another episode you can see a poster of Jem on a wall.
My Little Pony, 1984-1987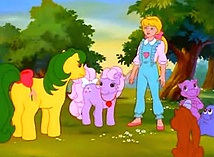 The original series of this cartoon consisted of 2 standalone episodes, a movie and then another 63 episodes, and the ponies have since appeared in several more series. The story is about colorful ponies that live in a magical land alongside all kinds of creatures, good and bad ones. There are regular ponies, seaponies, unicorns, pegasuses and flutter ponies. Each of the ponies have their own unique symbol on the side of their flanks.
There are, unusually enough, no actual main characters here, since the stories seem to revolve more or less equally around all the different ponies. The human siblings Megan, Danny and Molly and the dragon Spike are often featured in the stories though.
This is a colorful show, more in the lines of Jem, even with some songs. In one episode of Jem, "The Stingers Hit Town Part Two", there appears to be a My Little Pony reference, when Ashley trips over a soft animal toy in the shape of a purple unicorn with blue hair. Also see the Similar dolls page about the toy line.
Robotix, 1985
This cartoon debuted as a Super Sunday cartoon, but never made it into it's own series. It consists of only 15 episodes each 6 minute long, and is a robots show kinda similar to Transformers if I may say so. The Protectons are the good robots battling the evil Terrakors on the planet Skalorr, where a group of humans land with their spaceship by mistake.
Bigfoot and the Muscle Machines, 1985
Another one of the four shows that started out as a Super Sunday mini-series along with Jem. This show was about some people who run a monster truck show, and featured vehicles competing in the United States Hot Rod Association. Not as much about vehicles as you might think, it actually has a story and female characters driving one of the vehicles.
Perhaps my favorite among the four Super Sunday shows, other than Jem of course. Reminds me of a car chase scene from the Jem episode Starbright Part 3, and after all, the Jem series did have a bunch of car chasing scenes.
The Inhumanoids, 1986
A 13 episodes long animated series about a group of scientists, Earth Corps, who, by the help of their exosuits and the elemental beings, the Mutores, battle against three subterranean monsters called the Inhumanoids.
This action-packed series has little in common with Jem, but shares the same origin in being a Hasbro toy and debuting as a Super Sunday mini-cartoon. It was the second most popular among Jem, Robotix, and Bigfoot and the Muscle Machines, and actually made a quick appearance in a Jem episode "Broadway Magic" which featured one of the inhumanoid monsters on a TV-screen.
Visionaries: Knights of the Magical Light, 1987 by Sunbow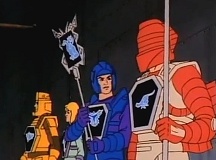 This cartoon series was, like most of the above, based on a toyline by Hasbro. The only Hasbro-based cartoon Sunbow Productions created without the help of Marvel. Due to poor performance, perhaps also by other Sunbow shows, it was dropped after 13 episodes.
It's about two groups of Knights, the Spectral Knights and the Darkling Lords, who, after all energy on their planet Prysmos is lost, are introduced to magic by the wizard Merklynn. After surviving his tests, each knight is given their own animal totem which appears on the front of their armor, and which they can turn into.
The cartoon and toy line makes use of holograms which reminds me of Jem, but apparently this was one of the reasons the toyline became too expensive to continue.