RockJem.com / Index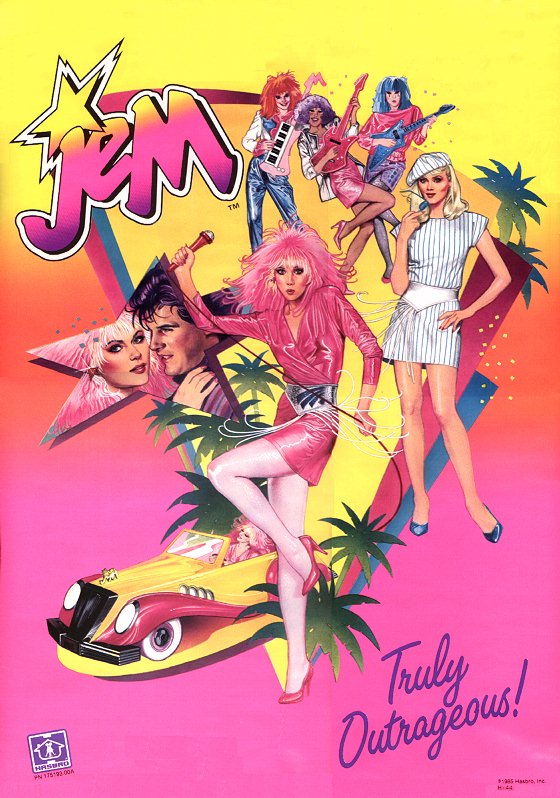 With a pair of microprojector earrings and the words "showtime Synergy", Jerrica Benton's holographic computer transforms her into the "truly outrageous" Jem, the pinkhaired singer of the band The Holograms.
This fansite was started in 1997, as a tribute to the 1980's musical animated TV-series and toy line, and to the people and companies that made it all happen.
Here you can find in depth guides to the cartoon, reviews of the dolls and other collectibles, behind the scenes material, and other fun and informative features. And be sure to check back for updates about it all.
Have fun exploring this site!
News & Updates:
July 23, 2021
Time for a new detailed episode review, this time I jump all the way to the episode Culture Clash. It was finished many years ago, but not uploaded until now, and therefore not as detailed as some of my reviews have come to be later, but still alot of details I'm sure you will enjoy. Alot more coming up.
July 10, 2021
A new detailed episode review is up today, of the episode Starbright Part One: "Falling Star". With a detailed look at everything that goes on in the episode, and alot of background information, some that no other Jem fans knew before. Enjoy reading! And more coming up.
April 30, 2021
Thanks everyone who has been visiting this site over the years, and everyone who has contacted me. So many interesting things are currently going on for Jem in 2021, and Rock Jem will soon have more updates. The very popular Jem doll line by Integrity Toys is going strong, with lots of new amazing releases in 2021. So check them out!