RockJem.com / Index / Episode Guide / Kimber's Rebellion
#4043-A, B and C (original three part mini-series, also combined three by three into full episodes)

#4046 (with some edits and released on VHS as a movie)

#5205-10 (with long added scenes and extended music videos)
Kimber's Rebellion
Written by

Christy Marx
Synopsis:
Jem and the Holograms are working hard to finish their first album, and by the help of their new friends they are given the opportunity to fly to Paris, where Anthony will direct their first music video. Eric sends Zipper to sabotage it. When Jem and the Holograms return, Ashley has snuck off to the Misfits, who are far ahead with their promotion. So now it's time for Jem and the Holograms to get down to business. But Kimber is tired of being in the background of Jem, so when Kimber learns Jem will appear on the Lin-Z show without the Holograms, she decides to go solo. Also Rio is starting to seriously question if he can continue to work for the band, because of his relation to the mysterious Jem.
Characters:
Jem/Jerrica and the Holograms (Jem, Kimber, Aja, Shana), The Misfits (Pizzazz, Roxy, Stormer), Rio, Synergy (cut out in some versions), Eric, Lindsey, Starlight Girls (Ashley, Ba Nee, Krissie, Deirdre, Terri, Lela, Anne, Marianne, Joellen, Becky, Nancy, Delaree), Howard, Danielle, Anthony, Zipper, captain on yacht, crewman on yacht, music video camera man, music video crew man, bouncer, The Leatherettes, The Space Cadets, music store guy, radioman, male fan in audience, Brian Morris radio DJ, guard at VTV, technician on the Lin-Z show, camera man on the Lin-Z show.
Focus on:
Kimber, Ashley, Rio, Lindsey.
Locations & vehicles:
Du Voisin's yacht, Starlight Mansion, Starlight Music, Paris in France, music club, airport in L.A., Rockin' Roadster, VTV, Starlight Express, Radio KMAX, Rio's car, Misfits hangout place, Misfits van.
First appearance of:
Lin-Z's studios.
Songs:
"Twilight In Paris" Jem and the Holograms
"Gettin' Down To Business" Jem and the Holograms
"I Got My Eye On You" Jem and the Holograms
Part of songs:
"Twilight In Paris" by Jem and the Holograms, "Makin' Mischief" by the Misfits.
Instrumentals:
"Twilight In Paris" by Jem and the Holograms, "Puttin' It All Togheter" by Jem and the Holograms, "I Got My Eye On You" by Jem and the Holograms.
Genres:
Drama, Action, Romance, Message, Adventure, Humor.
Releases:
USA: Originally aired on TV on 17 November 1985, 24 November 1985, and 1 December 1985. Released on VHS. Released on DVD.
Italy: Aired on TV. Released on DVD. The episode title was "Video Clip" (Video Clip).
France: Aired on TV. Released on DVD. The episode title was "Vidéo Clip" (Video Clip).
Holland: Aired on TV. Released on DVD.
Sweden: Released on VHS. Released on DVD.
Denmark: Released on VHS.
Finland: Released on VHS.
Venezuela: Aired on TV. Released on VHS. The episode title was "Kimber Se Rebela" (Kimber is a rebel).
UK: Aired on TV. Released on VHS. Released on DVD.
Australia: Released on DVD.
Trivia:
This episode was made in several different versions. Originally it consisted of three segments, which were later put togheter to form this episode. The titles of the three segments were 7: The Video Clip, 8: Defections, and 9: Zapped. It then had retakes made, including extended scenes. Read more about the different versions of the material in this episode on Retakes.
"I Got My Eye On You" is one of Christy's favorite Jem songs.
In the music video of "Twilight In Paris", Jem walks by places and stores called "L'Apollina", "Lapin Mill", "Cafe Monteria" and "Cetsib".
In the club the Misfits hang out, there is a girl that looks exactly like Ashley except she has light blonde hair instead of yellow.
According to the Misfits: A Misfit never asks for anything, a Misfit takes whatever they want, and a Misfit never says "please" or "thank you".
When Jem and the Holograms return from France and drive into town where they see all the Misfits posters, there's a man walking by with a stereo playing music. Apparently this is a song by Iron Maiden called "Flash Of The Blade" from the album Powerslave. But this piece of music was removed in the retakes and replaced by the Misfits song "Makin' Mischief". [Information by sammishredd]
Kimber's favorite radio station is KMAX.
Jem and the Holograms are driving by some stores back in LA, like "Cleaners", "Records", "KTOAD".
In the beginning of the music video of "Gettin' Down To Business" the Holograms put up a Jem poster on a wall, and right next to it to the right, is a poster of someone that very much looks like Becky of the Starlight Girls (and this was long before Becky was part of a band with some other Starlight girls).
On the first album of Jem and the Holograms, the Holograms are not featured on the cover.
Pizzazz slaps Lin-Z. The Misfits aren't allowed back on Lin-Z' show until the episode "Broadway Magic".
Kimber is about to get kidnapped. Like she is in several other episodes.
Fashions:
Recommended:
"Starbright Part 2: Colliding Stars" (Eric tries to win over Kimber again, also written by Christy Marx)
"In Stitches" (They go to stay at Danielle's place in Venice, Italy. And even Zipper is there too!)
"Broadway Magic" (Contains a music video "Can't Get My Love Together" that resembles "Twilight in Paris" in theme and re-colored fashions, and Misfits are finally allowed back on the Lin-Z show)
"Hot Time In Hawaii" (Zipper manages to kidnap Kimber)
"Glitter And Gold" (Kimber and Rio talk about relationships again, also written by Christy Marx)
"The Talent Search Part 1" (The song "I Got My Eye On You" is re-used, episode also written by Christy Marx)
"The Bands Break Up" (Kimber leaves the band again)
"Hollywood Jem Part One For Your Consideration..." (Kimber and Rio talk about relationships again)
"The Talent Search Part 2" (We hear Aja again say her view on Jem's secret identity, also written by Christy Marx)
And as for other cartoons:
"The Great Pussycat Chase" of Josie and the Pussycats (Josie and the gang travel to Paris)
"The Chipmunk Who Bugged Me" of The Chipmunks (Chipmunks visit Paris)
"Tower of Power" of Teenage Mutant Ninja Turtles (The turtles go to Paris)
"The Ghostbusters in Paris" of The Real Ghostbusters (The Ghostbusters travel to Paris, we see the Eiffeltower and there's some gargoyle trouble even)
"Le Purrfect Crime" of Chip 'n Dale Rescue Rangers (The Rescue Rangers go to Paris)
"A Real American Hero" of G.I. Joe (The G.I. Joe team go to Paris)
"Arise, Serpentor, Arise!" of G.I. Joe (The G.I. Joe team go to Paris, and this one is written by Buzz Dixon)
"Peril in Paris" of M.A.S.K. (The M.A.S.K. dudes go to Paris)
"The Hunchbudgie of Notre Dame" of Count Duckula (They visit Paris, but they don't film a romantic music video there though)
Keywords:
yacht, oil tanker, captain, running, ship's wheel, falling, overboard, kiss, motorboat, party, coast guard, music video, private jet, Paris, album, painting, reading, chess, dartboard, doll, dollars, money, jar, studio, recording, headphones, tickets, sabotage, Eiffel tower, Arc de Triomphe, camera, tree, directing, jealousy, hiding, big brother, brat, secret, building, street, walk, canal, bridges, fireworks, Montmartre, Basilica of the Sacred Heart of Paris, café, Moulin Rouge, poster, water, reflection, rain, boat, guard, street lights, kiss, bench, doves, hug, gargoyle, crowbar, angel, jump, vaccuumcleaner, dusting, runaway, club, entrance, bouncer, friends, tables, bar, glass, soda, waitress, chair, kick, airport, handbags, sunglasses, exit, luggage, record store, radio, advertising, bucket, wall, wind, driving, LP, DJ, rollerskating, bribe, microphone, high five, window, stage, concert, scissors, t-shirt, audience, fans, flyers, airplane, smokesignal, scarf, desk, sorting, guitar, telephone, invisible woman, solo, rearview mirror, crying, tears, search, radiostation, elevator, u-turn, sofa, mirror, monitors, desk, living room, tv, remote control, pointing, dancing, billboard, dry ice, star, music notes, nose, car radio, steering wheel, drive-in theater, spinning, photo, autograph, tv studio, favor, kick, chase, interview, question, name, push, fall, rude, obnoxious, loud, slap, elbow, electricity, explosion, fire.
Hasbro products:
Dolls: Jem/Jerrica, Kimber, Aja, Shana, Pizzazz, Roxy, Stormer, Synergy, Rio, Ashley, Ba Nee, Krissie.
Fashions: Jem's original doll outfit, Kimber's original doll outfit, Aja's original doll outfit, Shana's original doll outfit, Pizzazz' original doll outfit, Roxy's original doll outfit, Stormer's original doll outfit, On Stage: Twilight In Paris (worn by Roxy), Flip Side: Like A Dream (Jem), On Stage: Music is Magic, On Stage: Only The Beginning, Flip Side: Gettin' Down To Business (Jem and Jerrica), Smashin': Just Misbehavin', Smashin': Outta My Way, Flip Side: City Lights (Jem and Jerrica), Rio: Truly Outrageous, On Stage: Command Performance, On Stage: Dancin' the Night Away, On Stage: Encore, On Stage: Permanent Wave, Smashin': Makin' Mischief, Smashin': Winning is Everything, Flip Side: Up & Rockin' (Jem), Flip Side: Let's Rock This Town (Jem).
Vehicles/playsets: Rockin' Roadster, Star Stage (Jerrica's office).
Review:
As we join the action of this episode, we see the giant oil tanker from below, and it looks huge! I like that they thought of showing what happens inside the yacht as it turns, with the people falling, and realistic that Jem wasn't the only one in danger.
Rio is holding onto a pillar of the boat and Jem. Really brave of him, and strong!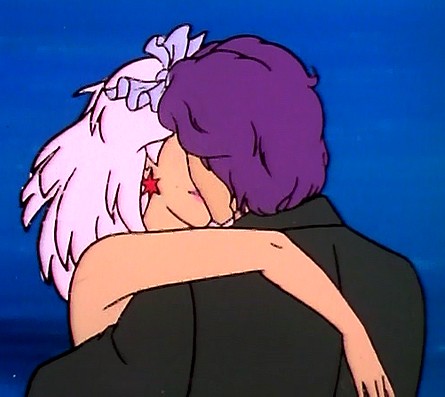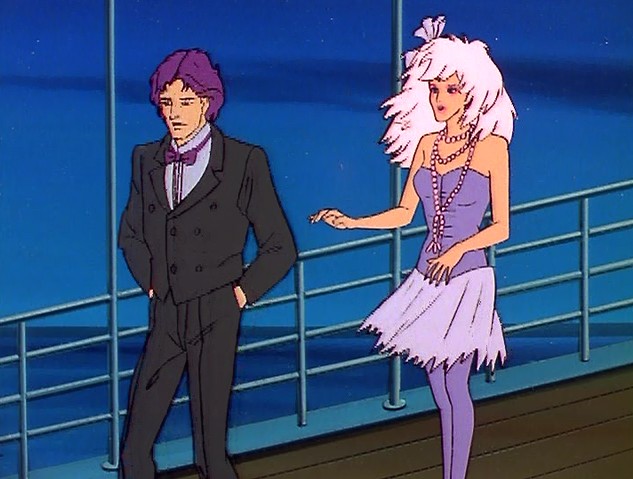 This is the first time ever that Jem and Rio kiss! I can understand Jem wanting to hug Rio at this point, and he is her boyfriend as Jerrica (and perhaps she even forgot she is Jem at the moment). And in the previous episode she was already about to kiss him here on the yacht, but only because she was planning to tell him her secret (which never happened because the Misfits showed up).
Jem is putting Rio in a really strange situation here since she didn't tell him. Well Rio looks like he's in on the kiss too, until he says "no, this is wrong, I can't hurt Jerrica like this!". Look at Rio, how ashamed he looks when the others arrive.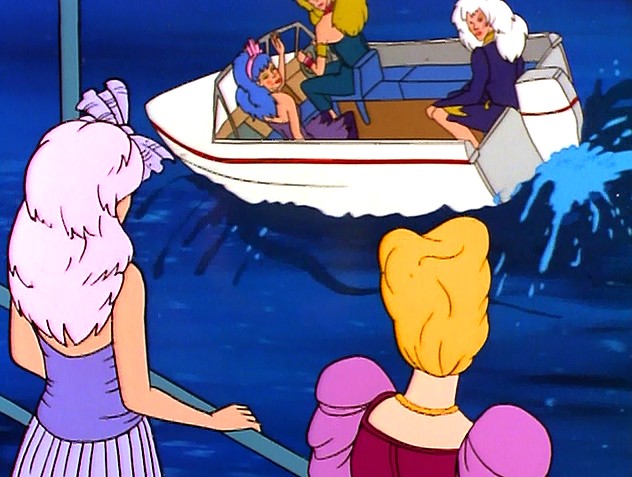 The purple dress Roxy wears when the Misfits leave Danielle's yacht in a boat, was a blooper, because she came there wearing a green dress. Interesting blooper infact! This was a mistake also because the purple dress was a Hasbro doll fashion made for Jem and the Holograms (and worn by a Shana doll in early advertising photos), which incidentally or not was even named after one of the Jem songs in this episode, "Twilight In Paris". But it kinda makes sense it was used on Roxy in the cartoon, because the Misfits had an uneven amount of fashions between themselves in the first year of the doll line fashions otherwise. But this meant Kimber got one less fashion from the Hasbro 1986 Onstage line to wear instead! And perhaps this fashion was originally meant to be worn by Kimber. Because in the music video "Twilight In Paris", she has to re-use an outfit when the other Holograms got new ones. So if Kimber was meant to wear it in this episode, it would also make sense why Hasbro originally named it "Twilight In Paris". Unfortunate that the cartoon people gave it to the Misfits then.
That purple Roxy dress would even had fit Kimber already at the yacht, because the rest of the band came there in some kind of dress, but Kimber wore a jacket and pants.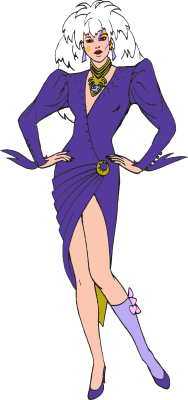 But this "Roxy-fashion" was already introduced in the intro of the Jem show (although the storyboard art suggested other fashions to be featured), next to the green dress which was also given to Roxy in this cartoon, although in the intro you can't tell who is wearing it, assumingly Jem or a generic model. But if no one had worn this fashion in the blooper of this episode, it wouldn't had been seen storywise until the Starbright trilogy, where Roxy wears it again. But even then the problems with this fashion continue, because Roxy is wearing it in the Misfits music video "Universal Appeal", but right after there's a blooper and she wears a red outfit called RX-4 instead. Maybe those outfits were mixed up in Starbright because their production numbers were so close, 3 and 4, or maybe Kimber truly WAS supposed to have that fashion originally in this current episode, and Roxy the red one in Starbright, and whoever worked on the music video for "Universal Appeal" just did the same mistake again.
I'd like to see the storyboard for this current episode to see what Kimber was originally meant to be wearing in "Twilight In Paris". In the storyboard for Universal Appeal, Roxy is drawn and noted to wear "Twilight In Paris" though.
There is even model art of Roxy wearing this outfit. But who knows when the final version of the model cel was set. Stealing a fashion from Kimber, had additional consequences, because in the next episode, Kimber "stole" an outfit that was meant for Shana according to early model cels, also a purple one. To solve that, Sunbow had to create an extra outfit for Shana, by just re-coloring one of her existing fashions (which they even re-colored a third time, for the Starbright trilogy).
Interestingly Sunbow actually designed a kinda similar purple outfit (K-6, similar to "Twilight In Paris") for Kimber for the Starbright three parter, perhaps to "compensate" her, which for some reason wasn't seen until the episode "The World Hunger Shindig" though.
So in other words, if you change things with the Jem fashions, it's gonna screw alot up!
Well after Starbright, "Twilight In Paris" is established as a Roxy outfit, but only ever seen in Christy episodes for some reason.
Danielle sure isn't happy with the Misfits, she plans to call the coastguard to have them arrested, but Kimber says she doesn't have to because Jem and the Holograms will beat them in the contest. Christy originally wrote this scene differently, and had another good reason not to call the coast guard. But Danielle should had done so, because as the Misfits say "We simply must do it again some time", and Danielle is bothered with them again already in the next episode, and they even have Zipper break into her place a few episodes later in "In Stitches".
Kimber says the line "the last laugh", which in a later episode (Video Wars) just happened to be the title of a Jem and the Holograms song.
The Misfits mischief really puts all of the people on the boat on Jem and the Holograms' side, if they weren't already. Anthony is ready to direct their music video, Danielle cover their expenses, and Howard lend them his private jet (yes he actually has a private jet!).
But considering Jem and the Holograms are partying with Howard Sands, and then being offered a private jet to Paris, there could be a conflict of interest, considering he affiliated with the contest, atleast by offering his mansion and a movie contract, and in the previous episode he promised Jem "all the help I can give her". But on the other hand, the competition is between the bands, held by Starlight Music, and Howard probably has no obligations other than offering the prizes. Had he wanted to cheat, he could had given the mansion permanently to Jem and the Holograms directly without a contest. Especially since the other contestants already broke the rules and almost killed Howard twice, and also Jem/Jerrica and the Holograms several times (I'm guessing that was against the rules). Had the Misfits managed to kill them, the Misfits would not had won the contest by default, but been disqualified by law.
No surprise Danielle suggests Jem and the Holograms to film their music video in Paris, in her home country France (well she never says she is from France in the cartoon, nor does it say so in the Jem bible, it's just in Christy's script. Well aswell as Danielle's connection to fashion, her accent, and her name speaks for it. Her last name is even a word in French which translates to "neighbor" in English, and as I mentioned in the review of the previous episode, she is the next door neighbor to Starlight Mansion. But how did she know Paris was the perfect location, did she know their single was going to be called "Twilight in Paris"? Maybe they told her at the party, or changed the lyrics, or just picked one of their already written songs for this occasion though. Although Christy suggested another song title for this song that did not include "Paris"! We never do find out how Eric knew they were going there though, but from the first episode and even in this episode, it seemed he kept track of media reports.
Here is an example of Jem (Jerrica) being the responsible older sister, and Kimber the younger. Kimber wants to go to Paris tomorrow to start filming their music video. But Jem says they need to finish their album first (btw in the Italian dub they rather used the word "LP" instead of "album"). In the Jem bible, Christy says about Kimber: "She's less mature, with a leaning more for the creative side of music and not much of a mind for business.". And it's also nice to hear Jem's reasoning because many times in cartoons everything seems to take place the same day, or the next day.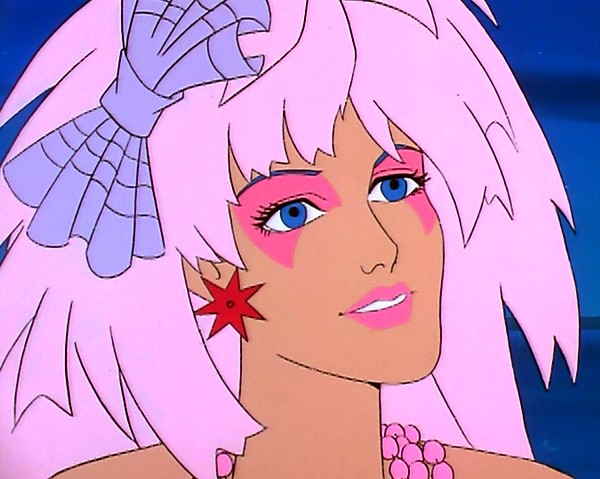 As we see the close-up of Jem when she says "Paris" (pic to the left), is a specific style of animation of Jem's look, which isn't bad at all, but not quite the closest to the model art that we see in these episodes, and it's distinguishable in the shape of the head and hairstyle. It's to the point where you can tell what other scenes this animator drew. Is that a sign I've watched Jem too many times, when I'm starting to recognize different specific styles by animators?
When showing the Starlight girls in this five-parter, it's often in sidescrolling panorama takes. Well they did for other scenes in this five-parter aswell, but I guess this was the perfect way to show all the Starlight girls at once because there were so many. Here we see the Starlight girls hanging around. This kind of simple inbetween appearance for them seems like a good way to ground the story in the episode, but they also did have their own ongoing sideplot storylines in the background.
Ba Nee carries a doll that resembles Raggedy Anne, by Hasbro. Although Christy never called for Ba Nee to even be part of this scene, nor anyone else holding any doll.
Ashley really has a burst-out from the other girls, kinda like Kimber does with Jem and the other Holograms a little later in this episode.
I thought the Starlight girls were giving Ashley a really hard time when first assuming she was planning to steal the money, and forcing her to earn 30 dollars, and not forgiving her when she risked her life to save the honor jar. And now in this episode refusing to accept the money unless she revealed how she earned it. I understand why they ask, incase it wasn't earned in a fair way. And I realize Christy wanted to show what the right thing to do was, especially for such young characters, and after all, Ashley was to blame herself because she kept doing the wrong thing. But somewhere along the line Ashley needed to fit in, but I guess Christy meant for them to be tough towards Ashley also for the upcoming storylines sake, where Ashley ran away to the Misfits.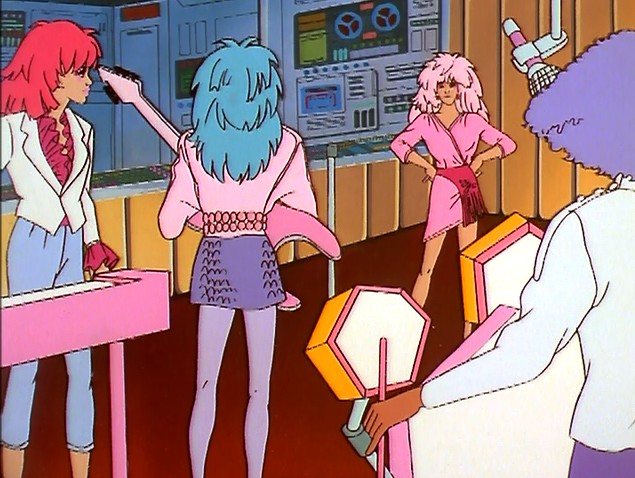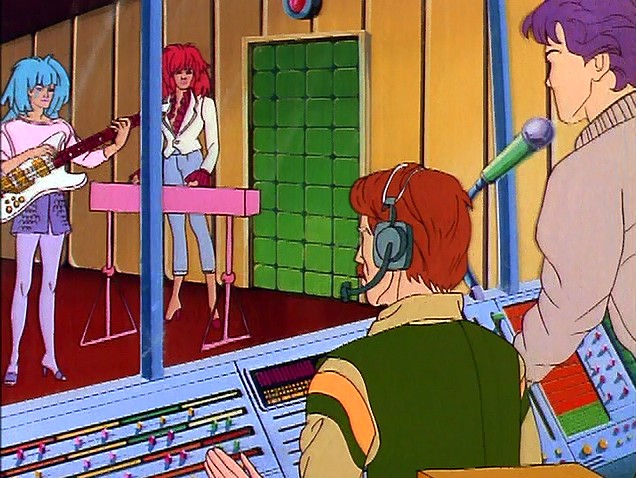 When Jem and the Holograms record their song "Twilight In Paris", interestingly we get to hear part of a song before the actual song. Cool thing to do and so early in the series, even though Christy suggested to use an already heard song here. I bet some people who saw this for the first time, either thought the song would start here and were surprised when they stopped singing, or perhaps thought it was just a pretend song for the story.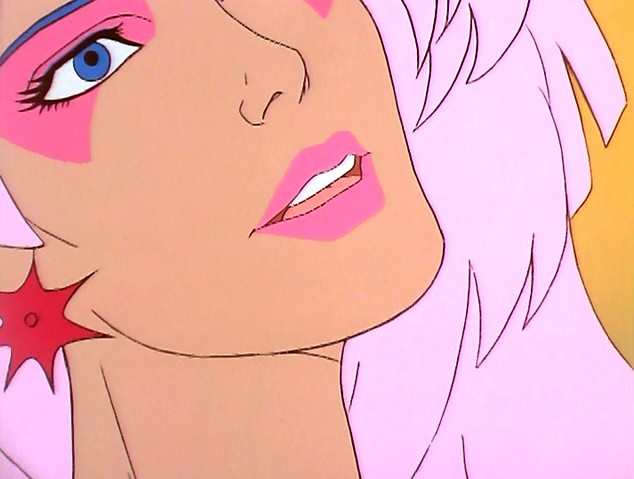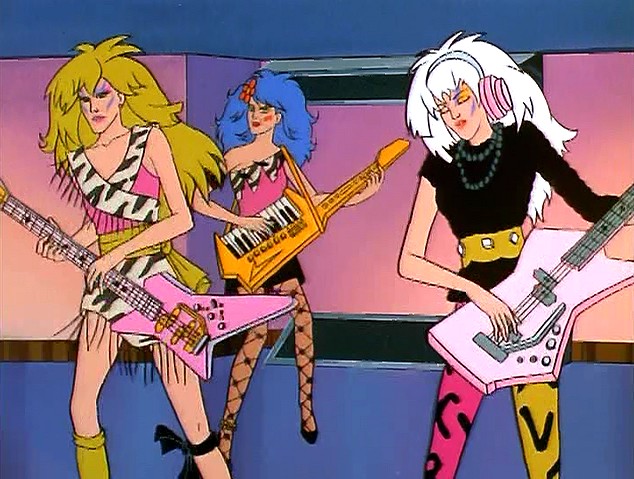 Here comes a transition showing Jem and the Holograms being the good guys who work hard and do the right thing, as they are ready to do their best in the studio. When the view goes from Jem and the Holograms in the studio to the Misfits, they fade over in a cool way, Shana "turns" into Stormer, and Aja "turns" into Pizzazz. I guess also the studio scenes were created to show how hard work pays off, and how the Misfits are doing the wrong thing, they're lazy and just don't care, well except for Stormer.
Pizzazz asks Eric why the Misfits can't go to Paris. And Eric tells Pizzazz he can't embezzle more money out of Starlight Music yet, being only part-owner. Here you can't guess that Pizzazz has a rich father. Harvey Gabor isn't introduced yet. I guess Pizzazz wanted to make it on her own in these early episodes, or Pizzazz didn't have very good contact with her father at this time. Pizzazz seems to have been able to travel to London though, England, which probably took place before these early episodes, as mentioned by Sean in the later episode "The World Hunger Shindig", written by another writer though.
Interesting how Jem and the Holograms are referred to by Eric as only "Jem" here, instead of the full bandname, which would had been long to say each time. Infact a few Jem fans even shorten the bandname to "Jath".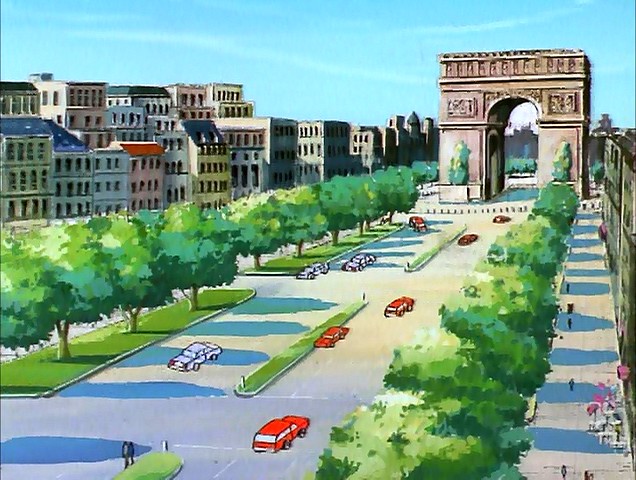 Paris, perhaps the most famous European dream-location for romance, fashion and what not. This is a very early occasion for Jem and the Holograms to travel overseas. When Jem and the Holograms arrive in Paris, we don't get to see them arrive at an airport like in many later episodes. We see quick overviews of the city, and then directly to a street that in my opinion could aswell had been anywhere. Although we realize it's quite central in Paris, close to the Arc de Triomphe which is located at Place Charles de Gaulle (formerly known as Place de l'Étoile = Stars Plaza), but which has as much as twelve avenues radiating from it (which makes the area around it kinda look like a star shape from above). Arc de Triomphe is actually even seen already in the intro theme song to this cartoon. I can't begin to do this famous historical landmark justice in this review, so I'll just direct you to Wikipedia for that for now. There you can read that it honours those who fought and died for France in the French Revolutionary and Napoleonic Wars, with the names of all French victories and generals inscribed on its inner and outer surface. And how six reliefs are sculpted on the façades of the Arch, representing important moments of the French Revolution and of the Napoleonic era, including one called "The Battle of Jemappes" (no connection to Jem of course, just a unexpected coincidence which I never reacted to all the times I was right there visiting the landmark).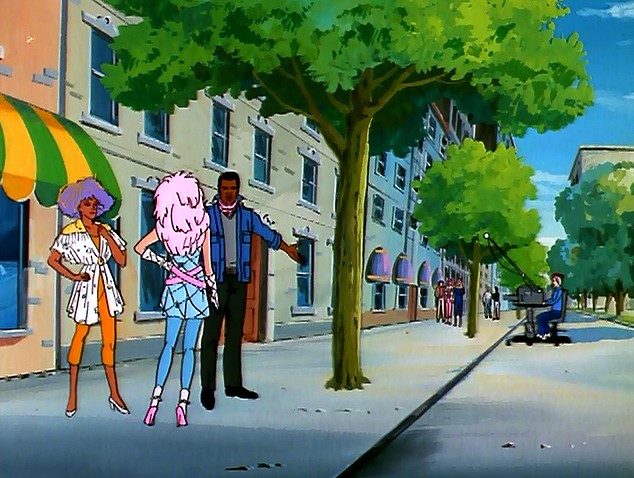 And now back to Jem. This is the first time Jem and the Holograms ever leave the country. Well atleast probably Jerrica, Kimber and Shana. Aja was, according to a later episode "Adventure In China", born in China. This is one of many times the episodes take place in foreign countries, happens about 18 more times, sometimes repeated countries though, but never again Paris and France. Jem and the Holograms do visit Paris also in the 80's UK comic though, and according to that comic Jerrica has studied French.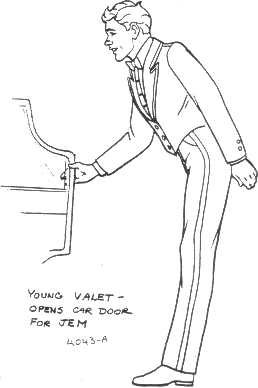 How Jem was able to travel overseas without identifying herself with a passport, isn't really covered in the series. It's something that needed to be overlooked to concentrate on interesting stories. Although she gets some trouble about taking off her earrings for the security guards at the airport in the mentioned episode "Adventure In China". I wonder how it would be solved realistically, with Jem creating a fake ID? Probably not. Maybe not even a holographic ID over Jerrica's own, not the kind of thing to do in an 80's cartoon. But perhaps sometimes Jerrica travelled, while people like Rio and the public were told Jem arrived by herself, and then she's just a hologram away.
Perhaps it could had been explained more that Jem and the Holograms are now in Paris. I don't think most kids know alot about sights in far away countries. But for those who know what the Eiffeltower and Arc de Triomphe is, it's obvious.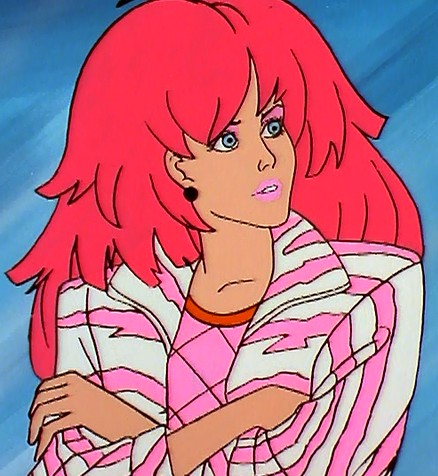 Kimber seemed so happy to even go to Paris. But suddenly she is jealous of Jem getting so much attention during the filming of their first music video. I guess it kinda ruined the experience for Kimber. Kimber probably finds it hard to compete with Jem, since Jem is not real, well as far as her looks anyway, but apparently a perfect holographic projection. Don't worry Kimber, just look at all of the fans you've got in the US storybook canon.
The fashion "Only The Beginning" worn by Aja in Paris turned out very different from the Hasbro fashion. It's darkpink in the doll line, and blue in the cartoon. Has a hat (kinda fits the location, being in France) in the cartoon and two gloves. Most likely Hasbro's fashion originally looked like it does in the cartoon, colorwize, and maybe even the hat. The Hasbro package art reveals a middle version that is purple, but with a black belt.
Here is an example of an art layer that gets placed in front of the animation cels, the tree that Anthony holds while showing Jem her moves for the video. Nice animation detail.
Zipper sure got a bunch of new retakes scenes that kinda slowed down this episode. Zipper fails to grab Kimber here. He does manage to kidnap Kimber and the others, two episodes later. And again, another four episodes after that in "The World Hunger Shindig" along with Jerrica, Aja and Shana. And Kimber in "Hot Time In Hawaii". Well infact Kimber is kidnapped by another thug in "The Princess And The Singer", and also in "Music Is Magic". Infact, can someone name an episode where Kimber is not kidnapped or attempted to be kidnapped by anyone?
Like mentioned for the first episode review, Cathianne Blore had an impressive task working on this show. When Aja and Kimber talk here, did you ever think about them sharing the same voice actress? It's kinda like talking to yourself.
Because of this added retakes scene, we get to see Kimber and Rio interact, which is kinda rare. But they also interact kinda painfully in the episodes "Glitter and Gold" and "Hollywood Jem Part One: For Your Consideration...". Rio grabs Kimber's arm a little too hard here and looks very angry. Not how Christy wrote it though. Just a typical example of the bad animation work done in the retakes. Kimber says "don't play big brother with me". Well he grew up next door to them, kinda like a big brother. So, as for sharing his opinion, he is not just Jerrica's new boyfriend who is suddenly approaching Kimber for the first time. And lucky thing Rio went after her, because he thereby saved Kimber from being hurt by Zipper (for the moment). BTW, in the 1986 UK comic, I guess he's more or less considered family, because the Starlight girls actually call Rio "uncle Rio".
Kimber was actually going to reveal Jem's secret to Rio here, mostly to score a useless point for herself to Rio, only thing that stopped her was Shana. We learn Shana's view on Jem's secret identity, that it's up to Jerrica to share with Rio (a viewpoint Aja also expresses to Craig in a later Christy episode "The Talent Search Part 2"). Although, Kimber says she thinks Rio has the right to know, which is probably correct though. And during part of this scene we even see the Eiffel tower in the background, which is an attentive thing to included, and Christy had originally requested it to be there.
Because of the added retakes scenes, it takes as much as five minutes into the episode before the first music video starts, "Twilight In Paris" (then just in 2min and 15sec after that, the second starts!), which comes here.
When the music video starts, it's suddenly night and Jem wears a different outfit. I guess they filmed some scenes at night aswell, unless they are storywise not part of the video but rather artistic for us viewers. The first scenes we see, are added scenes in retakes, which is why they don't look so good and don't make any sense. Some added views of the Eiffel tower, and one added sight is "Basilica of the Sacred Heart of Paris" as it's called in English, which is a Roman Catholic church and minor basilica, located on the highest point of the city of Paris, in Montmartre, and it's even mentioned in the lyrics.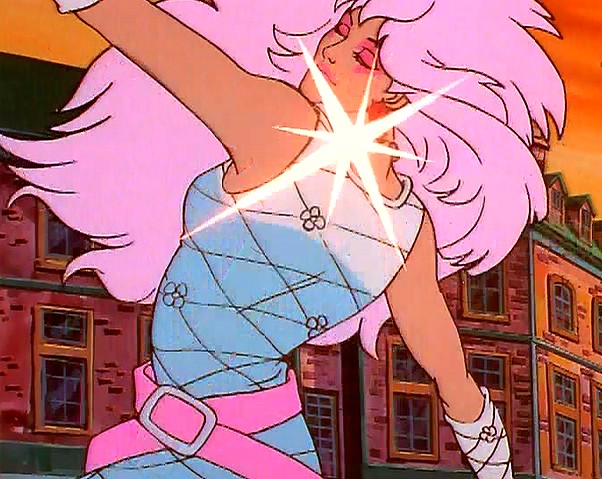 And so comes the scenes in this music video that feature Jem on that street we saw her directed by Anthony at daytime.
We also see Jem pass by Moulin Rouge, which is a classic tourist attraction, with musical dance entertainment, like can-can dancing and cabarets. The entrance is quite faithfully portrayed here even, although we unfortunately don't actually see the windmill in this music video.
It's raining in one scene of the music video, probably to set the mood.
More added retakes scenes as Jem walks under a bridge, two unknown people kiss, and the Holograms watch in a kinda immature way.
What is that place where Jem and Rio meet at the end? A famous square?
This is a romantically themed music video, no doubt. It's Paris, it's kissing, white doves, the lyrics are about being in love (which corresponds with the title Christy originally suggested), and the line "city of lights" reminds me of another Jem fashion, Flipside fashion "City Lights", both of which versions (Jem's and Jerrica's) were first introduced later in this episode.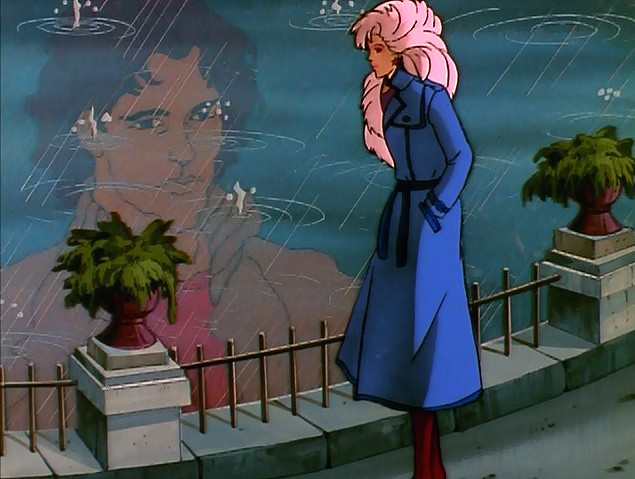 The original scenes in this music video with Jem and Rio wearing their coats, look great in my opinion! So romantic, mystical, and adding another level to the portrayment of the sad lovestory between Jem and Rio. The storyboard artist really had an artistic touch for speaking through scenes and creating very beautiful scenes. Interestingly, or not, this song was matched with Kimber on her doll cassette tape (yeah they seemed to put some thought into their matching). Many Jem fans seem to like this song particularly, and it also seems to appeal to people who watch Jem for the first time.
To what extent was Rio really featured in the music videos? Storywise I mean, as seen by Jem's fans in the cartoon. Especially in romantic ones like these, with Rio and Jem. Because even if Jerrica was never there at the same time as Jem, Rio must have realized Jerrica would get to see the romantic scenes between Jem and Rio, lots of recorded kissing throughout the series (well infact a total of 15 kisses in music videos between Jem and Rio)! Rio appearing in a music video is not so weird though, especially this early in their career when they don't have much budget to hire actors. Besides, he's really good looking, and it's not uncommon at all for someone to include their friends, family or love interest. Rio spent so much time with them growing up, and learning all about music equipment, that it's a wonder he is not actually even in the band! But atleast he got to be included in alot of stuff Jem and the Holograms did. We even saw him in the studio with Jem and the Holograms in this episode, so I would still give him some credit for their music.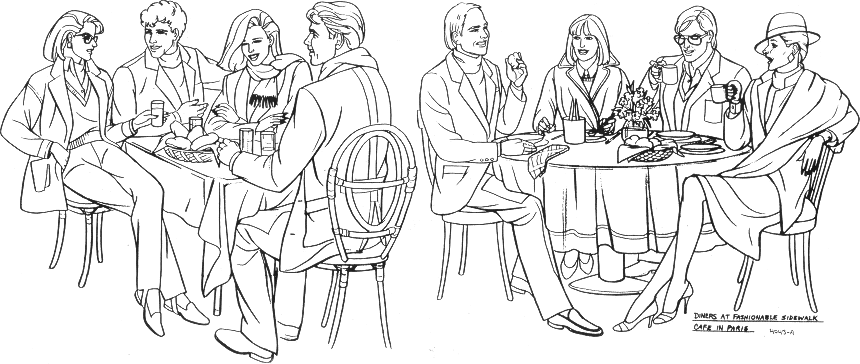 The scenes that take place here, very much remind me of a later music video "Can't Get My Love Together" where Rio wears a re-colored version of the same outfit, and also walks around a city, although it's New York then. BTW, Jem's coat here was also re-colored in it's next appearance. In that episode "Broadway Magic" we even see Jem and Rio wear those outfits in actual storyline scenes, as if Marv Wolfman saw this music video, liked the mood, and kinda brought it to life in his episode. Or perhaps that credit is to be given to the storyboard artist.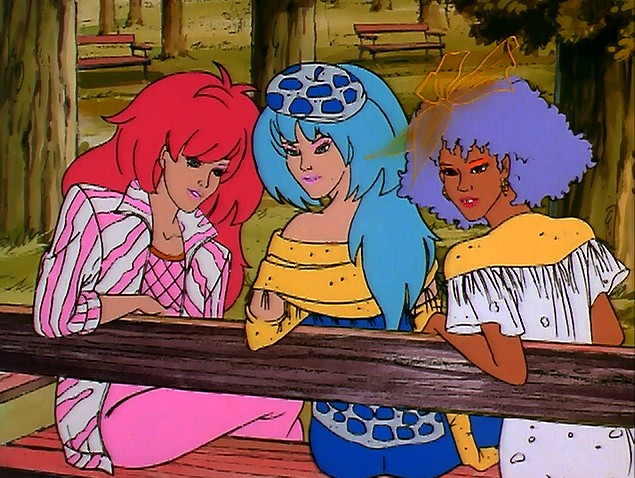 The Holograms are just here in the background though, so I can really understand Kimber's feeling of barely being featured in their first official music video. Kimber only got to appear in four scenes in it, about twelve seconds, and even less before the retakes where the music video got added scenes.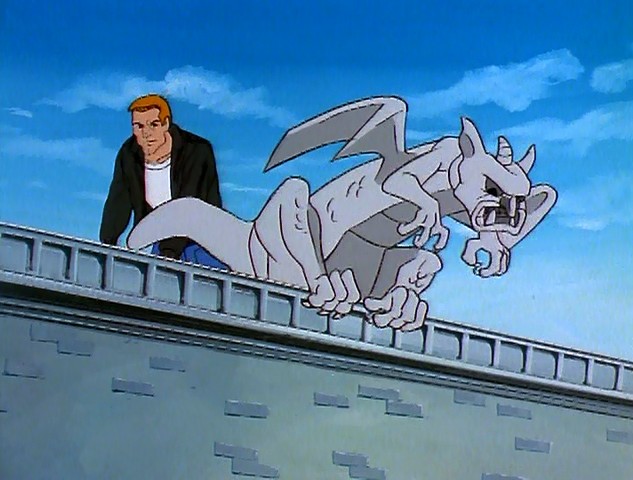 I wonder how much Eric paid Zipper to do what he did. Zipper may demand some serious money since he is kind of skilled, and even a clever dude sometimes. Well maybe Zipper could had made things easier for himself, but inventive things like heaving down a gargoyle is quite entertaining for a story like this. This scene was also portrayed in the US hardcover storybook Battle of the Bands.
This kind of thing would seem very dangerous in a direct way, unlike some of the previous stunts Zipper pulled that just turned out clumsy and unfortunate, well except for the bomb. But you could tell from Eric's orders to Zipper, that Eric was taking it a step further and becoming desperate to "sabotage Jem's video any way you can". Ok Eric probably didn't mean something so dangerous, just to sabotage in many ways. But in a way, I don't think he cared much anymore whether Jem and the Holograms got hurt or not. Eric was really evil in these original episodes! Christy wrote Eric alot better than most other writers did.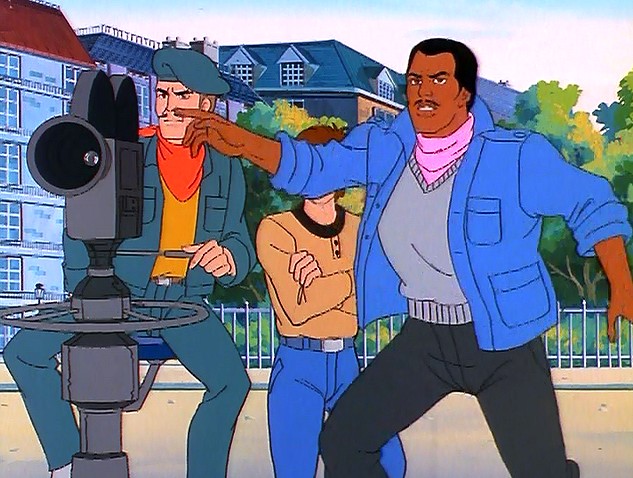 Zipper sure took a risk, especially since he was seen by Aja, and they recognized his face at this point, and he had to find a way to get back to the US. Realistically He could easily be idenitified at the airport if they tried to catch him.
Interesting that the ugly evil looking gargoyle falls onto the wings of an angel gargoyle, which in a way tells me that Christy added a deeper level to this scene, like Jem and the Holograms were protected by an angel. It would had fallen down faster and more straight on Jem otherwise. Again Rio is a hero to help them out of the way, and also Anthony calls out to help them.
Cool perspective, how we get to see the Holograms from above as if there was a camera on the statue as it was falling down towards them.
We don't hear from Zipper again in this episode, and we don't hear what Eric thought of his job this time. I guess Eric had nothing against it, and he even hires Zipper again in the next two episodes.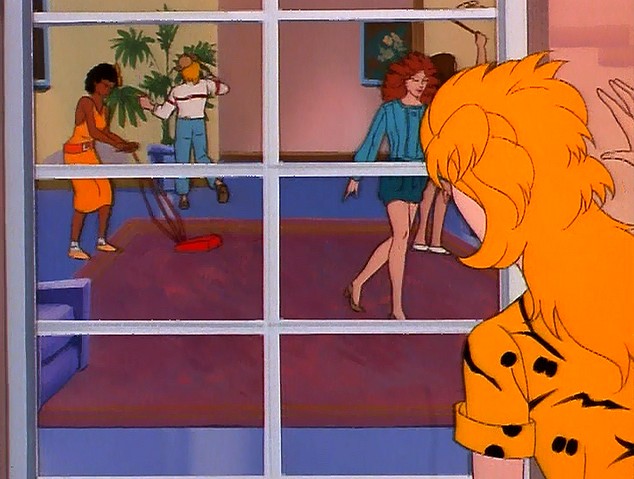 We get to see Ashley look in on the other girls from outside a window at Starlight Mansion, which paints a picture of Ashley literally feeling left out. Now Ashley runs away and goes to the Misfits. Maybe it could had been explained why Ashley thinks the Misfits are nice compared to the other Starlight girls. Sure the Starlight girls were hard on her, but the Misfits? I would probably be scared of them if I was Ashley. She must have heard about several of their stunts by now. I guess outsiders ("misfits") are drawn to outsiders sometimes.
As Ashley is going to a club to see the Misfits, we don't really understand how she knew they would be there. Whether they owned the club... , or whether Ashley knew her way around town and figured she could find the Misfits at a place like this, or whether they had an advertised performance there which seems most likely because there was meant to be a sign that said "The Misfits" outside which ended up saying only "ZAP!" for some reason. The Misfits must have been kinda impressed to see Ashley at the music club, trying to get past their big bouncer. Maybe it reminded Pizzazz of when she made friends with Roxy and Stormer. Of course Pizzazz and Roxy mostly cared because they liked how one of the Starlight girls preferred them over Jem and the Holograms, and they could use her against them.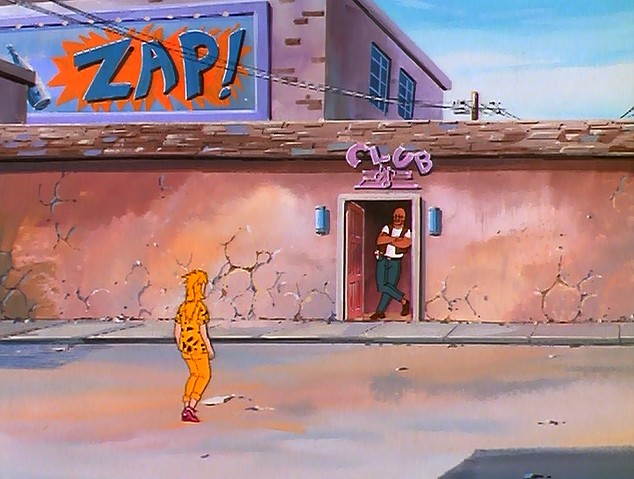 The music club bouncer mentions a name of a real life band, which is the first time this happens in the series, Duran Duran (well Christy actually instead wrote another famous band in her script). As soon as they enter the club, what we see are added scenes in retakes. We now get to see more of those added bands from "The Beginning", the Leatherettes and the Space Cadets, sitting at tables here. This seems like a small rundown place, and gives me the feeling of being a place where bad guys and criminals hang out, or atleast tougher musicians that haven't quite had their breakthrough. Interesting that the Space Cadets and Leatherettes are seen there, but then again they were part of a contest by Eric Raymond.
The Misfits teach Ashley some Misfits policies "A Misfit never asks for anything! A Misfit takes!". I guess Christy had the later (by now already existing) song "Takin' It All" in mind when adding this retakes scene. That's sodas they are drinking here btw.
Cool glasses Danielle wears here at the airport. If you watch this scene closely you will notice the green glass on them are actually a transparent green, painted above the rest of the model cel, and perhaps it even had its own layer. I guess Danielle is kinda hip, she must be, she likes Jem and the Holograms' music as she mentioned earlier. And oh, I guess this means she came with them to Paris, although she was not there for their music video filming.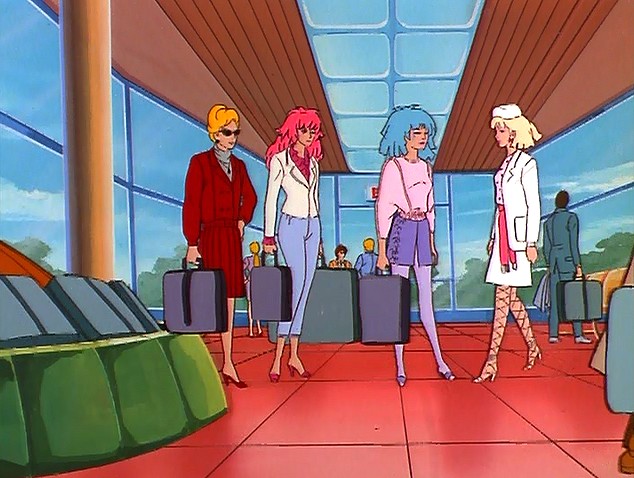 Here Danielle does what I earlier mentioned about Eric, she refers to only "Jem" for the whole band. Kimber rudely corrects her. This is the second occasion where Kimber is jealous of Jem btw, first was Paris. I wonder if the voice actress Cathianne Blore did a little much with Kimber's tone here, because Kimber seems practically angry at Danielle. But Danielle takes it well.
I like that these rockstars are carrying their own bags when travelling, seems realistic. Although the female characters very seldom even have purses in this series otherwise. Sometimes they did in storyboards, like Jerrica did in the first episode when she went to Starlight Music, but the purse was cut out in the actual animation (I guess it was an unnecessary thing to animate in all scenes, and besides... not even the dolls ever came with any purses, well briefcase for Rio and one for the Video Madness playset Show Me The Way).
Here comes a scene that I think is the closest we can come to what was cut out from the later episode "Broadway Magic". They are at an airport, and Jem leaves to find Jerrica. See this review to see what I'm talking about. Rio tries to go along, but is stopped by Aja. Now when Rio left to go after Jem, perhaps this is the first occasion Jerrica actually is jealous of Jem.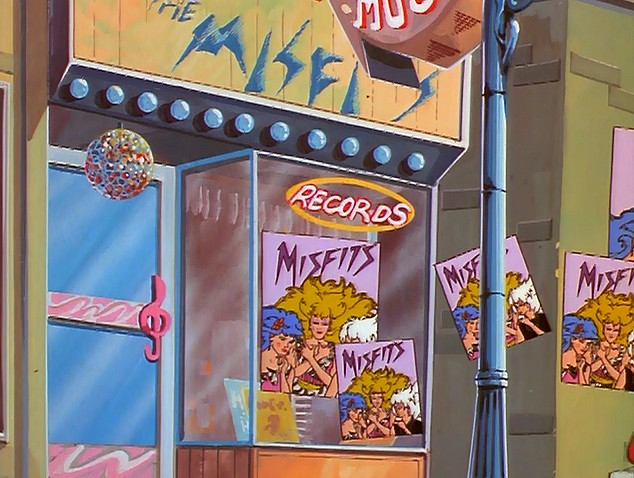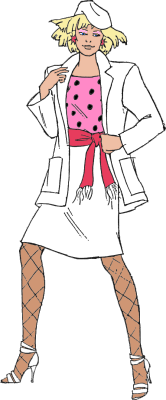 Here comes a remade scene with Misfits posters everywhere. Originally before retakes, the posters looked differently, sloppy infact, so this time retakes made an improvement (sounds like paradox by now, but I think you agree). Jerrica actually wears the outfit "Gettin' Down To Business" right before the music video with the same name starts. Jem's version of this Hasbro Flipside fashion was introduced in the previous episode, but Jerrica's side of it is just as popular among Jem fans as the Jem side. Although this episode is named after Kimber, she is the only one in any of the bands who does not get any new outfit in this episode, even Rio and Lindsey do.
Here before the song, Christy originally planned a scene with Jerrica, the Holograms and the Starlight girls that set up more for the music video.
"Gettin' Down To Business" is a really great, very relaxed, and different tune for Jem and the Holograms at this point. One of my favorite songs, and of many Jem fans. It seems to appeal also to none-Jemfans, like my brother. This music video is about marketing their bands. The Starlight girls are helping them, a smart way to include them into a story.
You might not have noticed this, but in the video is a very funny detail. Do you see the weird smiley faces flying around over Jem as she is driving the roadster when the screen is divided in three, showing Starlight girls on the sides? Those smiley faces look so out of place and so anime.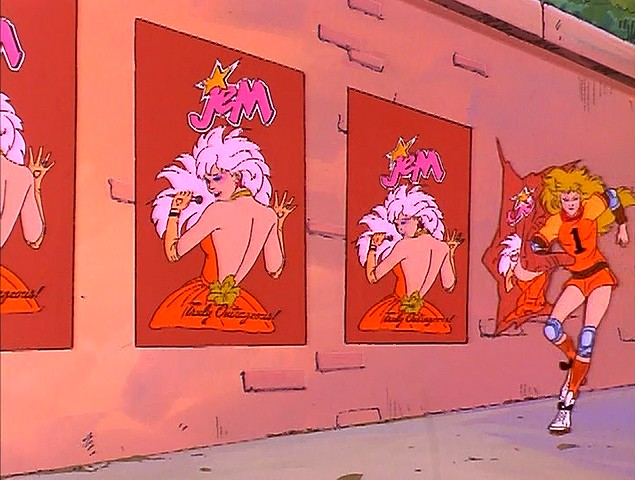 The Misfits are unusually enough featured in a Holograms music video, and Pizzazz even gets an outfit in this music video that was created only to appear here. A roller derby outfit, and she wears the Hasbro fashion Just Misbehavin' (P-3) for the first time here.
The brownhaired Jem poster we saw earlier in the "Twilight In Paris" music video, was actually based on model art, and here in this music it makes another appearance with Jem's hair colored pink. It's quite an amazing piece in my opinion.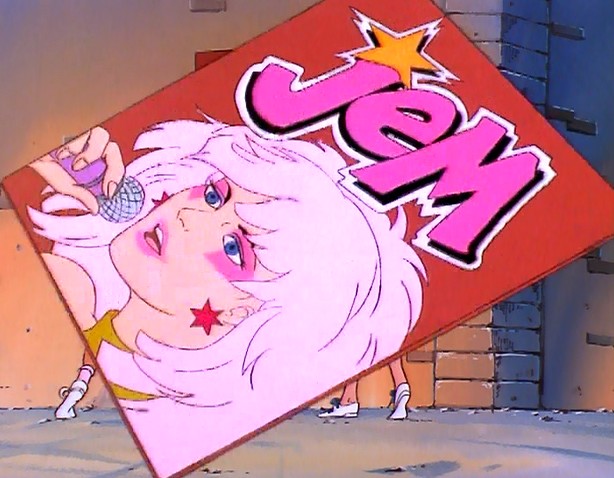 One of Stormer's outfits, first seen in this episode, "Outta My Way", resembled the Hasbro version it was based on pretty much in color here. But, in most of it's appearances after this episode, it was re-colored for no apparent reason to a green dress! Maybe Hasbro originally colored it green for the doll line, and the cartoon later accidentally referred to a really old painted model cel. As mentioned earlier, Hasbro tended to change fashion colors for some fashions, in the same group of fashions, soon before release, apparently because several shared color, and perhaps especially if that color was not a typical "girly" color.
Here comes some of the silliest scenes in the entire series, a music video scene of course. I'm embarassed to see this. It's just drawn so silly and is such a silly thing to do to begin with... Pizzazz shows up with a scissors, Jem is throwing out packages with t-shirts to the audience at a concert, an overly happy blonde guy catches a package and takes out a pink oversized t-shirt that is badly cut by Pizzazz. On top of that, then Jem is seen in an extremely cartoonish looking airplane making smokesignals! Noooooo! This is not my Jem, you ruined Jem for me with these added retakes scenes!
Then, also in retakes, they even messed up when drawing a poster of Jem, by adding the whole model cel info square at the top in the actual cartoon art.
Weird background detail in an added retakes scene: Barbie and Ken seem to make an appearance in this music video as Jem and the Holograms walk past some fans.
The music video really tells a story that was mostly written by Christy (except for the retakes scenes) and it shows so many things that tie into the story, with Ashley and then the ending with Kimber. But I'd say not all of the scenes in this music video really take place in the story, because even some of the original scenes with the Misfits are a little over the top, but in a good way of course, very well animated.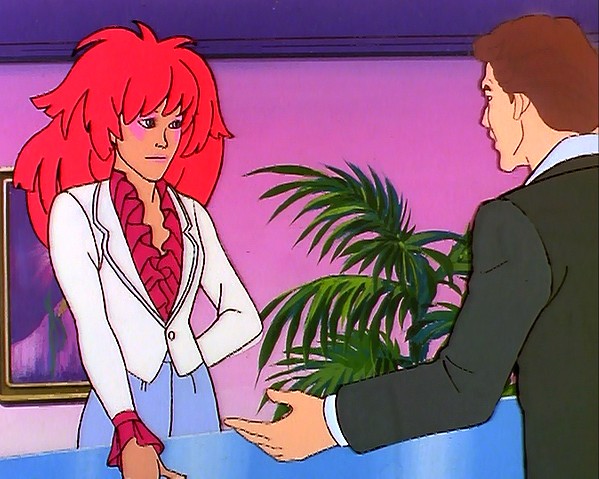 I wonder how Kimber was able to pass all the guards as she made her way up to the top floor of Starlight Music to visit Eric. Jerrica owns half the company and still had trouble getting up there in the first episode. Would be interesting to see, but I guess there is just no need telling that story twice, about running past guards. But if the guards are going to stop people to begin with, can't they hold people from walking right into Eric's office? Well apparently they can't stop the Benton sisters!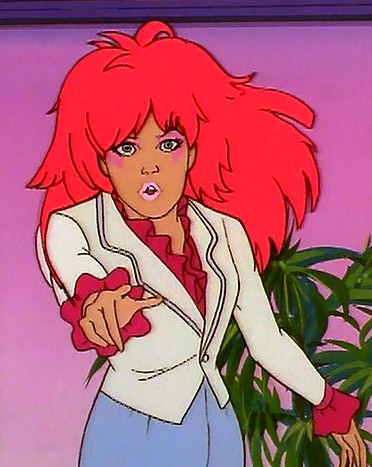 An unexpected sight to see Kimber approach Eric herself. I like the person-to-person interaction scenes in this series, which I've mentioned on this page that I wish there was more of, especially if it's between people we rarely see interact outside of their groups. I bet Kimber didn't talk alot directly to Eric alone while growing up, so to approach him by herself like this when they're enemies is very brave. But he directed all her feelings right back at Jem.
Eric actually tries to charm Kimber again in another episode by Christy "Starbright Part 2: Colliding Stars". I really like examples like this, of how Christy had a plan for characteristics for the characters, that even went as far as to how two unexpected characters would interact, and Christy didn't forget about those for later episode but continued to build on them and develop them without simply repeating herself.
I get that Eric knew Kimber somewhat, and thought he could affect her, but how did he know she wrote the songs for the band, and that she felt in the background of Jem? He must have read interviews or something about the band, probably to find out anything he could to reach them in ways like this. But as bad as Eric is, I think he was partly being honest, because I think Eric actually realized what a talent Kimber is. Besides, he would have a much easier time promoting a nice person like Kimber than three Misfits (or did he perhaps even think the thought here of Kimber joining the Misfits?). Kimber doesn't give in to his "charm", but she is flattered and keeps it in mind, and this builds on the jealousy of Jem, and leads to Kimber leaving the Holograms in an upcoming scene in this episode.
Jerrica and the Holograms are sitting around at Starlight Mansion. Shana and Aja are sorting piles of posters and albums (from their previous advertising). And Kimber is playing a guitar (guitar again! must be another remainder detail from when Kimber was a meant to be the guitarplayer) which originally before retakes did not make a noise since the sound was covered with background music in this scene. Here's another occasion where the animators were very clever, with placing the animation cel of Jerrica in the chair which is part of the background, they overlap each other in a way that seems kind of complicated to do.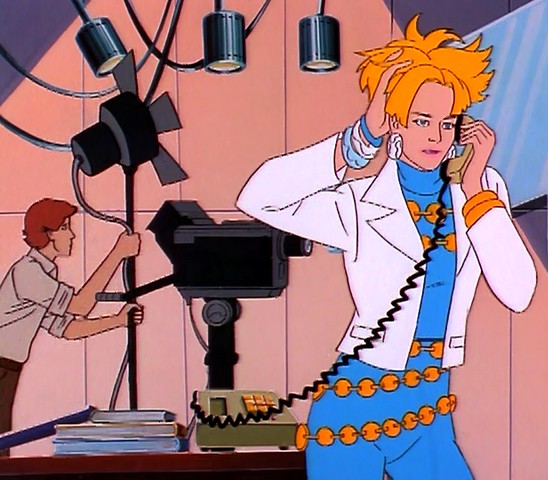 We now hear from Lindsey that the video for "Twilight in Paris" is the hottest thing on the air. So cool to see Jem and the Holograms so early in their career and how they are so excited about being on TV. In later episodes they rather seem like it's more part of their work.
With all of Kimber's jealousy of Jem in this episode, I feel sorry for Kimber when hearing Lindsey only wants Jem. And Kimber is ready to burst right away. This was quite early for Kimber to react like this though, considering the series would last for 65 episodes. But probably it has gone months by now, and it seems realistic that atleast one bandmember would feel left out at some point when the singer gets most of the attention.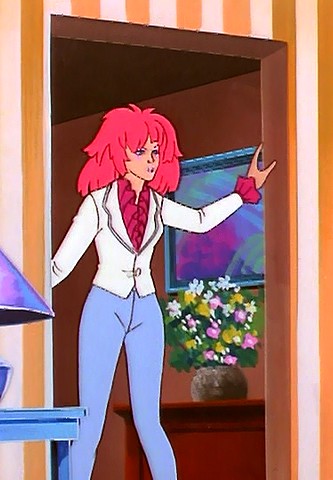 Poor Kimber, she didn't get to inherit neither the company nor the earrings. And although the whole band is very musically talented, and must have worked hard to learn instruments and singing, we realize Kimber was probably the one who dreamt the most about making a career out of it. I bet she dreamt of more than being a keyboard player in the background, who did most of the hard work with composing songs herself. I can't imagine her writing every single piece of lyrics herself though, or even all the music herself, since many songs refer to other people's feelings and include so many things with other qualities and instruments. But we do see the others ask Kimber for songs in episodes like "Father's Day", so maybe she hatches many ideas, and knows how to make it work as a song. But in the episode "Starbright Part Three: Rising Star", Kimber does says herself that "We've written a dozen songs for the movie".
A live TV-show that same afternoon, and they have to be there already in one hour, Lindsey sure didn't give Jem and the Holograms alot of time for their first live TV interview, which also turned out to include a performance. But she was probably doing them a big favor trying to find a spot for them as soon as she could.
Kimber drives away from the mansion, and this is the first time we see Kimber drive, which tells us something about how old she is, atleast 16 years. But as mentioned in the review of the first episode, according to Christy, Kimber's age is around 17. BTW, clever perspective as we see Kimber in the rearview mirror and in the background at a distance is the Starlight Mansion.
One thing to consider here is, did Kimber only leave Jem and the Holograms, or did she even in the back of her mind start thinking of a solo career? Kimber actually says she is going solo. Even take up Eric on his offer? Infact where was she heading, to Eric right away?
This could had meant the end of Starlight Music for Jerrica, the end of Starlight Mansion for all of them, and the movie contract, and no more songwriter and keyboard player of course. Jem and the Holograms needed Kimber for those reasons. But still I really always felt Jerrica and the others of course cared more about Kimber as a person, than anything else. In the later episode "The Bands Break Up", there's a scene where we actually see how Jem and the Holograms manage to perform without Kimber, didn't work out so great.
Jerrica calls Lindsey and says "it has to be all of us, or none of us". It's a very nice view on it, and Christy wrote alot of great and warm and caring lines about friendship for these first five episodes in particular. Maybe that last part of the sentence sounded a little harsh towards Lindsey at this point, but of course it also meant Jem and the Holograms didn't want to force their entire group on her show incase she didn't have room for them. I certainly get Lindsey only wanting to interview Jem for this one time (it was just the wrong time for the Holograms). Jem should be able to do interviews by herself, aswell as the others, and Kimber had to learn to live with that. Poor Lindsey, she did say to begin with that she wanted to do something with the Holograms later aswell, Jerrica just didn't tell Kimber that! Lindsey even changed an intimate interview with one person, into one with four people, who also got to perform!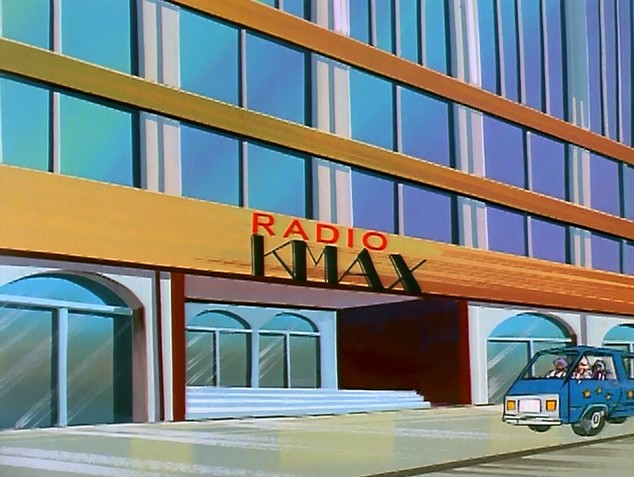 Now it's time to go to KMAX, the radiostation. Christy set up for this very well (in cut out scenes), as mentioned on Danielle's yacht. So the reason they go here isn't that far-fetched, they kinda know this guy already. Of course Jerrica never met him, but Jem and the others did. That is why Jerrica thinks she won't get on the air, but Jem will, so it's not because Jem is a star or has beautiful pink hair or whatever we viewers might have assumed (incase we didn't take notice of Brian in his very short scenes at the yacht).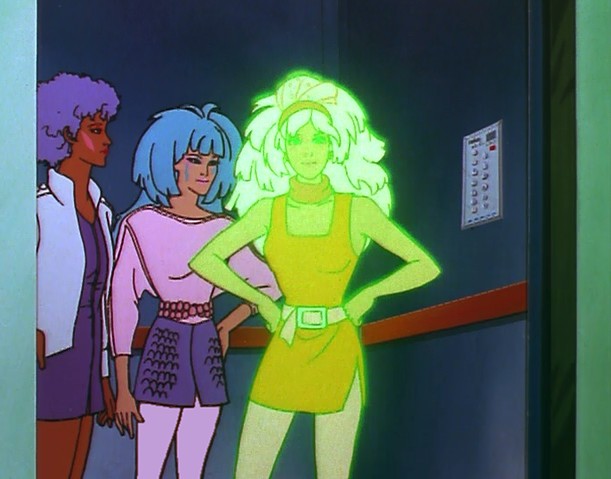 A cool transformation from Jerrica takes place in the elevator at KMAX. Step in as Jerrica and come out as Jem. But they totally ruined it in retakes by just cutting things out and letting Jerrica become Jem once the elevator had arrived. Originally we saw Synergy appear and moving upwards as if she was right there in the elevator.
Now we hear the voice of Brian Morris for the first time, and I think his voice sounds kinda funny for a young guy like this. A very characteristic voice and a broad accent.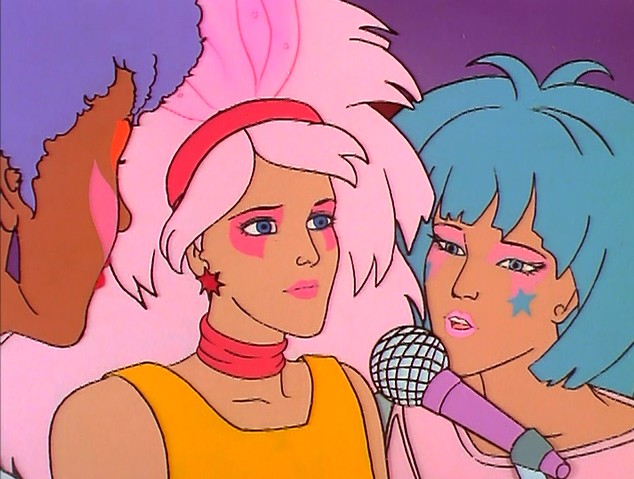 Here is one of the most beautiful scenes of the entire series. When Jem, Shana and Aja speak to Kimber over the radio. Their lines are so well written, with so much heart. Despite having seen this scene hundreds of times, whenever I watch this episode I always stop and pay extra attention to this scene.
And did you notice the injoke? This must be the most clever and daring line in the entire series that Christy wrote right here. First Aja and Shana say "without you there is no Holograms" and here's the big deal, when Jem says "and without the Holograms, there's no Jem". Jem practically revealed her secret right there, on radio! Because yes, without holograms (as in "holographic projections") there is no Jem! Pay attention Rio, Eric, Pizzazz, reporters, and anyone else who might be curious!
Kimber turns the car right around. Originally she wasn't shown turning the car at all, that was an added retakes scene. I guess Sunbow decided to show Kimber turn, as originally written by Christy, to make us viewers understand she was returning home, and it needed to happen quickly because they had to arrive at Lindsey's show in just one hour. Still I can barely believe they made it to Lindsey's show within this time! Kimber's return is just as great as the scene at KMAX.
But they never actually do tell Kimber that she is now welcome to Lindsey's show, they just say "we can still make it". Rio shows up in his van outside and screams they have 15 minutes.
Now Jem and the Holograms are back together, but things didn't really change as for Jem being in front, did it? But luckily Kimber finds peace with that for the moment and what her role in the band is. Well atleast until the episode "The Bands Break Up" by another writer (Marv Wolfman who is also one of my absolute favorite writers), which was probably inspired by Kimber's reaction in this episode.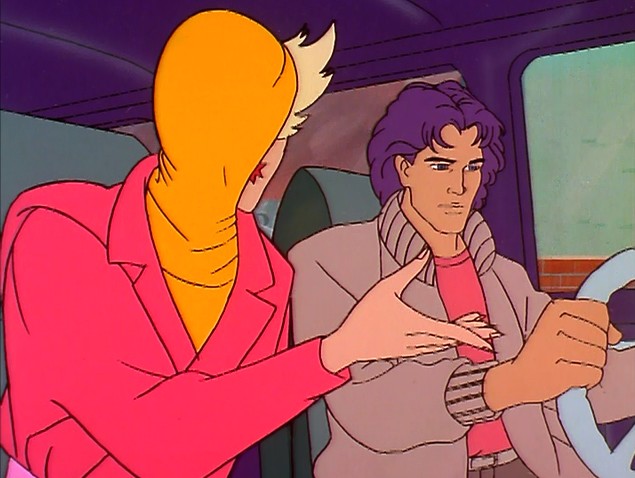 Jerrica took the chance to talk to Rio, by telling the Holograms to take the roadster. That's some quick thinking of Jerrica, or rather clever by Christy to fit this in here. And here is an example of how Rio is a good guy, who does not want to be Jem's manager anymore after what happened between them. He wasn't honest enough to tell Jerrica why though, as far as we see anyway.
Jerrica tells Rio she and Jem, and all of them, need him. And I guess they technically do with all the music equipment, and yet again just like with Kimber they need Rio aswell as a person, not just Jerrica, because Rio has known the Holograms for so long and has been involved with the band from the start. This scene was actually translated a little funny to Swedish. While the Swedish dub was usually great, this scene became (translated to English) "But I am her, I mean we need you" as if Jerrica almost revealed to Rio she is Jem.
Rio shakes his head as Jerrica and the others leave to enter the building, as if he wonders what he and also the others have all gotten themselves into with this whole rockband thing. I'd love to know more from Rio's perspective of how he thinks about Jem and Jerrica at this point, because this is the magical episode where he makes his mind all up on how to relate to them. He does worry about it later, but here he pretty much decides it's kinda okay to also date Jem. We can practically see what's going through his mind in the upcoming music video.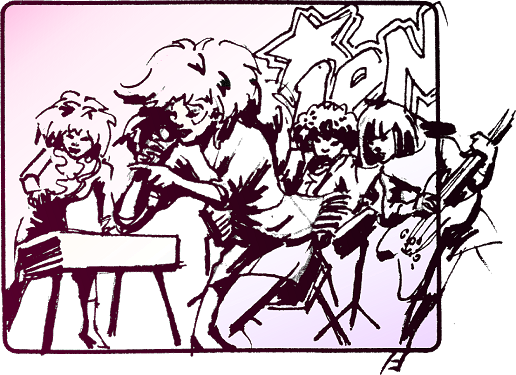 A few seconds of scene was cut out here in retakes, as Jerrica originally ran towards the dressing room. What a nice way to show Jerrica's transformation to Jem inside the dressing room, by scrolling the view from right to left, from Jerrica as she is about to change, to her reflection in the mirror as she has become Jem, and this was thanks to the storyboard artist. After retakes we got to see the transformation happen in the mirror, which made it easier to understand, but less cool.
So what is this place we see the Misfits at, at this point? It sure isn't Gabor Mansion, because Roxy and Stormer learn about that mansion three episodes later. This is mentioned in the storyboard and Christy's script, to infact be Pizzazz' living room in her apartment. But with the added retakes, the Misfits leave, although later in the music video that comes now, they are back in the apartment watching TV, so a blooper was created.
"I Got My Eye On You" starts, and in my opinion it looks more like a classic music video than any of the previous ones. Jem is singing with a mike and kinda dancing.
This song starts with some tunes, which were added only in the retakes version.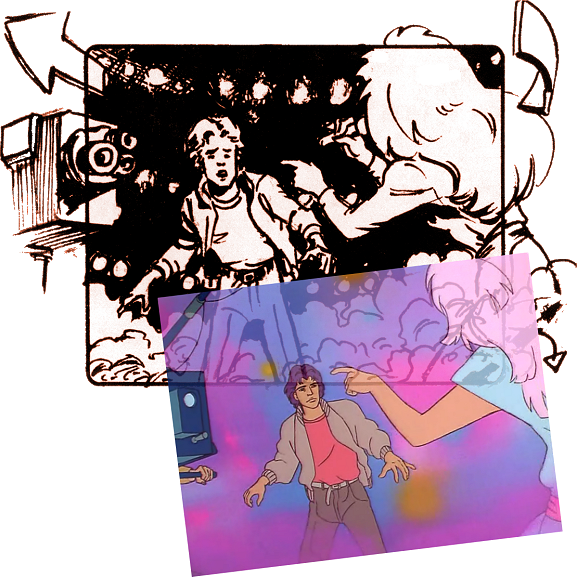 One of the scenes in this music video was not correctly animated by the animation team, when Rio watches Jem on monitors, the close-up of Jem is supposed to be divided on all TVs instead of appearing behind Rio as a huge Jem face right behind him.
The added scenes in retakes in this music video are silly, but not the worst. Weird though how they show the Starlight Drive-in full of cars and Jem singing on screen (of course not written by Christy). Why not invite them all in to meet Synergy while you're at it!
Jem is really flirting with Rio in this video, not sure that's exactly how Christy wanted it. Looks like Jerrica is trying real hard here to get Rio interested in Jem so that he will continue to be her roadmanager.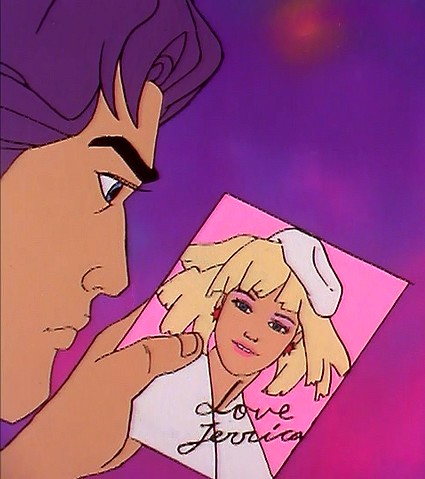 Cool with the autographed photo of Jerrica that Rio holds. I don't know whether to interpret it as Rio admiring Jerrica and then dropping his thoughts of her along with the photo, as he sees Jem. Or whether it's supposed to be a photo that Jem just signed for Rio, which accidentally shows who she really is. The last alternative is interesting because if you think about it, Jem could theoretically had signed something at some point, like an autograph, and accidentally had written her real name "Jerrica", especially since she sometimes (atleast later in the series) forgets who she is at the moment until she sees her reflection in a mirror or something.
Time for another added scene. But where did Ashley suddenly come from being in the Misfits van? Originally she did arrive to the Misfit at that club, but then she didn't appear with the Misfits again until the next episode in Las Vegas. But with the added retakes scenes in this and the next episode, she appears to have come with the Misfits from the club to Pizzazz' apartment, and then returns to their apartment in the next episode before they go to Las Vegas.
What did the Misfits really hope for when arriving to Lindsey, to be welcomed with open arms? Lindsey was on that yacht and saw the mischief they caused. Well I guess they just wanted to ruin for Jem and the Holograms and get some publicity.
The scene with Ashley kicking the guard was an added scene in retakes. And someone probably spelt the word guard wrong on his hat, it became "Card".
One thing the retakes animators got right, is a detail like Studio B which Lindsey said before the music video, and now it says so correctly where the Misfits enter. I like when they paid attention to details, but I'm surprised when they even got things right in retakes.
So cool of Christy to put Jem and the Holograms right on spot with a real tough question from Lindsey, like how they came up with their name. Kinda lucky for Jem that the Misfits showed up and interrupted. Stormer comments on their own name instead and say it means something.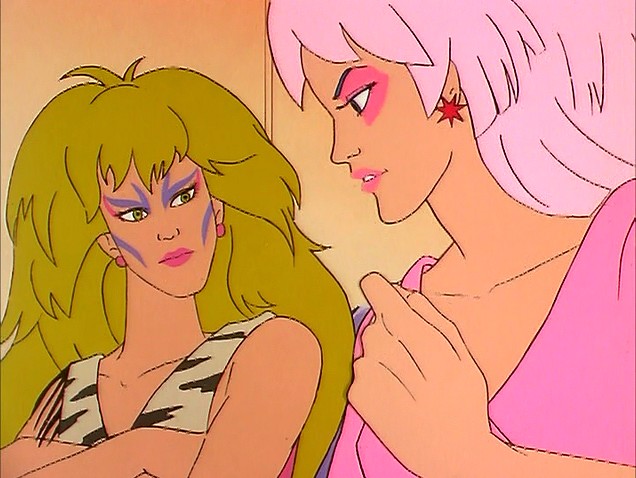 Jem shares her thought on how to interpret the name the Misfits, "...being rude, obnoxious and loud!". This explanation meant a little more to me and perhaps others who watched Jem in a different language than English while growing up. It meant we got something of an explanation of the name the "Misfits", but which is after all a word in English, which I had no relation to otherwise, and I sure didn't know how to spell it looking back at old notes as a kid.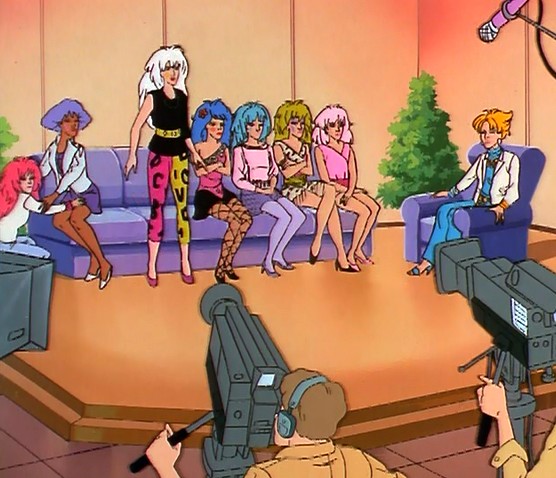 BTW kinda cool to see all the bandmembers lined up in a sofa like that, so much colorful hair and styles side by side. How often do we see that?! And the two bluehairs are seated next to each other.
When being thrown out, Pizzazz actually dares to slap Lindsey in her face (wasn't even meant to be a slap in Christy's scripts). That look on Lindsey's face is priceless, she looks as if Pizzazz made the mistake of her life! Yet Lindsey has the Misfits on her show several times again, but she does comment on the mischief they caused her, in a much later episode, "The Jazz Player".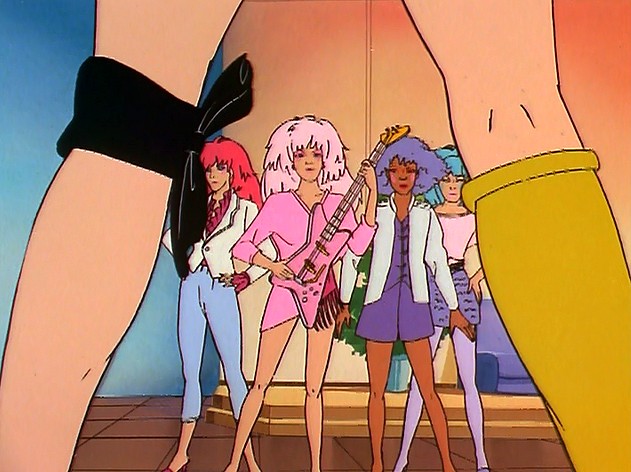 This is the very first time Pizzazz kinda flirts with Rio, or offers him a job, however you interpret it, and he turns her right down. The response line from Pizzazz was "Well in that case, get your paws off me". Patricia Alice Albrecht was brilliant as Pizzazz, delivering lines. But let me take the moment to mention another great voice actress, the Swedish one, Ann-Christine Magnusson who delivered this line with so well it's unbeatable. Well in the Swedish dub, Rio doesn't just say "don't hold your breath Pizzazz", he actually says something very drastic like "Shut your mouth Pizzazz" in slightly different Swedish words of course.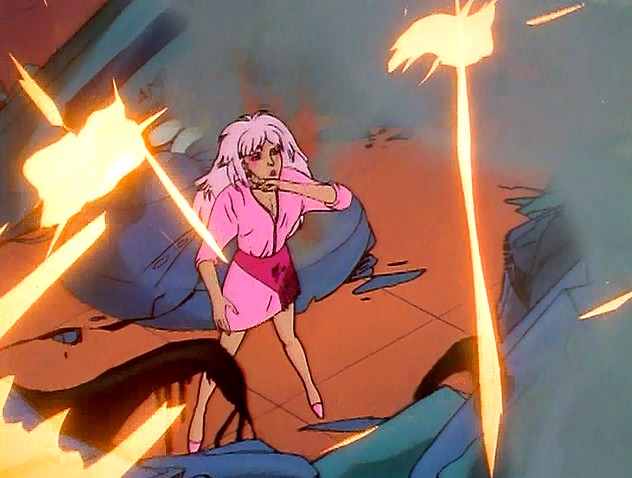 The last scene, the cliffhanger, originally included yet another view of Jem, cut in retakes. This cliffhanger is perhaps slightly over the top and not the most believable series of events. So many electrical dangerous things happen at the studio. Push one thing and the whole studio falls apart. Well Christy didn't write any of it that way, she had another scene in mind here. I guess Christy's idea was too scary and might had required some explanation of how to act in such situations. Because a similar scene was later written by Christy as a public service announcement.
Conclusion: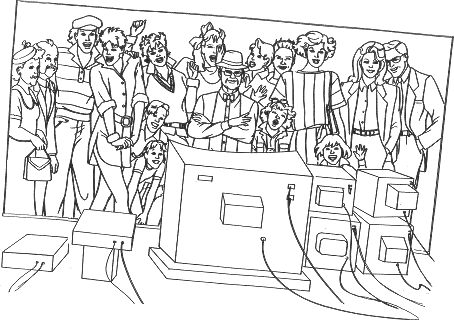 This seems like the best episode in the five-parter when it comes to telling a consistant story where the mini-series parts tie together seamlessly, Ashley and Kimber being the most noticable red threads.
Although Jem and the Holograms are travelling to Paris, it's not like an adventurous standalone episode (like some later episodes). They're there to work, and there's so much personal stuff going on.
Christy shows that going to a far off location like Paris doesn't have to be a magical trip to have an unrelated adventure, but it can just be where they decide to do something ontopic like film their first official music video, and have ontopic discussions with each other.
Christy kinda even explored the soapopera-genre with Kimber's feelings, and the Jem/Jerrica/Rio love triangle.
Jumping into this episode from nowhere, it might be kind of hard to follow things though, even with the narrated explanation in the beginning of what took place previously (well Christy had written a longer one which was cut off). This episode's story does explain things like who the bands are and what their roles are, Rio being the boyfriend, Jerrica being Jem, the contest thing, Eric being bad, but it doesn't really get into Synergy much (the only scene she was seen in was cut out). This is the first episode where there are no extraordinary holograms created at all, just Jerrica changing into Jem.
This episode has so many new stories going on aswell. The notable storylines that take place in this episode are: Jem and Rio trying to figure out how to relate to each other, Kimber seeking her place in the Holograms, and Ashley having more trouble with the Starlight girls and leaves for the Misfits, and Eric and the Misfits continue trying to sabotage for Jem and the Holograms.
We really see deeper sides of Kimber and Ashley here. They're both trying to find their place. Kimber now certainly becomes more than a redhead bandmember, we realize she is younger than the others, that Jerrica cares alot about her, and the others do aswell, and her importance in the band. Alot from this episode is referred to in later episodes, and often when writers would feature Kimber in their episodes they would feature an emotional Kimber, even if not always as classy as here, like "Scandal", "The Bands Break Up" and the "Hollywood Jem" two-parter. Well even Christy kinda wrote again about an emotional Kimber in "Glitter and Gold".
As mentioend earlier in this review, this is not the only episode where Kimber leaves the band. Kimber still does not always get the attention she thinks she deserves, it seems in the episode "The Bands Break Up", where she leaves for longer. Shana by the way leaves in "The Talent Search" two parter, and even Jem leaves in The Day The Music Died.
It's all very entertaining, but yet in a heavy way that gets to you emotionally, with alot of danger, arguments, jealousy, beautiful moments, and also some great music videos inbetween (but the next episode is, if possible, even better when it comes to the music, with three amazing songs!).
On top of Kimber leaving the band, as much as three dangerous things take place in this episode. First the scene from the previous episode with the big oil tanker, then the falling statue, then ending with falling electric equipment in a studio. Jem herself is involved as a victim in all three.
Not alot of new sightings in this episode as for lasting things like characters, locations or vehicles (except for Lindsey's studio) but several more Jem and the Holograms and Misfits fashions (especially Hasbro ones).
This is the first episode where the Misfits don't sing at all, not even in a duet. They are heavily featured in two Jem music videos though. I guess it's okay since they had two music videos already in the first episode. They do cause trouble though. Several friends have been introduced by now, Howard, Danielle, Anthony, Lindsey, and the Misfits have now managed to cause trouble and be unfriendly with each of them.
I don't think Lindsey is given this many lines in any other episode. Mostly after this, she has very short appearances. But after Eric, and five of the Starlight girls, she is the most featured secondary character in the series, counting amount of appearances anyway.
So, does Anthony ever direct a Jem and the Holograms video again? Well he does direct the movie Starbright. And he does work for Starlight Music in "Glitter And Gold" directing 5th Avenue Boys.
I guess Mrs. Bailey got the day off, or the whole episode off. Well atleast she is not seen at all, but of course she must be there at Starlight Mansion when Jerrica and the Holograms travel to Paris.
This is the last time ever we see Danielle's yacht. We also never again see Pizzazz' apartment, because after this they spend most of their time in the Gabor mansion, but atleast Stormer suddenly has her own house in later episodes. We never again hear about KMAX, but we do hear about other radiostations like KJEM, KMEL and KBST.
So during how long does this episode take place storywise? Impossible to say in this case. First it's the same day as the previous episode ended, at night time. Then it's daytime with the Starlight girls, and Krissie says "Aja says they're leaving in two days!" (to Paris), and even if this is the same day as Jem and the Holograms are in the studio, probably some days/weeks have already gone since the yacht, and the Misfits are in the studio aswell. Maybe the same day or the next, Eric learned they are going to Paris, and sends Zipper. Then two days after the Starlight girls mentioned it, Jem and the Holograms and Zipper finally travel to Paris. The trip could take quite a few hours. And even if they started filming the first day, they must then have stayed atleast over night in Paris, and the Starlight girls do say "they'll be back tomorrow". And I guess the Misfits had some time to promote themselves at home in LA, while Jem and the Holograms were gone (only a few days according to Shana). Then probably the same day Kimber meets with Eric, and Lindsey calls, because Jerrica and the Holograms still have the promotion stuff covering the floor. Logically what we see in this episode took maybe four weeks though, in the cartoon world logic, in reality it would take months and months.
For fun stuff: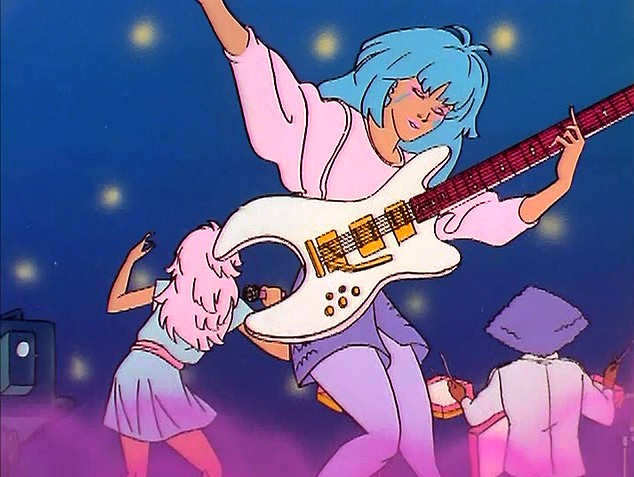 What could this episode had been titled instead: "Adventure in France", "Journey To France", "Frenchrock", "Hot Time In Paris", "Two-timing", "Advertising Battle", "Let Me Be" (Kimber, Ashley and Rio leave or plan to). Ok those were really bad. Just for fun, what would you like to rename it?
Beginning: Cliffhanger-action right away. But then we soon see Jem and the Holograms and Misfits in their studios, before Jem and the Holograms go to Paris. I like the realism of seeing both bands in a studio.
Something weird: Those smiley faces in "Gettin' Down To Business".
Question: Was Kimber really planning to go have a solo career?
Are Anthony and Shana a couple now?
Did they have the mansion fixed while they were in Paris? Because the hole in the wall was not there when they returned.
Best thing in the entire episode: The way we come to really like Kimber in this episode. Someone who steals the attention like Kimber does in this episode, could be really annoying to watch, but Christy really managed to write Kimber claiming respect in a way that really made you care for her. Best song I think is "Gettin' Down To Business", although Christy has once said she liked the other two particularly.
I really like Lindsey's personality in these early episodes, and how she feels important for the show, and for Jem and the Holograms.
I like how Rio is trying to call things off with Jem to Jerrica, it shows he cares, in a way. All the songs in this episode are absolutely top! Best set of three songs in an episode yet.
The scene where Jem, Aja and Shana try to reach Kimber on the radio, and when Kimber returns.
Worst thing in the entire episode: The added scenes with Zipper. Instead they should had added some of the scenes originally written by Christy with Jem and the Holograms arriving to Paris, but it was interesting to see Kimber almost reveal Jem to Rio. Some really silly scenes in music videos, like Jem throwing t-shirts to the audience, Jem in a airplane, Pizzazz with scissors, Shana sitting really silly playing drums, Jem popping out of a streetsign in front of Pizzazz, Jem touching Rio's nose.
New style: Rio and Jem and the Holograms get new fashions for Paris, except for Kimber. But not directly a matching set. It's mostly Hasbro doll fashions in these early episodes. Also the Misfits each get a new outfit, but they don't wear them together, well atleast not Roxy.
Surprises: Ashley leaving for the Misfits, and the Misfits accepting her. Kimber almost revealing Jem's secret to Rio. Eric tempting Kimber with an offer and actually getting to her. Kimber bursting out to Jerrica. Rio planing to stop working for Jem and the Holograms. Pizzazz slapping Lindsey.
Most exciting moment: When Kimber leaves, it has so much more power to it than any of the dangerous scenes.
What should be cut out: All added scenes in music videos. Hurry before any more company releases them on DVD! Storywise perhaps the added Zipper scene, but not if the added Kimber parts goes aswell.
What else could it had done: Shown more of when Jem and the Holograms arrived at Paris, as planned. Jem and the Holograms could actually had gone up in the Eiffel tower while they were there, or atleast in the music video.
Biggest argument: Kimber leaving.
Best look: Many Jem fans would say Jem's outfit in the "Twilight In Paris" video (called "Like A Dream" by Hasbro) but I think it's highly overrated! I say Jerrica's part of "Gettin' Down To Business" which is seen in the music video with the same name. But I also really like the purple dress briefly worn by Roxy, "Twilight In Paris", especially with that necklace which we see more of in later episodes.
Worst look: Pizzazz' roller derby outfit? Or even Stormer's "Outta My Way", although it looked even worse in later episodes where it was re-colored green.
Where could the Rama Llama fit in: It could had come by and rescued Jem instead of Rio when the gargoyle fell down. Or Kimber could had rode the llama when she left the band. Or hey maybe it could had been the host for that radioshow? It could still have that same voice.
Is Rio a "hero" or "Ken doll": He rescues Jem on the yacht, and then Jem and the Holograms from the gargoyle. He decides to stop working for Jem. So yeah he is more hero and more of a man here.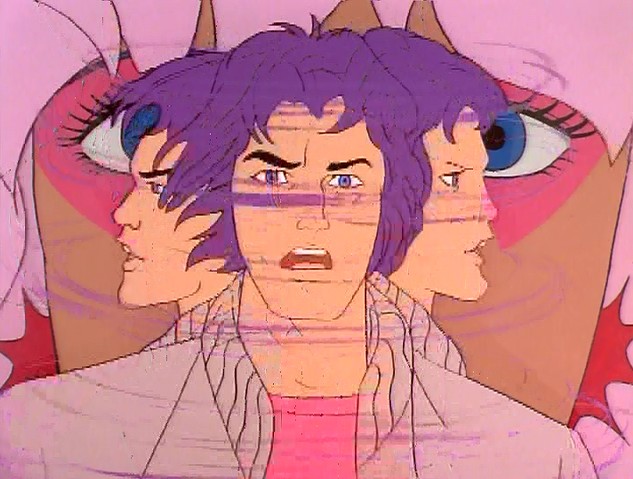 Whom does Rio love most, Jerrica or Jem: He kisses Jem, but says that it's wrong and he can't hurt Jerrica like that. Then he seems to be in love Jem in the "Twilight In Paris" music video. But he tries to tell Jerrica he can't work for Jem anymore. Although Jem does a good job trying to steal him back right after that in the music video "I Got My Eye On You", and according to the rest of the series she succeeded here. This is the episode where Jerrica loses Rio to Jem, or officially starts sharing (because after all... "people who care, are people who share"... I guess).
What character practically does nothing: Synergy, where is she anyway? She was cut out from this episode by Sunbow, but Jerrica does still change three times and says the magical words "gimme that pink hair, magic computer fairy!". Aja and Shana have their moments but get kinda in the background of Kimber. Shana has her new boyfriend directing their video though.
This episode has alot of...: Kimber. Parisian sights. Danger and violence. Jem and the Holograms music videos. Jem/Jerrica/Rio talk. Driving around in vehicles: the yacht, Misfits escape in motorboat, Rio takes a boat in Paris, roadster when marketing Jem, Jem in an airplane in a music video, Kimber driving away, Holograms going to the radio station, Holograms driving to Lindsey's show, Rio driving Jerrica to Lindsey, Misfits driving with Ashley to Lindsey.
Someone should make a toy out of this: Lindsey with this original look she has here. All the three vans. Jem and Rio in their "twilight" coats.
What character from another cartoon should be brought into a scene: Speedracer would had brought them faster to Lindsey's show.
What would Barbie had done: Barbie would had told Rio he could see as many women as he pleases, because they are just friends.
Best mischief-award in this episode goes to: Zipper for throwing that gargoyle, what an unusual thing to do, and he's the only one who caused dangerous trouble in this episode on purpose.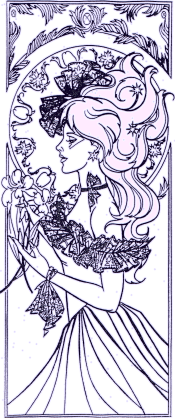 Challenges for you while you watch this:
- Can you spot the difference between the original scenes in music videos and the really bad added ones? There, I gave you a really easy task for your enjoyment.
- But can you figure out why Roxy is suddenly wearing an outfit Hasbro made for Jem and the Holograms?
- Can you spot a painting with a longheaded guy with a small red hat and wings?
- Can you identify all Starlight girls? If so, out of the top of your mind, who was painting a picture, who was playing chess, who was reading a book, and who was holding a doll?
- Can you help me identify more known locations in Paris?
- What is that place where Jem and Rio meet at the end, a famous square?
- Can you remember how many times we see the Eiffel tower?
- Can you tell me who of the Misfits drove the Misfits van to Lindsey's studio (this is a trick question)?
- Do you see a face form after the fireworks at the Eiffel Tower? And smileyface by the fireworks?
- Can you tell me what that poster of Jem with brown hair in Paris is based on (if anything from real life)? And what are those other posters, Modesty Blaise and The Hunchback of Notre-Dame?
- Can you find any real-life gargoyle that resembles this one? Can anyone tell me if gargoyles are commonly seen in architecture in Paris? And if they regularly look like monsters or angels? I know about the Hunchback of Notre-Dame, but was that the reference Christy was aiming at, or is there alot more to it?
- Can you count how many times Jem changes clothes in the music video "Gettin' Down To Business"?
- Can you figure out what the smiley faces in the same music video refer to? Why would they even do completely unrelated smileyfaces???
How could Jem's identity had been revealed by mistake: Kimber would had revealed Jem's secret to Rio if Aja and Shana hadn't stopped her. Jem changed to Jerrica behind a pillar at an airport. Lindsey could had heard she was speaking to the exact same voice on the phone when Jerrica suddenly said she was Jem. Jerrica changed to Jem after exiting the elevator at KMAX, how did she know no one was going to stand outside?
Animals: Doves in Paris.
Where could another song fit in: Ashley could have had a song about feeling left out. Or Kimber had a solo song while driving away. Of course this was a little early in the series for special songs by people going solo or secondary characters getting the spotlight. The Misfits could have sung a song to Ashley though about what it's like being a Misfit.
Room for a yeti or timetravel somewhere in here: Maybe the gargoyle Zipper pushed down could had been shaped as a yeti? And it could had broken like in ghostbusters and become alive. Or maybe a Yeti would fit right in at the Misfits club. I'm sure Lindsey would like to interview a yeti, especially if it has something to say about the music of Shangri-La. I bet Jem would like to make a timetravel to before this episode took place, since she has now gone as far with Rio as flirting as Jem, and she could have changed the past by telling him from the start.
Would it make any difference if the Holograms switched lines: Kimber's lines are definitely so Kimber, it would not had worked with the others. Shana has some short moments with Anthony.
What made the series take a step forward or back: Jem and Rio really took a big step here. Kimber stepped out of Jem's shadow atleast for a moment and demanded respect. It showed how Jem and the Holograms weren't tied to their home town, but could travel all the way to Paris and still do ontopic things.
Animation quality: This early animation was sometimes based directly on model cels it seems, and some still bodies with moving heads that don't always fit so well. The added scenes look very different in style and movement, and have a much cuter and sillier style. But nontheless this early style was so charming because it felt so authentic, simple yet edgy.
Ending: Kimber returning is nice to see, but Jem dug herself deeper with Rio. Jem is in alot of danger at the Lin-Z show, and poor Lindsey and her studio.
[Thanks Davide for information about Jem in Italy]
Offsite-links to some things I found online by other people, about this episode in different ways: