RockJem.com / Index / Episode Guide / Frame Up
#4044-A, B and C (original three part mini-series, also combined three by three into full episodes)

#4046 (with some edits and released on VHS as a movie)

#5205-11 (with long added scenes and extended music videos)
Frame Up
Written by

Christy Marx
Synopsis:
The Misfits have signed up as the warm-up act for Jem and the Holograms for their concert in Las Vegas, with plans to become the main act, by the help of their new friend Ashley. After almost leaving his work as roadmanager of Jem and the Holograms, Rio is digging himself deeper into a complicated relation with Jem. A robbery at the casino where Jem and the Holograms are performing, leads the suspicions towards Jem. And Synergy is at risk of being discovered when Eric hires a private detective.
Characters:
Jem/Jerrica and the Holograms (Jem, Kimber, Aja, Shana), The Misfits (Pizzazz, Roxy, Stormer), Synergy, Rio, Eric, Lindsey, Danielle, Mrs. Bailey, Starlight Girls (Ashley), Zipper, Lindsey's assistant, camera man on the Lin-Z show, Dirk Hayes, Rio's roadie #3, Rio's roadie #4, bus driver, woman on bus, man on bus, man on street #1, man on street #2, cowboy on motorcycle, Buster, Tork, cashier, detective Griffin, policeman, private detective Manny Malone.
Focus on:
Ashley, Aja, Stormer.
Locations & vehicles:
VTV, Starlight Mansion, Dirk Hayes' car, Pizzazz' apartment, airplane, Las Vegas, Guld dustcasino in Las Vegas, bus, motorcycle, Rockin' Roadster, Starlight Music, fashion runway, Malone's car, Starlight Drive-In.
First appearance of:
Manny Malone.
Songs:
"Deception" Jem and the Holograms
"Too Close For Comfort" Jem and the Holograms
"Truly Outrageous" Jem and the Holograms
Part of songs:
Too Close For Comfort" by Jem and the Holograms (depends on the version).
Instrumentals:
"I Got My Eye On You" by Jem and the Holograms. "Click/Clash" Jem and the Holograms / The Misfits. "Too Close For Comfort" by Jem and the Holograms (depends on the version).
Genres:
Drama, Romance, Action, Humor, Adventure.
Releases:
Italy: Aired on TV. Released on DVD. The episode title was "Volano Le Scintille" (Flying sparks).
France: Aired on TV. Released on DVD. The episode title was "Las Vegas" (Las Vegas).
Holland: Aired on TV. Released on DVD.
Sweden: Released on VHS. Released on DVD.
Denmark: Released on VHS.
Finland: Released on VHS.
Venezuela: Aired on TV. Released on VHS. The episode title was "La Conspiración" (Conspiracy).
UK: Aired on TV. Released on VHS. Released on DVD.
USA: Originally aired on 8 December 1985, 15 December 1985, and 22 December 1985. Released on VHS. Released on DVD.
Australia: Released on DVD.
Trivia:
This episode was made in several different versions. Originally it consisted of three segments, which were later put togheter to form this episode. The titles of the three segments were 10: The Sparks Fly!, 11: The Robbery, and 12: The Detective. It then had retakes made, including extended scenes. Read more about the different versions of the material in this episode on Retakes.
After Danielle's fashion show, when Jem and the Holograms return to Starlight Drive-in, Jem stands in front of Synergy before changing back to Jerrica. The pose we see Jem stand in wearing the outfit Sophisticated Lady, is the exact pose of the model cel, meaning the animators made things easy for themselves.
Pizzazz considers herself the most intelligent one of the Misfits.
There's a store called "Leo's Super Beer", and one called "Keys" in LA.
Fashions:
Recommended:
"Starbright Part One: Falling Star" (Has a song, "Who Is He Kissing" in a similar theme as "Deception")
"In Stitches" (Although Stormer saw Zipper here, she and the other Misfits didn't meet him until this later episode)
"The Music Awards Part 1" (Instead of Ashley, three other Starlight girls run away)
"Broadway Magic" (Has a song, "Can't Get My Love Together" in a similar theme as "Deception")
"Island Of Deception" (Stormer saves Jem here, although Jem doesn't know that, but in this later episode Jerrica saves Stormer back)
"Culture Clash" (Jem is arrested again)
"KJEM" (The Misfits are, instead of Jem, arrested in this later episode also written by Christy Marx)
"Straight From The Heart" (Danielle has a fashion show again)
And as for other cartoons:
"Return of the Shredder" of Teenage Mutant Ninja Turtles (The turtles are framed, by David Wise and Christy Marx, and the voice actors of the later Jem character Riot plays Michelangelo)
"Attack of the Arachnoid" of Spider-Man And His Amazing Friends (Spider-Man is framed and arrested, written by Michael Reaves)
"Miss Miller's Big Gamble" of The Chipmunks (The chipmunks travel to Las Vegas)
"Counter-Clockwise Caper" of M.A.S.K. (The dudes go to Las Vegas)
"Raid on Las Vegas" of Rambo (Rambo goes to Las Vegas)
"The Dummy" of Captain Caveman (Captain Caveman travel to Las Vegas)
The Framed Cat" of Tom & Jerry (Tom & Jerry frame each other)
"The Lonesome Mouse" of Tom & Jerry (Tom frames Jerry, or the other way around)
Keywords:
spotlights, electricity, sparks, fire, studio dolly, rescue, dressing room, sofa, tv studio, kiss, desk, bedroom, t-shirt, mirror, pillow, grand piano, harp, contract, Las Vegas, warm up act, cowboy, door, poster, building, automatic doors, airplane, car, street, neon signs, table, roadies, love triangle, dancing, confetti, wigs, casino, bus, luggage compartment, baggage, New York, newspaper, flat tire, bus driver, argument, motorcycle, traffic jam, flirting, push, stage, Big Ben, train, Routemaster bus, subway, stopsign, cardboard cutout, robbers, brass knuckles, masks, money, dollar bills, framing, police, glasses, bag, hand cuffs, arrest, witness, hat, stagename, private detective, office, fashion show, fashion designs, balloons, rainbow, heart, airballoon, unicorn, falling, inflatable boat, birds, leaf, tears, stairs, princess, prince, sprinklers, runway, water, spying, following, holographic wall, dressing, hairbrush, mascara, earring, bush, intruder, chair, smash, camera, sabotage.
Hasbro products:
Dolls: Jem/Jerrica, Kimber, Aja, Shana, Pizzazz, Roxy, Stormer, Synergy, Rio, Ashley.
Fashions: Jem's original doll outfit, Kimber's original doll outfit, Aja's original doll outfit, Shana's original doll outfit, Pizzazz' original doll outfit, Roxy's original doll outfit, Stormer's original doll outfit, Flip Side: Like A Dream (Jem and Jerrica), Flip Side: Up & Rockin' (Jem and Jerrica), Flip Side: Rock Country (Jerrica but worn by Shana), Flip Side: Music In The Air (Jem and Jerrica, but worn by Kimber and Aja), Flip Side: Sophisticated Lady (Jem), Smashin': Let The Music Play, Smashin': Makin' Mischief, Smashin': Winning is Everything, Rio: Truly Outrageous, Flip Side: City Lights (Jem), Flip Side: Let's Rock This Town (Jem), Smashin': Just Misbehavin', Smashin': Outta My Way, On Stage: Dancin' the Night Away, On Stage: Encore, On Stage: Permanent Wave, On Stage: Command Performance, Flip Side: Gettin' Down To Business (Jem).
Vehicles/playsets: Rockin' Roadster, Star Stage (Jerrica's office).
Review:
An exciting start, almost as dangerous as the previous episode started. But after this initial dangerous scene that continues from the previous episode, there are no dangerous scenes in this episode, as in "direct life threatening" anyway.
Now we've seen Jem and the Holograms visit four different new friends, who were doing big favors for them, and have had to deal with the Misfits and/or Zipper come along and put each of those friends in danger in their own home ground: Howard at his home and Starlight Mansion, Danielle on her yacht (and all of them), Anthony on his video filming, and Lindsey at her tv-studio. Sure they know it's not Jem and the Holograms' fault, but still, how does anyone even dare to work with the Holograms anymore?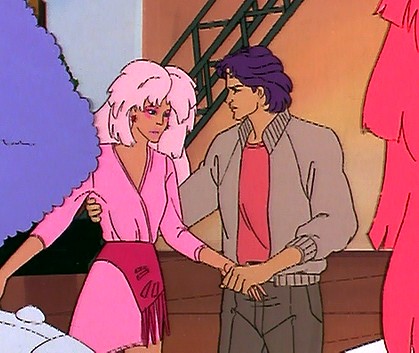 Lindsey's studio is partly smashed into pieces, and the Misfits didn't even do it on purpose. Yet Lindsey's studioman wants Lindsey to continue the show right away. I guess they have several sets of equipment, and the show must go on, because it's live TV. And Lindsey doesn't even worry about the equipment, she cares more about Jem.
Now the Holograms face an awkward situation after Kimber left in the previous episode (where she felt in the background in the band and wasn't originally invited to Lindsey's show). Because now the roles are turned when Jem can't finish the interview, and Lindsey asks the Holograms to do it without Jem. I think it's nice of Kimber to ask "without Jem?", but she and the other Holograms go ahead, which of course Jem would want.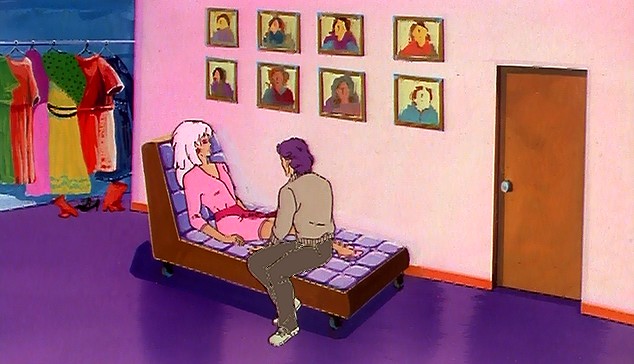 Here we get to see Lindsey's dressing room. Those pictures on the wall, are actually meant to be signed photos of stars she's interviewed. I guess we can safely say Lindsey will have a photo of Jem pretty soon after this (well we even saw an autographed photo of Jerrica in the last music video of the previous episode, sung on the Lin-Z show, meant for Rio though).
Then the Holograms walk in on Jem and Rio kissing. Jem is kinda woozy still after the accident, and probably doesn't realize she is Jem at the moment and not Jerrica, when she sees Rio. But he knows perfectly well what he is doing. Jerrica begged him to stay and work with Jem, so in Rio's mind apparently that includes kissing. Jerrica definitely realizes she is currently Jem though when the Holograms enter the door and calls her "Jem". Rio is embarassed. I bet Rio was surprised none of the Holograms bothered him about what they saw (they oughta have acted as they did when Rio brought along a third date, Jamie, in the later episode Midsummer Night's Madness), and he probably dared to kiss Jem again later especially because no one reacted. Here we also learn how Jem fears Rio would react if she told him about her secret identity.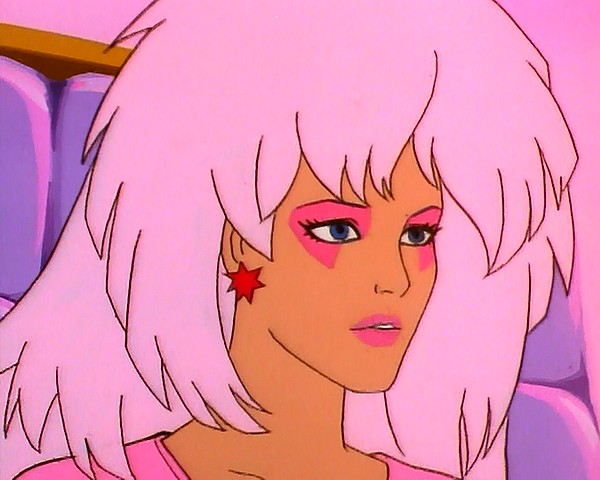 Shana is comforting Jem here about Rio. And she also follows up on it later at the casino, in an added retakes scene.
The fact that Christy already thought up the complicated thoughts that go through Rio's and Jem's head about the love triangle this early in the series, is impressive. And did any 80's cartoon ever go this deep with complicated emotions? Some series went on forever, and we viewers just accepted how obvious questions were continuously avoided. And sure, Rio being able to at all date "two" women on an every day basis is unrealistic, but atleast Christy addresses the problem.
You can really tell this secret is tearing Jem (well Jerrica) apart here. On the other hand, Jerrica has the advantage of the situation, by seeing alot of her boyfriend in this series. She is Rio's closest companion and she is working closely with him at Starlight Music as Jerrica. And she gets to be the glamorous rockstar that really dazzles Rio as Jem, and is able to see everything Rio does as he cheats on her. And to take it even further, whenever Rio argues with one of them, he can turn to the other, which he does, but Jerrica sometimes has a hard time hiding her state of mind in those cases, so he gets on bad terms with both of them. Infact, this makes me wonder how Rio really thinks Jem and Jerrica get along with each other, and I would have loved to see scenes where Jem and Jerrica publicly had to both appear at once, and interact with each other (well in the first music video in this episode, which is coming up in a moment, we see them literally fight over Rio).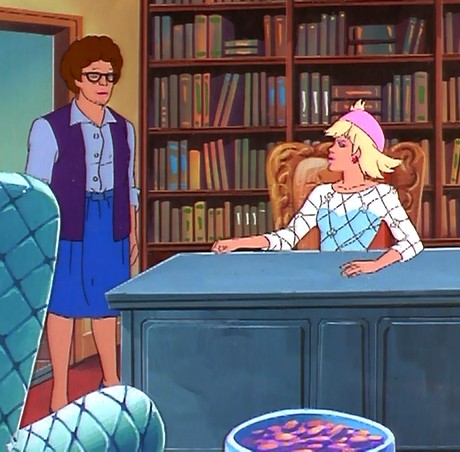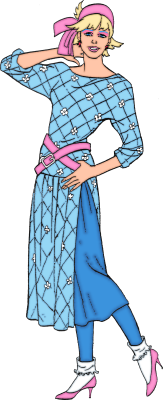 Mrs. Bailey gets some screentime again. Jerrica's outfit here btw is her version of Jem's Hasbro Flip Side fashion "Like A Dream" seen in the "Twilight in Paris" music video (and named Twilight in Paris in the 2015 commemorative release by Integrity Toys). Looks almost as great as Jem's version! And I love how well the idea of corresponding Flipside outfits for Jem and Jerrica, was adapted from Hasbro's 1986 line into these first five episodes, and this is a great example of the talented model designers. Unfortunately the cartoon series practically dropped that idea when including Hasbro's 1987 line of Flipsides (when they only gave the matching outfits to Jem and Jerrica with one new set).
Here's a reference to Ashley, and we see Jerrica cares about the Starlight girls. But we would have heard them worry about Ashley slightly before this aswell, if one of Christy's scenes in last episode hadn't been cut out before animation. And instead, this scene where Jerrica goes to see Ashley in her room, was not originally in Christy's script.
We see Ashley's room, for the first time in the series (we also see it later in the episode "Alone Again"). This room was slightly remade in retakes, at which point also a scene was added where we see Ashley hide the Misfits t-shirt under her pillow and say (to herself) that Jerrica can talk to the wall. These retakes better explained how Ashley got there with the Misfits.

But bringing Ashley to Las Vegas was still a little unexpected. I guess it was a way to feature atleast one Starlight girl into this episode which otherwise has none of them. But did the Misfits even really need her? They could have done something else to Jem and the Holograms. But then later comes the scenes where Stormer bonds with Ashley, which many Jem fans love.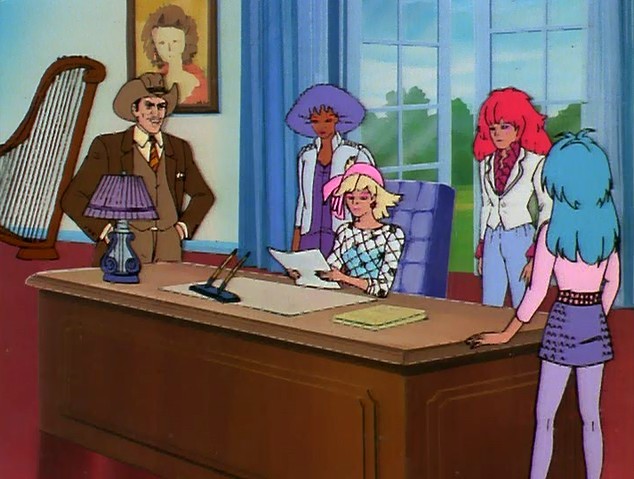 Interesting to see the grand piano and harp inside Jerrica's office at Starlight Mansion. Christy infact requested various instruments to be seen here.
Up until now, lots of interesting characters has popped up in Jem and the Holograms' lives and given them lots of excitement: Howard, Danielle, Lindsey, and Anthony. But now Christy started to create notable characters that were still clearly only temporary ones, like Dirk Hayes. So where did this crazy guy come from? We just suddenly hear from Kimber that the concert promoter from Las Vegas is there. Maybe there should had been a scene where they first got in contact and decided it was a good idea? Christy did actually introduce him slightly more in her script.
A casino setting makes this cartoon is a little more adult than other cartoons. It's very believable though if Jem and the Holograms and the Misfits needed to do a gig, since Las Vegas is known for shows, and it's a nearby city in the neighbor state Nevada. But other than the bands arriving there, this episode really does not make a big deal out of Las Vegas sights nor games.
How wellknown and popular Jem and the Holograms are around L.A., the whole US, and the world, that's something of a mystery in this series (but we do learn in later episodes they are wellknown in a few more countries than the US). But at this point in the series they're new even in the US, and they were not known at all in France in the previous episode, since they were filming their first video there. I'm wondering whether this upcoming contest, the Battle of the Bands, is known across the US by now, if Lindsey's show airs around the country (I'd say judging by later episodes, by other writers, it does), and if Jem and the Holograms can really gain some advantage for the contest by performing out of the state, or just money, or if they are just trying to make a living here.
Jerrica is a responsible businesswoman already, but a stressed one. She takes care of the band and all the paperwork, but also performs as Jem, dates a guy in both her identities, and takes care of the Starlight girls. If it wasn't for all of that occupying her mind, I'd wonder if it was so clever of Jerrica to book that concert in Las Vegas before asking about the warm up act, which Shana is clever to ask about. Well I guess it had to be set up this sudden way or neither Jem and the Holograms nor the Misfits would had signed up for it (in later episodes by other writers, the coincidence of the bands playing at the same place is not given as much thought). And when they find out it's the Misfits, it's kinda hilarious when Aja asks Mr. Hayes if he is crazy (yes he is!).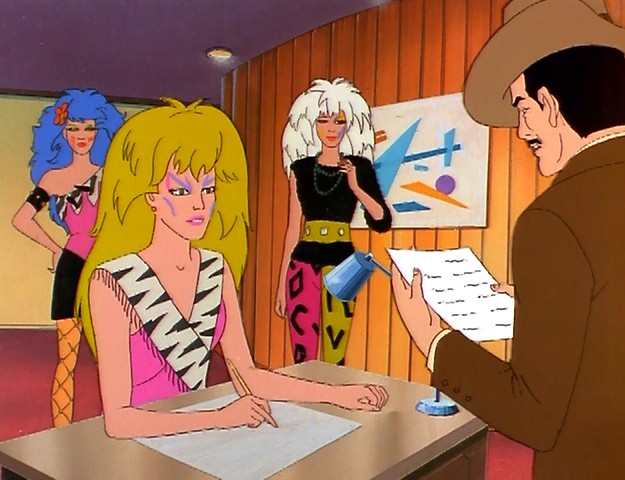 Funny how Dirk Hayes decided to have the Misfits open for Jem and the Holograms though. He might aswell had done it the other way around (or were Jem and the Holograms already considered a bigger act by now, even in another state like Las Vegas?). But storywise this was more exciting, and there would be less sparks otherwise.
Pizzazz aswell signs before asking who the warm up act is. Interesting that Pizzazz took care of the deal herself, because Eric would handle it usually. But since Pizzazz handles it, we get to see her live reaction.
Here is a scene where we see Roxy is the one who takes things a bit further. Well the scene was cut in retakes, where Pizzazz saved Mr. Hayes from being hit by Roxy. But you can see it in the "movie" version of these episodes. I kinda understand that they cut it, because some details actually weren't in Christy's script, that Stormer held onto Hayes and Pizzazz saying "I said no".
Pizzazz then tells Roxy "Shut up! I've got the brains here!", and it's these kind of moments we realize she is not just the leadsinger, but the actual leader! She is infact "the undisputed leader" as the Jem bible says. She is dominate of course, but I think it was a thing to have an actual "leader" in a group like this in the 80's, or atleast in cartoons. Jerrica/Jem was more naturally the leader of her band because she was the leadsinger and often the brains like Pizzazz, but on top of that it was her idea to start the band, she was the older sister to Kimber, but also because Jerrica owned the company and employed them all. But Jerrica of course never requested any "power", but rather took on responsibilites to be helpful. I can also bet Pizzazz is in charge because she was probably the one who brought the group together in the first place, and got in contact with Eric. And in the Starbright three-parter that followed, Pizzazz got yet another reason to be in charge because her father paid for so much, both Eric's salary and from then on for several projects for the Misfits.
Here are some added retakes scenes with Ashley. We even get to see the outside (only seen in added retakes scenes) of the building where Pizzazz' apartment is located which is a really tall building, that looks almost like an office building. Infact almost like the Gabor business building, which it isn't. It even has automatic doors. But it is meant to be an apartmentbuilding, an expensive place (maybe an early sign Pizzazz has a rich father). Hasbro had created no plan for where the Misfits lived, so perhaps it was a realistic choice of Christy not to do something more extraordinary for their home. And the story with Starlight Mansion as a prize in the big contest, needed to appeal to the Misfits aswell. But in other cartoons of the time, the badguys lived in gigantic castles or atleast some kind of cave. And maybe overdoing Pizzazz' home would had been more fun, and made Pizzazz slightly more of an equal rival to Jem. Well I guess you can definitely say Christy gave Pizzazz an impressive place to live, two episodes after this.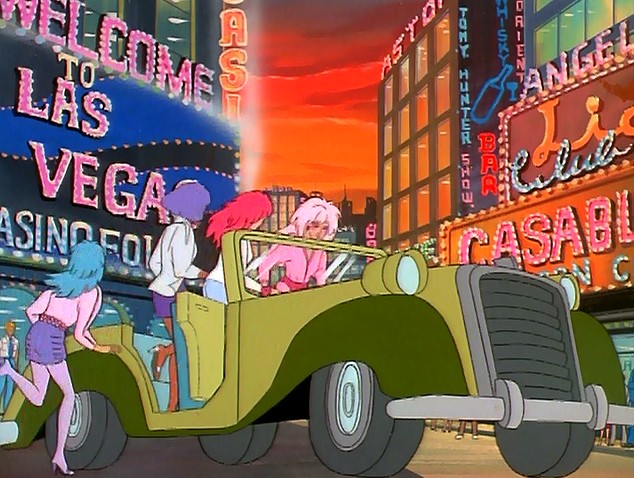 So, heading to Las Vegas, this is the second big trip in the five-parter for Jem and the Holograms. The initial outdoor scenes, of the airplane, and streets in Las Vegas are all added retakes scenes. That's why the animation looks so bad. Before retakes you could barely tell it was Las Vegas though. Although Christy had originally requested brief views showing Las Vegas as they arrive, in her script. Funny to see a green car that is almost a variation of the Rockin' Roadster in the streets of Las Vegas. And we can actually see a neon sign that says "Jem Show". I guess "Foker" was a way to avoid using the word "Poker".
Christy was the one who choose the name of the casino, the Golddust Casino. As soon as Jem and the Holograms are indoors in the casino, every place they're at seems kinda small and claustrophobic in my opinion. Sure dressing rooms can be small, but still, I would expect Las vegas to be huge and impressive even about such things. Infact the only place of the casino that Christy actually specified for being small, was the Misfits dressing room.
The scene with Shana and Jem talking, is an added retakes scene, which continues the conversation they had earlier in this episode, and gives a better introduction to the song "Deception" than before retakes. Jem's got some weird looking eyes here though (I think they're called "retakes-eyes").
Christy choose the title "Deception" particularly. Christy did create the whole worry about how Rio would react earlier in this episode, but I think her later references to the word "deception" for Rio disliking it, was kinda a nod to the title of this song (like his famous quote "I hate deception and I despise liars", you know what episode that is from right?). This song was even included on the first Rio doll's cassette tape.
This is one of my absolutely favorite songs of the entire series. I know it's very different from many people's favorite Jem songs, very unusual but also very catchy. "Deception" has such sophisticated lyrics, which seem very mature for a cartoon, and it sounds great when sung. I like how the song does the cool effect of echoing the title word and some other lines, works perfectly for this song. And that's not a common effect in Jem songs. "Deception" is a much cooler word to echo than perhaps a common word like "love" or something.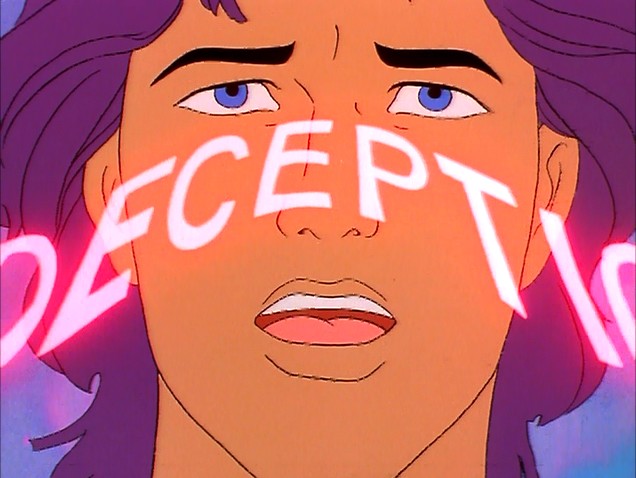 We actually see the word "Deception" written a couple of times in the music video. Which seems like a good idea since it's not the most overly common and used word, so that people get the word pointed out to them and don't mishear it. What was it with Hasbro/Sunbow and the word "deception" anyway? They also used it on the badguys in the Transformers, as "Decepticons". Popular word in the US in the 80's?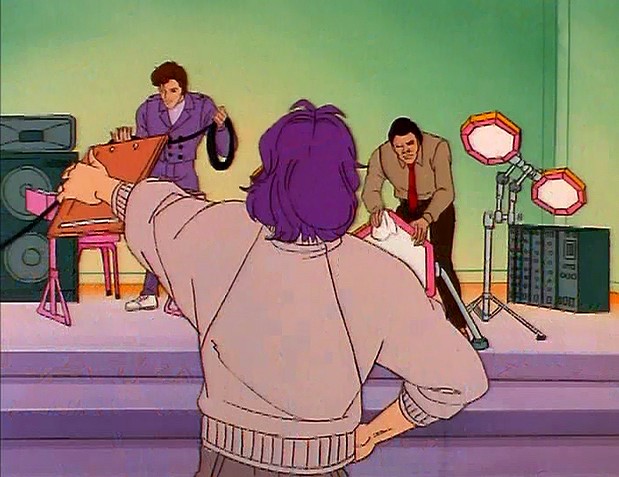 The guys working with Rio in this music video, aren't just some background people, they're actually his roadies, unnamed, but one of them originally was meant to have a speaking line. Here are some model cels of the guys in this video (the first two which I believe were never actually seen in the episode).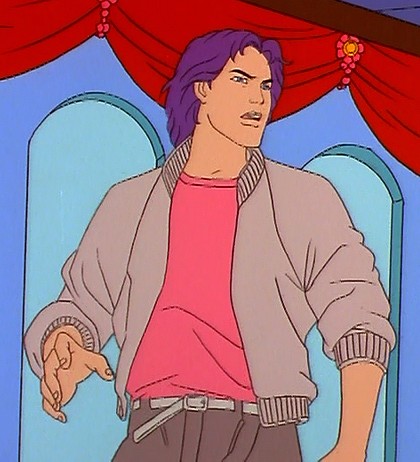 Rio seems perhaps, already here, a little jealous for both Jem and Jerrica. Jem walking away with some men and Jerrica lifted by the same men. But he looks even more jealous in the last music video ("Truly Outrageous") of this episode.
This is one of the few music videos with added retakes scenes in this five-parter where pretty much all of the added scenes turned out quite well! But there was also a slightly cut off scene of the Holograms standing behind Jem in the first scene.
In this video, Rio is seen playing a guitar, in a very short moment. Such cool unexpected things they did in the original scenes in the music videos! Regardless of the weirdness of some of it, it always looked cool because it was so well planned in storyboards, and the animation had a great flow and weren't off-model like in the retakes. Since Rio is presented as the expert on music equipment in this series, and because of this one brief moment in this music video, I hereby pronounce Rio a guitarplayer (yes I even added the info on the instruments page)! Already in the Jem bible, Christy wrote "He knows everything there is to know about musical equipment, touring, lighting, sound engineering, what's going on in the business, who to trust and who to bust.". It's really a mystery to me why Jem fans in general don't consider Rio a musician, with all the background work he does for Jem and the Holograms' music, plus being able to play guitar and who knows what else he can play. He even sings in the series. I guess toybrands often make obvious demarcations between what the roles of each character is, but then later on... (Spoiler...) Christy opened up for another male to "almost" join Jem and the Holograms in "The Talent Search" two parter, Craig.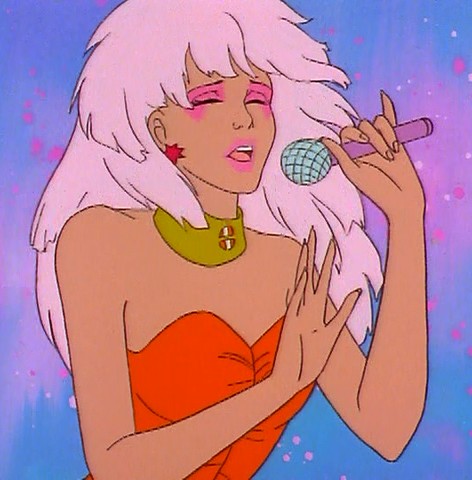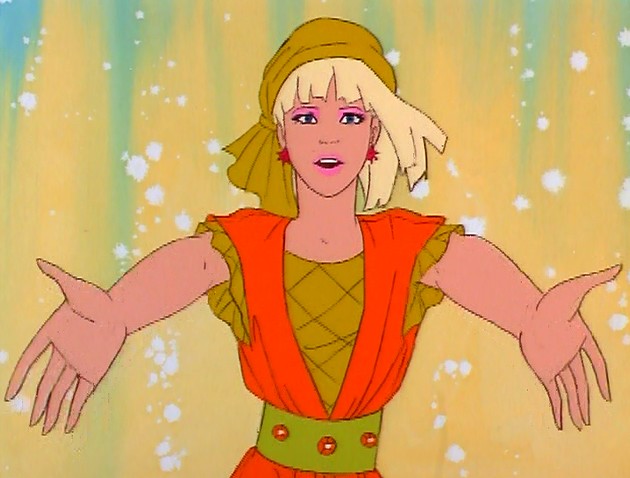 Yet another Jerrica version fashion, is shown in this music video, which we saw Jem's of first, called "Up & Rockin'" in the 1986 Hasbro doll line release. Jerrica's version looks as great, if not better. Agree? The added retakes scenes here show Jerrica and Jem in their corresponding outfits. Infact had the commemorative doll line by Integrity Toys continued with just one more release of Jem/Jerrica, these looks were the most requested ones to appear, but it just missed out as the line ended in 2017.
There is actually a moment in this music video, in the scene where Rio is wearing a tux and Jem a purple dress, where we pretty much get to see how Rio would react if Jem told him she is really Jerrica. Rio gets angry and leaves Jem and she is left crying.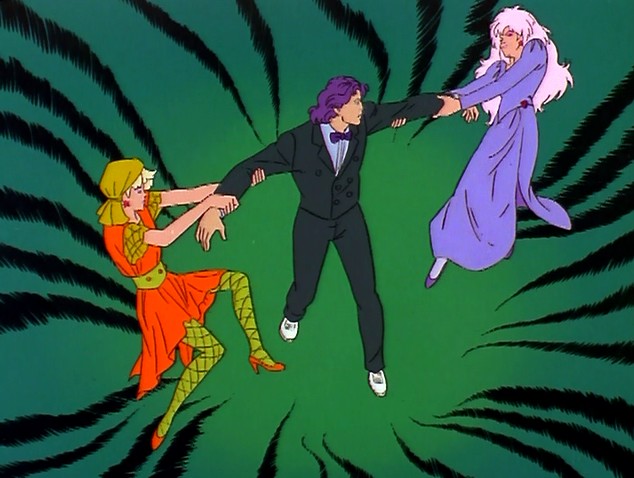 Interesting how Jem and Jerrica are seen running for Rio and draging him in their own direction, as if it's they who are chasing Rio. I'd say he is chasing atleast Jerrica aswell, and in later episodes Jem also. Well he literally chased Jem already once in the last episode, at the airport. But I guess Jerrica sees it as if she is leading him on in both directions. And I believe that was generally the perspective Christy was aiming for with this love-triangle (since we viewers follow the perspective of Jem and Jerrica and know they're the same person) and not trying to specifically portray Rio as a cheater. I guess Rio just loves Jerrica's voice so much that he can't help himself when he hears it, and we can't blame him can we, Samantha Newark and Britta Phillips have beautiful voices.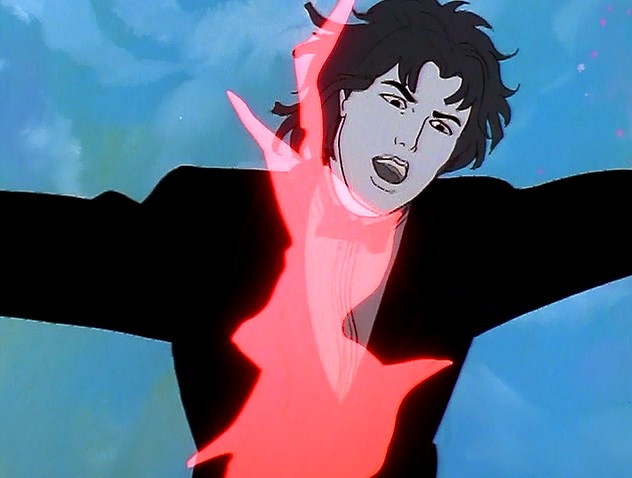 Brutal scene with Rio's body ripped apart, this is an example of kind of a raw style these first episodes had in music videos which I love, and Christy wrote this scene like this for her favorite character Rio.
Feels like the songs "Who Is He Kissing", "Love Is Doin' It" and "Can't Get My Love together" in later episodes, are a continuation of this song in theme. But contrary to "Who Is He Kissing", here Jem/Jerrica worries about how Rio is feeling and how he would feel if he found out her secret. In "Who Is He Kissing" and "Can't Get My Love Together" she is more sad for herself about who Rio likes, because by then I guess things got out of hand in a direction she didn't expect, because she ended up being the one who felt hurt instead.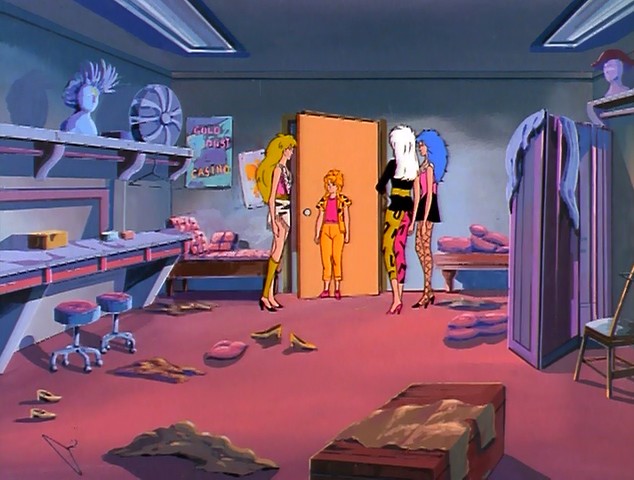 Such a cruel prank on Aja to lock her into the luggage compartment in a bus and send her towards the other side of the country, New York. Long trip, would definitely ruin the Las Vegas gig, but probably also be very dangerous for Aja. If anyone so far thought Ashley only saved the honor jar to save herself, we can now see on her expression that Ashley has a conscience, she feels really bad for Aja here.
Oh why did you have to take the risk to crawl inside that bus Aja? Christy had written this scene very differently with the bus and Aja though, scenes that did not involve any luggage compartment. This episode really gets going here with excitement when Aja is locked into the bus though. Because alot is at stake. Aja is in an extreme hurry to get back to the concert. Jem and the Holograms probably need the money for the gig, but also the advertising for the contest, to not lose the chance to win the company, their home, and the movie contract.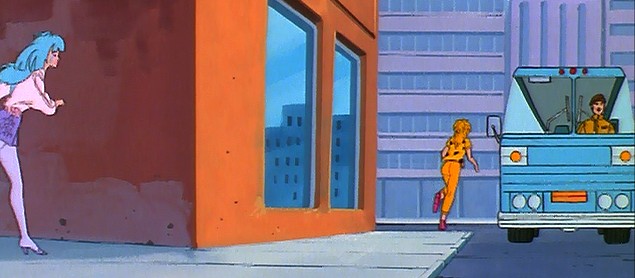 The people on the bus annoyed me when I was younger and watched this. So stiff, slow and kinda boring and grumpy. Funny how the bus driver is surprised by Aja and gets angry as she runs away, as if she was trying to catch a free ride.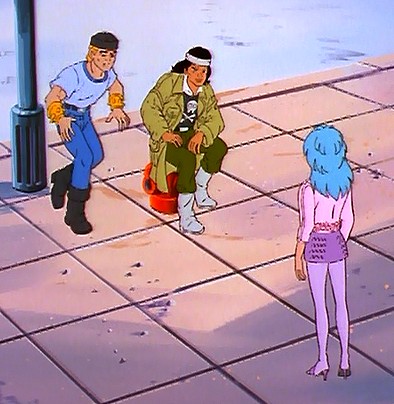 When Aja is stopped by some odd men on the street, this is an added scene in retakes, and I think Aja looks a little too happy here (well the characters look far too happy regardless of the situation in most of the retakes scenes). These guys don't help her alot, maybe one or both meant well, but I get the feeling they are playing a prank on her. Did you notice one of them was infact seen previously in this five-parter, in the club where Ashley met the Misfits?
I guess Hayes wasn't the only cowboy in town, here comes another one. Common in Las Vegas? Aja accepts a ride with this stranger. Well we know from the Jem bible that Aja loves motorcycles.
Poor Aja is stopped by traffic and has to coninue on her own, running in high heels. Reminds me of Jem in the later episode "Broadway Magic" (or even Jem and the Holograms in "Roxy Rumbles"). If this was Jem though, she would had grabbed a skateboard, skated down a subwaystation (if there was a subway in Las vegas), and grabbed a hangglider and landed on the roof of the casino.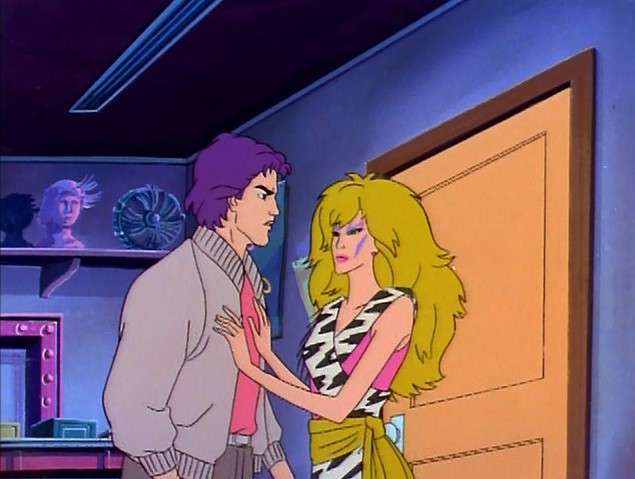 Rio wants to look inside the Misfits dressing room. And Pizzazz takes the chance to really flirt with Rio (infact Christy wrote for Pizzazz to be even flirtier and closer). Pizzazz actually tells Rio to dump Jem, as if he was officially dating Jem. I guess Pizzazz doesn't know who Rio dates at this point in the series, but she did see Jem and Rio almost kiss two episodes ago.
Of course Pizzazz partly enjoys trying to steal him as revenge. But I think Rio is seen as a very handsome dude in the cartoon (well atleast the 2015 live-action movie producers casted real life hunk Ryan Guzman to play him, well he is of course also a very talented actor). Rio is after all the main male character of this show, and in the Jem bible Christy described him as "tall, dark and handsome" and "he has a face women would die for" (well men too), and "he has the strong muscular body of an ex-roadie".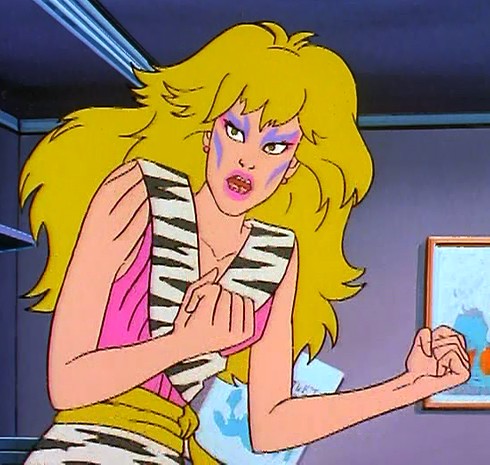 Rio says to Pizzazz that she isn't fit to breathe the same air as Jem. Kinda cruel of Rio. He does have all the reason to, but Pizzazz most likely doesn't have the realization of all trouble she has caused, and rather takes it as a personal insult.
It's hard to feel sorry for Pizzazz, but on the other hand she is turned down every attempt she makes to flirt with a man in this series, Rio several times, Nick Mann, Sean, Riot (but a TV-show host in "Scandal" does flirt with Pizzazz).
We get a glimpse of where Jem and the Holograms and the Misfits are meant to perform here. But it's such a quick view we don't get an idea of the crowd. Seems like a small place with just some tables, not a big Las Vegas show.
Why didn't the Misfits, who were the warm-up act, start warming up? Pizzazz told him they were ready to perform, and yet Dirk Hayes doesn't let them perform, and instead he declares it being too late for Jem and the Holograms. He could had let the Misfits perform and then Jem and the Holograms would have plenty of more time to find Aja. Well I guess he wanted to know what he was dealing with first, and what to tell the audience. Well the audience ended up losing a band either way, but atleast they got to see the main act.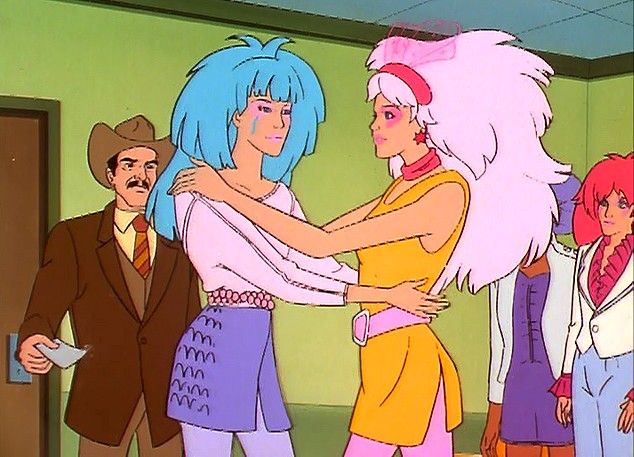 Apparently the Misfits never really planned to go on stage unless they were the main band. A shame for them, they would had earned some money and publicity! But I guess Aja's teasing helped. Don't you just love her comment to the Misfits here? I think Aja is one of the best to stand up against the Misfits btw (she also had some good lines in "Disaster"). I liked this side of Aja, which we didn't get alot of by other writers. Well Aja did get some attitude also in "Video Wars" by Cary Bates and Greg Weisman.
Roxy's and Stormer's pose (and probably Pizzazz' too) here before they leave, are xeroxes of their main model art = a common way for the animation studios to save time and money. So their poses and expressions here say nothing about their current reaction to the situation in the scene, but it works.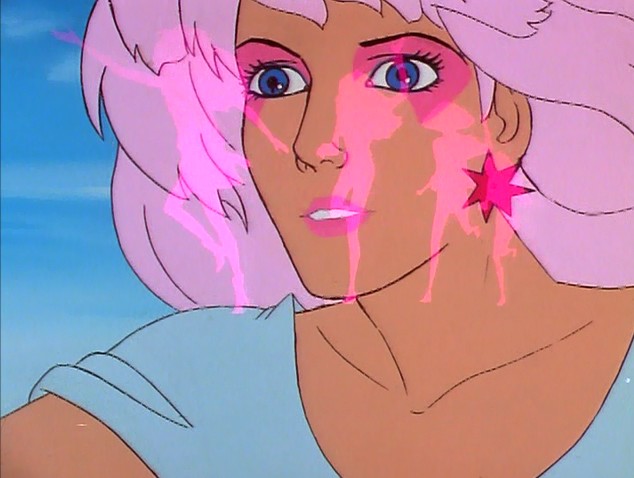 The song that comes now has the wrong title, "Too Close For Comfort", those last two words were not in the lyrics (but a suggested title by Christy before the song was written). Not fixed in retakes, instead the music intro to this song was cut unfortunately. This is a really cool song and music video, which has some speed to it and action, another new side of Jem and the Holograms' music, and is also re-used later in the series.
We actually see Big Ben (!), the clocktower in London, England. We even see one of those red Routemaster buses, and this video seems like a continuation of the "Twilight In Paris" music video with Jem chasing Rio. I almost feel like I'm missing some inbetween scenes here, that would explain why we see scenes from London. Were Jem and the Holograms originally planned to perform in London here rather than Las Vegas? Aja could had been locked inside one of those red buses we see in this music video instead. Or maybe they were meant to originally go to London for their earlier music video, "Twilight In London"? I'm pretty sure either London was meant to be included somewhere originally, or the animators mixed up Paris and London here anyway (and in Christy's script she asked for Paris for this music video). And no, there are no London themed buildings like Big Ben in Las Vegas, although I've heard about plans of building such that never happened.
I guess "Too Close" can be seen as a song written by Kimber storywise, considering it's not necessarily written from Jem's perspective, and even says "we" several times.
So, second song this episode, and still no Misfits tune. Just like last episode, the Misfits infact don't have any songs at all in this episode, not even a duet. The Misfits could easily atleast had appeared in scenes in "Too Close", after causing so much trouble for Jem and the Holograms.
Worst added retakes scenes here are when Jem and the Holograms are driving the roadster on a dangerous cliff and look real happy and swaying back and forth (look at the background while they're seen inside that bus btw, doesn't the bus seem to drive backwards?).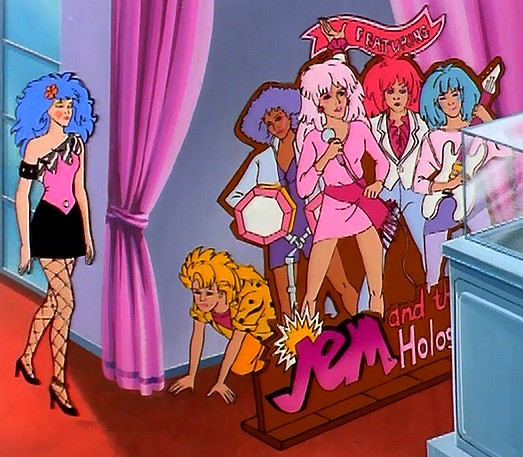 Maybe a symbolic thing is when Ashley is hiding behind the cardboard cutout of Jem and the Holograms. Representing how Jem and the Holograms are truly the ones protecting her. Spoiler: And yes they do infact try to save Ashley's life next episode, and Rio literally does!
Stormer has pretty much been in the background of Pizzazz and Roxy so far. But we've been given some hints of Stormer being different from the other Misfits. And here in this episode, Stormer, who Christy Marx has mentioned as being one of her favorite characters, really gets her moment.
These scenes with Stormer and Ashley put alot of heart into this episode, and made us get to know Stormer as the "nice" Misfit, and allows us to finally like even Ashley after all her trouble. Ashley being the "good" who is kinda "bad", and Stormer the "bad" who is kinda "good".
Perhaps Stormer recognized herself in Ashley, as an outsider when she grew up, having trouble finding her place and ended up with the Misfits (as I also speculated for the Misfits in the previous episode review). The Jem bible includes no clues about that though.
Eric couldn't afford sending the Misfits to Paris in the previous episode (not that I know what the Misfits wanted to do with a Paris theme for themselves, romance?), but in this one he sent Zipper and his two henchmen to Las Vegas. But I guess filming a music video would had cost Eric slightly more than hiring three thugs.
When Zipper arrives to the casino with his two henchmen, those two did actually get names (Tork and Buster), but not alot of attention was put into them as individual characters. No surprise, since they worked for Zipper (C-character himself on my list). Infact there were some back and forth ideas on the henchmen that worked with Zipper and Eric, their amount and looks.
And btw, don't they look familiar? Maybe it's just me, but if you re-color their clothes and hair, these guys with their hairstyles and outfits could pass for Duke from G.I. Joe and Prince Adam (He-man) of Masters of the Universe. But their names, Buster and Tork don't ring a bell though. So you'd have to give credit for any such resemblance to the model designer.
Zipper says angrily to the others to put their masks on, but then they take them off right outside the room with the safe! Zipper and his henchmen didn't wear any gloves from what I can see. And Zipper even wears his jacket that has his nickname on the back. Lucky for them they didn't meet any resistance from guards (well I guess there were guards guarding the entrances, but we know from later episodes that atleast Zipper is a good climber, and the doll by Integrity Toys even came with a rope for that purpose).
Cool viewpoint artwise when we see the safe from inside when the henchmen grab the money.
So brave of Stormer and Ashley to follow Zipper to see what he did. We know what he is capable of. I don't want to know what he would had done with them if he had found them though, so close!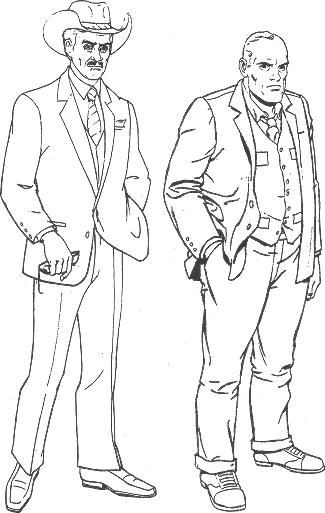 Realistic to see the model designers create a somewhat "overweight" man once in a while, like the detective here.
Zipper walks into the dressing room of Jem and the Holograms... well there's no name on the door and we don't actually see Zipper placing the money in Jem's bag (but this scene was portrayed in the US hardcover storybook Battle of the Bands). Funny how the handbag of Jem has the Jem logo, of course to make it obvious to us viewers that it's Jem's bag, although we never saw her carry it prior to this nor after (although it reminds me of a differently colored bag that came with the 2012 commemorative Rio doll by Integrity Toys). But like I mentioned in the preview episode review, the characters in this series rarely carry any kind of bags or purses, unless it's a noticable part of the story.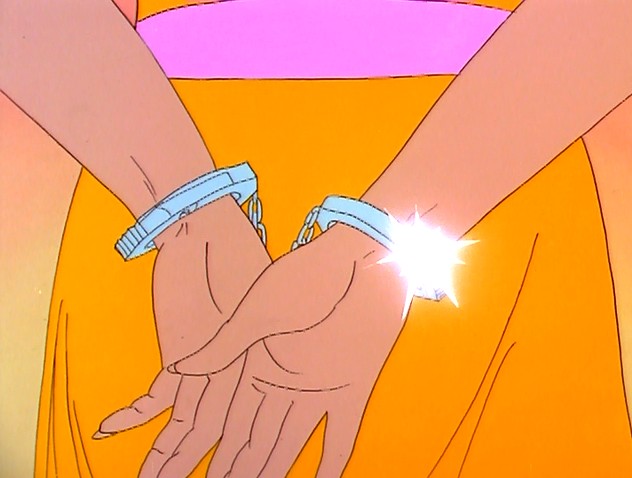 The detective sure is quick to suspect Jem when finding the money in her dressing room, inside her bag though. The Misfits were standing right outside asking them to look in her room, which is kinda suspicious! And the detective did tell Pizzazz they were going to search their room aswell. Putting handcuffs on Jem was probably more for the visuals for us viewers. What a sight, Jem is arrested! So, it took only four episodes until Jem was arrested for the first time in this series, even if temporary. Long before the Misfits are, which they certainly are in several later episodes, like "The Presidential Dilemma" and "KJEM".
But let's think about what could had happened here, if Jem had been arrested and taken to a police station, I guess she would have to reveal her identity. But then again she has already flown to another country without having to reveal it with a passport.
Not often scenes are re-used in this series, but after Jem is put handcuffs on, is a commercial break, and returning from it, we see a re-used background from a street with some buildings and a some added cars parked. This background came from earlier in this episode, where we saw the same buildings, but without the cars, at that point the bus where Aja was locked in to the luggage compartment drove by. No bus seen here though. But in "Starbright Part 2: Colliding Stars", this scene is re-used again in the beginning, during the episode title screen, where the parked cars are there ASWELL as the bus driving by! But at that point it's supposed to be outside a hospital in Los Angeles, rather than Las Vegas.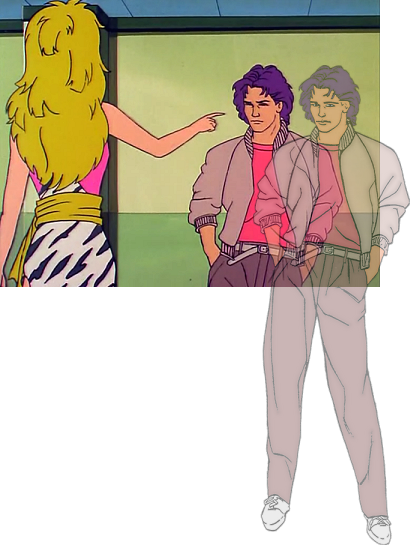 Here is a sight of Rio when Pizzazz points on him, which was xeroxed from the model art of Rio. They even simplified it a little in the animation by skipping some wrinkles on the clothes, and changed the shape of his eyebrows to look more concerned.
The line Rio says "That's a lie, I didn't do it, and neither did Jem" was not entirely in Christy's scripts. The last part about Jem was a logical later addition, because otherwise it could seem as if Rio only covered his own back.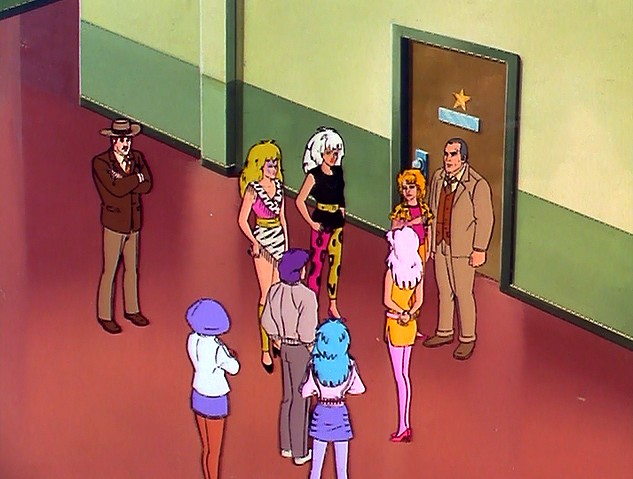 Here comes Ashley in Jem's defense. It's heartwarming how Ashley defends Jem and tells the truth about what she saw, since Ashley hasn't gotten along with any of them really. And that's why Ashley's words weigh a little heavier despite the fact the she lives with them. Jem tries to explain this, but the police detective of course doesn't know that. Another line that Christy wrote for Griffin about Ashley, was not animated.
Roxy says Ashley can't be more than 12. Ashley tells us she is 13 years old here. Sorry Ashley, but Roxy was right, according to Christy's Jem bible anyway. But maybe Ashley had turned, or was going to turn, 13 this year. Christy sticks to the Jem bible age for Ba Nee though three episodes later in the second episode of the Starbright trilogy. But at that point Ashley seems to be 13, because in the first episode of the Starbright trilogy Christy divides what girls work at the party and what girls watch TV, according to who is 13 or older. So storywise I guess Ashley just turned 13 somewhere here. Happy birthday!!! Now bring the money for the honor jar!
Stormer is faced with a tough position in this episode, she is the witness to a crime against her biggest rivals, along with Ashley. Here we get an obvious sign that Stormer is the nice Misfit.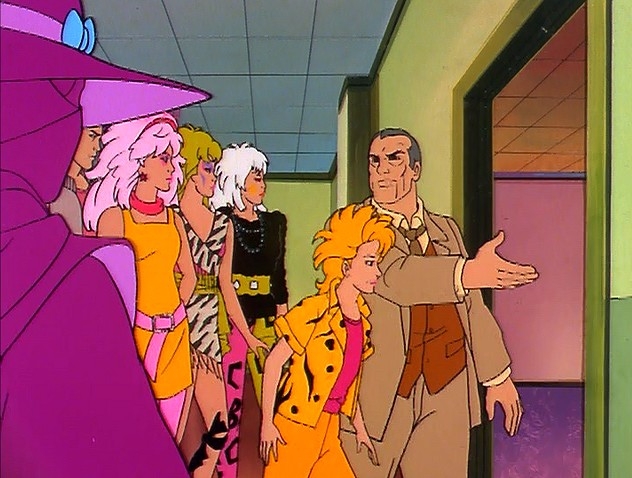 The mystery lady, which is Stormer in disguise, I remember as an exciting scene when I was little. I didn't realize directly who it was when she arrived, so I don't blame Pizzazz and Roxy for not recognizing her. When the mystery lady takes off her hat inside the room, blocking our view, that was written by Christy on purpose. Probably to add to the mystery, and not quite yet reveal her to us viewers, incase we hadn't guessed who she was.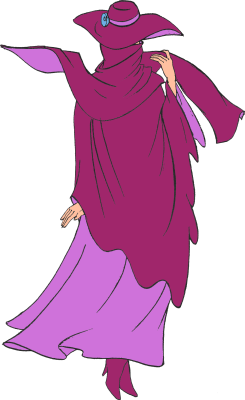 So, what exactly did Stormer tell the police detective? We don't hear it, because we're suppose to be surprised when they open the door and reveal the answer, Jem is free. Clever way to set things up. Stormer probably did not mention Eric and his phone call, because she did not actually hear what he told Pizzazz and Roxy, and it would had ruined things for Eric and her own career. She probably didn't mention Zipper either. And infact Stormer didn't even meet Zipper, and never met him in an episode by Christy. None of the Misfits met Zipper until the episode "In Stitches" by another writer!
This is the first time ever a Misfit really helps one of Jem and the Holograms. I suspect Stormer does it mostly for Ashley. One or more of the Misfits saving one or more of Jem and the Holograms, happens only three more times in the entire series, and two of those are by Stormer alone. But for herself and the other Misfits, Stormer might just have ruined their chance to win the battle of the bands.
Spoiler: Jem and the Holograms never find out in the entire series that it was Stormer behind the disguise. But Jem and the Holograms help Stormer anyway in "The Bands Break Up" (well they would loose half of Starlight Music otherwise at that point, and they helped Kimber at the same time, so maybe it was rather Stormer who helped them that time aswell, when finishing the album with Kimber).
Jem emphasizes the wrong word in the sentence "I can understand Pizzazz wanting to get at me, but why you?". She emphasizes the word "Pizzazz", but this scene calls for the word "me" to be put emphasize on. No big deal though. But interesting that Jem noticed the thing between Pizzazz and Rio, and wonders about it. And Rio explains it in shorts words.
Nice scene when Ashley and Stormer comment on how it all turned out, and they have a moment of friendship. Ashley isn't friends with the Misfits after this. But there is one more reference atleast to this scene in a later episode, also by Christy, Starbright Part 2: Colliding Stars, where Stormer seems to be worried it's Ashley when she hears one of the Starlight Girls is going blind. But I guess when Christy wrote about three Starlight girls running away in a later episode, "The Music Awards part 1", she excluded the otherwise logical choice Ashley (logical because Ashley and the other two girls were being released as dolls, unlike Deirdre) from that trio, probably because Ashley had already run away and found her place with the Starlight girls by then, but also because Ashley would had met Stormer again and it didn't fit to give attention to Stormer's and Ashley's friendship in that episode.
Quick jump back to L.A. and Starlight Music (we never do see the bands travel back from Las Vegas). Pizzazz tells us the big contest is only a few days away and that Jem is more popular than ever. Good way of Christy to give us some updates on the current situation, and perhaps explain things to whoever started watching at this point.
Eric who seemed to know details about Kimber and her work for the band, in the previous episode, is now paying attention to Jem, and wondering if Jem is just a stage name. Here we find out for the first time that Pizzazz has an actual real name, Phyllis (and let me just send an extra hint to the wonderful people at Funko Pop who finally released two Jem figures, but one of which is called "Pizzazz Gabor", strangely excluding her real name but adding her real last name to her stagename). I think it was a good idea her real first name started on the same letter. Pizzazz hates her real name though, so I guess Christy went for a name that didn't sound hip at the time, or maybe it's just too pretty for Pizzazz to like it. Or can we even speculate that it reminds her of something like her mother maybe, not her first name (whom was named Gail Nye) but maybe a second name of hers? Or chosen by her for Pizzazz? I wonder if Roxy and Stormer had heard Pizzazz' real name before this. They sure didn't know about her father in the upcoming trilogy. BTW, in the 1986 UK comic, Pizzazz says that Eric's real name is "Horace Higginbotton", obviously not part of Christy's canon for Jem, and Eric wasn't a singer, so why would he need a stagename to begin with?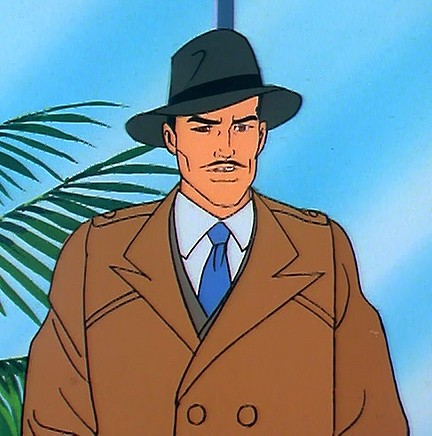 Eric works fast, he already has a private detective in his office (well maybe he's already worked before for Eric, which would explain why Eric has kept such good track on details about Jem and the Holograms). Manny Malone says he's the best in the business. And he sure looks like a private detective with that coat and hat. Perhaps a homage to Marilyn Monroe's movie Gentlemen Prefer Blondes, where there is a private detective called "Malone" played by Elliott Reid. However, in the 1986 UK comics, a private detective who looks like Manny Malone, is called Ace Malone.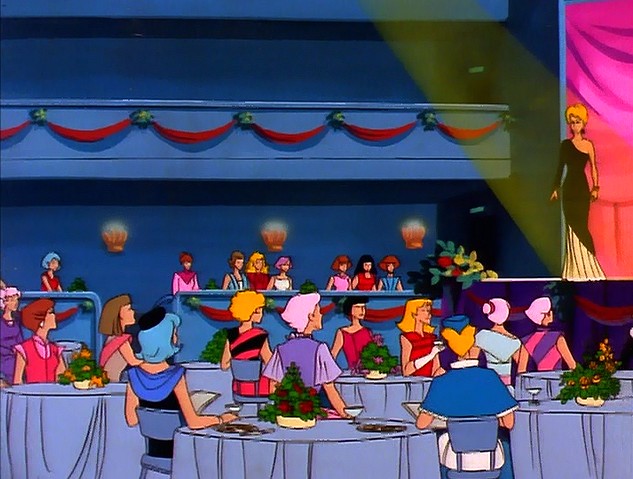 Nice transition from Eric's office to Danielle's fashion show. Because the view fades over as Eric introduces the next scene by telling us where Jem and the Holograms will be at that point.
Danielle's fashion show takes place in a large hall with a stage and balconies. Probably a theater. If you look at the audience, they even thought of making only females in the audience.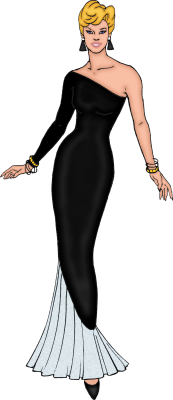 Shana could have had plenty of moments to talk to Danielle about fashion. But we barely see that until a short scene in a music video, four episodes after this, in Starbright Part Three: Rising Star, and then to a greater extent four episodes after that, in "In Stitches" by another writer.
I'd like to see more about Danielle's show. Because we see Jem and the Holograms in Las Vegas, and then suddenly they are on stage at her show. I almost feel as if Christy ditched some inbetween scenes, just to save time, but I can't find any proof of that. Well to be fair, this fashion-show was not totally out of nowhere, it was kinda referred to already in the previous episode by Danielle at the airport back from Paris.
After this occasion, Danielle designs fashions for Jem and the Holograms already in the trilogy episodes that followed this five-parter, in "In Stitches" she is a fashion judge, and then much later in the series in "Straight From The Heart" she has a fashion show again.
Isn't this a nice fashion Danielle is wearing btw, the black dress? Nice detail to give her a new fashion here for presenting her new designs. I would had loved this fashion to be made into a doll fashion when Integrity Toys released their unexpected Danielle doll. A fashion like this would had looked great also for Jem and the Holograms, who barely ever wore anything remotely black in the series.
Poor Shana when the music video "Truly Outrageous" starts, she is used to being in the background because she is the drummer and is often sitting down. But here they are just walking, and she is STILL placed in the background, I guess it just worked out automatically by now. Of course a coincidence, and Christy didn't request any particular order.
Cool to have a song actually named after the Jem's Hasbro slogan "Truly Outrageous" (well it's Kimber's slogan in the cartoon). Melody-wise it doesn't resemble the Jem Theme song at all, but I guess some viewers who aren't huge Jem fans could mix them up. This is a really positive and great song that is a joy to hear, with nice and colorful visuals. Maybe the best of the three songs in this episode, and one of the best of the series in my opinion (no I don't say that about all songs! ...do I?), such up and down in tones, so surprising, and Britta Phillips really takes it to the max with her outrageous singing and capacity to hit high notes. I wonder how much the team around Britta, with the song writers, coached her how to do each song, because she really goes all in here. And even today, 30 years later, she can still hit those high notes which she proved at a convention when singing karaoke to the instrumental of this song.
Although I really like the style and imagination of the original scenes in the music videos of these first five episodes, I don't really get all of it, like the unicorn that Jem falls off into Rio's arms. They did follow plans in several music videos already in these original episodes, but some of it was probably just to create cool looking scenes. Here the type of scenes from "Twilight In Paris" and "Too Close", the darker romantic scenes between and Jem and Rio continue aswell. I'd infact like to see them all cut together into a music video, perhaps with "Twilight In Paris" as the music. I like the scene epsecially when Rio stops, and turns towards Jem, and then she sees several Rios.


The added retakes scenes here are not bad, even Shana playing drums looks fine and doesn't have that weird position and movements as in one of the earlier videos. Well maybe the dove turning into Rio was a bit much! The clip with Danielle and Rio is an original scene, but kinda funny how Danielle looks at Rio. Actually it was written by Christy specifically, but I don't think it came out the way Christy intended, the intention of it wasn't obvious to us viewers. But what we do get out of this moment is the first obvious occasion in the series that Rio is jealous for Jem, because she is dancing with some men (which means those men were actually there on the runway storywise).
This music video could had given a perfect chance to showcase more of Hasbro's Jem fashions... had this series been a toy commercial. The music video does display some Hasbro fashions, but not directly like a runway, and we have already seen them by now, and some of these fashions are cartoon only ones. The ending fashion show scene kinda does the job. Jem wears fan-favorite outfit, Sophisticated Lady, which is a Hasbro Flipside fashion, that even got the honor of being the very last look Jem was released in as commemorative doll by Integrity Toys, in 2017 (well until they decided to release yet another Jem doll by fan-request).
But as for the Holograms fashions here, some of them look so different from how they finally turned out to look in Hasbro's release, that we can barely recognize them at all. Since these cartoon versions were apparently based on early prototypes from Hasbro. They would appear alot in the cartoon after this though, except for Shana's very unglamorous (colorwise atleast) outfit Rock Country, which did appear worn by Jem already in the show intro though (well the Flipside Jem-version of it anyway).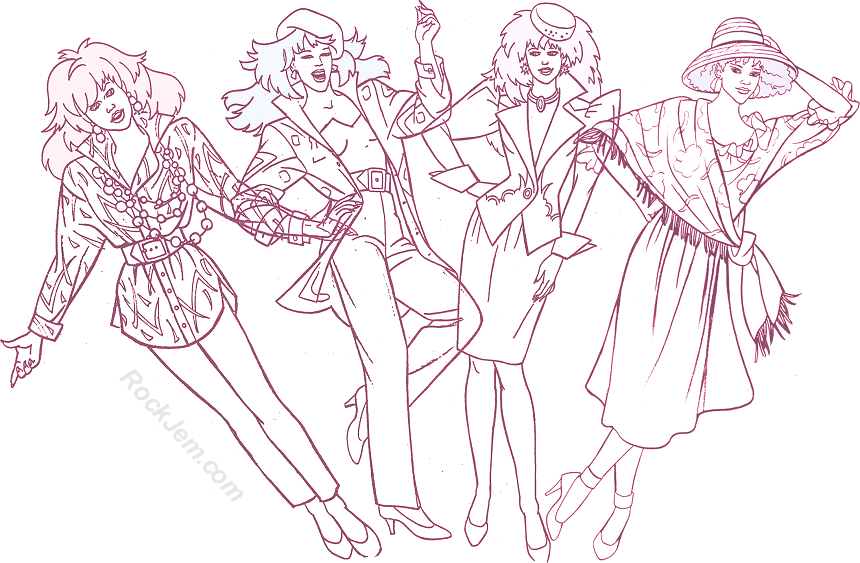 Here we see Roxy again with that green dress, and she has that red heart on her shoulder like this dress was seen with in the cartoon intro. You can tell Stormer's dress is "starting to turn green" here. A blooper probably, but it turned entirely green in later episodes.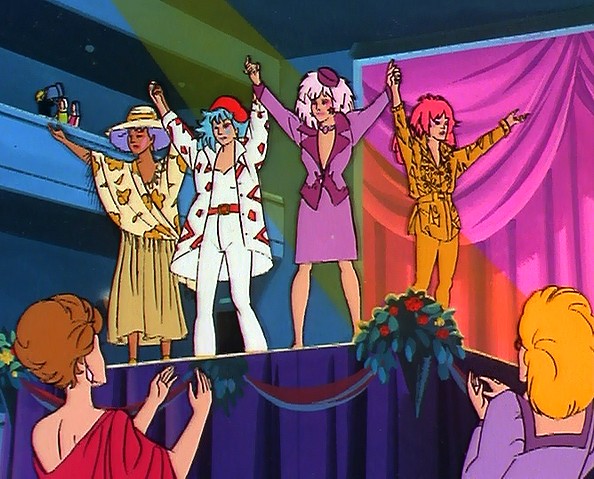 Poor Danielle gets her show ruined, and Jem and the Holograms too. Atleast they had time to finish it first. Jem and the Holograms run away from the sprinklers, I guess they were afraid the clothes would be ruined, but no worry girls, Danielle makes quality clothes! Three of these fashions infact last until almost the end of the series. I guess it was an injoke by Christy, to make the runway into a place where Jem and the Holograms literally run away (or maybe I overanalyze things). When the sprinkler system has stopped, Danielle doesn't run away, she stays like a captain that doesn't abandon her ship, all alone on stage, looks kinda sad. The Misfits have yet again ruined for her.
When Jem and the Holograms are driving from Danielle's show, they are of course in L.A., but they drive by a sign that says "Las Begas" with a "B".
Synergy was cut out of the previous episode in retakes, and still no sign of Synergy in this one, but here it comes. Now we get to see the Starlight Drive-in again, was a couple of episodes ago. And in the cliffhanger for the next episode, Christy makes up for it even more by giving Synergy a big part.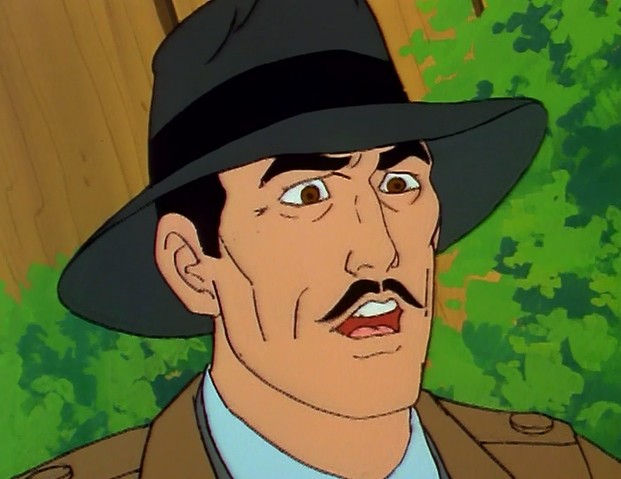 Malone must have been shocked to see the roadster drive right through the wall at Starlight Drive-in. He should have had the camera ready right there. He wasn't a super sleuth though, all he managed to do as for private detective work, was to follow Jem and the Holograms from a location he had been told by Eric, and then things just kinda went along by themselves. Well he did ask for the property ownership records of Starlight Drive-in aswell.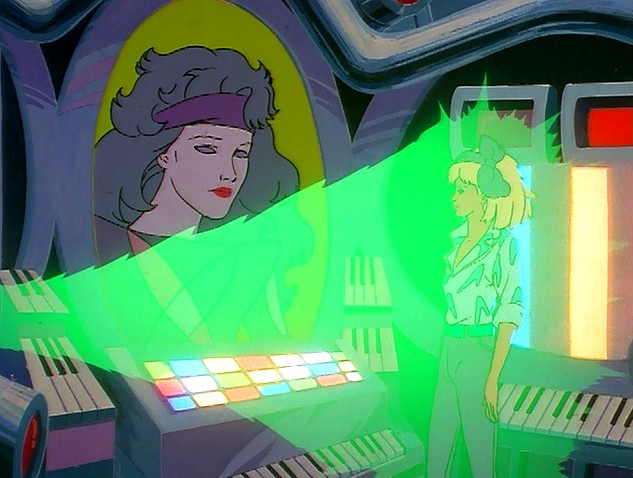 Here Jem and the Holograms change clothing at the drive-in. Well, Jem changes identity even, back to Jerrica by the help of Synergy. I really like that Aja outfit, simple but cool. Shana's was sadly a re-colored version of a previous outfit of hers, and Kimber's was originally a Shana-fashion (SH-5 became K-3). But overall in the series Shana got more fashions than the other Holograms. We even see some pants hanging here inside Starlight Drive-in, with letters on them, which hmm... resembles Roxy's main outfit?
A scene that was going to be added in retakes, was written by Christy and would have shown a very special moment including Synergy, and another important character that was instead first introduced in a later episode. I have a feeling the live-action Jem movie in 2015 was inspired by this unseen scene from Christy's scripts.
Spoiler: This is not the last time someone (Malone this time) walks in and sees Synergy. The next time it happens it's Raya in the episode "The Talent Search Part 1", also written by Christy. Even the Misfits see Synergy, and lots and lots of other people see her aswell in "The Presidential Dilemma", aswell as in "Journey Through Time".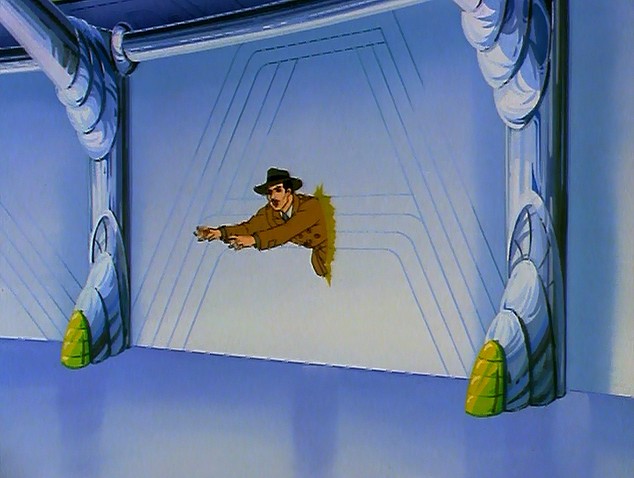 How did Malone dare go in? When he saw Jem go in, and Jerrica come out instead, how did he know they were the same? Did he just assume Jem became Jerrica? Even before he saw Synergy? He might aswell first had thought that Jem was still in there. But then again, he did see that the wall was just a hologram, and when he entered and Jem wasn't there, I understand his suspicions about Jem and Jerrica though.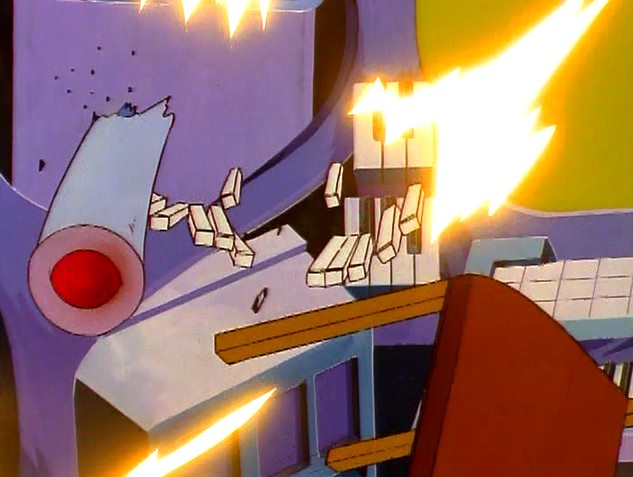 So why did Malone smash Synergy? It was not originally written by Christy. I guess a logical explanation is he was scared to be caught by this high tech alarm system, since he was trespassing, even though this was an abandoned drive-in and he didn't even technically "break" in. But... originally Synergy didn't even say "intruder" so that Malone heard it, just to Jerrica in her earrings.
I wonder if Sunbow or Christy decided to make Malone smash Synergy mostly because letting him just see her would had not translated as interesting for those viewers who did not realize what Synergy was yet and didn't realize why she was kept a secret and why it was such a big deal that he simply found her.
This is the first episode that does not end with a cliffhanger where Jem/Jerrica is about to die. But you've got to give Christy some credit for thinking up the most different and imaginable dangerous situations so far, and also for giving the characters needed a rest now from almost dying.
Conclusion:
This episode takes place in atleast five different days, with who knows how many days inbetween. But probably this all happens within a month atleast. Days: Lindsey's show afternoon, Jerrica in her office Starlight mansion, Jem and the Holograms travel to Las Vegas, Ashley tricks Aja, Misfits back in L.A. with Malone being there and Danielle's fashion show the same day (unless that was on another day).
I really like this episode, and it works to let us know the basics of the show. The Misfits are the bad guys, Eric their manager, Rio the boyfriend of Jerrica, Jem and Jerrica are the same person. But I must still say it's the most separate story in this five-parter. Here they get a gig in Las Vegas and it feels like straying off somewhat. Ok it's the next state and not as far as Paris, but unlike Paris they do nothing in Las vegas that brought them forward in their careers (but in their relations though). In this episode, the different subplots are more separate and easy to identify than previous episodes. Las Vegas concert, drama in the Jem/Jerrica/Rio relation, Aja locked into a bus, Zipper and his gang robbing the casino, Stormer and Ashley becoming friends, Jem is framed and arrested, and Eric tries to dig up some dirt on Jem. But Christy still manages to tie them together well, by blending them all in.
Infact, this episode feels like it's stepping up onto a another level of maturity, digging deeper into love problems, the new unexpected friendship, and generally a tougher tone between the bands, and perhaps a sense of more realistic dangers (rather than the previously sometimes very sudden turns of events) as the contest is approaching and the tension is about to reach its climax. The overall quality of the songs of this episode are even a level higher than the previous episode, they're all magically great!
Spoiler: One of the storylines in this episode (aswell as the next) turned into a bit of a cliché in this series, of Jem and the Holograms getting a gig, Misfits sabotaging something so that Jem and the Holograms would risk missing their gig, and Misfits being the expected replacements, but Jem and the Holograms making it in the last second. It was new for the show here, but since this five-parter had such an impact on the rest of the series, and was so well written here, I guess this stood out as a good idea for a base outline of episodes. This is one of few re-used themes though in the Jem cartoon, which rarely repeated itself in such ways, but rather concentrated on character-driven stories and sometimes unexpected journeys of different themes and to different locations in the world.
Some lasting things that this episode initiates is Eric getting pictures of Synergy and Jem and the Holograms having to move Synergy to Starlight Mansion in the next episode.
As mentioned in the review itself, for most part I feel Christy is suddenly jumping quicker from scene to scene in this episode, without showing the inbetween of how they get to a new location. That can be a good thing though, to concentrate on the interesting stuff, but I wonder if she originally had more inbetween things planned and skipped it in order to get all the mini-stories in this episode to fit within the timeframe.
The added retakes scenes in this episode, I don't think they gave us what we wanted to see. We get to see Jem and the Holograms travel to Las Vegas and walk around town, and Aja find her way back to the casino with some... well... silly people. Ok, it tied some scenes slightly better together, but I don't think those added scenes were very interesting. I'd like to see how they got in contact with Mr. Hayes, and to know what kind of gig they were going to do and why it was interesting for their career and the contest. But much more than that, I of course wish they had included that scene at the drive-in instead which Christy wrote, but they excluded for some unknown reason.

That cliffhanger with detective Manny Malone must be the most exciting one so far, and one of the most exciting ones in the series. The only peaceful and happy moment of this episode occurs on Danielle's fashion show which was a nice idea of Christy, that balances it all up into a wonderful mix.
As mentioned, we get more in this episode of Jerrica's worries about Rio. At the same time in music videos she continues to be close with Rio as Jem. Jem kisses him seven times as Jem! And at this point, she hasn't kissed him as Jerrica since the first episode (yes I'm keeping count of kisses for my reviews). But to both of their defense, only one of the kisses in this episode is actually part of the story, the rest are in music videos.
Kimber takes a step back in this episode, and leaves place for screentime to Aja. Roxy gets the least attention of the Misfits in this episode, but also because one short scene with her was cut.
Mrs. Bailey and Synergy are back.
But most of the Starlight girls are not seen at all in this episode, only Ashley who does have a very visible role though. Seems like Ashley takes another step in this episode towards finding who she is and where her sympathies lie.
Lots of new secondary characters here, in place of known ones. But we knew most of these would most likely never appear again. I guess what happens in Vegas stays in Vegas (I just had to use that line, sorry). Well Malone was in L.A. and could had returned I guess, but Christy didn't seem to plan for him to return considering her script for the next episode.
So, how can you tell if a new character in Jem is going to be a re-appearing one? Well the same way as in all cartoons and shows I guess, if they are good to the main characters, help them, and especially if they look like them in colors and style, they have a greater chance of appearing again. If they're either bad or indifferent, or especially if they just look ordinary, or live far away, they probably won't appear again.
This is not the last time Jem is put in hand cuffs, she is arrested also in "Culture Clash". This is not the only episode they ever go to Las Vegas, Jem travels there by herself in the very last episode "A Father Should Be..." to locate Ba Nee's father. But we do see a casino also in the episode "The Day The Music Died".
For fun stuff:
Question: How did they bring Ashley to another state like that? And who brought her back?

Best thing in the entire episode: The music video "Deception" with Rio in focus. The song "Truly Outrageous"? Definitely one of the episodes with the best set of songs, three great ones! Pizzazz hitting on Rio was such an entertaining scene. Stormer and Ashley saving Jem together was very exciting.
Worst thing in the entire episode: The weird people Aja meet on her way back to Las Vegas. The boring people on the bus.
New style: Some nice fashions on Danielle's runway, like "Sophisticated Lady", but no new corresponding styles among any band, because that idea is not really introduced into this show until two episodes later. As for the Misfits they got no new fashion at all for the first episode so far.
Surprises: Jem is arrested. Stormer being really nice to Ashley and both of them defending Jem and the Holograms (Stormer in her own "secret identity").
Most exciting moment: Zipper and his henchmen at the casino, and scary when Synergy is smashed to pieces.
What should be cut out: The added retakes scenes as usual. But the ones in the music videos aren't as bad in this episode, I infact like the idea of some of them and they were even quite well animated.
What else could it had done: This story was wellwritten and not typical, but perhaps it could have been slightly more ontopic for the careers of Jem and the Holograms. But Christy does include loveproblems in the lovetriangle in Las Vegas, and it is a music gig after all, and even Ashley is there in Las Vegas, so she sure put some very nice planning into making all of this work. Perhaps the fashion show could have allowed more space for Shana to show her specific interest in fashion.
Biggest argument: Roxy being mad at Dirk Hayes (cut scene in some versions). Rio turning Pizzazz down! And Jem being arrested.
Best look: Sophisticated Lady, Hasbro fashion that is just so cool and a big favorite among Jem fans. Jerrica's half of Up & Rockin'.
Worst look: Rock Country, worn by Shana. That fashion is a very rare sight though, since it's abandoned both in the cartoon and doll line after this.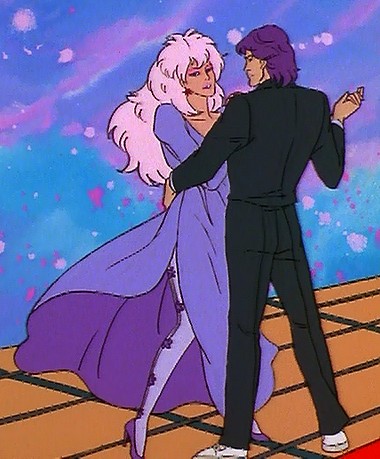 Is Rio a "hero" or "Ken doll": He starts with saving Jem, he kisses Jem a bunch of times, he sets things up at the casino (handy man!), he turns Pizzazz down, and stands up for himself and Jem when Jem is arrested. I'd say Rio earned his right in this episode to be called... well more than Barbie's male friend/counterpart/mannequin.
Who do Rio love most, Jerrica or Jem: He doesn't even meet nor talk to Jerrica even once in this entire episode, other than in music videos. But kisses Jem alot (mostly in music videos). So: Jem!
What character practically does nothing: Kimber and Shana don't have alot of lines here. Jerrica is only there in the beginning.
This episode has alot of...: Transportation. Sidetracks. One-time characters with many lines. Great music. Screentime for bluehairs.
Someone should make a toy out of this: That Misfits shirt Ashley has, I'd like one for myself. Jem's purple dress from "Deception". Aja's red and white outfit (A-5) she is wearing at the end of the fashion show. I also like Aja's outfit she puts on inside Starlight drive-in, aswell as Jerrica's at that point.
What character from another cartoon should be brought into a scene: Since this is an episode with investigators, why not bring in some more. Maybe Inspector Gadget would think of looking for fingerprints at the casino.
What would Barbie had done: Not performed at a casino, that's for sure.
Best mischief-award in this episode goes to: Locking Aja into a bus? Framing Jem? Turning on the sprinkler system? Smashing Synergy? No I think Stormer and Ashley really did a good job on turning things around, and especially Stormer disguising herself.
Challenge for you while you watch this: Can you find some kind of "tattoo" on any of the Misfits in any scene? I actually mentioned it in the review.
How could Jem's identity have been revealed by mistake: When she was arrested and could have been forced to give her real name. When Malone was on her track to the Starlight Drive-in.
Animals: Three seagulls and one white dove spotted in the music video "Truly Outrageous".
Where could another song fit in: The Misfits could have sang a song to Dirk Hayes about thinking twice about making them the warm up act for Jem and the Holograms. Pizzazz could had sung a flirty song to Rio in her dressing room, or atleast one about how much better she is than Jem in her opinion.
Would it make any difference if the Holograms switched lines: Not really. Some lines seem fitting for their personalities. But anyone could have been locked in the bus. I guess it was mostly Aja's time for focus since Kimber had her episode, and Shana had her romance.
What made the series take a step forward or back: In one sense this episode wasn't really a step forward, almost a filler episode. But kinda the first somewhat unrelated adventure. But that, on the other hand, felt new and different for the series at this point. Even what seemed unrelated because they were in Las Vegas, still seems Christy had a plan with to move the story into a certain direction, with certain characters and sidestories. This episode developed Stormer, and is probably one big reason why she is a favorite of so many Jem fans! This episode discussed the lovetriangle in a mature way in the song "Deception". And as mentioned earlier, it generally turned things up a notch and felt like a very mature episode.
Animation quality: Several examples of xeroxed model art, but great as any of these first five episodes, and the retakes are perhaps better animated than in the earlier episodes.
Ending: One of the best endings ever! Well unfortunate for Jem and the Holograms and Synergy, but as in excitement for the viewers.
Offsite-links to some things I found online by other people, about this episode in different ways: