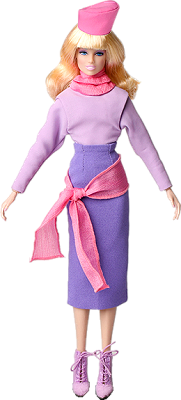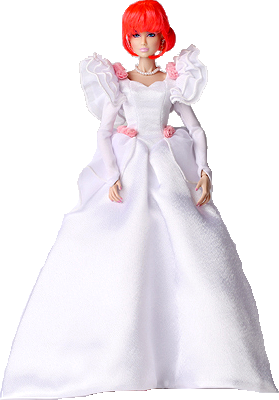 This was sadly the last year of the Integrity Toys doll line, as far as anyone knew at the time. Until the 35th anniversary comeback in 2020. We Jem fans had gotten so many of our Jem doll dreams come true, and many completists had a hard time keeping up with affording this high quality line. Integrity Toys had promised Jem fans four last releases this year, and they turned out to be Zipper x2, bride Kimber, a studio playset, and Sophisticated Lady Jem/Jerrica.
But Jem fans had also been asking for another release of Aja and Shana, aswell as Jem in the last outfit she was seen in the cartoon, so Integrity Toys announced they would do one last extra release of these things. All in all, fewer dolls/heads/fashions were released this year than previous years, only 2012 had less releases.
New this year was one new character, Zipper, which for the first time in the line was available in two different haircolors. A new haircolor for Jem that looks more like the pink we recognize from the 80's line and cartoon. And a new kind of hook and eye closures that are smaller and debuted on This Is Farewell Jem and was then used in the revivial of the line in 2020 and from then on.
By now, this line had lasted more years than the original Hasbro line, included more characters, more releases of Jem herself, and of course in higher quality. On the other hand, it included a smaller amount of fashions and less playsets (depending on whether you call some of the playset-like boxes actual playsets). Of course there were still many wants left, fashions and characters from both the original doll line and especially from the cartoon. And some of the things Jem fans still wished for, was a Synergy playset in her computer form, some more characters, and a bunch of more fashion looks from the cartoon and 80's doll line.
What we did get, sold in hundreds of each release! So this line was definitely successful, especially considering this is 30+ years after the original line and considering the prices of these high quality dolls, and also considering you needed to be paying W Club member to purchase several of these dolls. I have no idea what this would translate to for a playline publicly available in toystores across the world, but the Jem characters evidentally generate alot of sales in all doll forms, regardless of price and availability. And Jem fans certainly hoped for a continuation of the Integrity Toys line in the future.
Off-site information about these dolls:
Promotional pictures from this page may not be reposted without permission from Integrity Toys, and may only be used by Integrity Toys and their authorized dealers for selling the dolls.