Integrity Toys has signed up as the official licensor of the Jem doll line for another year and are promising a "vibrant lineup of hot dolls" for the 30th anniversary year of Jem, 2015. With never before released dolls based on the cartoon, and "many highly anticipated fan favorite looks" for Jem herself. The W Club is even planning a "fabulous" Jem and the Holograms exclusive!

Being the 30th anniversary of the cartoon, this is a big year for the Jem brand, the year when the Jem comic and the live action movie will have their premieres. It remains to be seen what other merchandise will be released by other companies, and whether Hasbro themselves will release a Jem doll playline for the movie.

Integrity Toys have already before 2015 started, announced two of their upcoming dolls, Techrat and Lindsey, after a long break of several months in 2014 without news. According to how far the line has gone, it seems this is the year for more friend characters aswell as maybe boyfriends, which most collectors are hoping for. And of course Eric Raymond. Or will they continue to skip the remaining male characters and go right for the Starlight girls? As for the Starlight girls, they would require another body size. And how many of the 12 of them would be likely to make?

On november 26, 2014 Integrity Toys announced the next W Club exclusive doll, Techrat! This third male character, fourth male doll, of the commemorative Jem line comes with the QuickSwitch feature, newly developed for the Homme body, and includes an extra head with a new previously unseen long hairstyle for Techrat. The edition is limited to the amount pre-ordered by W Club members and the estimated shipping date is spring 2015. He comes with the Declan (previous doll released by Integrity Toys in another line) head sculpt, FR: Homme body sculpt, FR White skintone, black hair, and a retro computer among other accessories. Integrity released pictures of the upcoming doll stating that they were prototypes, and after fan requests they later revealed that the released doll will look even more like the cartoon hairstyle, where the hair covers more of the head. Suggested retail price is $130.00.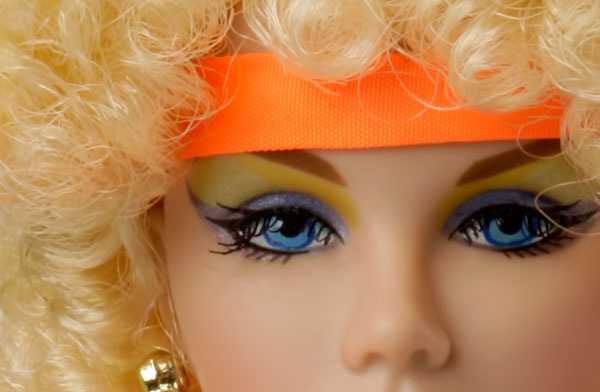 On December 6, 2014, Integrity Toys offered an early sneak peak of a future doll, which is still to be officially announced in 2015, Lindsey Pierce! A very appreciated doll among Jem collectors to add to the existing lineup.
To find out any news about upcoming dolls, keep an eye out on the following links:
Please do not repost the promotional pictures from this
page anywhere without permission from Integrity Toys.
14063
Watch Out Jem, There's a New Bad Boy in Town! When record executive ERIC RAYMOND needs a gimmick to give an edge to make life more difficult for his business rivals, he calls on TECHRAT! Reclusive and a totally introverted computer genius, TECHRAT only cares about his work and the technological wonders he can create. Self-absorbed and introverted, as far as he is concerned, to him the goal in life is to create dazzling electronic gimmicks... Whether his creations are sometimes used for good or evil by others doesn't phase him at all; as long as no one touches him in the process, it's all good with our guy!

So much to say about this doll. First of all I couldn't be happier about anything than to see that Techrat was made into a doll for the first time. I was looking forward to more male dolls, not knowing if the line would even continue, and Integrity Toys gives us one of the most wanted characters, Techrat! It's a Wclub special though, so not everyone is getting it.

They aren't taking any risks when using previously popular headmold, Declan, from another line of theirs. But a very exciting bonus, which is the first for this line, is the quick switch head feature for a male doll! And they actually included an extra head, with a new and different look for Techrat. So anyone who isn't a fan of Techrat's hairstyle, or anyone who likes alot of hair to style, perhaps into Eric Raymond, is sure to be happy.

I might have expected his regular outfit, and the one they choose had many changes even. But I think they went for the more cool one to create in a doll version, rather than a grey suit. The pants look more like they belong to his regular outfit though.

Jem fans disagreed with the hairline placement leaving too much baldness on the head, so Integrity Toys, who is great at listening to their fans, promised to add more hair on the top of the head before the release, which is in late June.

An 80's computer was logical choice of accessory, and they were even clever enough to take the chance to add something special on screen, a recognizable sight from a Misfits music video. FR White skin tone. Edition size is based directly on the number of pre-orders.

Promotional pictures:
Picture. Picture 2. Picture 3. Picture 4. Picture 5. Picture 6. Picture 7.
Contents:
Extra head.
Hands.
Extra hands.
Coat.
Scarf.
Shirt.
Sweater.
Pants.
Socks.
Shoes.
Computer.
Stand.
Certificate of authenticity.
Instructions.

Interpretations:
Cartoon: Introduced in the episode "The Music Awards Part 1". Perhaps the hair could have covered a bit more of the head, instead of having so much baldness on top of the head. Integrity Toys announced this has infact been fixed after the prototype pictures were released. They got the eyecolor right, and the face seems to fit well with the cartoon look, and will probably do so even more after the hairline change. The coat is more red than in the cartoon, buttons are added, and another kind of pocket. They slightly shortened the length of the shirt, removed the belt, changed the white shirt into a scarf, changed the design and color of the pants. The shoes could have been yellow like in the cartoon. But regardless of all these changes it looks alot like Techrat and you can barely tell the different at first sight. Techrat uses computers alot in the cartoon, and this resembles an 80's computer. Haven't compared the exact look to the cartoon though. The computer screen is from the music video of "Gimme A Gimmick".
Other info on this site:
Cartoon character description.
Cartoon fashions.
Techrat's Gadgets.
Techrat's Rathole.

14056
Well known and respected in the music business, star reporter Lindsey Pierce is the host of Lin-Z TV, the longest running industry news show on VTV, the hottest music video channel there ever was! Lindsey fell in love with the fresh new sound of JEM AND THE HOLOGRAMS as soon as she discovered the band and soon took the group under her wing. Extremely well connected in the music industry, Lindsey is largely responsible for taking JEM AND THE HOLOGRAMS to new heights by connecting the band with some of her high-profile contacts and playing their music videos non-stop on her show! On the other hand, Lindsey is not a big fan of the Misfits, since Pizzazz trashed her set multiple times in some of her notorious fits of rage.... Oh, all the drama!
A very long awaited and expected choice of a doll, and the most logical choice of curly hairstyle and orange/limegreen outfit. Already in early December last year we got a preview showing the top of the head, where the headband revealed what outfit she was to be released in. This will be one of the most 80's looking dolls of the line. You could argue she should have been released before Danielle or even Regine and Astral, that's how recognizable she is in the cartoon.
Perhaps the released doll will come with some printed cardboard accessories aswell, like either a notebook for interviews, notes to read news from, and/or perhaps some episode specific references. The facemold is the same as Rapture's. Edition size 500. Ages 15 and up. Estimated Ship Date: Approximately late May/Early June 2015.
Promotional pictures:
Picture. Picture. Picture. Picture. Picture.
Contents:
Hands.
Extra hands.
Headband.
Earrings.
Dress: One piece bright orange mock neck sleeveless.
Gauntlets: Bright green.
Belt: Wide, low hanging contrasting vinyl belt.
Tights: Bright green.
Shoes: Orange boots.
Bracelet: Green metal.
Bracelets: 2 orange metal.
Microphone: Turquoise.
Portable tape recorder: With cord and strap.
Stand.
Certificate of authenticity.
Instructions.

Interpretations:
Cartoon: Introduced in the episode "Disaster". The hair appears to be just as curly as it should, but blonde rather than yellow, and a bit longer than in the cartoon. Lindsey had no apparent makeup in the cartoon, but she does gets several colors here. The outfit looks very close to her cartoon outfit, but perhaps the orange color was slightly darker in the cartoon, the collar was lower, gloves shorter and without pearls, belt had some creasing, and boots were higher. She also gets three bracelets, while she had none in the cartoon. The earrings weren't gold in the cartoon, but orange and green. It's hard to see from the preview pictures, but she does appear to have some green and orange dots on her earrings, even if they aren't triple pearls like in the cartoon. I can't find Lindsey ever had a portable tape recorder, but it is only logical for her to have one, and the logo on it resembles the logo from her show. Lindsey is actually seen several times in the cartoon with a turquoise microphone, very observant by Integrity Toys.
Other info on this site:
Cartoon character description.
Cartoon fashions.
Ollie Lawson
85075
Confident, strong and always a risk taker, this player doesn't fear taboos and is not afraid to experiment with shapes, colors and textures to modernize any retro look and make it his own!
The Integrity Toys line "Color Infusion" is more Jem than ever, well infact this doll is rather inspired by Don Johnson in his role as James "Sonny" Crockett from Miami Vice, especially the accessories and the beard. But what do we Jem fans care, as long as it resembles Jeff Wright, Kimber's boyfriend, who appeared in seven episodes, and whom Kimber almost married, in the Jem cartoon. This doll's hair and clothing are the same colors and style as Jeff, and he uses the same body type as the male Jem dolls, which was hinted in his description. Infact part of the description sounds like Jeff who was a stuntman, "Confident, strong and always a risk taker".
Jem fans are speculating Jeff fell out of the plans for the upcoming releases of the Jem line, and that Integrity Toys are hinting this as the closest replacement. Or perhaps they just thought we'd enjoy it because of the 80's look. That's quite good enough for me, I was introduced to Integrity Toys through the Jem line, and I've been looking into their other lines more and more. Here is a reason to really do so.
And if Integrity Toys do release an official Jeff doll later on, they probably won't release it in this same look, even though this is his perhaps most recognizable look. It would probably require one of his other looks. So this doll is our only chance to get this look.
Maybe they'll even release the boyfriend dolls with quick switch heads, like with Techrat. How about Jeff/Sean/Craig along with one or two extra outfits to mix and match looks? Or hey, if we aren't getting an Anthony Julian doll later on, maybe we'll get another lookalike from Miami Vice like Detective Ricardo Tubbs, if they are close enough in looks.
FR White skintone, and uses the headsculpt of a previously released doll called Romain. It will be exciting to see how he is packaged, and if he comes with a stand. He ships in the summer of 2015, but only if you register for the Wclub before February 16 and pre-order him.
Promotional pictures:
Picture. Picture 2. Picture 3. Picture 4. Picture 5.
Contents:
Hands.
Extra hands.
Jacket.
Shirt.
Pants.
Shoes.
Glasses.
Watch.
Stand?
Certificate of authenticity?
Instructions?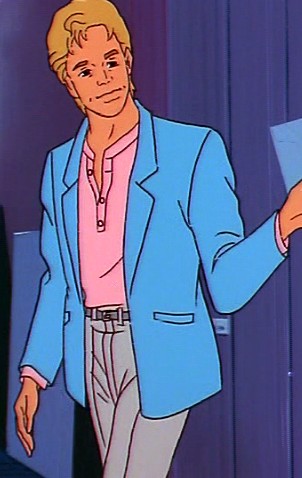 Interpretations:
Cartoon: Introduced in the episode "Disaster". Hair is quite matching, the color and style. Perhaps the doll has more volume to it. Jeff had no beard in the cartoon. But he would if he didn't shave, because unlike many other cartoons, several Jem characters like Rio and Eric would get a slight beard at times. This outfit is what we first saw Jeff in, in the Jem cartoon, and one of the few outfits he wore more than one episode, infact four, and it's one of his few personal outfits, as we often saw him in different stuntroles. The jacket of the doll is a perfect match, with extra pockets and buttons, but Jeff wore it without rolled up sleeves. Shirt is a perfect match. Lightgrey pants with a crease on front match perfectly. Jeff had a darker grey belt though. Jeff had slightly more lightgrey shoes rather than all white, but in the same style. Jeff had no glasses or wristwatch as far as I can find. So these, which more correspond more with Crockett, can be considered as a bonus for us Jem fans.
Other info on this site:
Cartoon character description.
Cartoon fashions.
Vehicles.
Anthony Julian
Craig Phillips