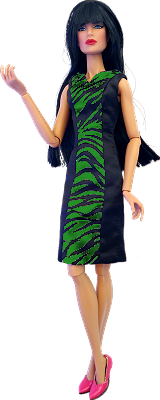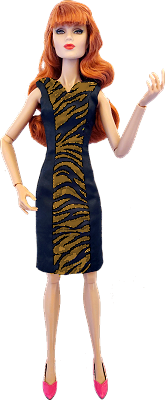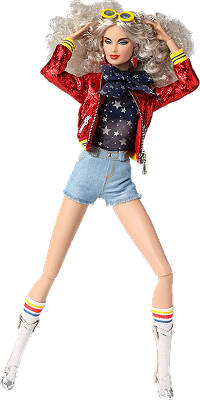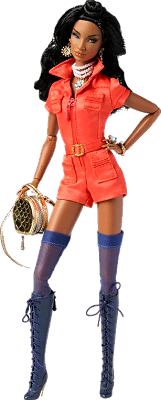 A sad year in the Jem collecting world, the Integrity Toys Jem doll line had officially ended, just like the Hasbro line did in the late 80's.
At this time, many Jem fan wallets were emptied by six straight years of high-quality doll collecting, so this was a year to catch our breath and think of all the dreams IT had made come true for us. To enjoy what we already had, and complete our collections with what we didn't. Our top iconic Jem looks and most recognizable characters had been released.
Quite an amazing accomplishment to keep a licensed line going for six years in a row! I can pretty much assure you this has never happened in the doll industry before with any other brand. How is it even possible for a licensed revived brand to be this popular over 30 years later??? With those prices, I don't know if it was more the love for the Jem line or the high quality of the dolls that kept the line going. Most likely a perfect mix.
Still it felt surreal that it was over. At this time we didn't know it would make a comeback only a two years later, in Jem's 35th anniversary. But even at this point it wasn't really over, not for the most attentive Jem fans. We had been introduced to a new doll format, and since IT had several other lines sharing the same size of doll bodies, there was alot to choose from for any collector that wanted more clothes and accessories. But that's not all!
Because, since IT started making the Jem line, we could see how their other lines were somewhat influenced by the colorful rockworld of Jem. There had long been talk among Jem fans whether IT would release things that would keep us Jem fans as customers. Colorful characters, fashions and accessories that would fit in with our Jem dolls. And already before the IT Jem line ended, IT had released unlicensed dolls that would work perfectly as stad-ins for a number of unreleased Jem characters, either because of the look of the doll and fashion, or only the doll. These weren't colorful rockstar dolls, but rather resembled the more ordinary looking characters, like Jeff, Howard, Jacqui and Jamie. Some of these are perfect replacements for our Jem characters, and because of a number of reasons and hints, some of us Jem collectors view them as Jem dolls.
This Jem-less year, infact turned out to be a year full of Jem substitute dolls. Whether you see it or not, is on you. It depends on whether you are a big enough Jem fan to care and to know these characteristics to begin with, and whether you are attentive. Perhaps your wallet doesn't allow you collect unlicensed Jem dolls, and some of these are very hard to get by now. Whether you see it or not, you won't find a single big Jem site that doesn't refer to some of these none-Jem IT dolls as Jem dolls. And lots of social media accounts calls them Jem dolls. It's just a matter of where they draw the line.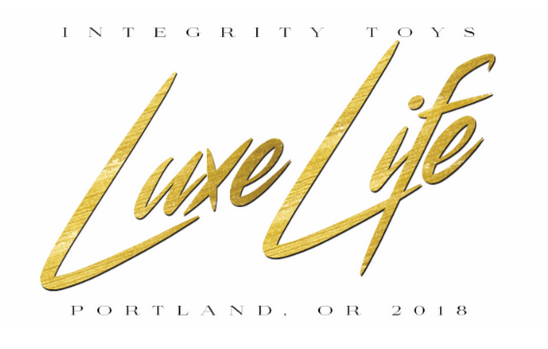 Most of the dolls presented on this page were announced at the Luxe Life Convention, or the "Jem convention" as I call it. Five of the dolls belong to the same set and were sold without a fashion, and there are no publicity photos with any recommended fashions. And all five of those have unpainted nails. So the fashion you see them wearing on this page, is a re-used and/or digitally re-colored outfit. So for them, the Jem-connection comes down to only the doll itself. And for four of them, how they each strongly resembles a member of the band Limp Lizards.
There is not alot to go by about the group, the Limp Lizards, from the cartoon, where they first appeared. But since they appeared in the very first Jem episode, as an invention by Christy Marx, this unfortunate sounding band have made a surprising amount of appearances in the cartoon aswell as even Jem books. They became almost an injoke repeating their same song "Broken Glass" whenever a story called for an extra band. Despite their several appearances, all we know is that they are all female bandmembers (except for in one book where some are male) dressed in lizardskin outfits. Well there are a few other details, but we infact don't know their names.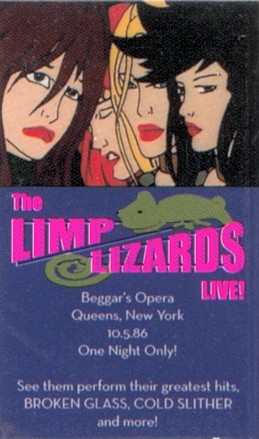 It makes sense if IT would ever release secondary characters like these, it would be in unlicensed form. Not even Hasbro considered releasing them in the 80's. But IT have given attention to the Limp Lizards before by including an accessory with the Broadway Jem doll with a picture and logo of the band. But the eyemakeup on these dolls is an IT addition because in the cartoon they have none. Limp Lizards or not, I can bet there is never going to be a doll from IT that looks more like them, especially released in a group like this which hints they belong together.
Other than these four dolls, there were three more dolls in this set, one of which Jem fans have dubbed "Shimber" since it's a mix of features from Shana and Kimber. The other two I see no resemblance in to Jem characters, other than one having the Pizzazz' sculpt, so they're not listed here.
Shimber is a very interesting doll, since she is a mix of features from two Jem dolls, and at first sight very much resembles Shana. But like the Limp Lizards, she was released with no clothing. Already in 2015 a "mixed" doll, a doll with Jem's sculpt and red hair was released (Jem = Kimber). And this year another doll, a mix between Stormer and Pizzazz was released in a separate set.
On top of unclothed convention dolls, and mixed dolls, there are three more dolls I will focus on on this page. Two bare resemblance to unreleased Jem characters, one of them quite strongly. And a third one, which was not a convention doll, wears a recognizable outfit that might be of interest to some Jem fans.
Off-site information about these dolls:
Promotional pictures from this page may not be reposted without permission from Integrity Toys, and may only be used by Integrity Toys and their authorized dealers for selling the dolls.