Here you can find every doll released in the Integrity Toys Jem line, aswell as extra heads, extra fashions, separately released fashions, playsets, and even some lookalike dolls and fashions by Integrity Toys.

They're all added on the same page for an easy overview, and since there are so many variations in ways of releasing things. In some cases on this page, the doll itself is repeated only to pose a separate fashion, or a fashion is repeated to pose a fashionless doll.

If you find it hard to determine what is what, click on the doll to go to their detailed page with information and pictures of all the clothing pieces, accessories, other contents and packaging.

Below on this same page you can also find pictures of all of their clothing pieces and accessories divided into categories. Clicking an image of an item will bring up a larger image. Holding the pointer over the image, will reveal a tooltip of what doll it belongs to. If you want to learn more about the item, some of them have more pictures from different angles on the doll pages, including descriptions.

Dolls

2012

2013

2014

2015

2016

2017

2018/2019

2020/2021

2022

Playsets 2013-2017

70 dolls have so far been released in the Jem doll line by Integrity Toys / Hasbro from 2012 until 2022, or... 77 if you count extra heads, or even 95 with the separate fashions (and that's on top of the ones I already counted that included an extra head), and about 116 if counting the unofficial Jem-like dolls by Integrity Toys.

All official dolls come with atleast two pairs of hands (except for Glitter 'n Gold Aja and Shana), atleast one entire fashion, a pair of shoes, and a stand. Some come with earrings and/or other jewelries, microphone, microphone stand, instrument, cord, cardboard prints, instructions and/or certificate of authenticity (some a unique one that says how many were made). And most come with extras on top of that.

Several dolls, except for some Comic Con exclusives, come with instructions for things like hairstyling, stand, removing hands or even heads, assembling instruments or a cardboard stage.

- Hair color: Many of the dolls have one or several punk hair colors like pink, red, blue, neon yellow, purple or rainbow colors. But some have less recognizable colors like blonde, black, white or yellow. These dolls have several different types of hair compared to the 80's dolls and most of them come styled stiff with spray in it.

As the hairstyling advice included with some of the dolls say, you can gently spray a little bit of cold water onto the hair to make it get it's right volume, and use a longtooth comb. I haven't done this, so on this site you will see the hairstyles pictured as they came in the box. The advice also says you can wash the hair using cold water and a small amount of dishwashing detergent. Rinse their hair thoroughly, gently style it using a toothcomb and leave it to air-dry overnight. NEVER use hot water or a hair dryer on the synthetic hair!

- Markings: The markings don't necessarily correspond with the year they were released. Most males are marked "2012 IT" on the back of their head, and "2006 JWU BY IT" on their behind.
Females so far are marked "2011 IT", "2012 IT" or "2013 IT" on the back of their head, and "2012 Integrity" on the left side of their behind.

- Bodyshape: There are basically two different types of doll bodies, Regular 12 inch (30.5 cm) female shape (back), 12.5 inch male shape (back). All dolls have removable hands. Some of the IT dolls pictured on this site that belong to other lines by IT than Jem, have a different shape of body, perhaps most notable by the smaller size of feet. Since the beginning of the line in 2012, some changes have been made to the bodies, or certain releases atleast, where more parts are removable. Like Clash, that makes use of the "quick switch" feature where you can switch heads.
The female dolls body sculpt was a new one, designed especially for this new line. While the males is a re-used body used by Integrity Toys in their lines before the IT Jem line. Both body types are different from the 80's Hasbro Jem doll line, thinner, but very poseable.
The skincolors of the bodies are mostly realistic tones, except for Synergy which has a lavender body color. Unlike the 80's dolls, these don't have rubber legs and arms, but hard plastic. The female dolls hands and feet have nailpolish.
The heads are smaller than in the 80's line. Most face sculpts were created for the Jem characters (except for Regine, Techrat, Sean and Eric so far, aswell as some that in later releases got a change of sculpt into one from another IT line). For the first years, all dolls of the same character shared the same face sculpt, but later some switched, like Jem, Jerrica, Stormer, Rio, Aja, Minx and Rapture. A few dolls heads suffer from not being correctly handled in the factory, which means the head can appear pushed in and more flat than it's supposed to. But Integrity Toys has a fix for this, which I will add more about.
Integrity Toys took the makeup a step further from the 80's doll. Although they softened it down from the extreme rockstar type, they did make it more advance with more shades and even glitter and things. Eyelashes are hand applied. Some of the early dolls have the problem that the eyelashes fall down a bit.
Look-alike-dolls: The bodysculpt created for Jem, was later shared by some of the other lines by Integrity Toys, as well as the facesculpts, like the Color Infusion line. Which also means there's a bunch of more fashions and shoes that fit the Jem dolls.
Fashions
All pieces of clothing this line consists of, are very detailed and high quality fabrics. Alot of the fashions are even sewn with an inside fabric aswell, probably a fabric that slides off the doll bodies more easily, especially when the outside fabric is leatherlike. But some of the fabrics are somewhat fragile, especially leatherlike fabrics, so handle gently. Many of the bigger pieces have a tag inside with the Jem logo or which says "35th Anniversary". The back of the tag sometimes says "2012" regardless of year, but some say later years.
As for closing the fashion pieces, two different types of hook-and-eye are by far the most common, where the female have the hook on the left side of the opening and males on the right side. Sometimes there's a pearl instead of a hook, but there's also two kinds of zippers, one which is very hard to grab. Some fashion pieces even have velcro closure. Some hook-and-eye closures make it hard to pull the fashion as far as it takes to unhook the hook, and some of the closures break because the thread is or becomes loose, so be gentle with them. Any clothing should be carefully put on and taken off, since some are fragile and tight. Infact a very few pieces of clothing were sewn onto the dolls at factory it seems, because they cannot be removed without breaking a seam. Integrity Toys choose to do some of the fashions differently, so what was a dress in the 80's release, may be a top and a skirt in the Integrity release.
Headpieces
Hairbows, hairties, headbands, hairpieces and hats.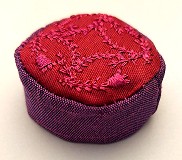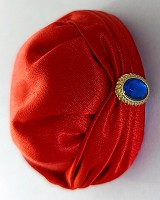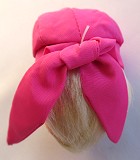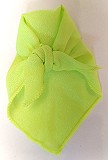 Jackets/Coats/Cape/Capelets/Waistcoats
When it comes to jackets, that's where Integrity Toys really get to shine. These are some of the most beautiful and well done pieces of the entire line. Most of them include a tag inside, infact all but Danse's jacket for some reason. Male and female jackets/coats mixed togheter here.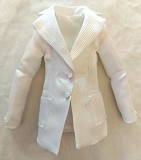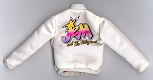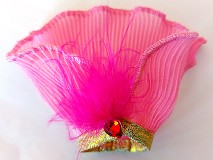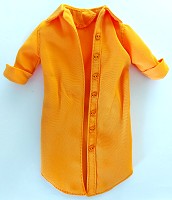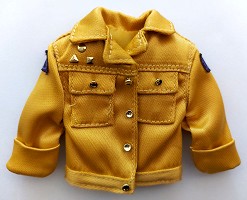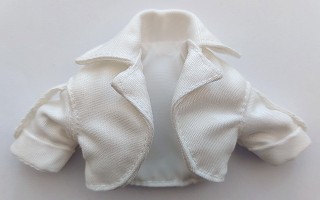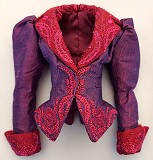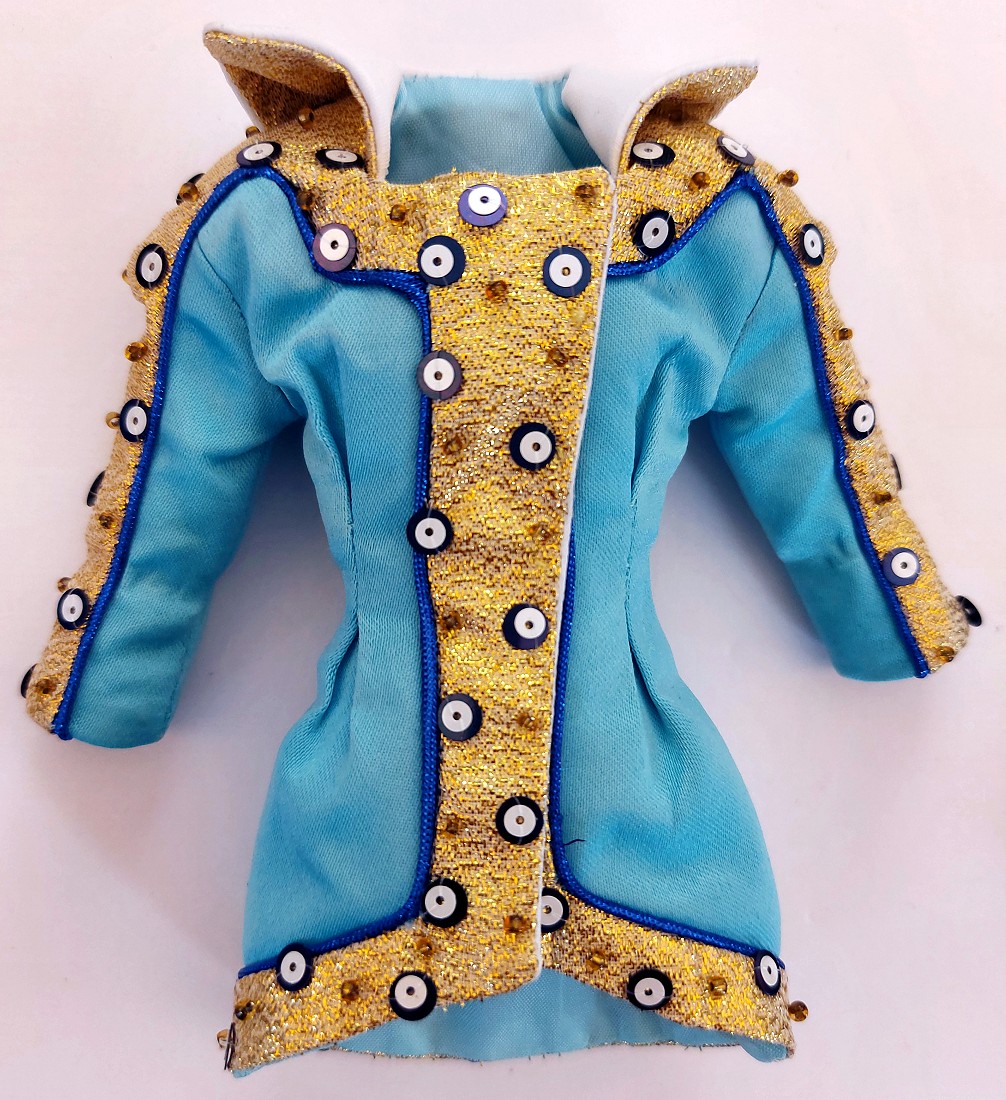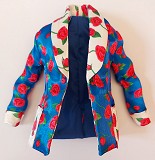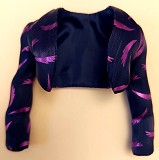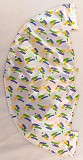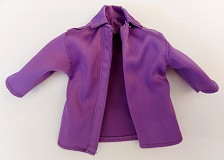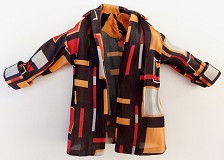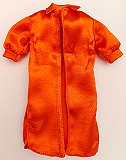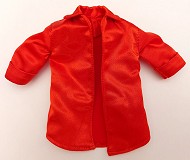 Tops/Shirts/Blouses
A couple of these don't open down the entire back and therefore may need to be put on before anything on the lower body. Male and female shirts mixed togheter here.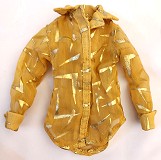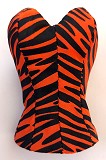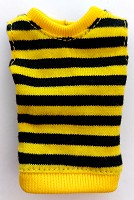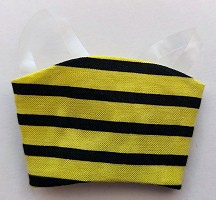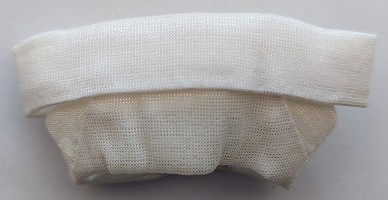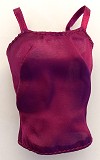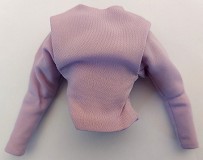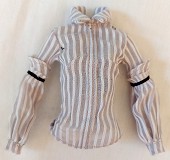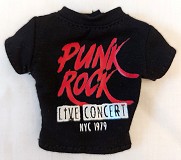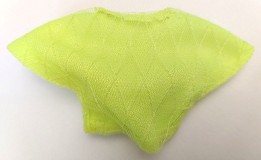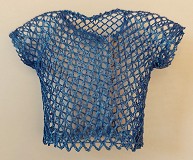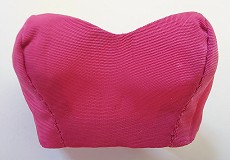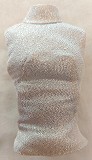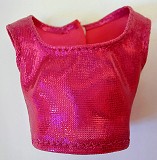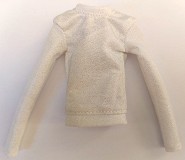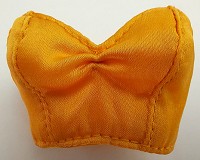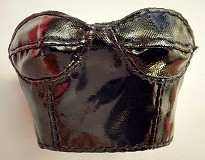 Dresses
Most of these have a tag inside.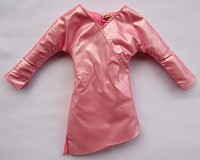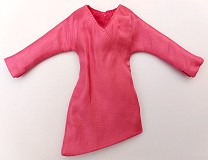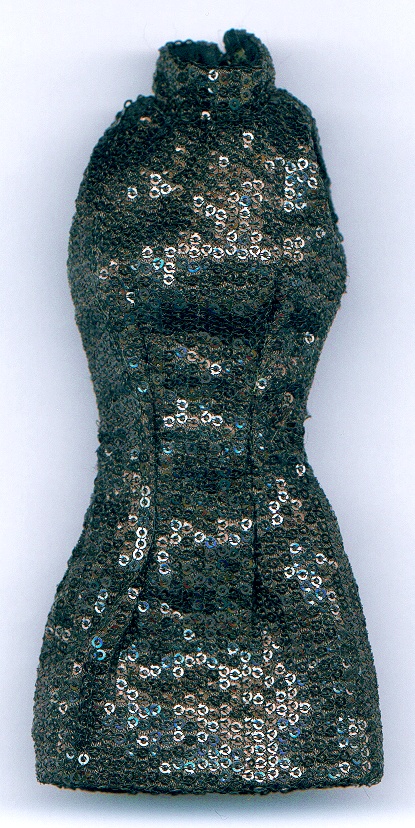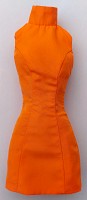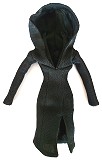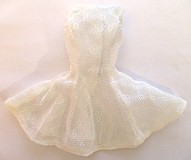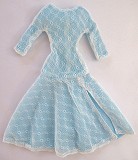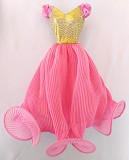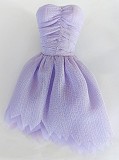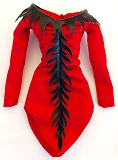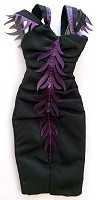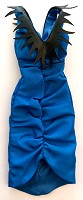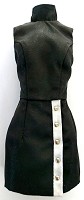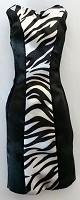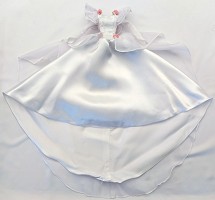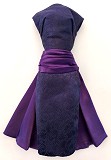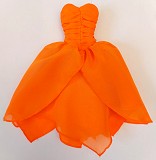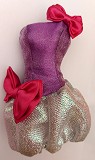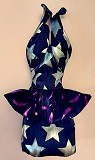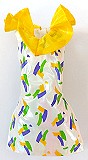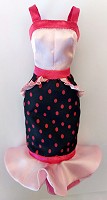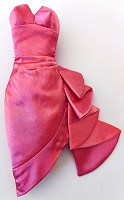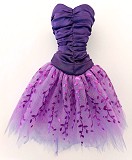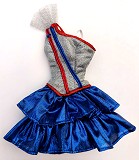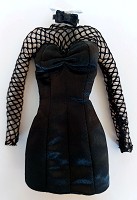 Jumpsuits / Bodysuits
Some of these may be some of the most difficult pieces to put on, since they are very tight and need to go over legs and arms.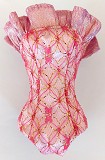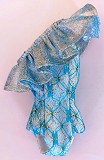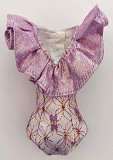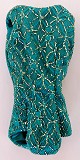 Skirts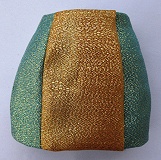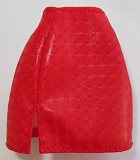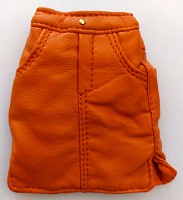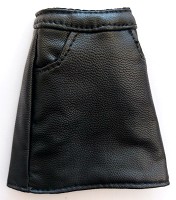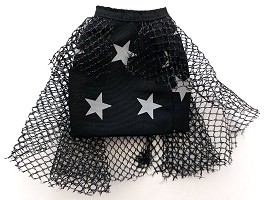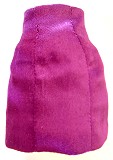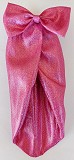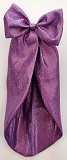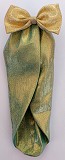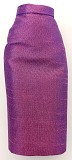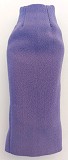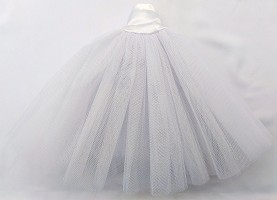 Stockings / Tights
All have an elastic waist, but not all are very elastic in the fabric. Some are the same for several dolls, but I haven't compared them up close to know exactly which ones and how alike they are.








































Pants/Shorts
Male and female pants mixed togheter here. Some close in back and some in front. It seems most male pants close in the front, while the female in the back.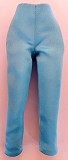 Belts
Male and female belts mixed togheter here. Lots of different pieces here, some of metal or parts of metal.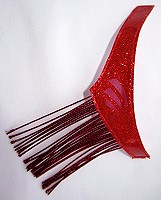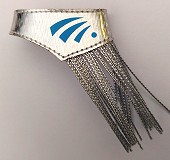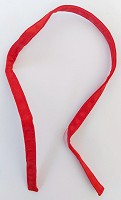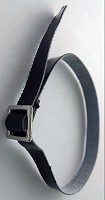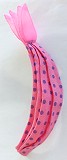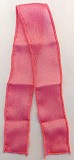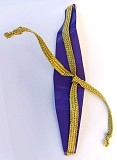 Arm cuffs / Gloves
Some of these are meant to give the illusion of being gloves while being worn over the chromed hands that came with the same dolls.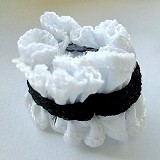 Socks
Male and female socks mixed togheter here.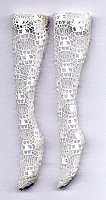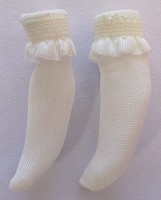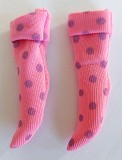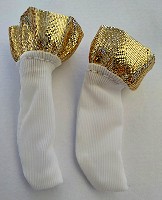 Other clothing
The pieces that don't fit in in the above categories. Male and female fashion pieces mixed togheter here.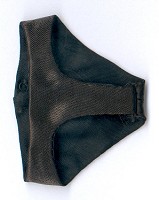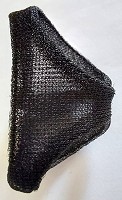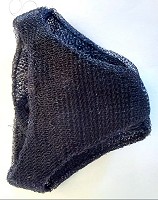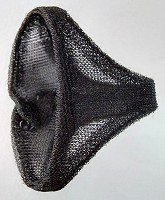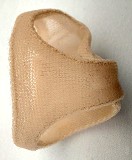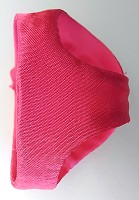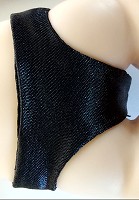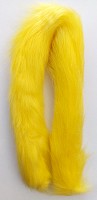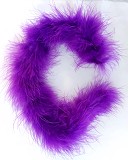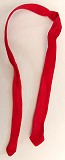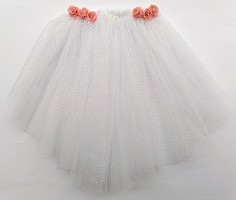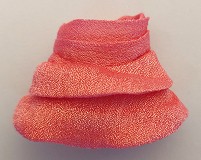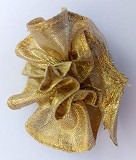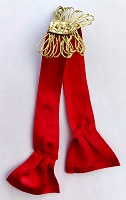 Shoes
Shoes in this line are not one-piece plastic, but detailed handmade ones made of fabrics and some leatherlike/rubber material for soles. The female doll feet are not as large as they were on the 80's dolls, but still a bit larger than most fashion dolls today, and thereby the shoes are too. There are many different shapes of shoes, and several different kinds of fabrics. So two pairs of shoes that may look alike colorwise, probably have differences in the fabric that are hard to spot in these pictures. All dolls came with either beige, black or white outsoles, and a number of colors of their insoles.
Want even more shoes for your Jem dolls? Look for more shoes in the Color Infusion line, also by Integrity Toys, since they are the same size.
Pumps
These are the regular look for shoes in this line, although as you will notice, Integrity Toys often made little adjustments to alternate the shape. This was sometimes done with the original dolls or cartoon look in mind, and sometimes regardless of them. Some may look alike, but none are identical.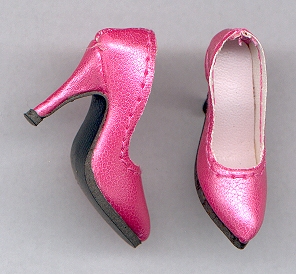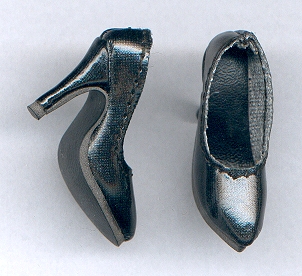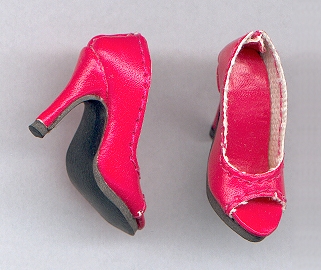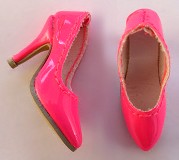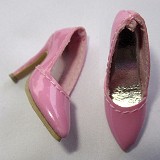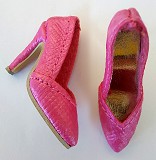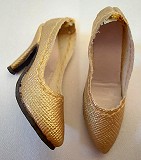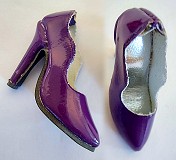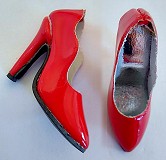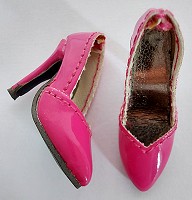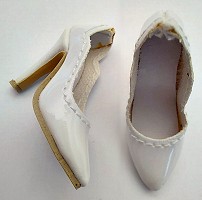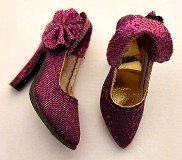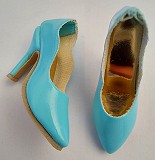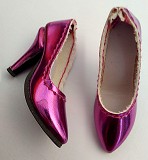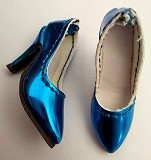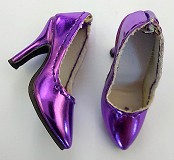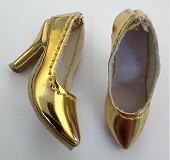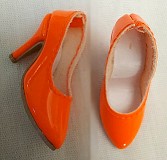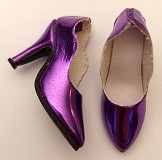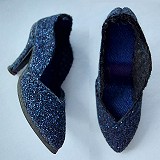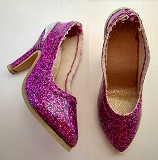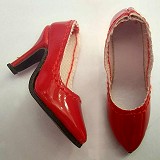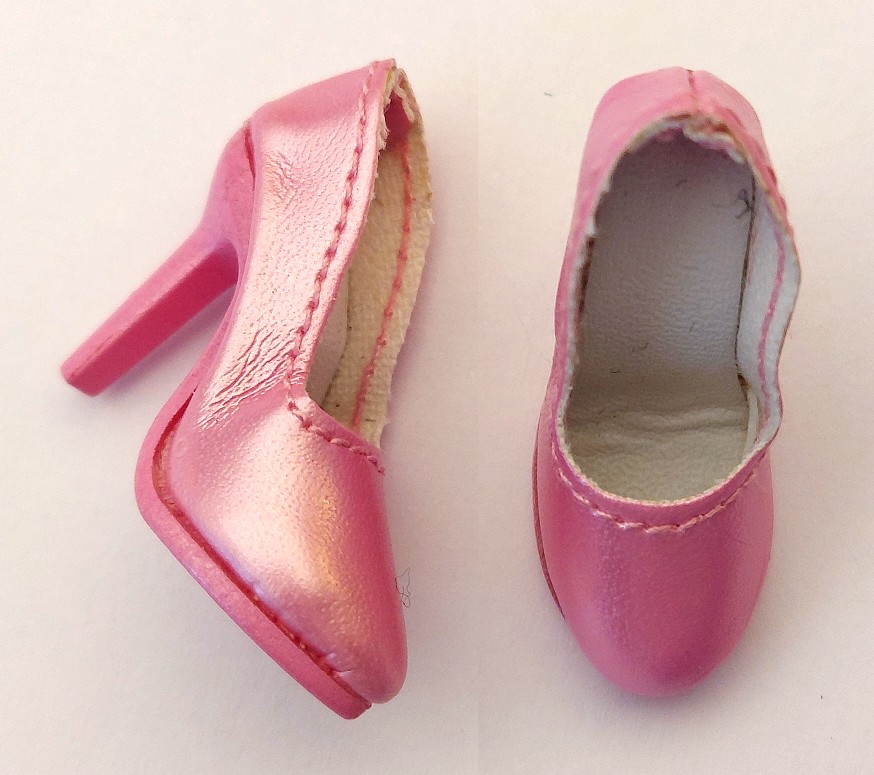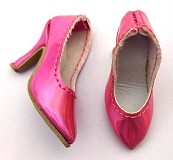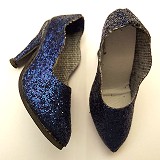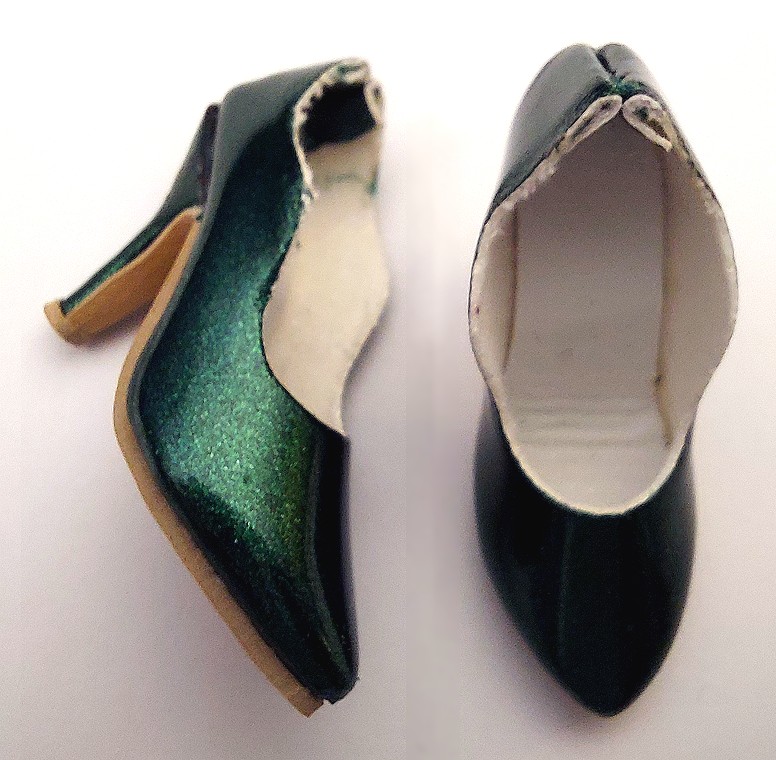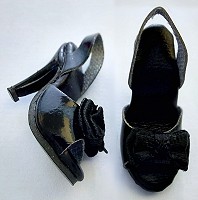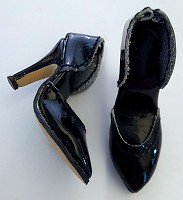 Boots & more
This is another example of Integrity's brilliance in making miniature masterpieces. Such detail and even real working zippers in the back, shoe laces, and working buckles.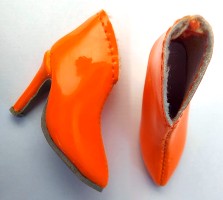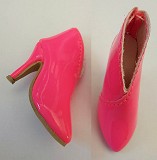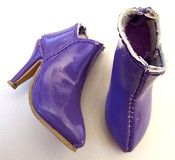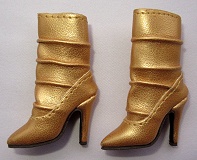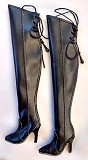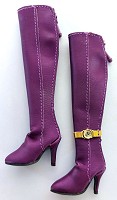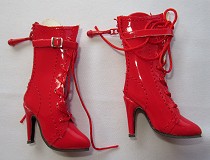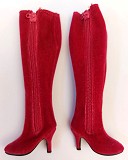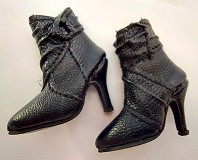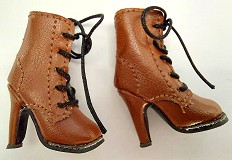 Male shoes
Bigger of course than the female feet.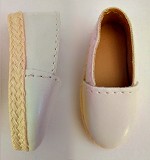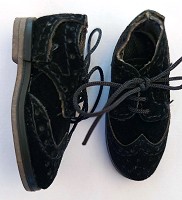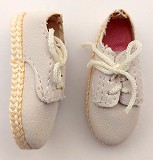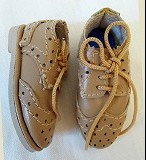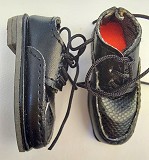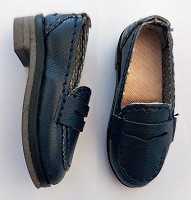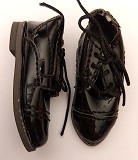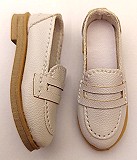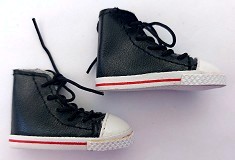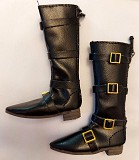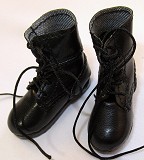 Accessories
Hands
Everyone who likes Jem raise your hands!!!!!
Each doll had atleast one set of extra hands, some two or even three pairs. If you move the pointer over the pictures, you'll see the tooltip says more than what character they belong to, but also if they are the extra hands. You can't tell them apart by skintone nor nailpolish by looking at these pictures though, since they weren't scanned all at once in the same light, nor edited at the same time, so it differs from picture to picture regardless of actual real life difference.
There are apparently as much as five different pairs of sculpts for the female hands, aswell as five pairs of sculpts for the male Jem hands. Perhaps the most notable different look are perhaps the gripping hands. As far as I can tell, IT most of the time included the same pose of the left hand with the same pose of the right hand, so you got a specific "matching" set. But I will look into all of this more closely.
Hands are often more easily removed if pulled gently. But don't be afraid to pull hard, since the tightness of the plastic varies on different dolls. But then again this is no playline and perhaps they won't take a whole lot of removing.
Be careful with the chromed hands, when attaching and removing them. Any extra effort may cause you to bend the fingers which will cause direct loss of chrome.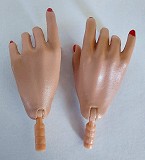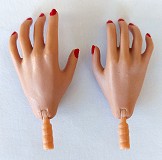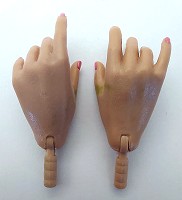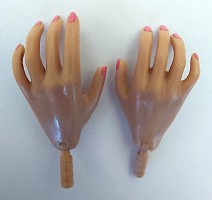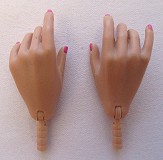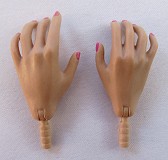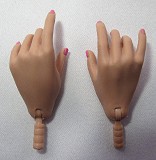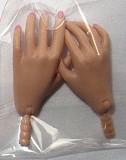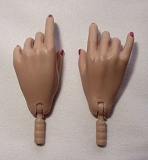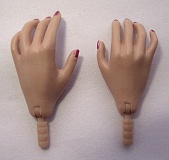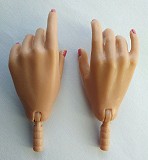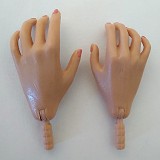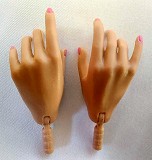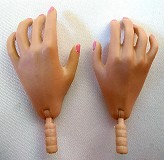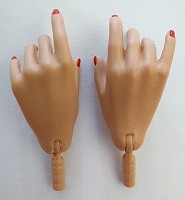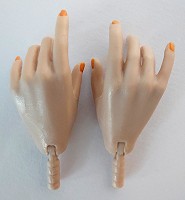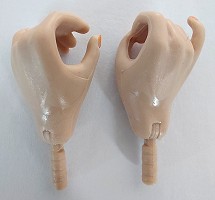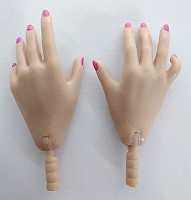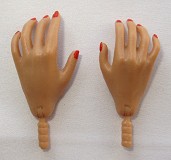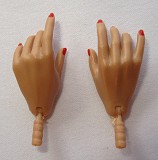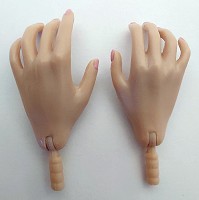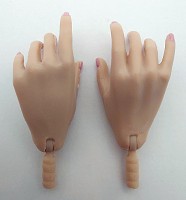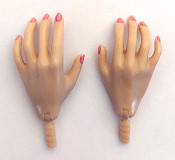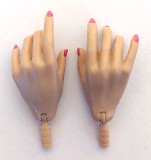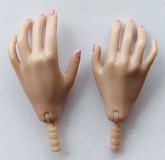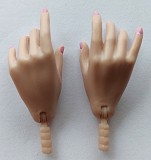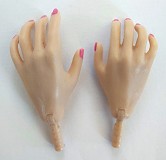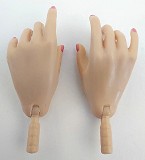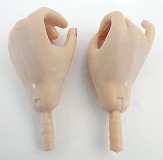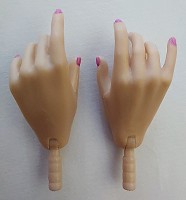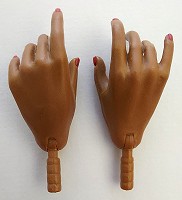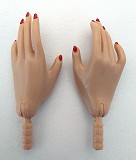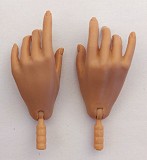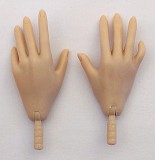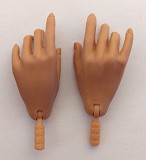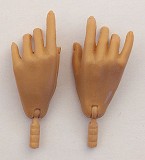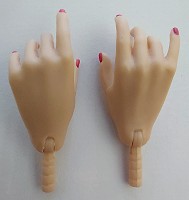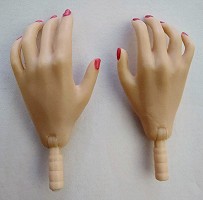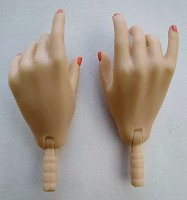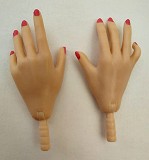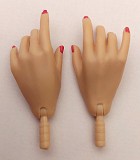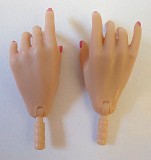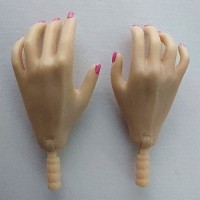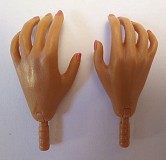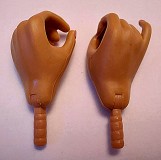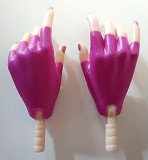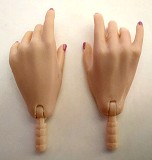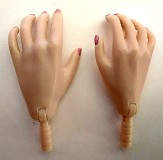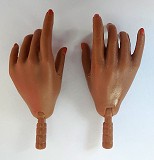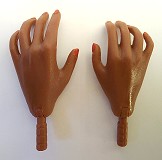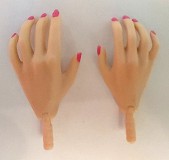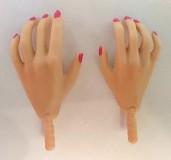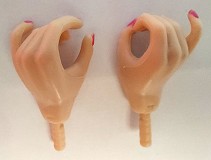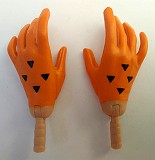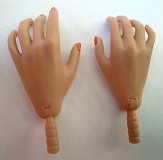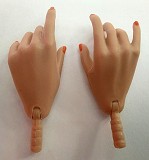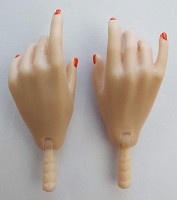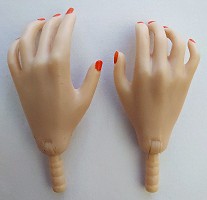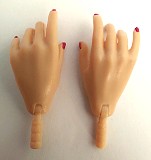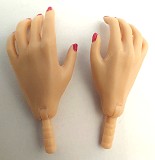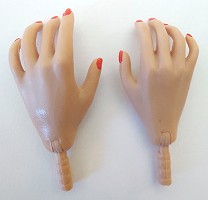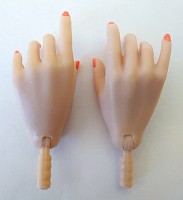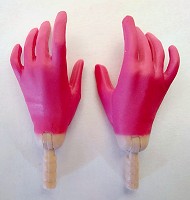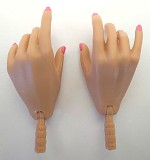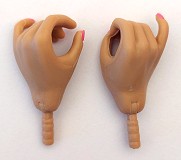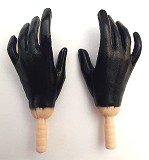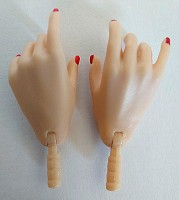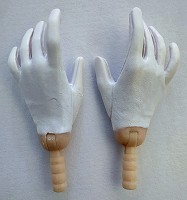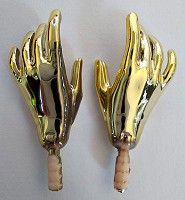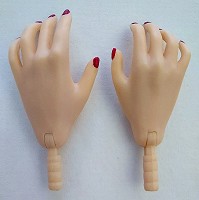 Male hands - Rio/Riot
Male hands are bigger, even if you can't directly tell by the images, and were not painted with nailpolish. These can practically fit in female arms too, since the part that goes into the arm is just as thick, but a slightly different shape though, so I'm not sure they will stay on.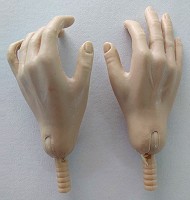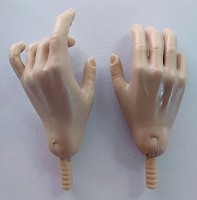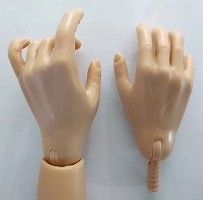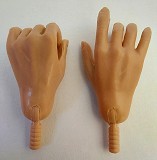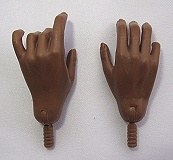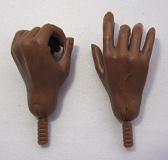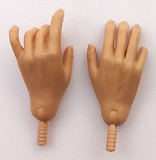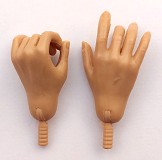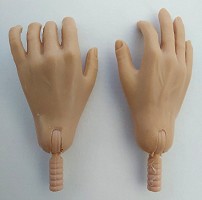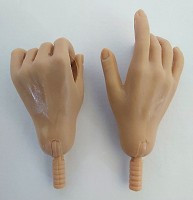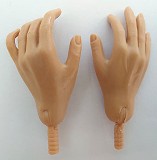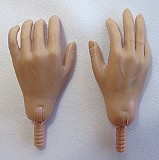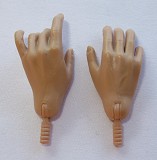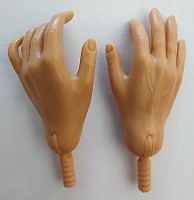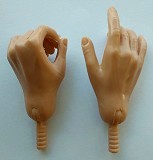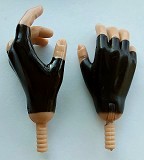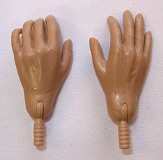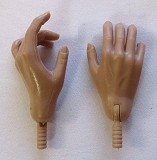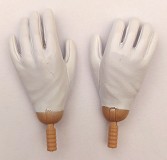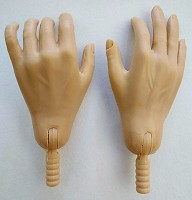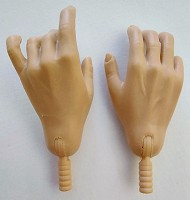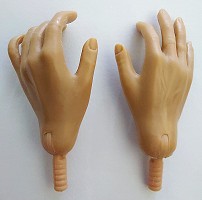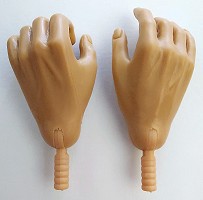 Stands / Microphone stands / Cords / Power cables
To pose your Jem dolls and their microphones, and cords to connect the parts.
The stands are similar to the 80's Jem doll stand in their oval plastic base shape with the Jem logo. These have a hole on top to put in the pole, plus a couple of smaller holes on the sides to attach the cord. The male dolls as you can see, are missing one piece to put on top of the pole on the stand, so you can not pose them in the saddle support, only the underarmsupport, and the underarm support pieces are in a different size for female (smaller) dolls and male (larger). The stand bases are the same though, for male and female dolls.
A few different types of stands have been released in later years. And there are even differences in the ones that at first glance look the same, since there are several prints of the black ones of which the color of the logo differs slightly depending on what year they have on the underside 2012/2014/2016, and the pink acrylic stands are available with two different logos. No male dolls came with stands marked 2016, only 2012 or 2014, unless there are some unknown variations. The square-shaped stands are not officially part of the Jem line, but other lines by IT.
The microphone stands consists of a pole, adjustable in height and at direction of the mike on top, to be placed in the round golden plastic base.
The cords are plastic/rubbery black, with chromed plastic connectors, to connect to the stand to the microphone, instrument or other accessory. All dolls that came with a microphone stand, guitar, keytar or synthesizer, also came with a cord as pictured.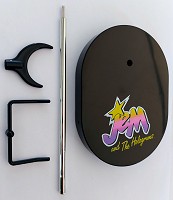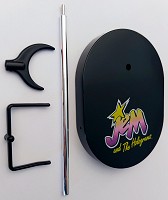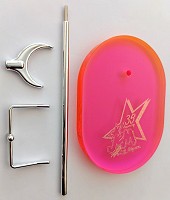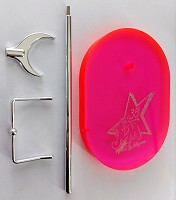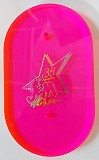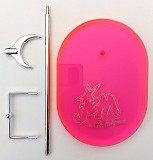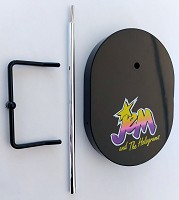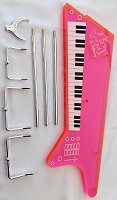 Instruments - Guitars/Keytars/Synthesizers/Drums/Saxophone
The instruments consist of guitars, keyboards, keytars, saxophones, drums and a few other things. The guitars have realistic miniature strings, black and chromed tuning knobs, and a metal whammy bar. All of the Holograms' instruments come with a differently colored strap, while the Misfits came with a black strap, and so did the Stingers. The straps have metal buckles and black leather-like pieces to attach to the guitar. Raya's drums consisted of so many parts I decided to show you the assemled version here, but the drumsticks are pictured separately. Jetta's saxophone came with a different kind of strap from guitars and keytars. Instruments were also included in the accessory kits. Clash's bracelet cymbals might aswell have been added here instead, but she doesn't use them to play music anyway.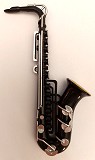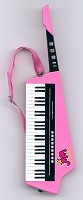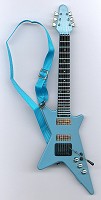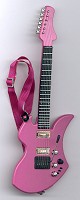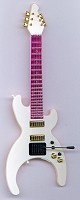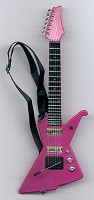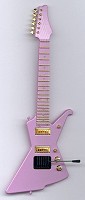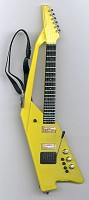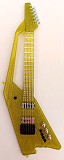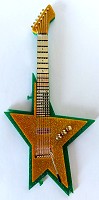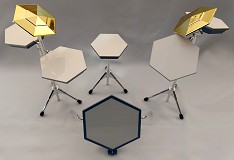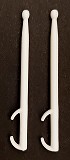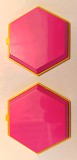 Microphones
Plastic with chromed top and button, and another color (sometimes chromed) handle. Each doll that came with a microphone, also came with a cord to connect to the stand, unless they came with the later wireless microphone, which are the ones with a pointy bottom in the same color as the top. However, both types of microphones are the same sculpt, and the pointy bottom can be removed, so the hole instead can be used for a cord. Not only singer dolls came with these, also Video came with a microphone. And not all singer dolls came with a mike.


















Earrings
All the earrings are made of metal, with different pieces inside, like gems. Some are hoops. And some of course the Jem star earrings. Unlike the 80's line these dolls don't come wearing the earrings, and you have to put some effort into getting them on. But the heads have pre-made holes so you know where to put them in. Some of the earrings consist of several pieces which in some cases are not stuck together, but they stay on when put onto the doll. The metal earrings are not recommended to be left in the dolls, since they may stain them.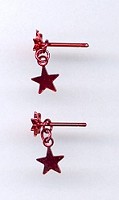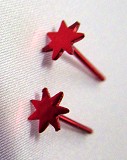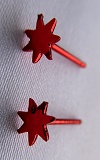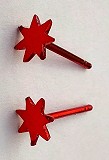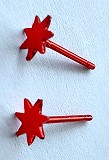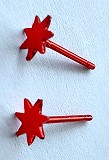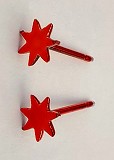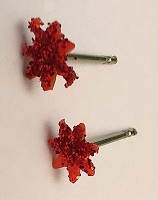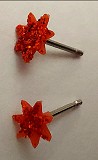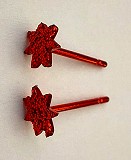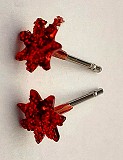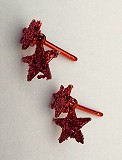 Necklaces / Anklets / Brooches
Metal chains and pearls, and I included In Stiches Pizzazz collar here since she does wear it on her neck. Also including anklets here.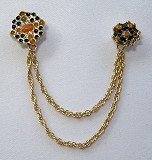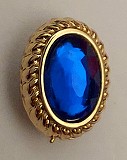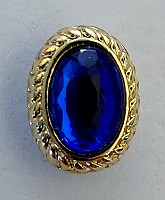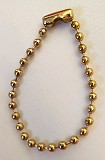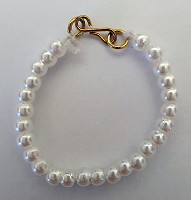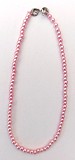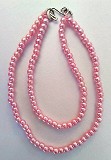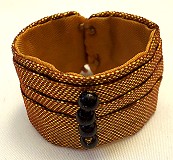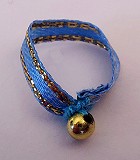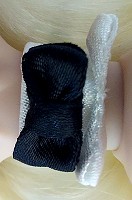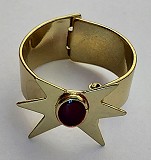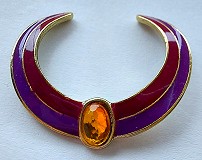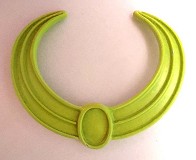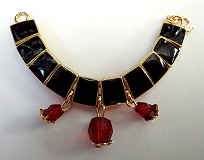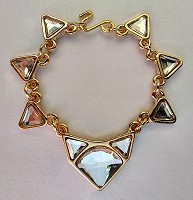 Bracelets
Several different shapes. Mostly made of metal. Bracelets can usually only be put on if hands are first removed.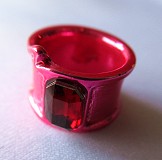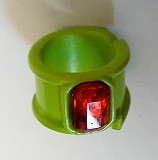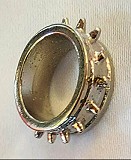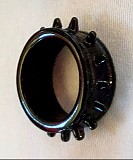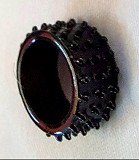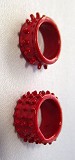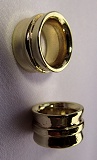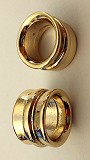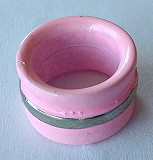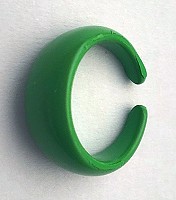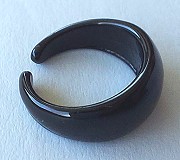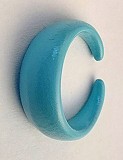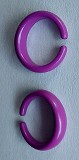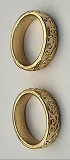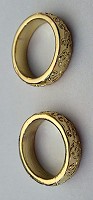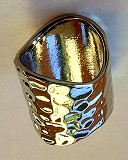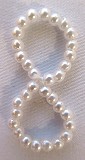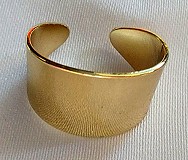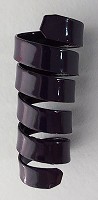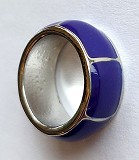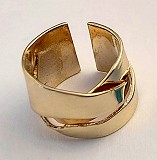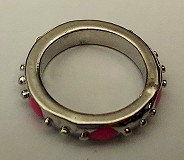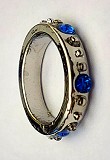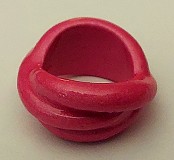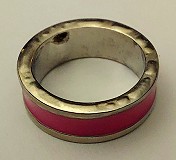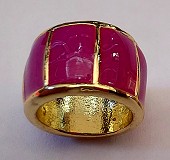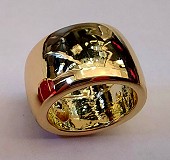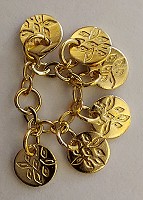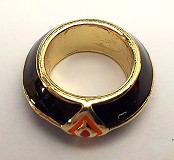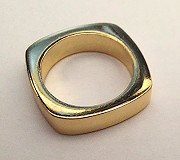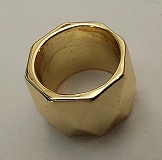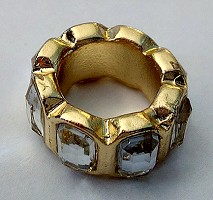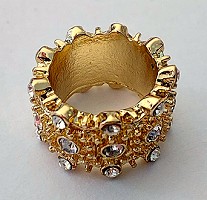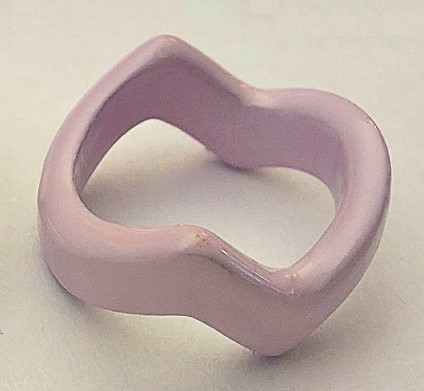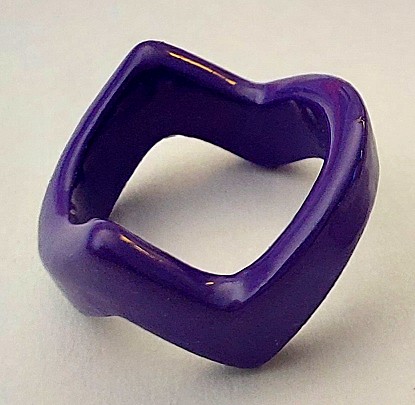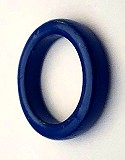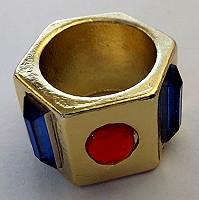 Rings
Made of metal. Very small accessories and easy to lose.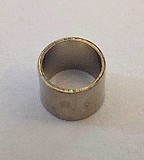 Bags / Purses / Portfolios / Guitarcases
Made of leather-like fabric. These are some of the most fun extras, and the ones with the Stage Essential sets are truly amazing.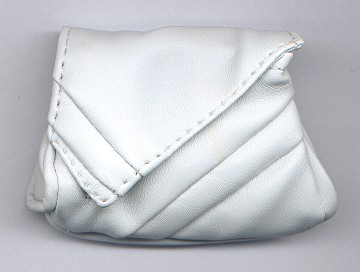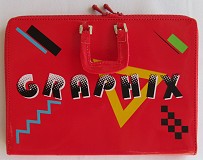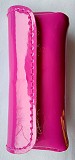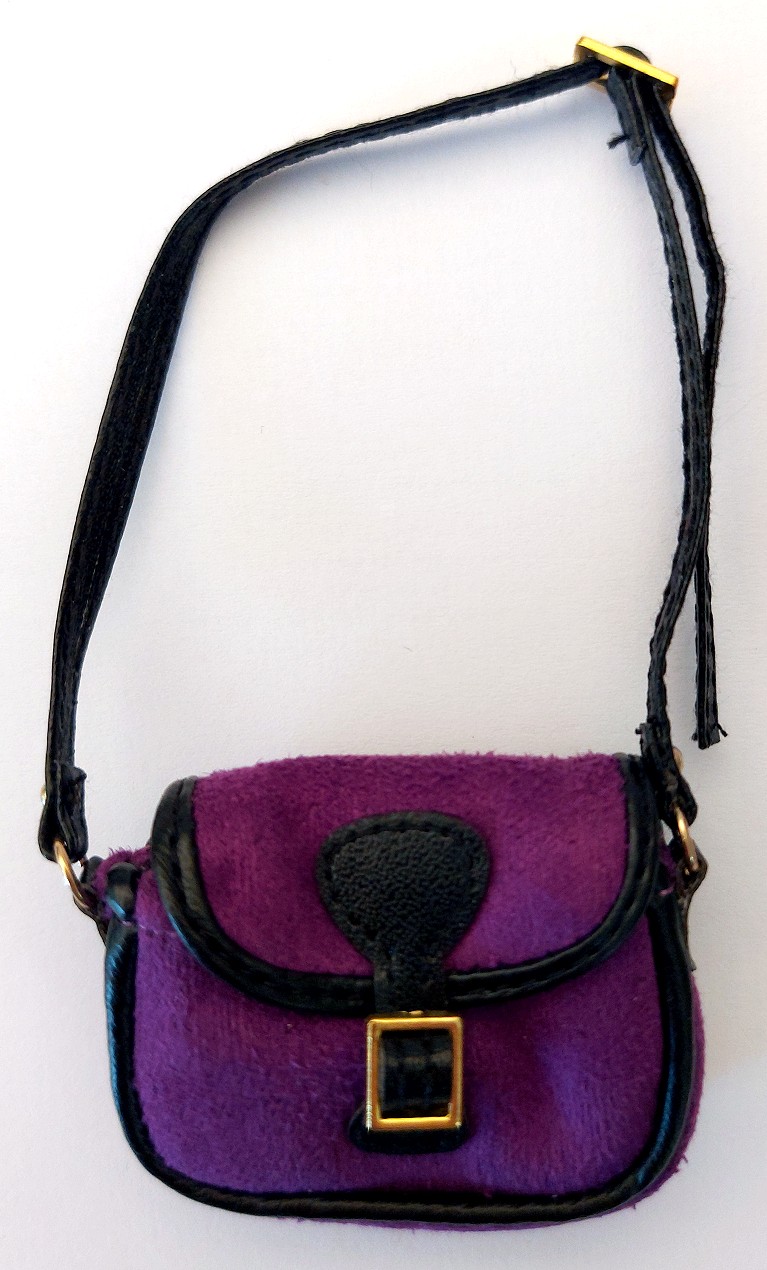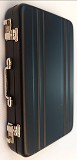 Other accessories
A mix of accessories in different materials, of which there were only one or a few released. Some very unusual one of a kind pieces that bring that extra level of suprise to the dolls. Made of metal, plastic or fabrics. I included some of the parts of the playsets here aswell, which depict certain items, while the rest are gathered in other categories, like the below ones.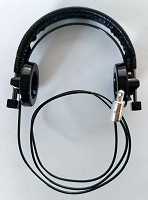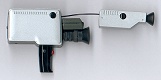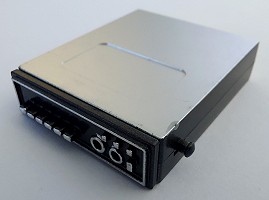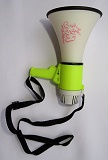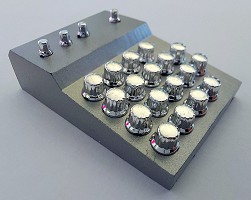 Cardboard accessories
Alot of the printed cardboard extras are things from the cartoon, such as posters, magazines, music notes. Most of them were directly based on something seen in the cartoon or the 80's doll line, but several were invented by Integrity Toys aswell. Some even come folded, or are to be folded into 3-dimensional shapes. Some very clever pieces here. Gift box, record with actual cover, fold-out speakers.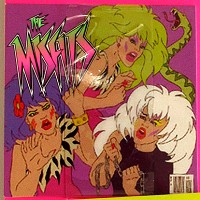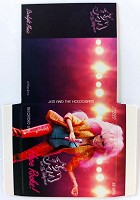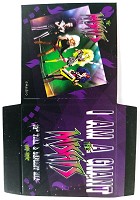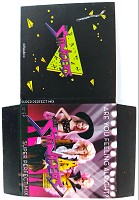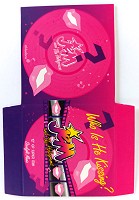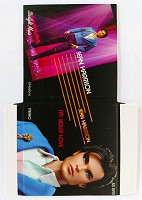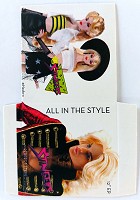 Playset cardboard parts
Larger cardboard pieces, most of which in themselves don't depict anything, but are meant to be assembled into something larger.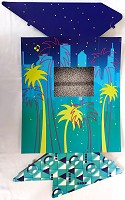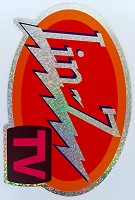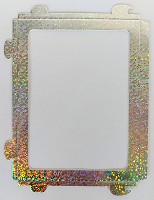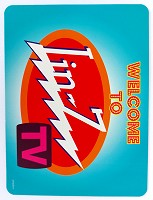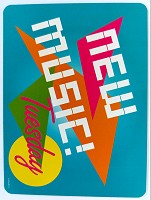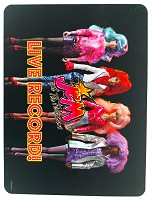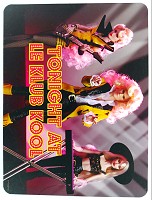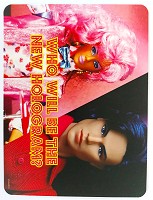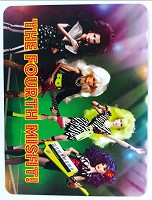 Playset plastic/other parts
Larger cardboard pieces, most of which in themselves don't depict anything, but are meant to be assembled into something larger.