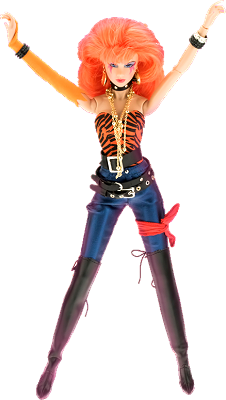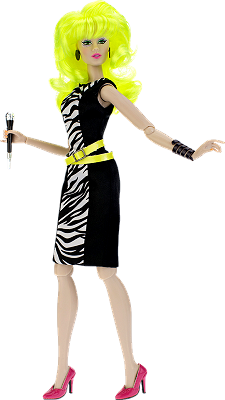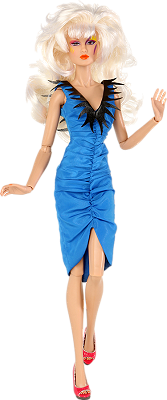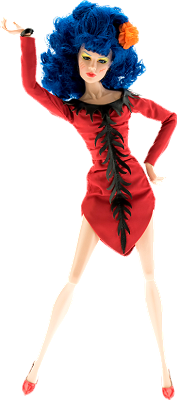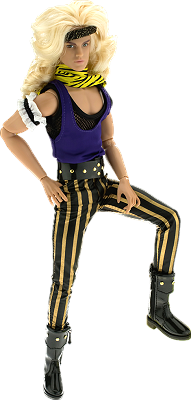 This was a year of a big boxes with multiple accessories, re-released characters, and some characters that had never been made into dolls before. And sadly this was the first year, since the line started, that we didn't get any Jem doll for Comic-con, well infact we didn't get a single interpretation of Jem herself.
This year IT got back into the idea of the first year, of making a set of dolls, Riot/Stormer/Kimber/Pizzazz. All sold separately, although they didn't all have a direct connection to each other fashionwise. These came in a new kind of very special box which was designed as a playset, resembling the Rock Backstager from the 80's line. IT really outdid themselves with these boxes. After many separate releases, it felt like this line was back to its glory days. All of these dolls even came with an extra outfit and a new accessory in form of a Jem-style transparent neon chair. Two of the dolls, Kimber and Stormer, were matching to depict their duo from "The Bands Break Up".
For the first time in this line, IT added some popular bonus outfits for purchasing some of the remaining dolls in their stock: Pizzazz, Roxy, Stormer, Minx, and Rapture. These dolls of course came with everything the original doll came with (although on this page only the bonus outfit will be mentioned in the reviews). It was a surprise announcement, and the dolls with bonus outfits were all ready to ship immediately, shortly before Christmas, which was stressing to many completist collectors at first to raise money since the amount available for limited according to amount of dolls still available for sale of those characters. IT did work out payment plans for their customers though to get around this. Although you had to re-buy a doll you already had, you did get a high quality doll and a new extra outfit. But IT were not only competing with people's Christmas budget, but kinda competing with themselves aswell, since they had just released a new Pizzazz and Stormer that same year.
Off-site sources of Integrity Toys:
Promotional pictures from this page may not be reposted without permission from Integrity Toys, and may only be used by Integrity Toys and their authorized dealers for selling the dolls.