Two years beyond the 35th anniversary, and it seemed the line was back to stay. Our imaginations ran wild again, anything felt possible! At this point IT has already released alot of iconic fashions, but there are still so many amazing ones left that would look great in IT doll form, aswell as unreleased characters.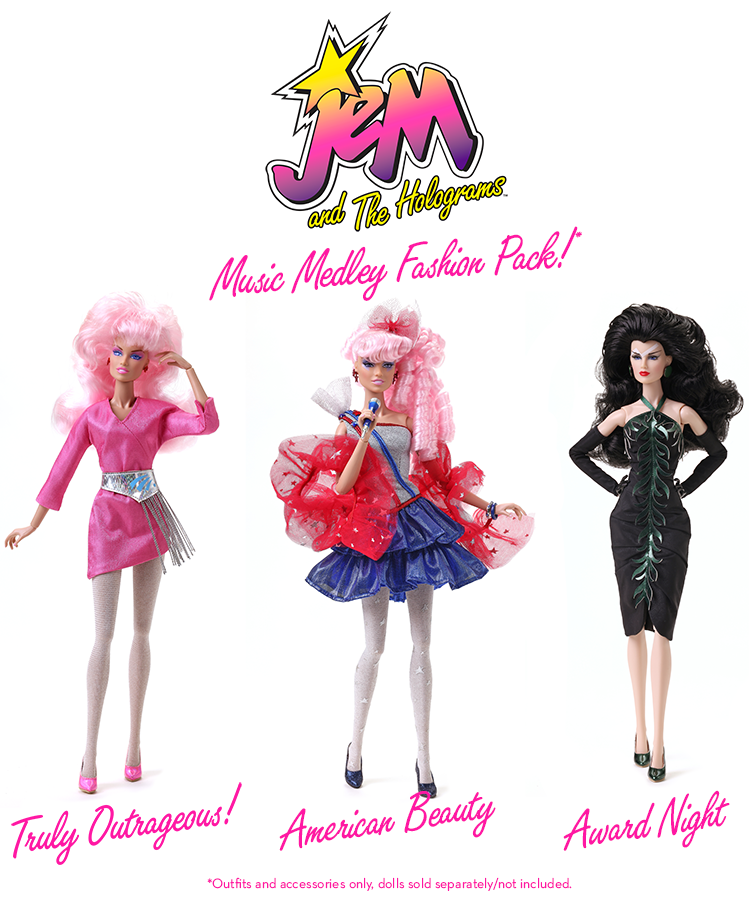 It started the best way possible, with cartoon-only looks for a none-lead character, Roxy. If there is one thing, that IT are good at, except making the worlds most high quality dolls, it's to surprise us with a great mix of different kinds of releases. Two Roxy dolls in the same set, separate fashions, and a Jem doll in one of the fashions left to release from the 80's doll fashions.
Jem fans were very excited to see what else was to come. Fans dreamt of everything from repeats of fashions in different colors, fashions that would match previous ones, extraordinary iconic cartoon looks like magicians and mermaids, the iconic Permanent Wave for Kimber, more characters, Red Johnny Mac and Jem as Beauty, a new Zipper, Flash 'n Sizzle Jem, a new Rapture and Minx matching the Perfect Match Riot, a new Danse, and discussed most of all was a new Synergy in her computer form.
Second announcement was the most iconic of the remaining looks to choose from of the first year 80's fashion, Command Performance, and also appeared in the cartoon with another color, and even as a re-colored version on a doll called Flash 'n Sizzle in 1987. IT announced it in an online webinar, and it turned out they choose the cartoon coloring. Also announced at the same time was a set of three fashions, a Jem look so iconic they could have made it long ago, the unreleased 1988 doll American Beauty which also appeared in the cartoon, Jetta matching outfits for the other Misfits Award Night outfits, and a third version of Jem's main dress but this time in a fabric made to hold better in time compared to the previous releases which some fans had some bad luck with.
New this year was the stands. Same look as the 35th anniversary stands, but with the regular logo instead and no holes in the sides to attach a cord, since no dolls this year came with cords.
Unfortunately in early 2022, IT announced they would be announcing one last collectible this year, and then the line would end again. It turned out the last collectible was a very exciting set of Rapture and Minx, that several fans had been asking for, in their outfits that match the 2020 Riot doll, from Houdini Magic. Some of the coolest outfits they wore in the cartoon in my opinion, and both in different head sculpts. It remains to be seen when the Rapture and Minx doll ship whether they have the 35th anniversary stands or not, since they were apparently meant to be part of that line, matching Riot.
The fun didn't stop there though, atleast not for Jem fans with imagination that had been dreaming of a Jem and Red Johnny Mac set from Beauty And The Rock Promoter. No such thing was released, but a redhead male doll called Maverick, in an outfit that could easily be a substitute for those who wanted Red Johnny Mac. Many Jem fans agreed this was a great replacement option.
Is it too early to dream about a 40th Anniversary line? Well we Jem fans already know what we would want for it!
Off-site information about these dolls:
Promotional pictures from this page may not be reposted without permission from Integrity Toys, and may only be used by Integrity Toys and their authorized dealers for selling the dolls.