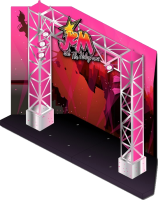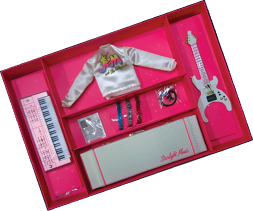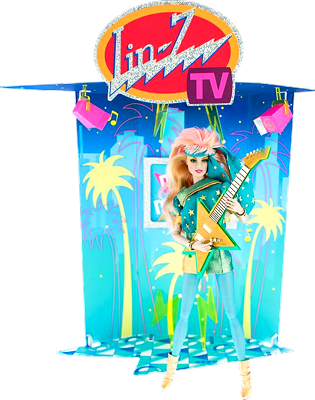 The line of dolls by Integrity Toys is first and foremost about dolls, and all kinds of doll fashions and accessories, even big accessories at times, but usually not so much about bigger playsets. But for the Jem line, anything seems possible. So far, as much as three sets have been released which I choose to count as playsets. First a cardboard stage, then sets of accessories inlcuding instruments and clothing and more, and lastly a studio. I'd also like to add there have been several doll releases with boxes that resemble dressing rooms and includes a stool, aswell others where the packaging resembles the eiffel tower or the shop doors to the House of Glamour, some where the packaging is made like a carry-case, and one doll release included a new backdrop made to fit the 80's Star Stage. I choose to list those among dolls, but they deserve a mention here aswell.
On June 13, 2013 Integrity Toys announced their first Wclub exclusive stage cardboard backdrop/diorama, to ship along with the new doll Broadway Magic Jem. Estimated shipping date was fall 2013, and price $119.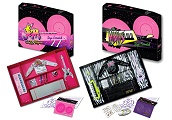 As an Integrity Toys W Club member special, comes The Stage Essentials Accessory Sets. One for The Holograms and one for The Misfits. Each set comes with color variations of some previously released instruments, in colors seen in the animated series, like Aja's original cartoon guitar, Kimber's standing keyboard from the cartoon, Stormer gets her cartoon keytar and Roxy gets a different color of her guitar. Also included in both sets is a band-themed jacket, which pays homage to the special offer MTV jacket from the original line, a guitar case, and three glittery guitar straps. To ship in March 2014.
To find out any news about upcoming dolls, keep an eye out on the following links:
Promotional pictures from this page may not be reposted without permission from Integrity Toys, and may only be used by Integrity Toys and their authorized dealers for selling the dolls.