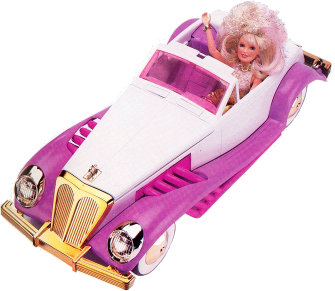 The playsets in the Jem doll line are more than colorful plastic miniatures, as they actually have several functions, like storage, carrying case, transforming playset, and actual musical features!

Not only were these playsets pretty high-tech, especially at the time, but Hasbro were clever enough to make them hook up to each other.

Playsets, 1986 by Hasbro:
In this first year there were three playsets. All featured special artwork on the boxes.
Rock Backstager 4080
"Five minutes to showtime! A dressing room with everything a rock star needs for an outrageous performance!".

This is where the stars gets ready for their concerts, but we all know that only the Holograms need to use it, because with the help of Synergy, Jem is just a moment away. A real audio speaker that turns into a dressing room. It hooks up to the Star Stage's cassette player. Also to be used as a carrying case. Was released in 1987 aswell. 4 Jemstar Points. Back.

In the cartoon: Nothing with direct resemblance.

International:
Holland
Italy: In Italy this playset was called "Camerino Rock Backstager".
Sweden

Contents: Speaker/dressing room. Cord. Handle. Table. Shelf. 4 Drawers. Chair Chair bottom. Mirror. Hairbrush. Comb. 8 Hangers. Nailpolish. Hairspray. Hairdryer. Side clasp. Sticker sheet. Mirror sheet. Instructions (back). Folded poster with first edition back.




Rockin' Roadster 4090 [Picture by betseytacy]
"JEM and her companions cruise into fantasy adventures in the highly-styled, truly outrageous Rockin' Roadster!".

This gift from Jerrica and Kimber's father, takes Jem and the Holograms on all their adventures. A car with a built in working FM radio. Can be hooked up to the Rock Backstager. Requires a 9-volt alkaline battery (not included). Has a license plate that says "JEM-1". Box. Box back. Box side. [Pictures by betseytacy] Prototype.

In the cartoon: This roadster appears alot in the cartoon, from the very first episode. But the roof is yellow/green and rarely seen. The hubcaps look different. There's a backseat.

International:
France: Box. Box back. Box side. Box side 2. Short box side.
Holland

Contents:
Car. With roof. Front. [Picture by betseytacy] Back. [Picture by betseytacy] Back 2. Opened. [Picture by betseytacy] Seats. Radio. Markings. Underside.
Roof.
Hood ornament.
Steering wheel.
Gear shift.
Sticker sheet.
Instructions sheet.




Star Stage 4100
"Presenting live, on stage...it's JEM and the Holograms!".

By day this is an office for Jerrica, and by night it's where Jem and the Holograms perform all their concerts. Jerrica's office turns into a stage by placing a backdrop in the background aswell office accessories. Has a real built in cassette player, which is meant to be connected to the Rock Backastager playset, but also plays on it's own. Although it looks like a keyboard, the keys can't be played, instead a keyboard was included with the New wave Waterbed playset. Can be carried with the strap. Inside of package, it's stamped "25 NOV 1986". Was released in 1987 aswell. 7 Jemstar Points. Back of box.

In the cartoon: Jerrica's office and many different stages appear, but nothing with direct resemblance of this playset.

International:
Holland
Italy: In Italy this playset was called "Palcoscenico Star Stage".
Sweden

Contents: 1 stage in the shape of a keyboard with a real built in music cassette tape player, 1 pink stage floor, 1 large white Jem logo with cardboard front, 1 side wall, 1 wall/cover with chrome Jem logo, 1 pink file cabinet, 4 white clamps, 8 pink spotlights, 8 white C-joints, 6 lightning bolts (2 pink, 2 orange and 2 yellow), 2 white speakers, 1 white cup, 1 white telephone, 2 white spinner front, 2 white spinner back, 1 clear desk top, 1 white desk frame, 2 white desk legs, 2 white chair legs, 1 pink chair seat, 3 pink doll stand holders, 3 microphone stands and bases (pink, orange and limegreen), 1 white battery cover, 3 jigsaw images (artwork Jem, Jem logo, cartoon Synergy), cardboard insert with office backdrop and side and disk, sheet of chrome stickers, instructions sheet (back), first year poster.
Playsets, 1987 by Hasbro:
Hasbro just continued the coolest set of playsets a doll line has ever seen, by adding three new ones with new built-in musical fuctions, one of was the same roadster but with another color scheme. They also released four accessory sets, Video Madness, to be used with the Star Stage, and re-relased the Star Stage and Rock Backstager since those would hook up to the new playsets aswell.
1988 unreleased playsets
Hasbro had plans for atleast three new playsets, which all appear to be slightly smaller than what we're used to from the first years, but more than the Video Madness accessories. Seems like Hasbro kept their sense of inventive designs and features.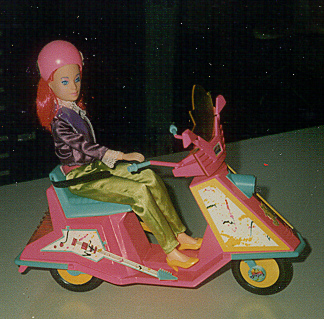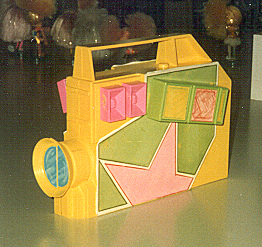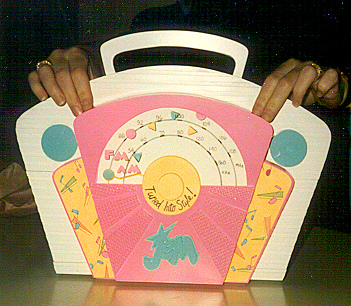 Motorcycle
Looks like this motorcycle turns into some musical features, like guitars, a tambourine, and a keyboard for Kimber. Perhaps the keyboard was a real working mini keyboard, something like the Waterbed. License plate says "J.E.M". The scooter might have been planned to be included in the cartoon, but never appeared. Picture 2. Back. Unassembled.
Contents: Scooter. Helmet. 2 Guitars. Video camera. Tambourine. Headset.

Video camera
Video's camera turns into a small stage for Jem and the Holograms. Seems to include some plastic accessories in the shape of previously released playsets, like the speakers in the same shape as the Star Stage but pink, a microphone from Star Stage also, and a tambourine that resembles the one from the Music is Magic fashion "Rhythm'n Flash". Stage. Stage 2.
Contents: Videocamera/stage. 4 Speakers. 2 Microphones. Drumset. Tambourine. 2 Maracas. 2 Drumsticks.

Radio / Vanity
It looks like a real radio might have been included in this set, and it transforms into a vanity desk for Jerrica. Includes the same chair as from the playset Video Madness "It's Workin' Out". Desk. Desk 2.
Contents: Radio/Desk. Chair. Little book.