Accessories
Almost only the hairpicks, stands and cassettes have the "Jem" logo on them, so most of these other items are very hard to find loose, with the exception of the instruments. Don't be fooled by the colors of the images, some may appear different according to being photographed and scanned in different conditions. I'm working on picturing them together and comparing them better.
Hairpicks
A complete guide to the hairpicks, except for the second year Misfits hairpicks which were the same as the first year though. They all have the Jem logo on both sides. Apparently 2/3 are some kind of pink, and several have the exact same color. These shape of combs are quite unique to the Jem line, but a similar one but perhaps without the embossed Jem logo, came with the Hasbro Sindy doll Hot Blades Sindy in 1991. A hairbrush and a comb with a completely different look, came with the doll playset Rock backstager. The mail-in offer the Llama came with it's own unique brush.

























Shoes
The female Jem feet were alot larger than most other fashion dolls', and also the shoes. There are seven versions of shoes for Jem dolls (with some variations in shape/thickness/flexibility/transparency): 1st edition pumps, 2nd edition pumps, sandals, boots, Starlight Girls flat shoes, and two types of men's shoes for Rio.
Pumps 1st year
These came with 1986 and 1987 On Stage fashions, 1986 Smashin fashions, 1986 and 1987 edition Flipside fashions, and Music Is Magic fashions. Will be adding more variations soon, like Stormer's yellow European shoes.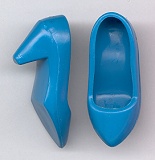 Pumps 2nd year
The shape was slightly changed as you can see on the edges ner the heel. This shape of shoes came with all "Glitter 'n Gold" fashions, 1987 Flipside fashions, 1987 Smashin' fashions, 1987 On Stage fashions.

























Sandals
These are the only type of shoes that were made specifically for a left and a right foot, which is obvious by looking at the underside. Sandals came with some 1986 Flip Side, 1986 Smashin', 1987 Glitter 'n Gold Jem/Jerrica doll, and 1987 On Stage fashions.











Boots (only 2nd year)
A more rubbery/elastic material which makes them alot more flexible than the pumps.




Starlight girls shoes
Very rubbery/elastic.



Rio shoes
Rio had two molds for shoes. The first type (displayed on first row here) were sneakers, slightly thicker, with circles on the undersoles and came with dolls and fashions. The second type (second row) were "boat shoes" and had a zigzag pattern on the undersoles and was only available with fashions.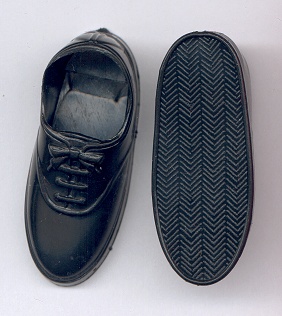 Stands
To pose your Jem dolls (except for Rock 'n Curl Jem which didn't come with any stand). All stands had the Jem logo on the base, while the leg holder wasn't marked, and can be separated from it. Basically the Holograms' stand were the same darkpink/red, while the Misfits' stands were neon yellow, and the second edition of them both had more fuzziness/less transparency. Rio and Synergy had purple stands, but Rio's was noticably more transparent. Glitter 'n Gold Jem/Jerrica and Rio had glittery golden stands. Jetta had a clear stand with black glitter. As for different shapes, Raya's stand was made larger and with a hole for her drums, while the Starlight Girls leg holder were made thinner to hold their legs, and both of Rio's stands had a thicker leg holder. Stand holders also came with the playset Star Stage, 3 red ones.

























Instruments
The instruments consist of guitars, keyboards, drums and a few other things. All of the Holograms' instruments come with a silvercolored strap, while the Misfits' (except for Jetta who came with silver) came with a golden strap. Instruments also came with the Video Madness playsets, and the fashion set "Music Is Magic" each came with some kind of instrument. Some entire playsets were shaped as instruments, but these were quite large, pictured on the bottom row.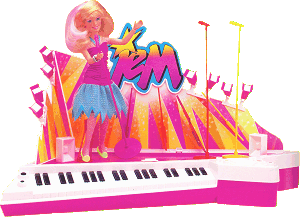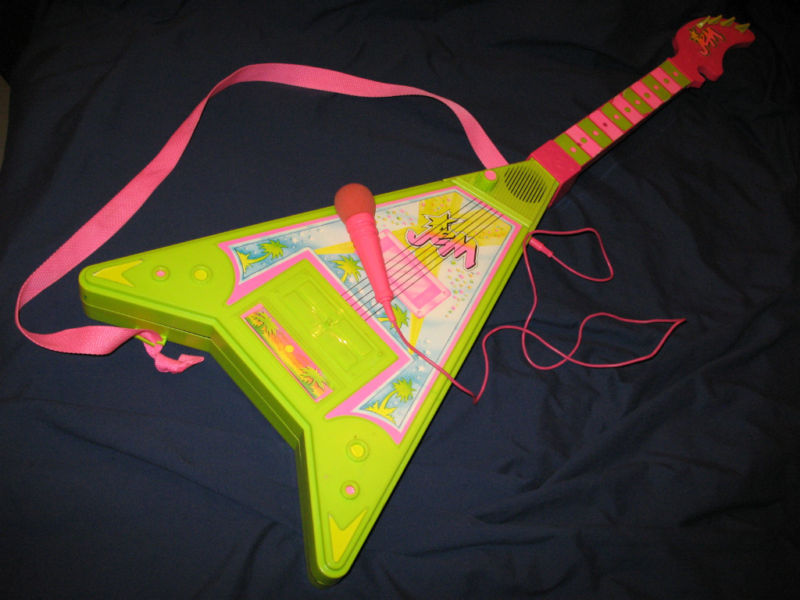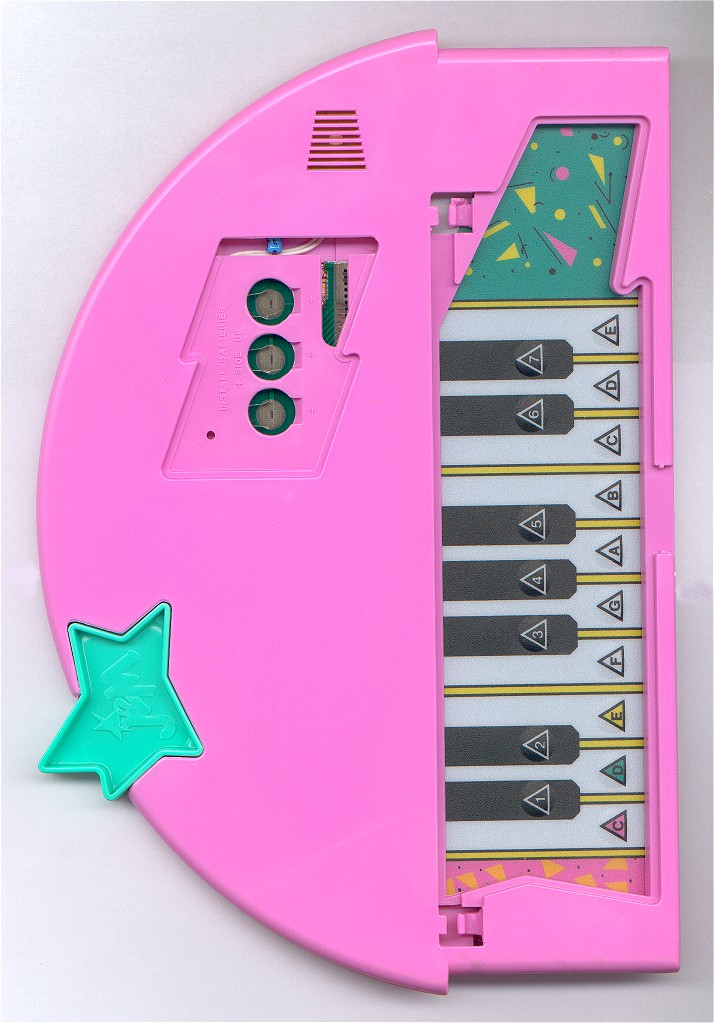 Microphones
Different types of mikes came with the playsets Star Stage and KJEM Rock On Guitar. Some alternative coloring in the same shape, was released with international versions. This shape, or very similar, was also available with other Hasbro dolls like Sindy.













Earrings
Until the second edition dolls, Hasbro hadn't thought of giving any of the dolls earrings. The big hoops also came with Hasbro's doll line Maxie, in light pink, light blue, violet, dark pink, and turquoise, and would have come in yellow with a fashion in the unproduced 1990 Sun Splash Fashion set.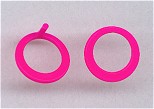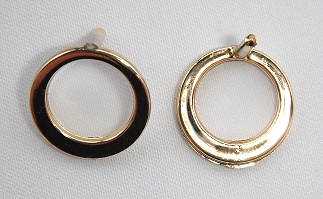 Necklaces
Only came with fashions, not dolls. And if you have a Jem necklace you can be sure it's either from the 1986 Flip Side set (one of which was re-relased in 1987) or the 1987 Glitter 'n Gold set, because no other fashion sets came with necklaces. The oval Jem necklaces also came with some Sindy doll accessories by Hasbro, like one that came with the accessory set called "Finishing Touches Accessories Chic".





Glasses
Glasses were mostly for Jerrica to wear, and came with all dolls of Jem/Jerrica herself, but not the Rock 'n Curl Jem. The only fashions it came with were all Flip Side fashions, both years, aswell as one Rio fashion and one Rio doll. Some glasses also came with the Video Madness playsets. There are several different shapes of the glasses, two shapes in 1986 with variations, two new shapes in 1987, and yet another one in Video Madness playsets. The first shape shown here on this page, were available in two versions, with slightly different wideness in the middle depending on whether they came in a box marked H22 (thinner) or H44 (wider), and this shape of glasses also came with Hasbro's Maxie doll line in four colors.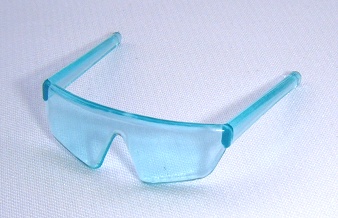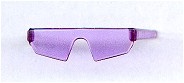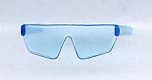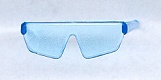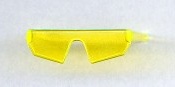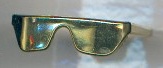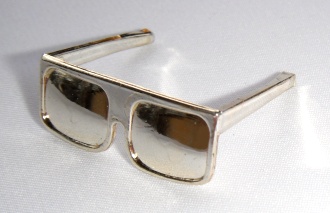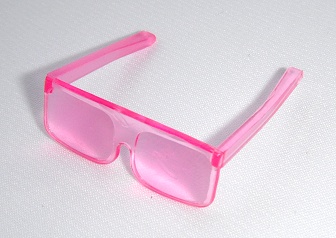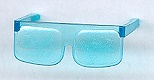 Bracelets
There are three different shapes on these.
The third shape, zigzag-shape, was only avilable in these three colors, and if you find them in yellow, black or even a different shade of pink, those are most likely the ones that came with Hasbro's Sindy doll Paint-a-Picture Sindy from 1989. Golden chromed ones were also available with Hasbro's Superstar Sindy doll fashions. Yellow ones were supposed to come with an unreleased Matching Medley outfit in 1988. Also Hasbro's Maxie doll line came with the zigzag shaped bracelets, in limegreen, light green, purple, light pink, turquoise, orange, black and white.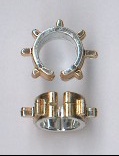 Other accessories
Of these accessories, the ones with metallic straps had a thinner kind of strap than the instruments. I included some pieces from the playsets that were separate on their own, while parts that are to be built together are shown in the category Playset Parts further down.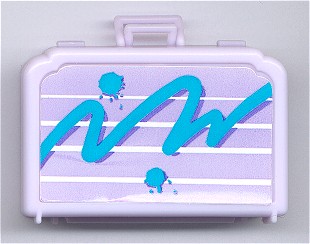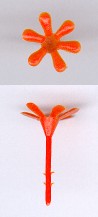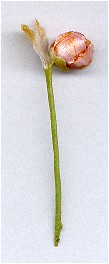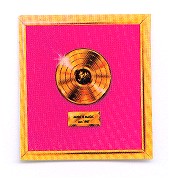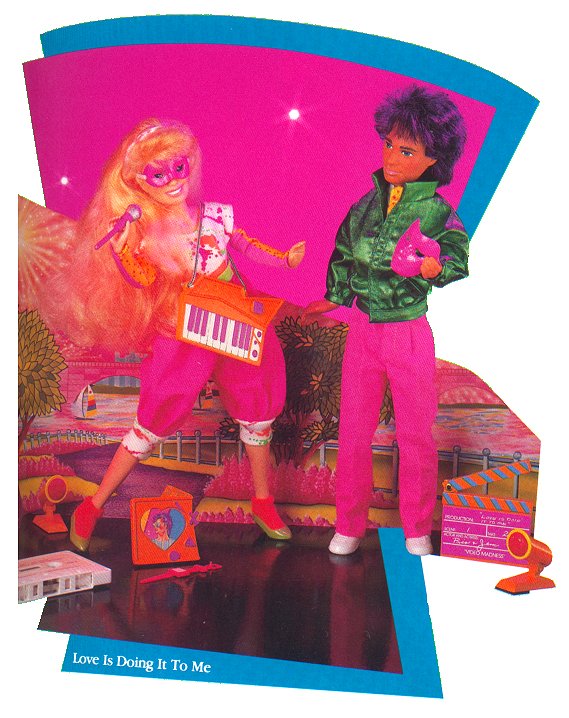 Playset Parts
Mostly parts that don't do much on their own, but are to be built together.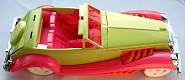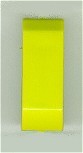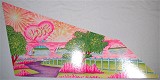 Cassettes
19 dolls came with cassettes (while 5 of the dolls came with no cassette) and 4 Video Madness playsets, 3 board games, and 3 mail-in offers. 51 songs in total.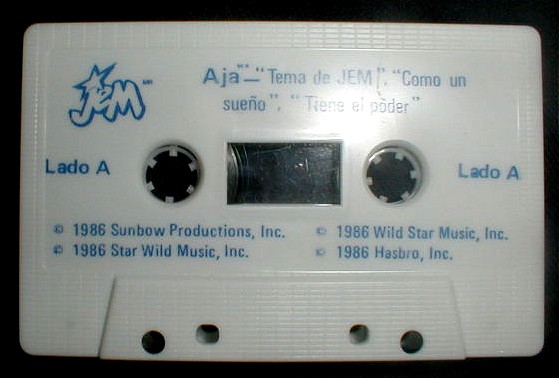 .






[Mexican Aja tape picture by Peter Irwin at dolly-dealers]

Here is a list in alphabetical order of all the 51 Jem songs that have been released on cassette:
"Back In Shape" - Jem and the Holograms
"Broadway Magic" - Jem and the Holograms
"Can't Get My Love Togheter" - Jem and the Holograms
"Click/Clash" - Jem and the Holograms/the Misfits
"Come On In" - Jem and the Holograms
"Deception" - Jem and the Holograms
"It All Depends On The Mood I'm In" - Jem and the Holograms
"Designing Women" - The Misfits
"Friend Or Stranger" - Jem and the Holograms
"Gettin' Down To Business" - Jem and the Holograms
"Gimme Gimme Gimme" - The Misfits
"Glitter 'N Gold" - Jem and the Holograms
"Glitter 'N Gold Theme Song" - Jem and the Holograms
"How You Play The Game" - Jem and the Holograms
"I Am A Giant" - The Misfits
"I Got My Eye On You" - Jem and the Holograms
"It's Workin' Out" - Jem and the Holograms
"Jealousy" - Jem and the Holograms
"Jem Theme" - Jem and the Holograms/The Misfits
"Like A Dream" - Jem and the Holograms
"Love Is Here" - Jem and the Holograms
"Love's Not Easy" - Jem and the Holograms
"Love Unites Us" - Jem and the Holograms
"Makin' Mischief" - The Misfits
"Music Is Magic" - Jem and the Holograms
"Only The Beginning" - Jem and the Holograms
"Outta My Way" - The Misfits
"People Who Care" - Jem and the Holograms
"Puttin' It All Togheter" - Jem and the Holograms
"Rock 'N Roll Is Forever" - Jem and the Holograms
"Running Like The Wind" - Jem and the Holograms
"Set Your Sails" - Jem and the Holograms
"Share A Little Bit" - Jem and the Holograms
"She Makes An Impression" - Jem and the Holograms
"She's Got The Power" - Jem and the Holograms
"Show Me The Way" - Jem and the Holograms
"Something Is Missing" - Jem and the Holograms
"Takin' It All" - The Misfits
"There's A Melody Playin'" - Jem and the Holograms
"Too Close" - Jem and the Holograms
"Time Is Running Out" - Jem and the Holograms
"Truly Outrageous" - Jem and the Holograms
"Twilight In Paris" - Jem and the Holograms
"Universal Appeal" - The Misfits
"We Can Change It" - Jem and the Holograms
"Welcome to the Jungle" - The Misfits
"When It's Only Me" - Jem and the Holograms
"Who Is He Kissing" - Jem and the Holograms
"Who Is She Anyway?" - The Misfits
"Winning is Everything" - The Misfits
"You Oughta See The View From Here" - The Misfits