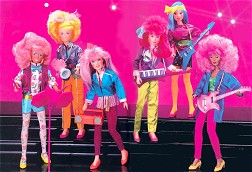 1987 was the second year of the Jem doll line, and more than the double amount of dolls were released, as second editions and 6 new characters, three of which had metallic strands in their hair.

Jem got a new smiling face mold. Both bands got a new member. The Holograms got new fashions that more or less resembled the first editions in shape, and they got headbands and earrings. The Pizzazz, Roxy, and Stormer dolls were released again, mainly the same as in 1986. Many friends that had previously been seen in the cartoon, were introduced as dolls.

This year the shape of the dollboxes changed, and the instruments of the Misfits and the Holograms were translucent with glitter inside, a new shape of bracelets was introduced, the pumps got a slightly different design, and boots were introduced. The stands became more translucent and more elastic so they were easier to put togheter and pull apart. On the cassette tapes, the instrumental versions were now actual instrumental versions, without an extra instrument playing in place of the singing. As for the Misfits, the only accessories pictured on this page are those items that differ noticably from the first edition.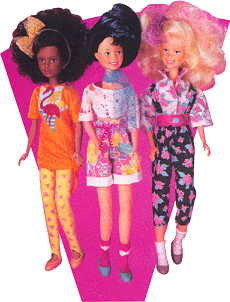 Also in 1987, Hasbro turned three out of twelve younger characters called the Starlight girls, into 11 inch dolls. Their shorter bodysculpt was alot less poseable and different to the adult sized body.
All three dolls were based on the cartoon characters created by the main writer of the cartoon, Christy Marx. And at the same time, these characters got a bigger role in the cartoon, starting with the episode "The Music Awards Part 1", and they even sang in the two-parter episode "The Jem Jam", and later had their own episode "Treasure Hunt".
Unfortunately it was the last year before the Jem doll line was cancelled, and this was probably an attempt by Hasbro to release dolls that looked more like natural with regular hairstyles and outfits, so that girls could identify with them, rather than outrageous rockstars with punk hair colors.
Perhaps for the same reason, Hasbro didn't add any personal characteristics to the boxes of these three dolls, like a background story or specific accessories. These were also the only dolls that didn't include a single accessory (like a mike, instrument, boombox, camera) other than their clothing pieces, hairpick (with a more apparent embossed logo) and stand. Neither a cassette tape was included, which meant a lower price.
On the other hand, although the fashions this year no longer had artwork on the boxes, these three dolls got artwork atleast on the back of the box. The artwork on the back of the boxes, for some reason, features a picture of Starlight House, instead of Starlight Mansion.