RockJem.com / Index / Collectibles / Capsule collection
Uploaded: October 10, 2022
Capsule collection
2015 was a huge year for the Jem brand. Commemorative dolls were on the market for the fourth year in a row. A new comic series was coming up. And a new live-action movie! And a bunch of additional companies wanted in on this special occasion for Jem.
Books, toys, make-up, hairdye colors, music albums... But most notable outside the movie, comic and commemorative dolls, were a collection by ShopBop (a subsidiary of amazon.com) called the Capsule collection. The assortment included jewelries, clothing, and other exclusive collectibles created for the Jem brand.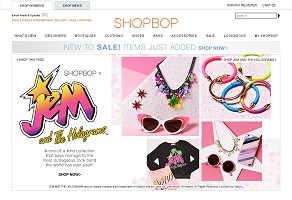 This collection included the most expensive Jem collectibles that have ever released! Like a ring of the value $1,045 in its original pricing!!! But most valuable to Jem fans was probably the Jemstar earrings with pink crystals (seen in the picture ot the right of this text).
Even Integrity Toys took part of this collection, by releasing an exclusive Jem doll for the ShopBop Capsule collection, Showtime Jem, which you can read more about on the page Dolls 2015.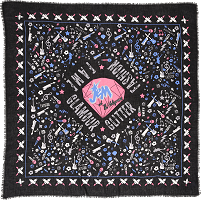 Clothing, 2015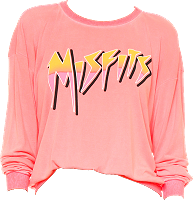 Shirts, 2015 by Wildfox:
Impressive how creative they were with these shirts, despite the limited source material they seem to have had access to. They picked out some cool art, and referred to some phrases and things in the Jem world that I think you'd have to know Jem to know. How did they even get ahold of the Misfits logo? And unlike some companies that make t-shirts, these seem to be good shirts regardless of the Jem print. The only thing they missed was making shirts for men, while maybe half the Jem fanbase is male.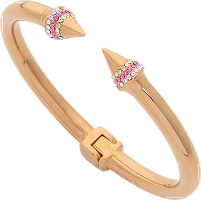 Bracelets, 2015 by Vita Fede:
Metal with a hinges. Made in Italy. Measurements: length 1: 6in / 15cm, size XS, length 2: 6in / 15.5cm, size S, length 3: 6.5in / 16.5cm, size M. Off-site link to website.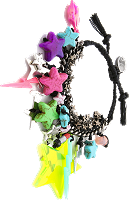 Bracelets, 2015 by Venessa Arizaga:
Adjustable length. Made in the USA.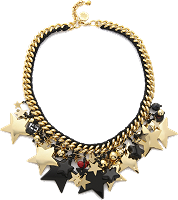 Necklaces, 2015 by Venessa Arizaga:
Made in the USA.

Necklaces, 2015 by Noir Jewelry:
Made in Vietnam.
Earrings, 2015 by Noir Jewelry:
These may not be the most expensive in the collection, but it appears they were all exclusively designed for this Jem and The Holograms line. And the fact that they knew enough about Jem to release Jem star earrings in actual metal rather the plastic toys from other comapnis, in the most beautiful design ever made! Made in Vietnam.
Earring, 2015 by EF Collection: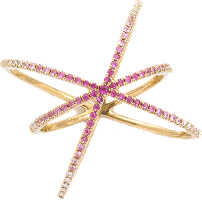 Rings, 2015 by EF Collection:
Only one ring was released in the entire capsule collection, but it's the by far most expensive ever created for the Jem brand. The only Jem items mroe expensive than this ring, are rare collectibles that have increased in value or one of a kind prototypes and artpieces. This design may have been created exclusively for this line, by it doesn't correspond with anything in the Jem world in shape.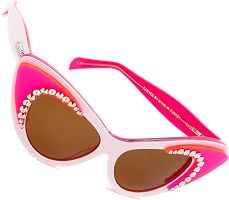 Sunglasses, 2015 by A-Morir:
Made in Turkey.

Water bottles, 2015 by S'well:
Insulated, will keep a beverage cold for 24 hours or hot for 12. Made from BPA-free, double-walled stainless steel. A vacuum seal keeps liquids and carbonation fresh. Packaged in a cardboard tube for easy gifting. Capacity: 17oz. Made in China. Hand wash only, not dishwasher safe. Measurements, height: 10in / 25.5cm. Original price was $42.
Iphone 6 cases, 2015 by Sonix:
Shock-absorbent rubber sides. Formfitting construction with button, cord, and camera access. Made in China. Original price was $35.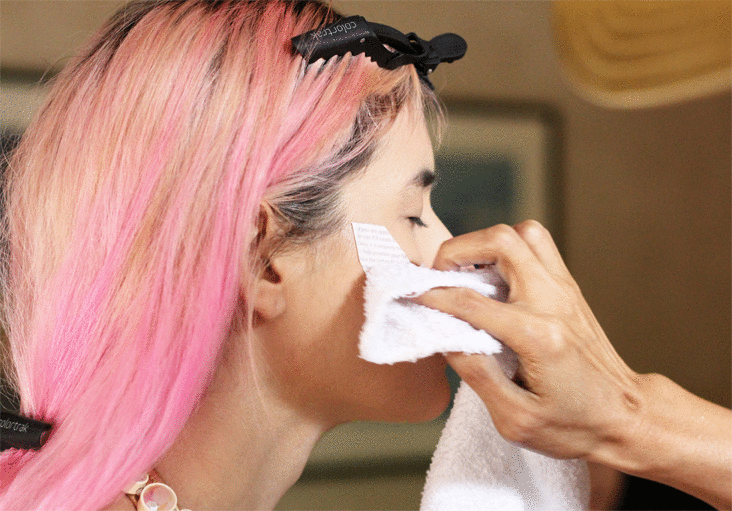 Tattoos, 2015 by Flash Tattoos:
Temporary tattoos, applied with water and last 4-6 days. This 2-sheet set includes 1 sheet of tinted metallic stars and lightning bolts, and 1 sheet of 15 sparkling Swarovski crystals in Aurora Borealis. Non-toxic. Made in China. Original price was $20. No Jem tattoos have ever been released before as far as I know, and these are some recognizable shapes from the characters, and some are just made up in Jem-like style. And fun to see kind of an alternate live-action Jem cast, they certainly went to some extra work to make photos for this product.