RockJem.com / Index / What it's all about / Jem Fandom
Fandom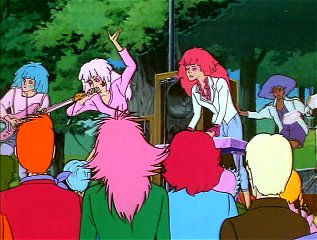 Everyone has their own reasons for liking Jem, and what they spend their time on. Some prefer the cartoon, collecting the dolls, interacting with other Jem fans, or creating something based on Jem.
Many Jem fans like to collect things, and of course the 80's doll line that started the whole brand, is the main collectible. But when referring to these characters it seems most fans refer to the cartoon.
Amount of Jem fans
There's no specific known number of the amount of people who call themselves Jem fans. I guess it depends on who you would count as a Jem fan, and how much is going on at the moment for the brand in terms of new products that catch people's attention.
To determine the amount of big fans, you'd have to look at anything that can generate a number, like perhaps... how many visitors Jem sites have, how high prices are on original 80's Jem collectibles sold on ebay, number of views on the most viewed Jem videos on Youtube, social media accounts dedicated to Jem, and so on.
And every time there is something new created for the brand, lots of additional people realize they are fans. And you can then count how well the official new releases sell.
I think we can say there's atleast several thousands of people who more or less regularly follow Jem news and engage in some discussions, some of which even do their own creative fan works of some kind. And then thousands and thousands and perhaps millions of people who consider themselves somewhat knowledgable about Jem. Then there are of course alot of potentional fans who like all the things Jem represent!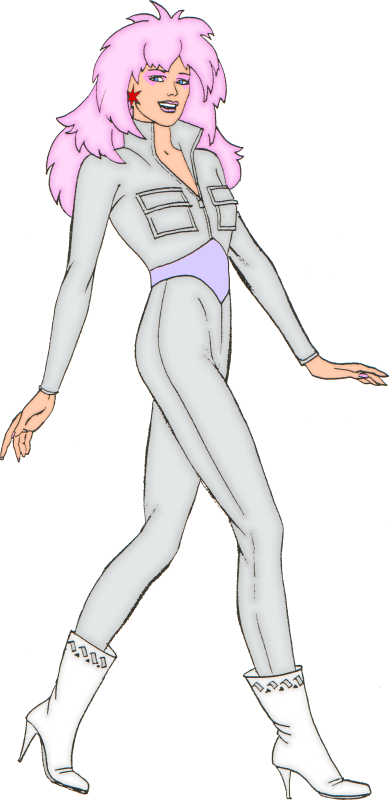 Why a Jem fan?
Jem is such a complete brand, with colorful looks that really stand out, fashion, characters with strong personalities, well written cartoon stories covering so many genres, and the most amazing music ever heard in a cartoon.
So many talented people gathered to create this line. So you can imagine how much effort Hasbro put into the creation of Jem, and all the talent they already had at hand who had previously worked on Transformers, G.I. Joe and My Little Pony. Jem was going to be the flagship of Hasbro, that would challenge the worlds most famous toy, Barbie. If you take a look at who the people were that created Jem, and what else they have done, you will see what I'm talking about.
Jem is not too hard to collect, since it was so massproduced and available in so many coutnries in the world. Although prices are rising on the 80's collectibles each year.
Personally Jem doesn't limit me to being nostalgic and sitting in front of a TV watching episodes, it rather opens me up to so many themes and things I want to learn about. And watching this series as I grew up, I really took all the nice messages to heart. And while I could easily turn around and instead look at whatever is popular among the current mainstream series nowadays, I rather choose exactly what I prefer myself, which is quality, what is most enjoyable to me, and what fits my personality, which is Jem.
Where in the world do Jem fans live?
Most Jem fans live in the United States, where Jem was created. But Jem was also available in many other countries in the 80's, most notably United Kingdom, Canada, France, Italy, Spain, Mexico, Netherlands, Australia, Sweden, Argentina, Germany, Finland and Denmark. But also south America and a bunch of European countries, aswell as Asia, and probably lots of more places.
And infact many of the absolutely biggest Jem fans are probably those living outside the US. Even though some countries didn't get so many dolls and episodes released, Jem was quite big in many countries. 3 of the top 4 largest and most popular Jem sites are made outside the US!
What do Jem fans do in their... fandom?
Jem fans are generally like any fans, but I guess depending on the ingredients of the brand, all fandoms are unique. And I guess Jem communities have their own culture that is more apparent from people outside it. There are so many creative things Jem fans are doing. I'll try to put some of it in words here.
First of all watching the entire Jem cartoon. I guess that's where many start, by watching the 65 episodes. Easy to purchase on DVD and in some countries you can find Jem on a streaming service.
Jem fans collect everything Jem. Mainly the original 80's dolls since the dolls is what it's all based on, and doll fashions and playsets. So there's a lot of buying, selling and trading dolls, or pieces of clothing and accessories. And there's alot of rare stuff associated with the original line like one of a kind prototypes. But they also very much collect the 2012-2022 commemorative line, which some have come to prefer because of its quality, attention to details, corresponding with the cartoon than the 80's line, and including more dolls, and the dolls being in a more traditional body shape which means the dolls can wear clothes from other lines.
There's a lot mroe to do than just collect the dolls, like pose them and take pictures. Either posing dolls one by one for scenes, or just photographing your entire collection posed on a shelf, or even creating settings a dollhouse/rooms for the dolls with realistic backgrounds and minature furnitures and items.
Jem has alot of creative fans who are into customizing their own dolls of unmade characters and fashions from the cartoon.
Creating life-size versions of memorable Jem fashions and wearing them for cosplay events, conventions or for online pictures.
Collecting original animation art from the Jem cartoon and pre-production art, and even art created for the doll line and books and so on.
Collecting all kinds of licensed Jem merchandise outside of the doll line, like comics (there were as much as three completely separate series: UK comic, Mexican, and US), lunch boxes, stickers, clothing, and all kinds of random items released.
Collecting similar doll lines and toy lines, like colorful ones, music themed ones, or ones made by the same companies as Jem, Hasbro and Integrity Toys.
Jem fans have, ever since the internet's breakthrough, been running online projects to make Jem return in form of re-runs of the animated series, a new series, a movie, comic, or a new line of dolls.
Writing their own Jem fan fiction and posting online for others to read, and reading fanfiction written by others.
Creating Jem fanart. Some people draw Jem regularly, and some aren't mostly Jem fans but still do one Jem artwork at some point. Sometimes there are big projects, like the Jem re-animation project, where people re-animate a scene each from the first episode, in their own drawing style.
Creating fansites. There are over 30 actual Jem fansites today (alot more than for brands like She-ra, Rainbow Brite or Lady lovely Locks), even in these times when social media is taking over.
Making interviews or creating fan sites for some of the people behind Jem, and supporting them in social media.
Creating a blog about anything Jem.
Writing reviews of the new comic issues, live-action movie, 80's cartoon episodes, collectibles they buy, anything Jem.
Educating themselves about Jem, reading websites about the history. There sure is alot of stuff online about Jem, and you can almost learn the whole process of creating a toy brand through Jem sites.
Jem fans discuss all kinds of Jem topics on forums and social media, sometimes into the slightest detail of the coloring of fashion pieces, or rumors about unmade Jem collectibles.
Arranging and visiting the Jemcon, a fan convention that is held every year in different locations across the world, often in the US.
People actually make a career out of things they started out making because of their Jem fandom.
And there's of course alot more.
Where is the community?
It's very divided between websites, forums, social media and groups of friends. The most popular meeting places have changed locations over the years. Take a look at the links page to see some of the current places.