RockJem.com / Index / Comic review
Comic review issue #3
May 19, 2015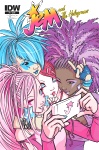 The third issue of 20 pages, is released on May 20, with three different covers in total. The artists behind the variations are Sara Richard as previous issues, and the other one is done by David Lafuente and colors by John Rauch.
This comic by IDW Publishing, is a co-creative process between the writer Kelly Thompson, and the comic book artist Sophie Campbell. Colors by M. Victoria Robado, letters by Shawn Lee, and edits by John Barber.
The previous two issues handled the introduction of one of the main bands each, and this one goes deeper into the story, building up the characters and their relationships. Infact two relationships are focused on in this issue, one of which is developed further and which we get to see more of, and the other which is getting complicated.

Pizzazz is getting more and more recognizable from the cartoon, in her temper, her way to causing a riot, her leadership in the band, her way of smashing things, her jealousy of the Holograms, her need to sabotage.
We also get two more characters introduced. We all know which ones, since the character bios for both characters were shared in advance online. One recognizable, in shape of Clash, and a new one called Blaze. Clash is still the trouble maker who isn't allowed to join the Misfits as a bandmember. From the character bio we know she wants to be a singer, but plays no instruments. But from what I can tell she does have her wrist cymbals.
I absolutely love that they gave Clash her original cartoon hairstyle and color, rather than the purple which Hasbro soon changed it to several episodes into the 80's cartoon, to resemble their doll. Another difference, which I feel vain for noticing, is the nose, which is another example of how Sophie didn't just make the characters different heights, sizes, skincolors, but also gave them more distinguishable faces.
Blaze (Leah Dwyer) is the new mysterious transgender character that Sophie and Kelly hinted a while before revealing. She looks just like a Jem character with that hair, makeup and outfit, and that name is so Jem! Welcome to the Jem universe! She is an acquaintance of Clash, plays guitar and is also a huge Misfits fan. Something tells me she will be big trouble for Jem and the Holograms.
So how is Clash able to spy on and stalk the Holograms these days? Is she in need of a magical crystal ball like Skeletor in Master Of The Universe to find out what they are doing? Or does she need to constantly disguise herself to steal their schedules? Nope, since Jem now entered a new millennium, she just set a Google alert.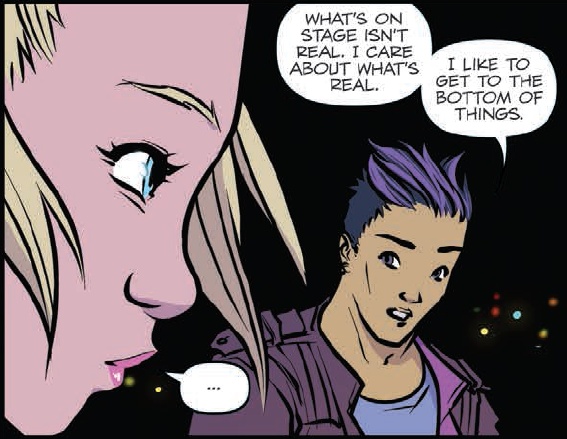 Rio who usually drove his red van in the cartoon, now drives a motorcycle! He never did even once in the cartoon, so this is new. It even has some purple details, like the seat and helmet.
Rio asks more about Jerrica's singing. And it gives me a feeling Kelly Thompson is eventually going to make Rio more clever than in the cartoon, and even more curious. He is after all a reporter.
Sophie showcases some nice pages of presenting the story, and especially towards the ending. Again beautiful art, especially on close-up expressions, eyes, and the lights at night at the amusement park. Which is a nice effect, also thanks to the colors of M. Victoria Robado. There's several new beautiful outfits, and the girls keep changing hairstyles in every other page. When will Sophie run out of ideas for hairstyles?
Also, more song lyrics for the Misfits. And keep your eyes out for a fun cameo from another Hasbro series in this issue.
At the end of this issue is something new, after two issues with letters from two of the people behind this comic, Kelly Thompson and John Barber, there's now actually fan letters. With some surprises. I absolutely love how John Barber replied to one of them in particular. And, you get the chance to be included in an upcoming issue by sending in your own letter.
At the very end, is a hint about issue #4. It mentions the Holograms concert for the Starlight Foundation.