Jem finally made it to the big screen, 30 years after it's debute on TV, as a live-action movie! With a completely new style and story. A live-action movie is something Jem fans have been dreaming of and speculating about for many years.

2014/2015 when the movie news hit us Jem fans, there was so much going on, so much more than usual to keep track of about Jem. All the news reported about the new movie all over the internet, all the special movie events, movie products, and so many fans and opinions about it all. Here are some of the things that happened during that time, and more hopefully to be added soon.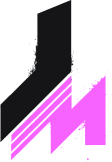 A summary of the main info:
The movie is directed by Jon M. Chu, and produced by Jason Blum and Scooter Braun. IMDb.com categorize the movie as an adventure/drama/fantasy movie, and it was scheduled for release on October 23, 2015, same month as the first Jem episode first aired in 1985. This movie is a modern re-invention of the Jem we all know from the 80's. A entirely new logo was been created, and Jem star earrings were re-designed.
One of the early synopsis said: "In a hyperlinked social media age, an orphaned teenage girl, Jerrica 'Jem' Benton, becomes an online recording sensation, and she and her sisters embark on a music-driven scavenger hunt - one that sends them on an adventure across Los Angeles - in an attempt to unlock a final message left by her father.".
Some of the original crew took part by appearing in cameo roles in the movie, like cartoon main writer Christy Marx, Jem's cartoon singing voice Britta Phillips, and Jem's cartoon speaking voice Samantha Newark. And the new crew asked Jem fans to join in on several projects, like designing concert posters, share videos on Youtube about how Jem inspired us, and take part in background roles like concerts in the movie.
Here's some of the info as it was revealed:
On March 19, 2014, Christy Marx, the original writer of Jem, posted a message on the Truly Outrageous Jem Mailing List, cryptically encouraging Jem fans to "Get ready".
On March 20, 2014, A video was posted on the Youtube channel "Jerrica Benton" and the official website at jemthemovie.com, that revealed the great news about the movie being made, and introduced some of the people behind this upcoming "modern-day live-action re-invention of the 1980's Hasbro classic cartoon Jem and the Holograms". The director Jon M. Chu, and the producers Jason Blum and Scooter Braun. The news spread quickly over the internet, and media platforms that never talked about Jem before, were suddenly discussing details like a Jem movie was the most definite thing in the world.
Also on March 20, 2014, Christy commented on the movie on the Truly Outrageous Jem Mailing List saying she was made aware of the project by someone high in the Hasbro PR department, and that the director Jon M. Chu also had called to talk to her. She doesn't pretend not to be unhappy about being left out of the project, and for not being alerted earlier, and she commented on the fact that only male crew members had been announced so far. But she also said Hasbro has no obligations to her and she wishes the project the best "I urge everyone to judge the merits of his work on the result and I hope he delivers us an excellent, truly outrageous movie.". Offsite link: Original message.
On April 2, 2014, an update video was posted on Youtube. Now several female crew members were introduced, known names like Jessica Hall, one of the producers of the movie, Alice Brooks, director of photography, and Heather McKay. Jessica L. Hall even jokingly said "And don't worry girls, I won't let him screw it up", pointing towards director Jon M. Chu, confirming there will be a female perspective involved.
On April 11, 2014, after an incredible amount of auditions from around the world, a new video was posted on the Youtube channel, with a new assignment for us fans to contribute to the movie.
1. To make a video or hand written letter about how Jem inspired you.
2. Design a Jem concert poster.
April 20, Jon M. Chu announced he made calls for some the fans who are going to get to be in the movie, but more were to come.
On April 21, 2014 the live-action Jem movie began filming.
April 23, a new video was posted introducing some more crew members, casting director Terri Taylor and casting associate Sarah Domeier. Also announced, were some lucky people who were going to be featured extras in the movie, as paparazzis, concert goers, and fans. They also announced a bigger part, the character Zipper, which was to be played by Nathan Moore.
April 24, after first teasing us with the message "Are you ready for some more casting news? #soon #we promise #thanks for being patient", the main cast was announced, Aubrey Peeples as Jem, Stefanie Scott as Kimber, Hayley Kiyoko as Aja, Aurora Perrineau as Shana. Also Molly Ringwald was rumored to be in the movie.
April 25, Jon M. Chu tweeted: "#JemTheMovie #1 trending topic on Facebook!!! http://instagram.com/p/nMbxtmD3Qg/".
April 29, Ryan Guzman joins the cast as Rio. He says he is very excited to be a part of something like this that was amazing in the 80's.
May 10, Academy Award nominated actress, Juliette Lewis, is in the movie.
May 15, Christy Marx was invited to join the set for a cameo, and was very happy with how she was treated on the set.
May 25, It is confirmed by Jenn, a stunt double in the movie, that Juliette Lewis plays Erica.
June 28, Jason Blum confirmed The Misfits won't be in this movie.
October 16, Universal announces a release date for the movie, October 23, 2015!
January 27, 2015, the cast gathered to see the first cut of the upcoming movie.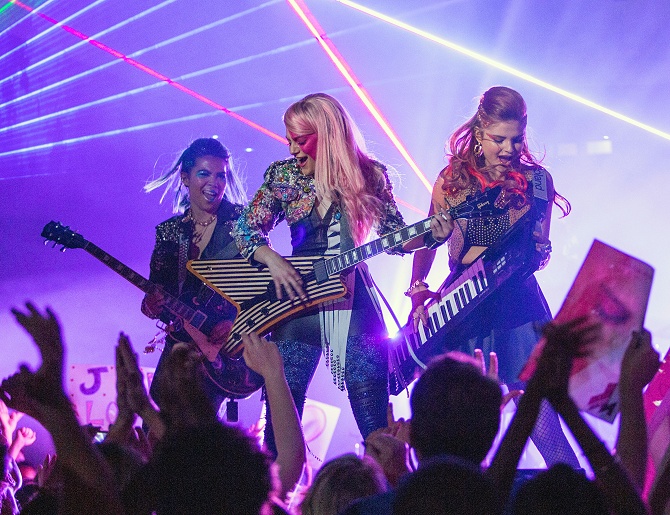 February 13, the trailer was shown at Hasbro's Investor Event, the leadup to Toy Fair 2015. Jon M. Chu tweeted that the latest issue of Elle magazine includes a small preview picture from the live-action Jem movie of the band on stage.
April 15, the new Jem of the live-action movie, Aubrey Peeples, talks about her role in an interview with Refinery29, "Closer to booking it, I found out it was Jem and started researching. There was such a community around this cartoon in the '80s. Being a part of it is so special, and not just special for me, but for so many people. It's sort of like getting to be a part of something that's already been such a big deal in the past, like stepping into a bit of history. It's such a big honor.".
April 17, Hayley Kiyoko, Aubrey Peeples, Aurora Perrineau and Stefanie Scott are featured in an article in the May issue of the Nylon Magazine, talking about the upcoming movie.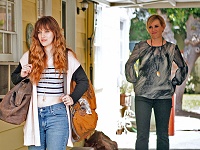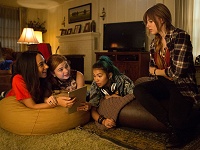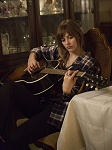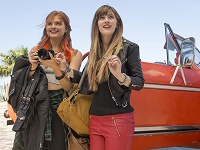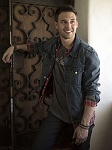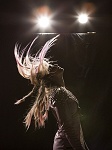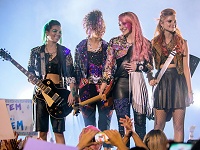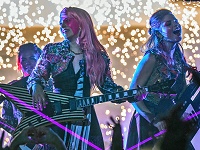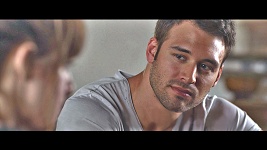 May 11, nine new pictures from the live-action Jem movie were released, and finally we got to see Aurora Perrineau as Shana, and more of their hairstyles, fashions, instruments and their car. And it is confirmed that Molly Ringwald plays Aunt Bailey and Juliette Lewis plays Erica Raymond. Jon M. Chu says "It's actually about a group of young people who are going to be inundated with this idea of fame and fortune and products and stuff, and within all that, how do you stay true to who you really are? That's the real soul of the movie.".
May 12, It's here, the trailer of the Jem live-action movie was uploaded to Youtube, and got over 83,000 views before a day had passed. The official Jem Movie site JemTheMovie.com was updated with a new look, a gallery, trailer and story description. The promotional poster for the live-action Jem movie was released, with a new logo. In an interview by Redeye, Aubrey Peeples reveals she was sent prototype pictures of the head of Jem doll, with no hair and no makeup. Planned premiere dates at theaters across the world were:
Netherlands 22 October 2015
USA 23 October 2015
Italy 23 October 2015
Norway 6 November 2015
Portugal 12 November 2015
Sweden 13 November 2015
Denmark 25 November 2015
Singapore 26 November 2015
Poland 27 November 2015
Australia 3 December 2015
Estonia 11 December 2015
Germany 24 December 2015
Austria 25 December 2015
Spain 25 December 2015
UK 26 December 2015
Belgium 27 April 2016
May 15 the first Jem movie trailer is shown before the movie Pitch Perfect 2 at movie theaters.
May 18, nearly a week has passed, and counting all of the officially posted uploads of the first trailer by Universal Pictures on Youtube for different countries, the trailer currently already has over 3,500,000 views.
July 10, the second trailer is shown before the movies Minions and reportedly also Magic Mike XXL in theaters. But not released online.
Offsite links:
Some links about the movie and people involved with it: