RockJem.com / Index / Comic review
Comic review valentine special issue
February 9, 2016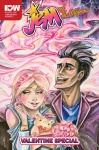 This valentine special issue of 20 pages of story, is released on February 10.
The covers for this issue are done by Sara Richard and Jen Bartel. And the story is drawn by Jen Bartel, who has done several of covers before and now does her second story for the Jem comic series. Colors by Paul Reinwand, letters by Shawn Lee, edits by John Barber, and published by Ted Adams. And it's written by Kelly Thompson.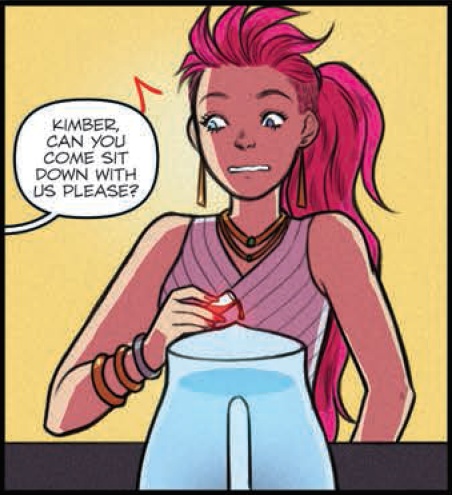 Jen Bartel, one of my favorite artists for this comic series, does the art for of this issue. Although the look of this issue is quite different from her story in the annual issue, the characters look great, and she puts alot of effort into drawing creative backgrounds, whether they are artistically part of the story, or locations.
This issue is about love, and also alot of humour. The story seems to be set before issue #11, or even before Pizzazz' accident, so between #8 and #9. Because Synergy seems normal and Jerrica too. Although advertised at the end is an upcoming issue #13 rather than #12 which hasn't been released yet, but then of course issue #12 is released closely after this issue so it makes sense advertising issue #13. But this is rather a standalone story, so it fits almost anywhere.
Kimber goes to a fortune teller. First I suspected it was a Synergy hologram like in the cartoon episode "Midsummer Night's Madness", but Kimber touches her, so it's no hologram. Infact, Kimber gets a potion which can cause a lot of trouble for people, and it does, which you'll see in this issue.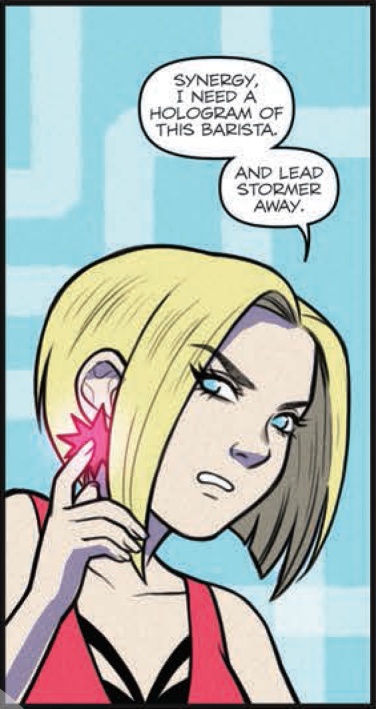 Funny realistic comment from Aja about hoping no one notices Jem is just a hologram. Because in this issue they go to a meeting with both Jerrica, and Jem as a hologram. A meeting where the Misfits, including Pizzazz are attending.
Bartel does a great job illustrating all the many main characters at the same moment on one page, with Kimber in center.
You have to read this issue to see what the potion does to people. They already gave us the Kimber-Stormer relationship. Some additional long-awaited fan-requests are kinda happening, temporarily, to some characters.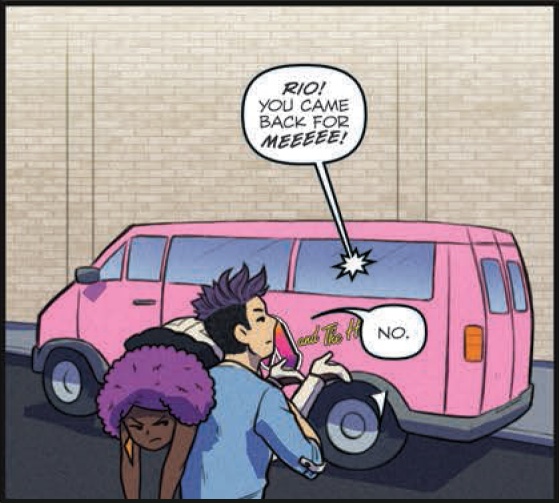 For probably the first time in this series, the word "gay" is used. By Rio. Sexual orientation in this comic series has been normal from the start, or since it first appeared, in the second issue. It still is, it just struck me that this was the first time the word was used.
For probably also the first time (except for that Karate Kid costume in issue #9) Jetta wears some clothing that is not in black and white, but yellow, and really cool hairstyle by the way.
Part of this issue are cut-out valentines cards. I'm not sure how they will look in print, but perhaps fold-out doublepages.
Check back soon for a review of issue #12 which is scheduled for release on february 24.