RockJem.com / Index / Comic review
Comic review holiday issue
December 15, 2015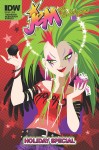 This holiday issue of 20 pages of story, is released on December 16.
I believe this is the first issue of the Jem comic by IDW Publishing that only has two covers. And they are made by two by now wellknown Jem artists from the Jem comic series, Amy Mebberson and Agnes Garbowska. Also the art inside is done by Amy Mebberson, with colors by M. Victoria Robado, letters by Shawn Lee, edits by John Barber, and with editorial assist by Carlos Guzman (reminds me of Ryan Guzman from the Jem live-action movie). As usual it's written by Kelly Thompson.
This is a holiday special, christmas infact. IDW Publishing is giving us our first actual christmas with Jem, since there was no christmas episode for the cartoon.
In this issue, Pizzazz is all fine, and this is not a continuation of the previous issue in that sense. So although it's christmas time, and last issue was about Halloween, this should be placed perhaps a few issues earlier.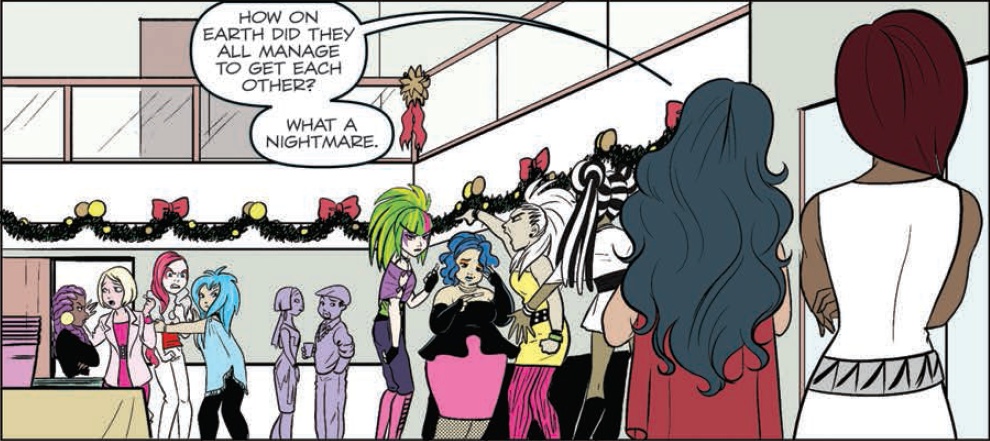 There is a party coming up at Five by Five Records, and the groups get each other for Secret Santa. Everyone is upset, but Jerrica suggests they do the best out of it.
Very clever with how Amy drew up the rivalry between the groups when they enter the party, aswell as the result of the Secret Santa. Funny how the characters plan to outshine each other. But I don't get why the Misfits would want to outdo the Holograms if they weren't going to do it in front of the record company at a christmas party.
There's alot of humor. Sometimes in this comic series I've felt as if all characters have the same kind of humor, but they also argue alot and misunderstand each other, so I guess it all works out. And I feel like Kelly is getting even funnier for each issue. Another thing Kelly does well is create little side-stories that later tie into the main story, to make a more complete total story. It's almost like a christmas movie with all it's twists and turns. Love this issue!
Like last time Amy drew a story for Jem, in the Annual, the characters in this issue have a more similar shape to each other that in a way perhaps resemble the cartoon more, while still having the new style in faces and hairstyles from this comic series. I like Rio's look especially.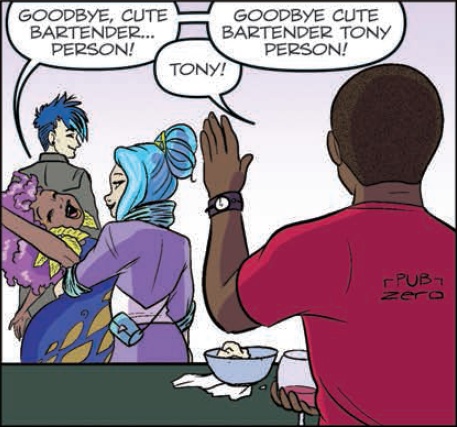 All the main characters are present in this issue, both bands, Rio, Craig and even Synergy. Some nice looking new male characters introduced, interests for Shana, although they are probably not going to appear again. No Eric, Techrat, Clash, nor Blaze, but I have a feeling Blaze will get her share of attention in next issue.
Several new fashions again in this issue, some recognizable, and some with an 80's touch. Stormer gets a beautiful dress designed and sewn by Shana. Jem looks great in her christmas outfit!
Another My Little Pony reference, keep them coming! Love references to the other 80's Hasbro lines. Infact I don't know why IDW aren't doing a full story mashup already with two of their Hasbro series.
Some other sightings that caught my attention are... Pizzazz says she is jewish, Rick Astley is mentioned, and Aja is seen welding.
By the end of this issue, Pizzazz comes by to see Jem! You have to see this! Since this is a holiday issue, no cliffhangers, so the story of this issue is contained within it. But next issue continues the regular storyline.