RockJem.com / Index / Comic review
Comic review issue #9
November 16, 2015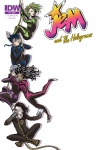 The ninth issue of 20 pages of stories, is released on November 18, with three different covers in total. The artists behind the alternate covers are Jen Bartel and M. Victoria Robado.
This comic by IDW Publishing, is written by Kelly Thompson, and drawn by the comic book artist Emma Vieceli. Colors by M. Victoria Robado, letters by Shawn Lee, and edits by John Barber.
In this issue there's lots of love, sneaking around, some bathing and some scary stuff. Infact just about everything happens in this issue. Believe me, you don't want to miss this one, whether you are a fan of Jem or not. This is where it's getting really interesting.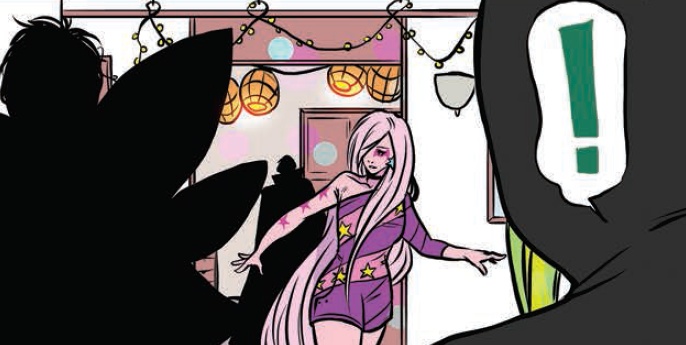 This is something of a Halloween issue, with the Halloween party Jem and the Holograms are throwing to premiere their new music video.
Last issue ended with the four Misfits in their costumes inside the Holograms' place. Now Clash suddenly appears aswell. I guess it's logical since it was she who told them about the party after all.
Kelly makes a clever injoke for Stormer, on why the bad guys actually dress out as bad guys. Something viewers of cartoons perhaps usually don't reflect about, but this way she is able to give the Misfits villain costumes.
Some really cool outfits in this issue. Last issue I wasn't certain these customes were a tribute to the 80's Academy Award nominated movie Karate Kid with Ralph Macchio and Pat Morita. But seeing Techrat's outfit in this issue, you will probably make the connection. I love 80's references! And I like that Pizzazz was inspired by an 80's movie, even if Techrat reveals it's a new century. As for Techrat's black outfit inside though, I don't get that one.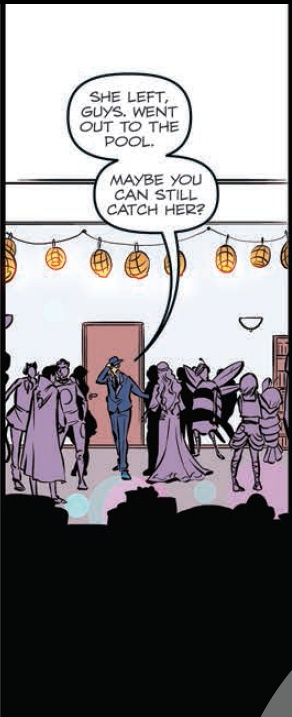 Another fun injoke was probably Kimber's outfit, referring to the cartoon episode " Hot Time In Hawaii". Also too clever not to be on purpose.
Aja is back to being dressed as a Mad Max character, I think it is, although this time with a different look, probably since it's not the same artist that did the story in the Annual. But nice to see they are keeping track of her interests.
Craig looks great, and very different from the 80's cartoon. I wonder what that flash tattoo is though. From Mad Max? Stormer connection? It will be exciting to see how they handle the fact that he is Stormer's brother, that is if he even is at all, this time around. I bet he is, since we haven't seen his bio yet, which perhaps would reveal too much ahead.
Jerrica wears black which she never did in the cartoon, other than a black skirt for two outfits.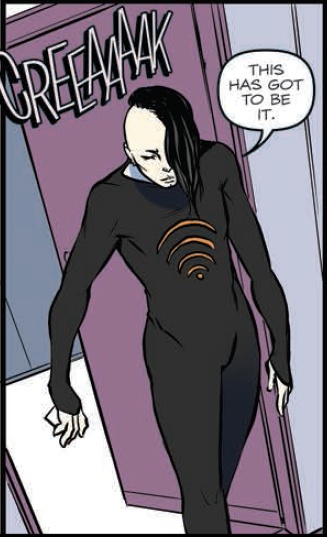 Nice to see Rio in another outfit, a bit different from what he usually wears in these comics. Although it's just a costume.
Unlike in the cartoon, Rio says he can't sing or play guitar, but yeah I know he is a reporter in these comics, not an expert on instruments. His meeting with Jem in this issue didn't go at all like I thought it would. He is showing another side of himself.
Can't recognize any other costumes of the guests though. IDW Publishing have the rights to so many brands, especially Hasbro ones, they could have included here. Maybe Emma and Kelly didn't want to advertise them like that, and since they've already included some of them in earlier issues.

One thing I don't get, is why the unknown guests at this Halloween party of the Holograms are so amazed by Jem. Are they fans? Not media people and friends? Because in last issue it appeared as if guests were especially invited and needed a secret password. Maybe this is to add realism, because in the cartoon most people were just so respectful, fans barely bothered the bands. There was this one scene in the cartoon where the Holograms were supposed to be chased by fans and had to disguise themselves, but it was cut from the cartoon episode "The Princess And The Singer" and never shown.
Techrat interacts more with the Misfits in these comics, rather than mostly Eric. He actually listens to Pizzazz, which I don't think he would in the cartoon. He also goes around among people, just like that.
There's alot less talk in this issue, and more action. They're all in the same place after all and things are bound to happen. I like the idea of having the characters sneaking around following each other. Which also means we get to see an overview of the home of the Holograms. It sure is a huge place, atleast the living room, with a loft.
And Vieceli keeps track of details. Take this for example, Rio drops his hat when Jerrica jumps into his arms. Later we see this same scene from a different angle, in a nice overview of everything that is going on at the same time, and Rio has no hat. And speaking of that, nice idea with the bubbles of info what is going on with all the characters at the party.
So what's up next? Too many ongoing stories to ask for more characters now I know. But I'm thinking Anthony should show up for Shana soon, she is apparently ready to start dating. But I wonder what Jeff and Sean will be up to, since Kimber won't be interested. Maybe date each other?
Towards the end of this issue, I wonder how Techrat figures it out? He is a clever guy, in some ways. Just not so clever in how he disguises himself on the way out after getting rid of the shower thing.
I don't know if part of this story is because it's Halloween, but some scarier things than usual happen. The best cliffhanger ever, with Synergy! I have no idea where they are going with this story in next issue, but it's bound to be exciting. And another scary cliffhanger aswell.
More reader letters are included at the end of this issue, and John Barber promises us more easter eggs in the future.