RockJem.com / Index / Comic review
Comic review issue #8
October 12, 2015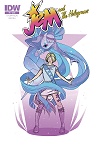 The eighth issue of 20 pages of stories, is released on October 14, with three different covers in total, one of which is a blank sketch cover. The artists behind the variation is Jen Bartel.
This comic by IDW Publishing, is written by Kelly Thompson, and drawn by the comic book artist Emma Vieceli. Colors by M. Victoria Robado, letters by Shawn Lee, and edits by John Barber.
The current artist of these comics, Emma Vieceli, grows into her role as drawing the Jem characters. In this issue her beautiful and colorful art includes music videos, Jem and new fashions. I particularly like Kimber's and Shana's fashions from their music video, which reminds me of their cartoon fashion style. Infact, I think all characters look slightly more like in the 80's cartoon now, with more familiar faces and less obvious differences in bodies. And is that Jem's original dress? Very nice to see it. And Jem as a spacewoman is nice too, it's a first! The fashions they all wear different colors of, seem quite Synergy-created since how would you explain the shoulderpieces?
I would like to see more of Jem in the actual stories though, more of her trying to change secretly, and create diversions. It seems like whenever there's a story about their everyday life, she is gone. Sure, that's more logical that she is just used for her purpose of performing and dealing with media, and not overly used since it's always a risk. But in the cartoon, Jerrica could let loose being Jem, and we would see more of the characters doing active stuff outside their home. And to us viewers it was just nice to see the main character appear once in a while because she was what the show was about.
Speaking of that, it must be a lot of work for the artists drawing everything by themselves. Not only characters, but environments in the background. Because unlike the cartoon, there are no background designers. Therefore I appreciate even more when we get to see detailed backgrounds, especially of the main locations, so we get an overview of where they are. In the cartoon they eventually stuck, pretty much, to a plan of the inside of buildings. Too early to tell how detailed that plan is for these comics though. But I'm hoping for more pictures of the buildings outside in future issues.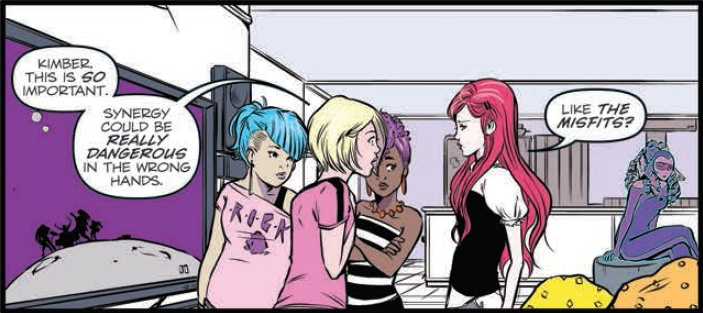 Since the Holograms are seeing the music video, featuring themselves, for the first time, it seems Synergy creates the music videos all by herself. So are the Holograms even involved by getting holograms over their bodies while playing instruments? In some scenes probably, but in some scenes it's unlikely since they are flying around. In the cartoon it appeared like a different situation, because usually the music videos were only for us viewers, the extraordinary things didn't necessarily happen in their released music videos, and Synergy was usually not involved at all.
I like how Kimber appreciates Synergy, and that she thought of making a song about her as if she was an actual person. AND that Kimber actually asks Synergy what she thinks! And we get a reminder how important it is to keep her a secret.

Hilarious scene with Pizzazz letting loose playing video games! As for causing mischief, the Misfits are now being held back. Rather than encouraged which they sometimes were in the cartoon, by Eric atleast. And Stormer is even starting to speak up against Pizzazz.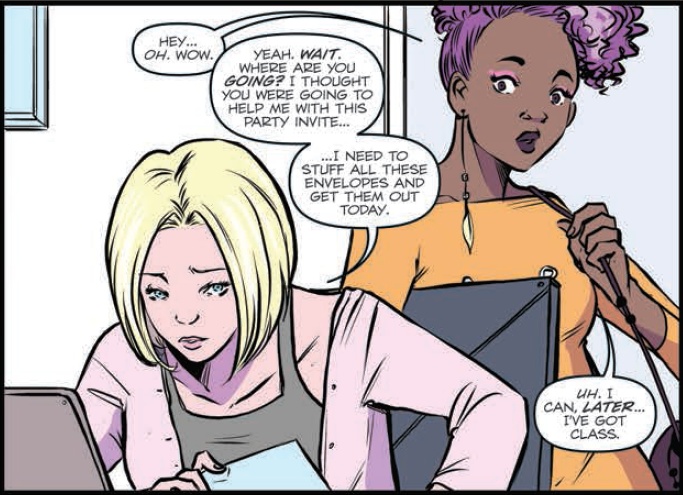 Jerrica is more and more becoming the businesswoman she was in the cartoon. According to herself she manages the band, writes the songs, set up the events, review offers, read contracts, and consult lawyers.
What is rested in this issue is somewhat the Kimber/Stormer relationship, and Rio is not there. Neither is Blaze. But Eric is back, and so is Techrat. I wonder if perhaps Techrat is possibly transgender? Christy's original plan for the cartoon was after all to make him androgynous. And will Techrat be able to hack Synergy? I'm looking forward to a bio on Eric. He still remains a mystery as to what personality he has here. How old is he? Will he manage the Holograms aswell, if the Holograms sign with the Misfits label FiveByFive?
We get to hear Video being mentioned for the first time, and she is still Clash's cousin, and invited to the Benton house, as they call it, for a Halloween party. Clever of Kelly, so close to the real life Halloween. The Misfits are making plans to make an appearance. You've already seen their costumes on the revealed cover of issue #9.
It's interesting seeing a shirt on Aja that says "ROCK". For one, it's part of the name of this site! But it's attentive because in the cartoon they always called the music of the bands "rock", rather than "pop" which it perhaps was closer to.
At the end of this issue are readers letters aswell as replies by the editor John Barber himself. And ads for the annual and the collection of the first six issues which is released this month.