RockJem.com / Index / Comic review
Comic review issue #7
September 16, 2015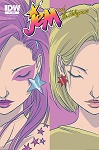 The seventh issue of 20 pages of stories, is released on September 16, with three different covers in total. The artists behind the variations are Jen Bartel, and Tula Lotay.
This comic by IDW Publishing, is a co-creative process between the writer Kelly Thompson, and the comic book artist Emma Vieceli. Colors by M. Victoria Robado, letters by Tom B. Long, and edits by John Barber.
This is no doubt a continuation of the series, still written by Kelly Thompson, but with Emma Vieceli drawing. But this is also the first in a new series arc called "Viral". Not sure what exactly it is that separates the continuity, other than the fact that these comics are expanded six issues at the time as long as they sell well.
I would like to see the series bible for these comics some time in the future. Because either they have a detailed plan, or Emma is very good at picking up on things that are unique to this series in the looks of the characters and their way of dressing. Or is she just a big fan?
As much as we miss Sophie Campbell, Emma is making an impression! I like how she draws Jerrica, Kimber and Shana in particular, and her attention to details even in the backgrounds. But since Emma Vieceli is drawing in a recognizable style, based on Campbell's already constructed appearance of the characters, it's harder to comment on her art for itself. I don't know what I would had preferred, my curiousity of her own way of drawing, or continuing the already created style. What is especially interesting, is that she gets to introduce some new characters and set the look for them, which makes me curious what Campbell will do to them later.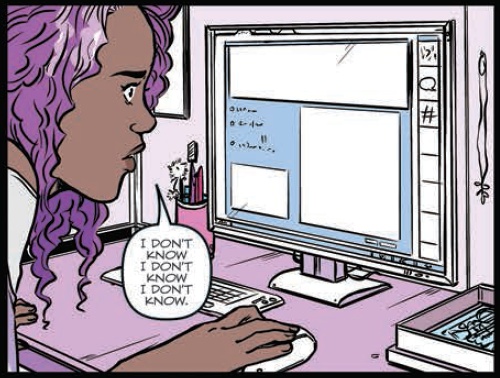 Emma might not be doing the imaginative pages of music videos, atleast not in this issue, which we are used to seeing with Sophie, not a lot of new hairstyles and spectacular glamorous fashions, and not one instrument in sight. Infact this is probably the first issue that Jem is not even in at all (well on a magazine cover we see her). But some of that depends of course on how the story goes.
You have ALOT to look forward to in this issue! Maybe you've been asking yourself "when is that or that character going to appear", well this is the issue! Not Raya though, but something in this issue gives me the feeling she is right around the corner, and already last year Campbell and Thompson said in an interview they were planning to introduce her in the second arc, which should be any issue now. Eric Raymond is introduced though, as revealed some time ago incase you keep up with descriptions of upcoming issues.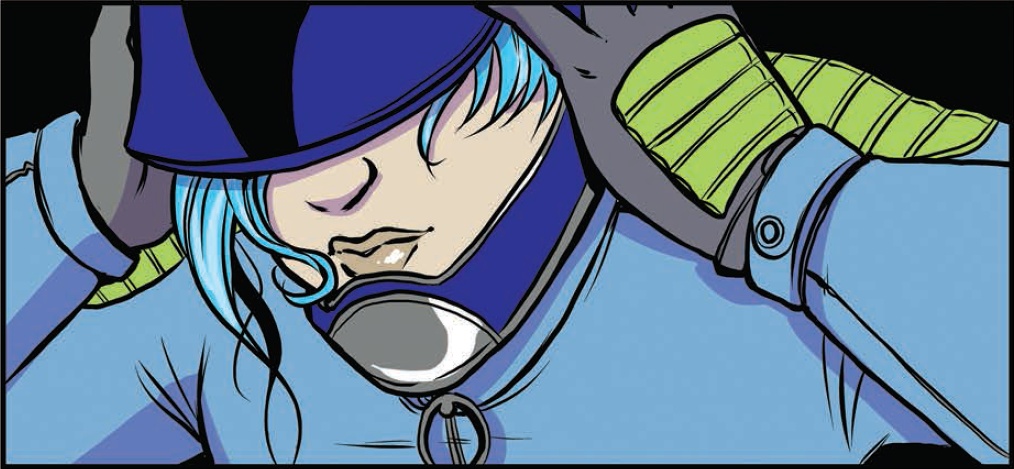 Eric looks so young and now has glasses, but otherwise very recognizable in looks and personality. Then there's Techrat, who has already been featured on a cover and bio. Curious to see if he will able to hack into Jem and the Holograms computers and mobiles and things, but then I'm also hoping to get some advanced fun silly gadgets. And Craig Phillips, who has already appeared, is back (perfect timing, with Integrity Toys recently releasing pictures of the upcoming doll of Craig, based on the 80's cartoon look though). So there are two motorcyle guys now, Rio and Craig, and Aja aswell.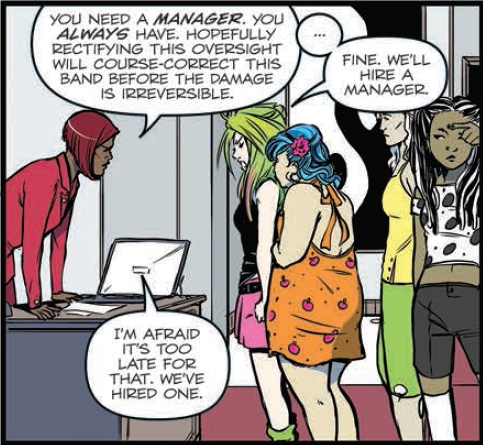 We keep getting clues about Rio being curious about Jem. In the cartoon we knew he was suspicious, but they let the topic come up in a big way and then rested for a while. I'm getting more and more curious to see what he comes up with about Jem. If Jem is to be a star, she must be accepting interviews, right? The interview that was posted at the IDW Publishing before the first issue was even released, with Rio being so positive about Jem, doesn't really fit into the direction the series has taken. Now I'm very excited for a real tough interview for Jem coming up.
No Clash, no Blaze in this issue. But this issue does a great job on featuring all of the Holograms equally. Lots of Synergy. She is interacting even more in this issue. Perhaps it would had been nice to see more of that in the cartoon, she was after all meant to be support for the girls. And a computer being able to atleast pretend to show emotions, would have added to the high tech aspect of the cartoon in my opinion. We find out Synergy can build websites, and she does it quickly if given a direction of content and layout, aswell as register domains. This is funny because this is a joke I've made about this site, how I wish I had a program that made it all automatic, because there are so many different things to consider except for gathering facts. But Synergy is a very creative computer.
Also nice to see they are keeping track of their secondary characters, one of which returns in this issue. I like that they gave her that red haircolor, which makes her fit into this comic.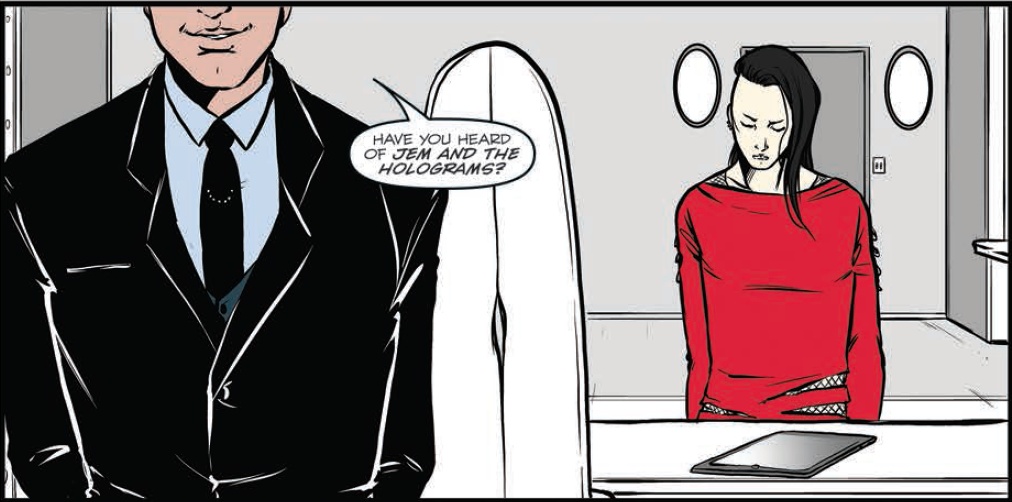 Reviewing the first issue, I mentioned we are getting to know an alternate version of these characters. But after these comics have wandered off into new twists, they eventually return to some recognizable characteristics from the cartoon. Perhaps the Misfits will even manage themselves in the future, with the help of Eric and Harvey's money? They did say in early interviews that Harvey is to come along. And will the Holograms eventually somehow end up in a mansion or with a record company aswell?
At the end of this issue is more fanmail from readers, with replies from John Barber himself. Have you written your letter to the comic yet?