RockJem.com / Index / Comic review
Comic review issue #6
August 29, 2015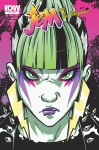 The sixth issue of 20 pages of stories, is released on September 2, with three different covers in total. The artists behind the variations are Sara Richard as previous issues, and Tommy Lee Edwards.
This comic by IDW Publishing, is a co-creative process between the writer Kelly Thompson, and the comic book artist Sophie Campbell. Colors by M. Victoria Robado, letters by Tom B. Long, and edits by John Barber.
Sophie has been spoiling us with great art and being heavily involved with everything in these comics. But after this issue we'll have to share her, when she spends some time on other comic series, until she returns to Jem for issue #10, infact she writes a very personal letter included at the end of this issue.
This issue comes to a conclusion somewhat, considering it's number 6 in a series. But since these comics aren't standalone, some things will remain unresolved and presumingly continue through several issues.
For the first time, we get to see the bands really become rivals. We knew they didn't like each other, except some of them of course, but they hadn't really made it so obvious to each other before this issue, or starting at the end of the previous issue.
Poor Rox, in the preview pages you'll see she is covered with pie! That is some nice art with the main characters lined up next to each other! Interesting how Sophie comes up with new angles and poses to present the story, and I find it very humorous seeing them all stand there covered in pie in different ways.
I don't know if it's the fact that they've reached issue #6, or if it's the story of this issue in particular, but I feel this comic series have really found it's formula, reaching out to us 80's fans aswell as new fans. I'm starting to get to know the characters' personalities more, and I just keep getting more curious about them. And hopefully we'll have the opportunity to get as acquainted to the characters as we did with the cartoon, with issue #65 of this comic series released in July 2020. With the current popularity it seems possible to me!
Infact speaking of the cartoon, this issue will remind you of the first cartoon episode in several ways, with another quick appearance of the Limp Lizards, although it's a new story.

Jerrica is growing as a character to me, becoming the stronger person we recognize from the cartoon, she keeps standing up to Rio and comes up with a nice plan. I feel sorry for Jerrica though, that Rio is giving her such a hard time about Jem, yet he is keeping it friendly himself with the actual bad guys. This issue gives me a feeling the Jem/Jerrica/Rio topic is going to have to be handled eventually in these comics.
As this issue discusses the "Stimber" relationship, it's so refreshing that they still aren't making a big deal out of Kimber and Stormer being gay. That's not even a topic in this comic series. I guess Kelly and Sophie didn't feel the need to write an entire issue of the heterosexual characters being kind enough to find it in their hearts to accept homosexuality. As you probably noticed already, this comic takes the view on gay relationships into a new level, by just taking them for granted. This is how the world should be. Has this ever been done before in a none gaythemed comic?
The Misfits probably enjoy mischief as much as ever, but they are being smarter and more careful about it. Infact Pizzazz says something that surprised me alot in this issue, even if she of course thought it was to her advantage.
I love Pizzazz' new earrings. And what about that new hairstyle she has on stage? The Misfits really put on a great show in this issue, and they each appear with a recognizable surprise! And wait until you see what the Holograms do!

I've said it before, and it's more true than ever, the performances of the groups is where the art really comes to it's best! Infact, I've been thinking about how a comic like this really comes to be. How does Sophie have the imagination to give all new unknown characters such characteristic looks, and where does she find the energy to do all those miniature overview pictures with so many details, rather than making all close-ups? How does Kelly make it work storywise within this format, create cliffhangers, and keep all characters personalities apart? And how does the colorist M. Victoria manage to do all those effects and layers? This team must be communicating alot to divide the work between them, and make it come together so well, or a comic like this would have taken ages to make! I've been reading and listening to all interviews I can find about their work, infact you can see many of them on the links page of this site, and you can see some of Sophie's art in progress on this site. But I'd really like hear more about the process from idea to print. This entire comic is amazing, imaginative work, and very inspiring!
Jem's eyemakeup looks more recognizable to the cartoon in this issue. And I really like the Holograms' new outfits towards the end of the issue. Jem probably wouldn't be able to wear something like that without Synergy, and those shoes are wilder than ever! And what about Kimber's sudden change of hairstyle. I guess it was a good thing they made Rio a reporter, since he would had been too curious being left out of how all of these stage effects were possible. Besides, now he has a job that offers him more of a role of his own.
Sophie (or maybe it's Kelly) throws in such suprising things every now and then that seems so out of the Jem world. If you are a big 80's fan, perhaps you heard IDW Publishing is releasing a comic based on untold tales and alternate timelines of the "Back To The Future" movies by the original writer Bob Gale, aswell as the editor from this Jem comic, John Barber. Well this issue of the Jem comic made me think of that 3D shark scene outside the theater from the second movie. Maybe you'll see what I mean, but not sure it was an intentional reference. But then there is a somewhat hard to spot easter egg for a Hasbro brand though.
And now I'm already curious to see what will happen in next issue when Emma Vieceli takes over. Very curious to see her art in "action" so to speak. Although there's a new artist starting with next issue, Kelly will still be around for the stories. I'm curious to see how much Kelly will continue all the unresolved threads, and how much she'll get into something completely new, perhaps time for even more characters?