RockJem.com / Index / Comic review
Comic review issue #11
January 27, 2016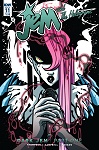 This eleventh issue of 20 pages of story, called "Dark Jem | Part One", is released on January 27.
The covers for this issue are done by Sophie Campbell, Jen Bartel, and Casey W. Coller with colors by John Paul Bove. And the story is drawn by Sophie Campbell. Colors by M. Victoria Robado, letters by Shawn Lee, edits by John Barber. And it's written by Kelly Thompson.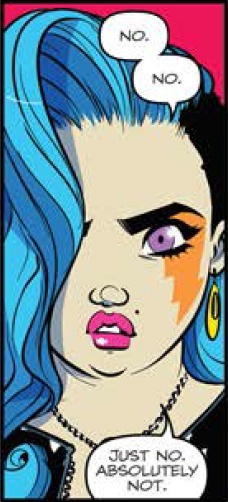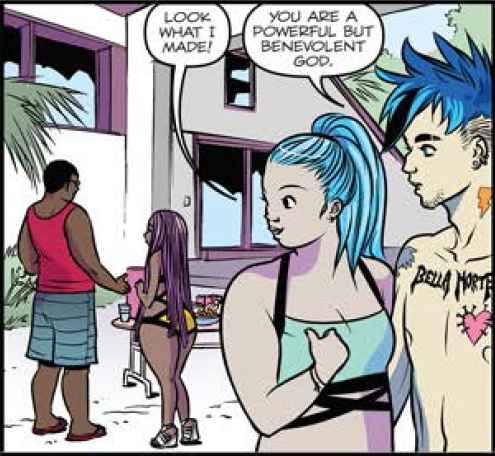 Sophie is back to drawing the comic! And with having done 5 of 7 covers for this issue, she has now done more covers in total for this comic series than anyone else.
Back are also the characters Clash, Blaze, Eric, Craig, cute bartender Tony Person, and the Starlight girls. And even some Starlight girls who weren't introduced in this comic series before, of course with a new look. And they even have their band in this issue!
Stormer wears the best fashion as usual, that pattern caught my attention. And what imaginative new style for Jerrica! Of course Rio and Craig are dressed very nicely! Infact we get to see Craig's tattoos. Rio doesn't seem to have any tattoos from what I can see so far. But this is obviously the best issue yet! And it's so full of stories it seems longer than 20 pages.
Pizzazz is still recovering from her accident, but since none of the the Misfits can sing lead vocals, they are put in a tough situation without her, by Harcourt. We get to see several options, almost like a talent search!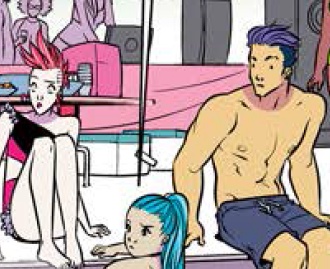 This is the issue where we find out why Synergy was sneezing in every story of the Annual issue. A cold caused by a virus perhaps? The kind of virus that a computer gets.
Those who were surprised by the changes introduced in the first issues of the comics, have seen nothing yet. Jem and the Holograms are beginning to get a new style in this issue. And apparently the black outfits, makeup and hairstyles are only part of it.
Something tells me the Holograms are going to change drastically in the next issue. Everything seems to be turned upside down.
On top of it, Blaze is joining in into a new role to add to the competition, which we'll see more of in next issue.