RockJem.com / Index / Comic review
Comic review issue #10
December 28, 2015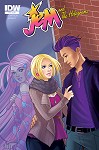 This tenth issue of 20 pages of story, called "Rio Pacheco - Boy Reporter", is released on December 30.
The covers for this issue are done by Jen Bartel, M. Victoria Robado, and Tania Del Rio. And the story is drawn by Corin Howell, who you might recognize from the current Back to the Future comic series, also by IDW Publishing. Colors by M. Victoria Robado, letters by Shawn Lee, edits by John Barber. As usual it's written by Kelly Thompson.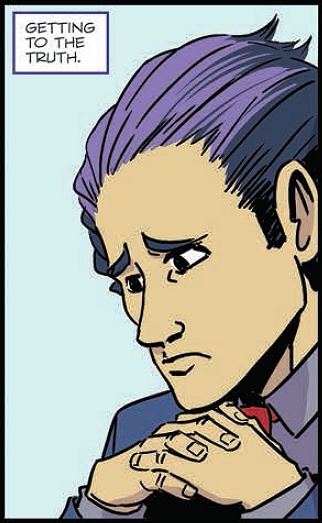 Corin continues in the Sophie/Emma style, but with his own touch. Atleast Rio gets a slightly different hairstyle, and Stormer looks a bit more like Aja.
Although it's not obvious where this story begins, it's not really a stand-alone issue, as it does continue the regular story. But not all cliffhangers from last issue are handled in here, the pace is kinda slown down, but we do find out what happened to Pizzazz.
There's not alot of development for Pizzazz either though, nor the other main characters. Except for Rio, by telling things from his perspective, aswell as some flashbacks to previous untold events, which are easy to tell apart since they are presented in nearly black and white (or is that purple and white?).
We find out Rio wanted to be a musician, why he got into journalism, and that he is an honest reporter, but that he also has skills to find out what he wants to know. And Rio knows more about many things than anyone thought! The development of Rio is a little deeper than I expected from a character who reports about young musicians. But I guess there is more to Rio than what was shown in the cartoon, which this series has hinted from early on.

You can tell this is still Kelly writing, from the interaction between the characters, how they always make cute jokeful comments aswell as replies to each other, whether it's the Holograms talking to each other or Rio to Stormer. I love the Pizza joke, aswell as the Rio reference to the cartoon episode "Glitter and Gold". Infact, did you catch all the Rio references?: Main cover featuring Rio, cover artist named "Del Rio", flashbacks in purple, he even has a purple phone. Maybe there are even more, or maybe it's just me.

And speaking of Rio interacting with the Misfits, this issue offers a chance for Rio to interact even more with the other Misfits, without any influence from Pizzazz for a change.
Apparently Stormer doesn't know where Jetta lives, but Rio does, and in this issue we find out where. First I almost thought there was something more to it.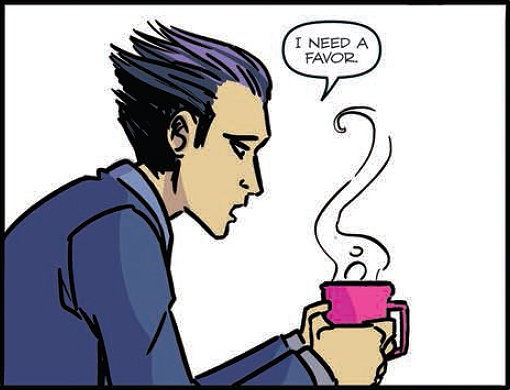 I like how this series is so spot on with details. Even though it has deliberately made changes to the original concept, it's references are well thought through. Pizzazz' real name is spelt correctly at the hospital, and her father is mentioned in this issue, even if not by name.
Stormer mentions her brother, but not that it's Craig. But no sign of Techrat, Eric, Clash, nor Blaze, but I'm guessing there's alot more of them in next issue. Must be, considering what it's about.
Next month, January, a new series of Jem stories start, a continuation but with a new twist, as Jem and the Holograms get a dark style somehow. As we've already seen hinted in previous stories, something is wrong with Synergy, and someone called Silica is after them.