RockJem.com / Index / Ballot 2015
Can a doll compete against an actor in a movie? Can fan-creations compete against official Jem products? In the 2015 annual Rock Jem ballot they can!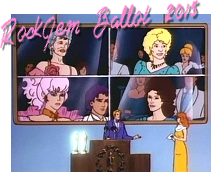 Jem fans have voted in 21 categories, on one of the entries in each category, about all things Jem of 2015! The purpose is to acknowledge all of the amazing efforts surrounding Jem, and to summarize the year of Jem's 30th anniversary in an entertaining way. So have a look and see what 2015 had to offer, all the winners and everyone else, who made this an outrageous year in so many ways!
The voting opened on January 15, 2016, and ended on February 1, 2016. And the winners of all categories are now announced.
So who won? Christy Marx was nominated in several categories, did she win them all? Was Jem The Movie more loved now that people have watched it?
1. Best costumes:
Best either new creations, or recreated original, either in art, or for dolls or people.
IDW Publishing takes the very first category. If the cartoon is known for having more changes of clothes than any other show, then these comics probably took it to yet another level. They have really put an effort into giving all the characters new outfits. They show that anyone can look great in fashion, regardless of size. They are giving certain hints to loved styles from the cartoon at times, but they never look back, they just keep on giving us new fashions as if it's one of their unspoken missions. Jem the movie hired a famous fashion designer, Soyon An, and it managed to get them in second place in this ballot. Does that mean Sophie and the other people behind the comics have a future in fashion design aswell? Of course the amazing fashions by Integrity Toys, commemorative yet updated, got some love aswell. Aswell as the professional Jem fan customizer aja_fan21.
2. Best makeup/hair:
Best either new creations, or recreated original, either in art, or for dolls or people. Makeup and hair is combined here, and usually whoever changes one changes the other aswell.
A fan-entry beat out all competition, and took the victory for best makeup and hair. Although it partly has the comics to thank for the outrageous look, which came in second place here. It's incredibly impressive how Twinzik Cosplay managed to make these hairstyle come to life, and in such a perfectly beautiful way. I may know nothing about cosplay, but I've never seen anything like this done before. Third place goes to Integrity Toys, who are always giving us recognizable but updated hairstyles based on the 80's Jem characters, always with new variations for each release.
3. Best update:
Here it's not about makeup/hair, fashion, nor the overall style, but about other specifics changes that altered Jem characters or other products in some way.
The winner is IDW Publishing's Jem comic, with the unexpected new and realistic bodyshapes they presented for the main characters in Jem. This was about a year before Mattel jumped on the train and released their recent Barbie dolls in different bodyshapes. Unlike the Barbie dolls, the shapes of the Jem characters even came with different personalities and an entire concept connected to it. Some Jem fans may prefer the Jem characters as they looked in the 80's, but these new shapes work perfectly for the new comic, and apparently atleast Mattel thought they work for dolls aswell. Maybe we'll see new Jem dolls by Hasbro inspired by the comics some day? Speaking of dolls, second and third place both belong to Integrity Toys. Jem fans love everything about these dolls, even the boxes and the updates in outfits. Surprisingly the very liked character Blaze didn't place higher this time, but then again it's now in 2016 that she really gets a more visible role in the comics.
4. Best interpretation:
This is about the total interpretation of Jem, the characters, how they look and act. This year has given us several new looks for Jem, the comic series, movie, slightly new style by Integrity Toys, aswell as many fan interpretations.
IDW publishing takes more than half of the votes in this category! The biggest win of the entire ballot! Which was expected since they did well in both costumes, makeup/hair and best update. Yet again followed by the commemorative Integrity Toys dolls with their more traditional but strikingly fashionable look. In shared third place came the live-action Jem movie, aswell as fanart by Bryan "kagomesarrow77" who recreated the characters' entire look in a way that is seldom seen in fanart. Let me also point out all the other amazing entries in this category, check them out!
5. Bad guy:
There is no negative category in this ballot, so let's atleast have a negative category in a fun way. This is "bad guy" in a positive and entertaining way. Or it might aswell be who looks the best, that's up to you.
This was a very close call between the live-action movie, the commemorative dolls and the comics. The big three infact got the exact same amount of votes for one entry each. So apparently the movie caught up a little in the bad guy department, by the help of the once oscarnominated actress Juliette Lewis. The movie was after all the first interpretation that dared changing the gender of a main character, which added another leading female character. But Eric Raymond in male doll form was very requested aswell. And the third winner of this category was Techrat of the IDW Publishing Jem comics! Also Techrat by Integrity Toys and Pizzazz by IDW Publishing deserve a mention here.
6. Best doll:
Jem was first and foremost a doll line. And since Hasbro released nothing for the movie, this category is all about the Integrity Toys line. But customs work would fit aswell, as long as a doll itself has been created or altered and not just the outfit.
The Comic Con doll Twilight in Paris Jerrica Benton / Jem, is still available directly through Hasbro's own online toy shop, where it's unfortunately impossible for europeans to purchase. Still it managed to get enough votes to win this category. It came with two heads, quick switch feature, two outfits, and a beautiful new exclusive box design. Also Lindsey in second place, and Showtime Jem in third, were understandably very popular dolls. To me it's a big surprise that Techrat didn't win this category though.
7. Best merchandise:
Here different merchandise compete against each other, dolls, comics, makeup, clothes, DVDs and so on.
The DVD in second place, aswell as the comics in third, are great! But then again they can be purchased digitally online. While the dolls are an understandable and deserving winner of a category like this, when it comes to holding something in your hands. These dolls are a beautiful tribute to the Jem we loved from the 80's, and several hundreds of fans spend over a hundred dollars for each of these, sometimes doubles. The DVD collection by Shout Factory was re-released in Jem's 30th anniversary year, and is of course a very essential collection and was the only release in English that ever included all episodes of Jem. The Jem comics by IDW Publishing has made it possible for us Jem fans to buy official Jem comics in our own stores, and even sent out alot of bigtime Jem collectors on a hunt for alot of variations of covers, so they are very collectible aswell.
8. Best song:
This is the first year in many that new official Jem music is released, official Jem songs from the movie, songs from a tribute album, but also by some of the people who originally were involved in the singing of Jem. Note: None of the songs are referring to the original song from the 80's cartoon, so where the title is the same, it's referring to a remade version which sounds very different.
With all the songs from the movie, and tribute album, and the fact that they were available to purchase online, it's quite amazing how a fan song can beat them all. But this one had the original singing- and speaking voice of Jem singing together for the first time. The most famous song from the movie, came in second, and it was the version of it sung by the actresses/singers themselves. Even a song from the tribute album made it top three. Personally, although nothing can beat the winner of this category, I had hopes for the song "We Got Heart" from Jem The Movie, it is an absolutely beautifully outrageous song, where also Rio sings, definitely worth checking out.
9. Best actor:
This category is possible since there was a Jem movie released this year, but also cartoon voices would count if there had been a new cartoon. Also some cameos are included from the movie, for more options. So who's acting ability was the best in your opinion?
No surprise the leading man of the live-action Jem and the Holograms movie wins this, he is a very popular rising star, and he really did Rio as much justice as anyone could do without purple hair. Dwayne Johnson is another very popular actor, who also participated in the G.I. Joe movie by the same director, and he placed second here although he only had a very small role. Third place is the actor who played Emmett, who is mostly seen in projections by the robot Synergy. I think Nathan J. Moore and Nicholas Braun deserve a special mention here aswell.
10. Best actress:
The main roles were of course the female ones. So who's acting ability was the best?
You would think the main role of Jem would kick ass in this category, but infact Aubrey was outshined by the original speaking voice of Jem/Jerrica, the one and only Samantha Newark, who did a very popular appearance in this movie. Stefanie Scott in second place, is a very experienced actress already before her role in Jem, and had a big role in the huge box office success Insidious: Chapter 3 which premiered before the Jem movie in 2015. While only making a short appearance as Pizzazz in the ending scene, the world famous singer Kesha takes third place in this category. Did you voters forget about Britta in this category?
11. Best storytelling:
Since Jem dolls got their own category, this is a category respresenting the cartoon, in form of stories. Whether they come as a movie, comics, fanfic, doll action videos, fan comics or something else. It's up to you whether you vote for only the quality of the story or a combination including the style and personalities of the characters.
Guess who won this category? Who better to win this category than the company that has told us more stories about Jem than any other this year, IDW Publishing, of course through the writing of Kelly Thompson which has given the characters personality, and the art of Sophie Campbell who made them come alive. BUT, look who again is in second place, with lots of love aswell from the Jem fans, Jem The Movie. Also third place was a comic, created by a fan, Amanda "Mandygirl78", shared with Elcultodejem for their Jem dolls Halloween movie this year. Those are some great examples of fan-creativity!
12. Best photos:
Pictures posing Jem dolls, yourself in cosplay outfits, or maybe something else. You don't have to have created the things you take pictures of, you just need to have taken the pictures. This is about setting up things and taking the best pictures. Screen captures from a cartoon or movie do not count. Take an extra look at what date certain photographs were uploaded for the entries before voting.
Aaron "screamboy19" in first place, Zyris De'Lat in second, and Aaliyah R. in third, all three really know how to take the most amazingly beautiful photos, posing dolls redressed in different fashion-combinations, hairstylings and even surrounded by creative settings, as if they were snapped right out of a story. The Jem dolls look great in reality, I just wish I could take pictures like this aswell. And oh, I would encourage everyone to take an extra look also at Jenni "Neon jennisis evangelion" and their cosplay photos of the Misfits.
13. Best artist:
Here it's about who is the most talented artist, atleast when it comes to drawing Jem characters, or creating customs dolls. Artists who did more than one piece/character in 2015 are preferred.
This was the toughest of all categories to win, with most competition of nominated entries of all categories. No surprise that Sophie wins this category, because she is amazing! And since the comics by IDW Publishing, where Sophie does most of the art, won the category best interpretation. The comics take two top spots here even, with Jen Bartel in shared second place with British fanartist Hayden Williams. Some other favorites of mine in this category are CD77, Will Meugniot and Marguerite Sauvage.
14. Best video/sound channel:
Not just the most watched. But the best in terms of being creative, sharing some interesting information or reviews, providing official material, or just something fun or showing how much of a fan you are.
TheMitigating kicked ass with this category, a very expected win by this talent that has blessed the Jem community with his projects. Also great to see the podcast The Jem Jam do well in second place, and The Front interview with Christy in third. Only one offical, non-fan entry in this category, but it didn't stand a chance against the fan entries this time.
15. Best interactive feature:
Blogs, groups, forums... This is about the most active, most inventive, most updated, and with best functions and so on.
Second place in the category "Best video/sound channel", and now a win for The Jem Jam! A really great and well deserved outcome of this ballot. One of the most visited, popular and most updated blogs Jem Animated came in shared second place, shared with the very active Italian JemeLeHolograms.it facebook group. Great choices, and interesting to see an entry place top 2 even though it's not in English. Europe rocks! Also the Starlight Music blog and Integrity Toys W Club Forum deserve an extra mention.
16. Best site:
Information-based sites that have been most active and presented Jem news or content. No interactive features here, like blogs or facebook.
This is quite a heavy category, but a slightly dying one since most online Jem content are located on more interactive platforms like blogs these days. So I feel it's important to celebrate the ones we have left, and there were alot of well deserved winners here. First and second place, like expected, were between Totally Jem and Jem Vs. Pranceatron, and it was a close call. Third place was an even closer call, since two sites shared it, the offical Integrity Toys Jem site and the Italian topsite JemeleHolograms.it. JemTheMovie.com original site disappeared and was replaced with a very inferior site before the voting had ended though. What about Rock Jem then? Oh yeah, I didn't nominate it since this ballot is hosted here.
17. Best event:
The most exciting event for Jem and Jem fans.
Had Jem The Movie been a little more popular, this could had been a close call with all the events it started for the Jem brand and fans. But JemCon 2015 was no doubt the winner of this category! And there's a new convention for this year aswell, so check our their site. Jem The Movie made alot of noise for a while, and it was enough to reach second place here. And the Comic Con where an exclusive Jem doll was available, came in third.
18. Best promotion:
Best promotion of Jem. Spreading the word about Jem the most, doing interviews, creating features or events, attending events, or releasing products that brought attention to Jem. Some entries will be presented in groups because it's hard to pick out who did what or there are too many.
The wonderful Samantha is probably the most active online of the original cast, she appears at alot of conventions and talks to fans and advertises Jem, and always has a lot of fun Jem projects going on. A well deserved win! When it comes to taking the brand into a new time, IDW Publishning in second place and Integrity Toys in third, are doing a fantastic job and are offering the best example so far that Jem is a brand to count on, as long as it's done right and with alot of love.
19. Best dedication to the people behind Jem:
Something Jem-related by or about the people behind Jem.
This was a very open category with lots of possible winners. Samantha and Patricia did a very exciting project by recording their voices for the comic. The great interview with Christy by The Front was of course fantastic. And even third place included Samantha Newark along with Britta Phillips and their music video. Everyone in this category would had been a likely winner though.
20. Honorary award:
Let's not concentrate solely on new things, since it's the original that most of us are first and foremost a fan of. Here it is about combined dedications in the past. This category is likely to keep appearing each year, with any names that hasn't won. This is regardless of what they have accomplished about Jem and toward it's fans this year. Who do you want to honor this year?
In this category only the winner is announced, and that was the queen of Jem, Christy Marx. Christy very deservingly gets the first ever Rock Jem ballot honorary award. All the others have the chance to win it another year if nominated, since this category is not tied to a certain year. Except anyone who wins it, who will not be included again, atleast for several years. So now that Christy has won, next year will probably be a very close call between several people.
21. Most anticipated happening for 2016:
This category will include only a few things that are confirmed, but alot of unconfirmed rumors or pure wishes.
Last category, and it's about 2016, already in advance. With all their wins so far, here is yet another for IDW Publishing and everyone involved in their Jem comics. This is a great sign that Jem fans are looking forward to another year of the Jem comic, and hopegully and likely many more years. Alot of people are very interested in reading a book by Christy aswell. In third place comes JemCon 2016 aswell as a second Jem movie by Jon M. Chu, and only one of those things are likely to happen and already confirmed, the JemCon. Will you be there? A huge surprise is of course the few votes for a new Jem cartoon! Shocking infact. And what about new dolls from Integrity Toys or a live-action movie by Christy Marx? Well, I guess you can't vote for everything, since you had to pick one entry. But then again that's why it's an honor to win a category, because a bunch of people needed to take their only vote and vote for you. So hopefully the winners and top 3 of all categories feel honored, aswell as everyone nominated. And hopefully everyone who participated, had a good time voting and seeing all this great talent being acknowledged by a ballot.
The voting:
This ballot is only about what was created, first presented or mostly updated in 2015, with exceptions for categories which include earlier years for honorary reasons or predict the upcoming year. The voting has closed for the 2015 ballot. But feel free to send in links to suggested entries that were created in 2016 any time during the year, and they will be noted.
To vote, you were to send an email to:
In your mail:
- Subject: "Jem ballot".
- In your message, the number of each category you wish to vote in, followed be the letter of your choice of entry. Example:1B, 2F, 3L, 4A and so on...
There is no confirmation mail of your votes. But feel free to post any questions in the forum.
Your personal choices are not shared with anyone. All votes are counted together as a total for each entry. For each category, a winner is announced, aswell as second and third place. While the votes for fourth place and below, are not public. This ballot is to honor things, and not to pick out the worst. Some entries are difficult to compare, but all nominees are great in their own way!